Mercedes wants its Formula 1 team and development facilities having a net-zero carbon footprint by the end of the year after revealing a new sustainability strategy.
The six-time double F1 championship-winning manufacturer intends to significantly reduce the carbon emissions of its F1 and Formula E race teams, Brackley headquarters and Brixworth High Performance Powertrains division.
Mercedes is the only manufacturer that competes in both F1 and the electric single-seater series FE.
It aims to halve its F1 team's CO2 emissions from "around 20,000 tonnes in 2018 to 10,000 in 2022".
Mercedes will employ "gold-standard off-setting" – the practice of investing in environmental projects such as wind power or reforestation to balance a carbon footprint – to counter "unavoidable CO2 emissions" that come with competing in F1.
It says its Brackley base already powers all its facilities, including the wind tunnel and test benches, using renewably sourced energy.
The HPP centre in Brixworth, where both the F1 engine and FE powertrain are built, "produces more than half of its electricity using solar panels and an on-site CHPP [combined cooling, heat and power plant]".
Mercedes HPP will switch to renewable power sources for its externally sourced energy in the coming year.
The F1 team intends to eliminate single-use plastics from its catering operation and switch to "low-impact hotel stays".
In addition to its role in the FIA working group for sustainable fuels, and interest in increasing the level of renewable fuels and percentage of electric power in F1's future engine regulations, Mercedes has called on F1 to be "more ambitious" with its own sustainability initiatives.
Last year F1 announced a plan to have a net-zero carbon footprint by 2030, with "sustainable" grands prix events by 2025.
"It's our ambition to lead the way to carbon neutral and sustainable mobility," said Daimler board member Markus Schafer.
"F1 is one of the toughest technical competitions in the world and success can only be achieved by pushing technological boundaries every day.
"Our F1 team will achieve a net-zero carbon footprint in 2020 and we actively encourage F1 to take more ambitious steps towards CO2 neutrality for the entire sport and to race towards a sustainable future.
"With the direction announced today, we want to make sure that Formula 1 and Formula E enhance their positive impact for our brand going forward."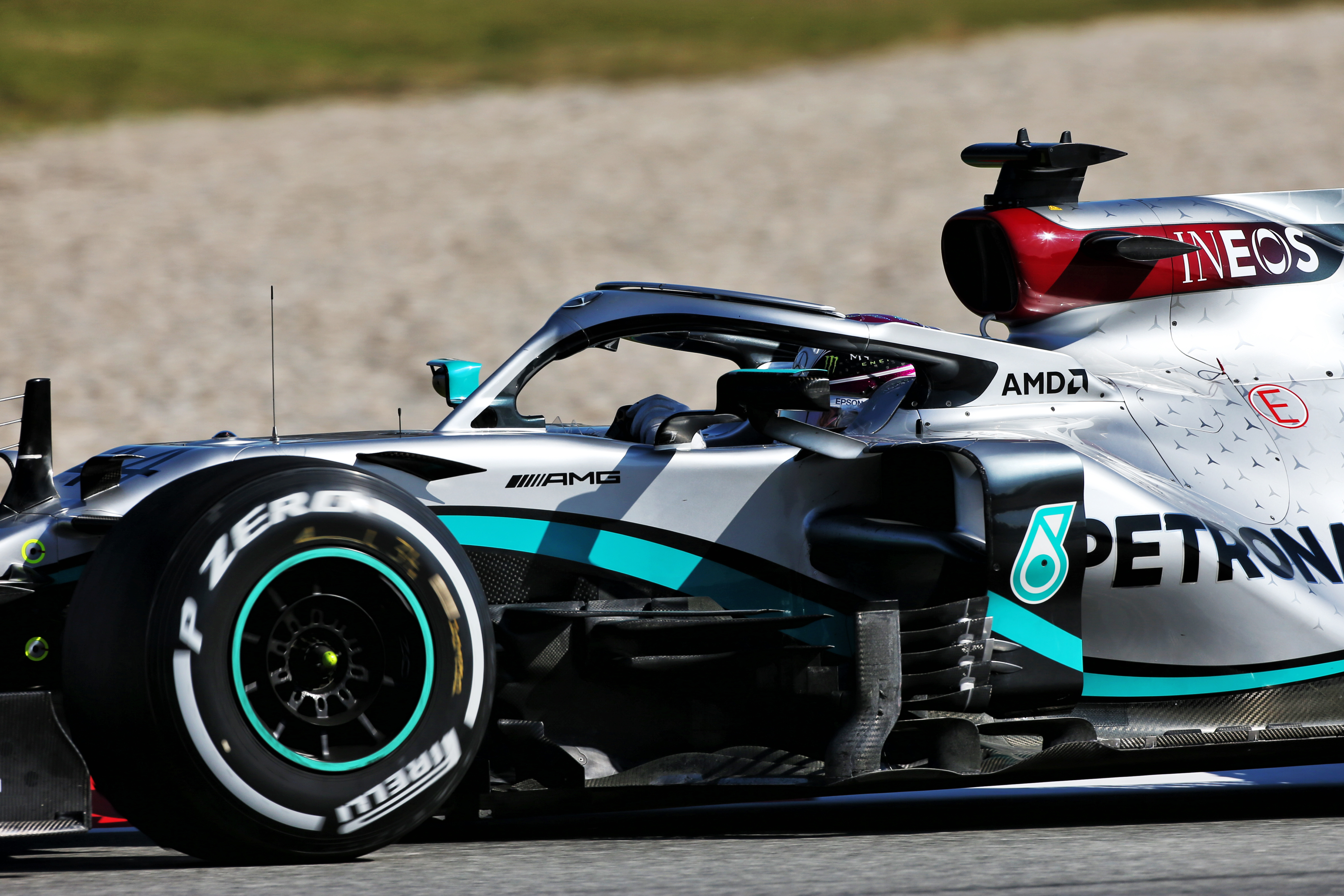 Mercedes' parent company Daimler wants plug-in hybrids or all-electric vehicles to make up more than half of Mercedes-Benz car sales by 2030, and a "CO2-neutral new passenger car fleet" by 2039.
It says it uses the knowledge gained in developing its current F1 engine, "one of the most efficient internal combustion engines ever built", to make its road car offering more efficient.
The same goes for the engineering personnel working on the all-electric FE powertrain.
"The entire automotive industry is in the middle of a massive change and Daimler very much leads the way in taking responsibility for sustainable mobility", said Toto Wolff Mercedes F1 team principal and CEO, and motorsport division head.
"We represent the three-pointed star on the racetrack, and we want our motorsport platforms to be a case study for the rapid and open-minded implementation of innovations for a more sustainable future.
"That goes from the hybrid and battery electric technology in our race cars, to our daily business practice at the racetrack and in our production facilities.
"We want to be at the forefront of this change."
Six-time world champion Lewis Hamilton says he hopes to make a "meaningful contribution" to Mercedes' efforts.
Hamilton adopted a plant-based diet two years ago and has also switched to using Mercedes hybrid and electric vehicles.
"Sustainability is very important to me personally," said Hamilton.
"I've become more and more aware of the environmental issues we're facing around the globe and I just want to have a positive impact and try to play my part in it.
"It's great to see that Mercedes is taking responsibility for sustainability and that the entire Mercedes family is making huge efforts to tackle the issue."