McLaren has started 2020 Formula 1 testing with a "very basic" car to log its early development work before bringing upgrades that should unleash the MCL35's full potential.
Last year's fourth-placed team kicked off its pre-season with the sixth-fastest time over 161 laps of running on Wednesday.
Carlos Sainz Jr said the team could have done more running still and only curtailed it because of its tyre allocation.
That means McLaren has already had its most productive day of testing since switching to Renault engines in 2018, as even since splitting from Honda various factors have held the team back.
---
M
c

Laren's lap counts in testing

2020 day one: 161
2019 day one: 119
2019 highest single-day tally: 134
2018 day one: 51
2018 highest single-day tally: 151
---
Sainz said he could already feel that "some of the weaknesses" of last year's MCL34 have been addressed but McLaren's programme meant true performance comparisons would come later.
"I feel positive in some of the new areas of the car, but the main thing about this car is that hopefully it's going to allow us to develop even better than last year," said Sainz.
"So it's a very basic car at the moment, what we have on track – a car that allows us to do the track time we did.
"I'm not too worried about performance yet because we're going to bring new bits in the future and hopefully that addresses the weaknesses.
"But already this car was stepping in the right direction."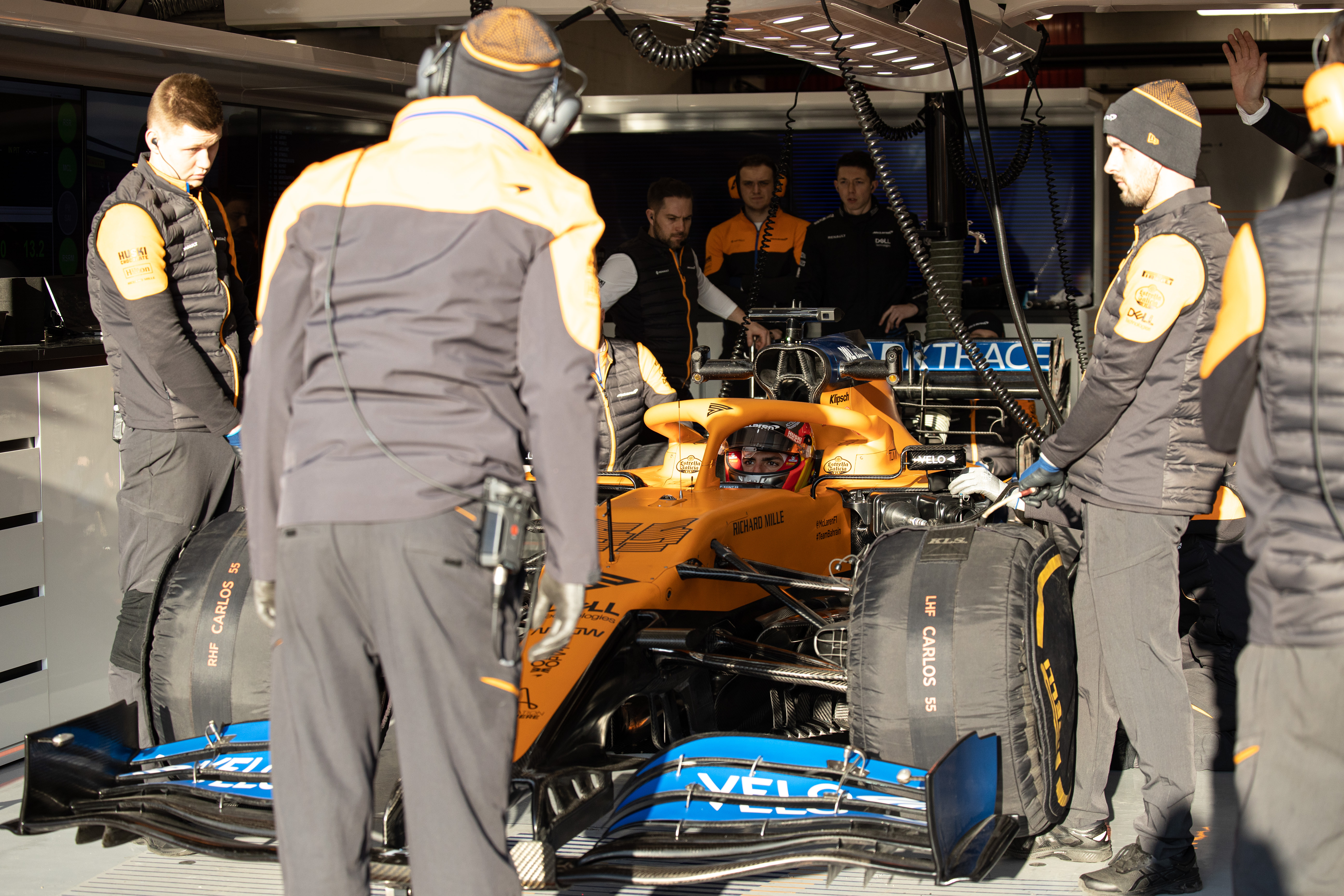 Stable regulations and the carry-over of Pirelli's 2019-spec compounds have helped facilitate a much busier start to testing than normal.
Although the average across the teams is much higher, Sainz still described McLaren's day-one tally as "quite a big achievement" and said the team "completed every single lap we planned for".
"We didn't do any more laps because there are no more tyres available," said Sainz.
"We didn't have a single problem in the car with reliability which meant we ended the day just doing pitstop practice and some starts with not much more to do.
"So I'm very, very happy. The feeling with the car was positive, it was quick out of the box and I was comfortable with it."
Good track conditions, especially compared to last year's first test but also May's Spanish Grand Prix, also contributed to impressive lap times on the first morning of testing.
Sainz said cooler track temperatures and no wind made it "easier to get to certain lap times" and admitted he was "cautious" about getting too optimistic because every team has made a big jump in outright pace.
He also noted the lack of red flags on day one made it vital McLaren learned its lessons from previous years and did not put itself on the back foot.
"It doesn't mean it's not going to happen later in the week when the parts get older, but it was a very positive first day," said Sainz.