Nikita Mazepin's defensive approach during the Russian Grand Prix has again caused consternation among some of his rivals, but FIA race director Michael Masi believes it isn't right to single out the rookie.
Mazepin came into Formula 1 with a reputation for being particularly aggressive in wheel-to-wheel combat, but while he did draw the ire of his fellow drivers early in the season, this was mainly due to perceived breaches of the so-called 'gentleman's agreement' about positioning in qualifying – in which, upon reflection, he was clearly not at serious fault.
However, as the season wore on, he had two high-profile disagreements with Haas team-mate Mick Schumacher stemming from what the German regarded as too-late, overly-aggressive blocks in Baku and Zandvoort.
Mazepin's actions there were found to be within the rules, but a reactive move to the left against Yuki Tsunoda's AlphaTauri while defending position on the back straight during yesterday's Russian Grand Prix earned him a black-and-white warning flag.
"Going through Turn 12, it was just the move that he came across so late with Yuki, who was overtaking with DRS – it's one of the things that we've said a few times and that we've issued black-and-whites for before, that it's unsportsmanlike conduct and not something that we would tolerate," race director Masi said when queried by The Race about the warning.
The block was enough to prevent Tsunoda from going through, and prompted a startled "what the f**k" from Mazepin's fellow rookie on the radio. AlphaTauri told Tsunoda the move was noted, and presumably reported it to the race director.
Tsunoda, for his part, got Mazepin to commit to another sharp jink to the left at the same spot on the next lap, and would breeze past down the inside of the Turn 13 right-hander.
The Japanese driver, who was involved in a famous late duel with Mazepin at Spa in F2 a year prior (pictured below) – one that resulted in a post-race penalty for the Russian giving the win to Tsunoda – did not touch upon his run-in with Mazepin after the Russian GP.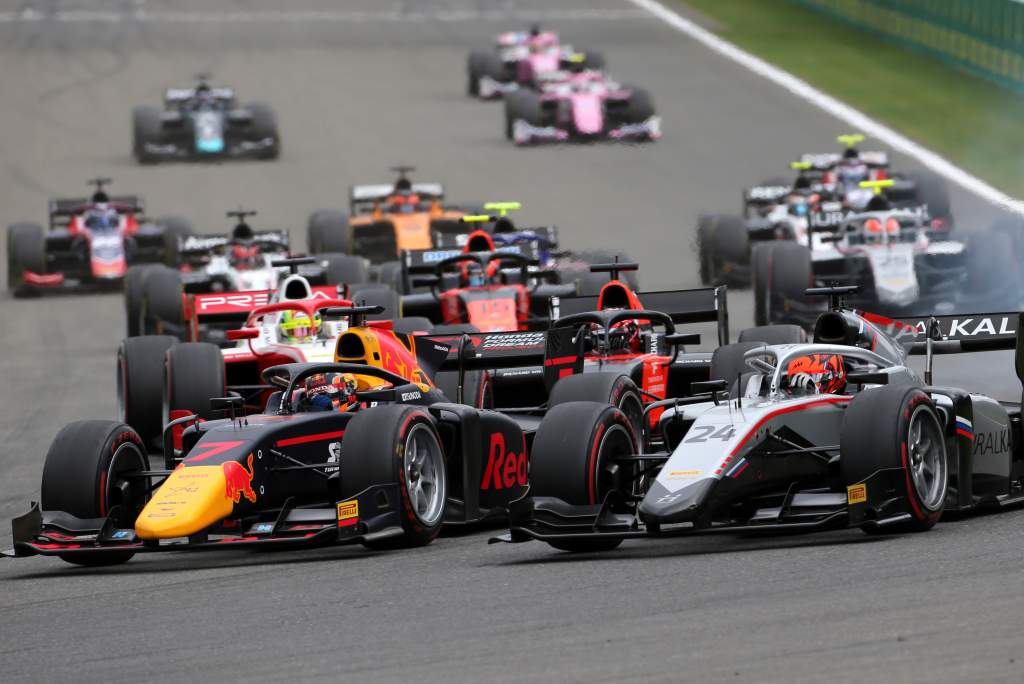 Mazepin, for his part, commented: "I wasn't sure [about the black-and-white flag incident]. I moved once and I think the way the track is – it's a straight but it's not a straight [through Turn 12]… We'll have a look at it. I want to study it first before I speak."
Another driver who battled Mazepin at Sochi – Williams man Nicholas Latifi – did speak about the Russian in more detail after having admitted that his race "came undone at the beginning [when] we were just stuck behind Nikita".
"He was always moving very late, nothing that was worth me coming on the radio," Latifi told The Race when asked about Mazepin's defensive approach.
"But that's kind of Nikita's style, the way he drives.
"It didn't seem like anything over the limit for me, but he does always leave it until the last minute which is not the best, but that's how he is."
Unlike with Tsunoda, Latifi's encounters with Mazepin were largely at the end of the main straight – with the Canadian seeking a DRS-assisted pass into Turn 2 on multiple occasions, but being unable to get close enough to force the issue, and not being helped by Mazepin favouring legal but late moves to cover the inside line on the approach to the corners.
He ultimately made a minor error in Mazepin's dirty air to allow Alfa Romeo's Antonio Giovinazzi through, and expressed anger over the team radio – not with Mazepin, but with his race-day Williams not being "a car I can attack with".
Giovinazzi would ultimately ease past Mazepin with DRS in little time, whereas Latifi then got ahead via an undercut.
When asked by The Race whether certain drivers' concerns about Mazepin's approach to defending meant it was worth having an informal conversation with the Russian rookie, Masi said: "I don't think there's anything of that – we judge incidents based on what occurred.
"If someone's particular driving style… we've probably got 20 different driving styles subtly out there. So, yeah."
He concurred that Mazepin "has probably had a few stewards visits over the year", but emphasised: "I think if you went through and had a look at it all, there's probably other drivers that are up there or more.
"So I wouldn't suggest that there's anything untoward or a concern obviously. We just look at it, investigate each incident on its own merits.
"If it's worth investigating, then obviously the stewards investigate it, and they have a look at it based on the evidence that's before them, and then deem if a penalty is or isn't necessary."