"A little bit worse than expected today," said Max Verstappen after going only eighth fastest in FP2 around Singapore. "We're just struggling a lot with the balance of the car. We tried quite a few things in FP2, some worked, some didn't. We never really got the car together, quite a few things to figure out tonight."
So is Red Bull really seven tenths adrift of Ferrari, like the time sheets suggest?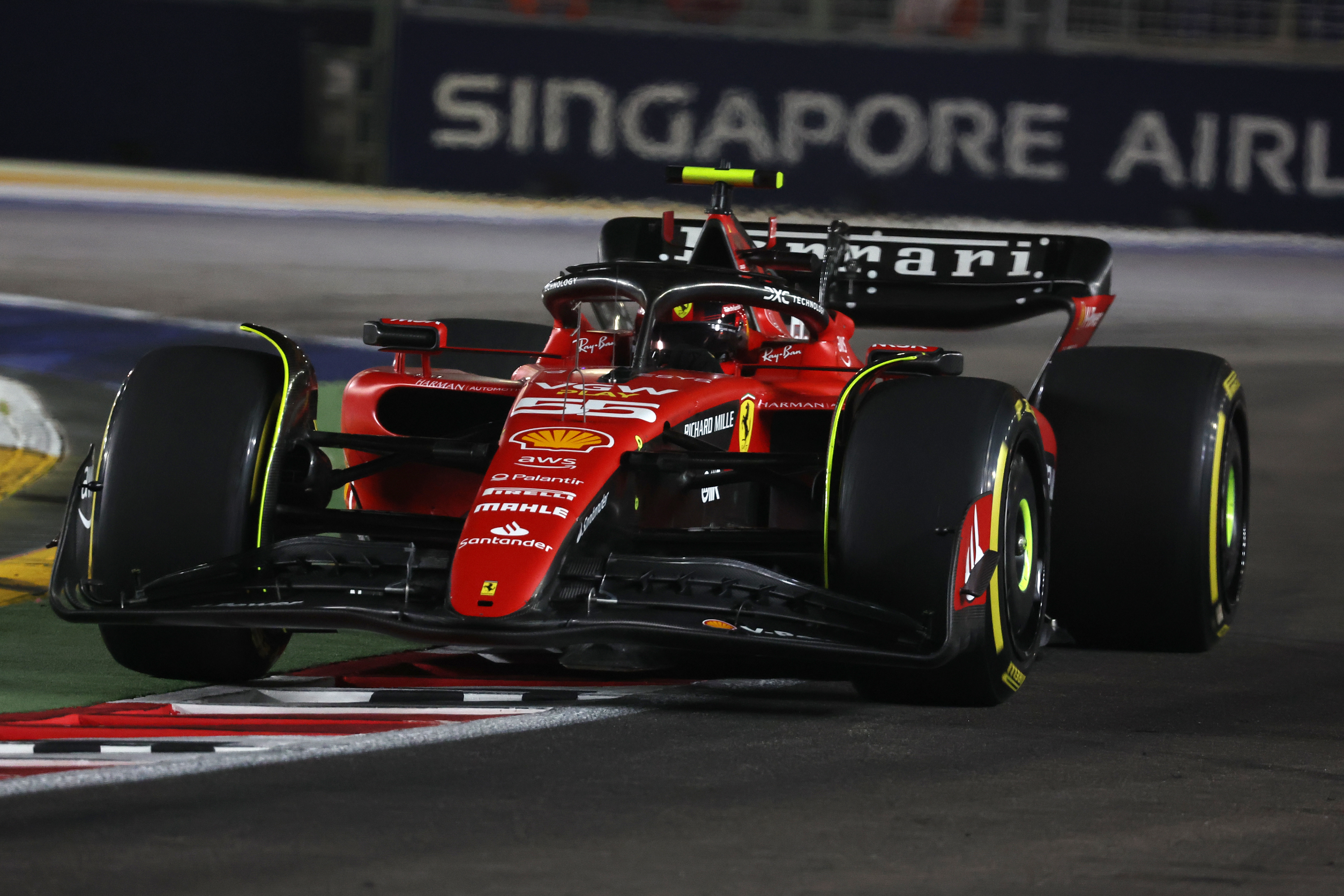 On the one hand Ferrari historically runs a little lighter than Red Bull on Fridays, but GPS suggests the red cars were running their power units conservatively – leading to the inevitable conclusion that Ferrari is genuinely fast, and that Red Bull – on Friday at least – was genuinely struggling over a single lap and there is a lot of set-up work to do to rid the RB19 of its excessive oversteer if that situation is to change into Saturday.
Don't bet against it, but this is not looking like a sure-fire Red Bull domination event. In fact, this was probably its most difficult Friday of the season to date.
Sergio Perez actually shaded Verstappen's best single lap but he too was struggling and you may have heard his exasperated summary over the radio about his difficulty in controlling the rear as soon as he stood on the brakes. He looked more competitive in the long runs, with the best average on the medium tyres that most chose.
"I think there's some interesting bits going on that we need to figure out overnight," he reported. "We seem to be struggling quite a bit with the rear end of the car, especially in FP2. Plenty of things to look at and hopefully we can come up with the best possible set-up because we know qualifying is very important."
LONG RUNS
| | | | |
| --- | --- | --- | --- |
| | Soft | Medium | Hard |
| Norris | 1m38.182s (5 laps) | | |
| Perez | | 1m38.219s (5 laps) | |
| Alonso | | 1m38.241s (8 laps) | |
| Hamilton | | 1m38.386s (8 laps) | |
| Russell | | 1m38.511s (6 laps) | |
| Stroll | | 1m38.516s (5 laps) | |
| Verstappen | | 1m38.585s (6 laps) | |
| Sainz | | 1m38.621s (8 laps) | |
| Tsunoda | | 1m38.782s (8 laps) | |
| Leclerc | | 1m38.789s (8 laps) | |
| Lawson | | 1m39.018s (9 laps) | |
| Gasly | | | 1m39.118s (6 laps) |
| Ocon | | | 1m39.479s (9 laps) |
Ferrari's combination of good slow corner balance, traction and straightline speed looked to be working as well on high downforce settings here as it was on low downforce at Monza, but its one-two form in the headline times was not repeated in the long runs where its tyre degradation rate was higher than that of Red Bull, Aston Martin and Mercedes.
On paper the Mercedes was the second-fastest car behind the Ferrari. George Russell's lap just a couple of tenths adrift of Carlos Sainz's included a wild moment through the last corner, which cost him around a tenth-and-a-half. Generally, the Mercedes was losing out in the first sector to the Ferrari, with its tyres proving a little reluctant to come up to temperature. For the remainder of the lap it was comparably quick.
Fernando Alonso's Aston Martin split the Mercedes on single-lap pace but was better than either of them in the long runs, with a super-consistent sequence of laps and relatively low tyre degradation. But the differences between the Aston and Mercedes looked small.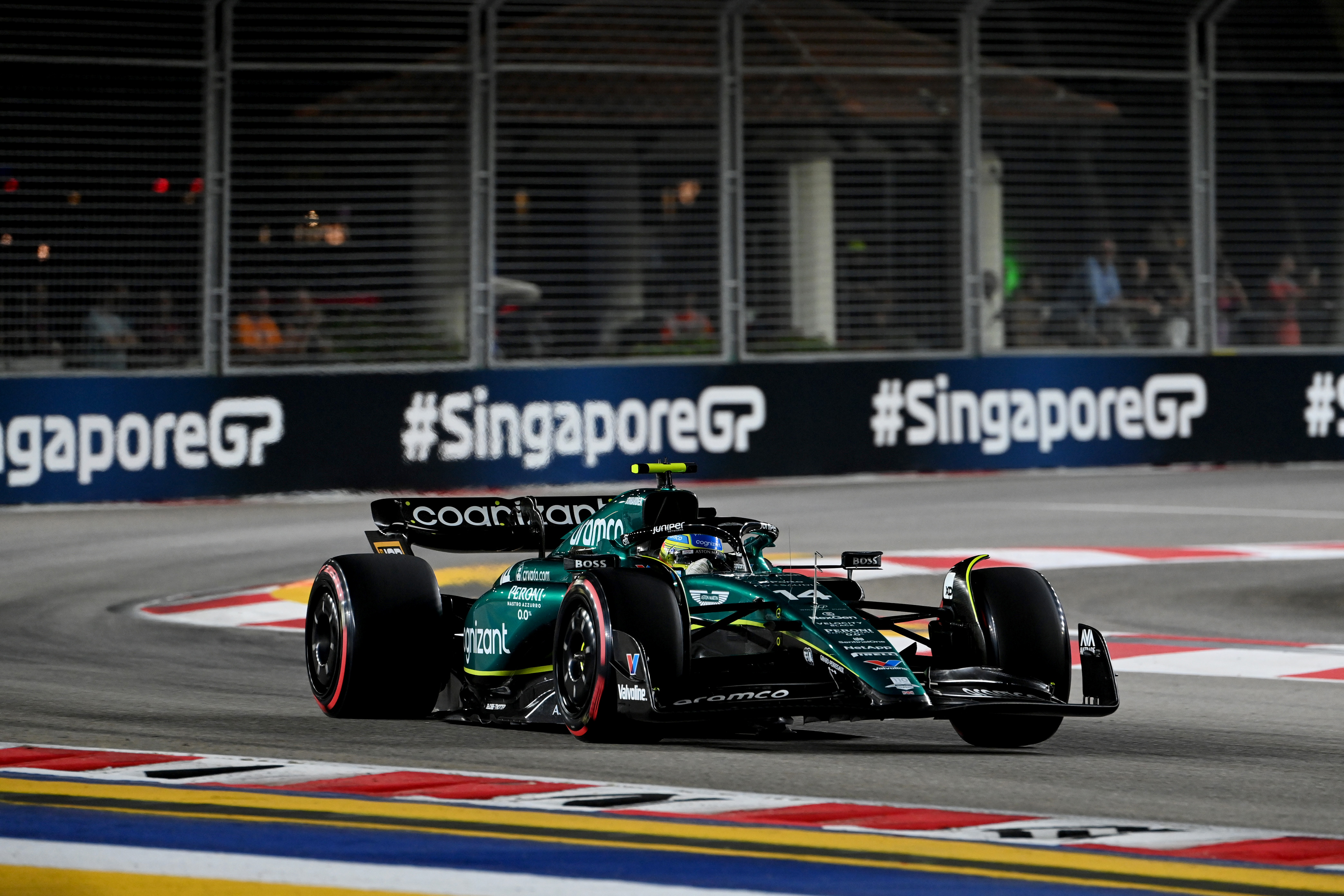 "We started on right foot," said Lewis Hamilton, noting that the top three or four cars were within one tenth or so of each other, "and the car progressed from FP1 to FP2, which is not too often the case.
"I think the changes to the track have been great. It really, really opened up the circuit to be even greater than it was before, and the changes they've done with the surface, the Tarmac they have put down, has made it so much more enjoyable to drive.
"It's going to be an interesting race. It'd be down to [tyre] deg though, mostly."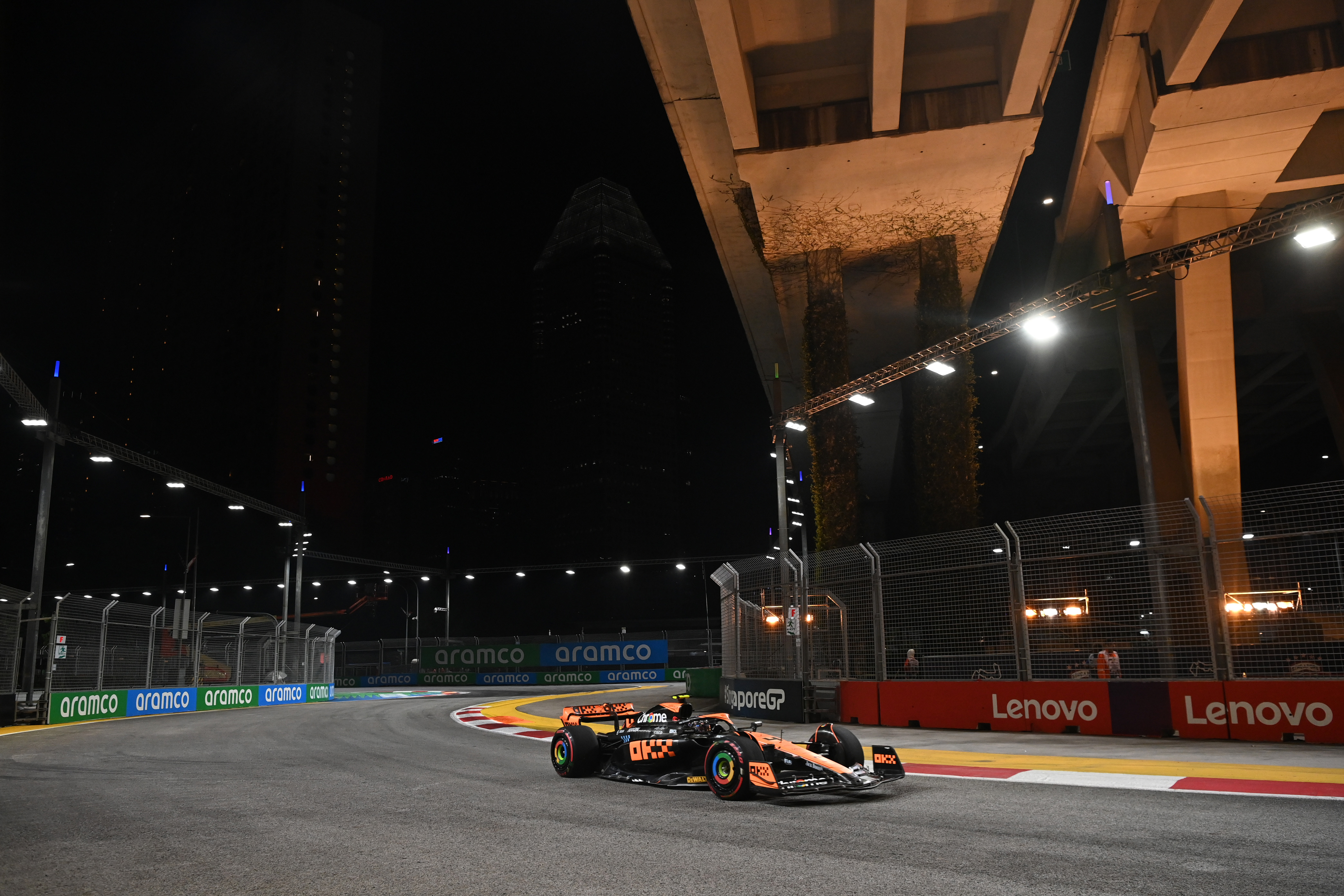 Only Lando Norris tried for a long run on the softs, which gave his McLaren the fastest average but with a range which is expected to be less than ideal for a one-stop strategy, and that as such is probably not going to be a favoured tyre.
The big pitstop loss still has a one-stop looking marginally better than two based on Friday's numbers. The new track layout, without the repeated low gear acceleration zones of the deleted section, should have improved rear tyre deg, theoretically moving the race more certainly towards a one-stop. But actually the degradation numbers were higher than expected, possibly because of the extensive sections of new Tarmac.
Norris, in the only McLaren with the full upgrade package, was generally quite competitive with Mercedes/Aston, but we await to see the true worth of the development parts once the team has become more familiar with the package. Given the offset tyre compound used in the long runs McLaren's form is difficult to read.
It would be a surprise if the Red Bull which hit the track on Saturday was as ill-balanced as that of Friday, but on this occasion things look close enough that getting the car into its sweet spot could be the difference between that race-winning sequence extending or ending.
"We'll try to improve but it's quite a big gap," added Verstappen. "The Ferrari is very fast but I think we're just way worse than we expected."
---
The Race's comments section is changing – find out more here
---
Practice 2 Results
| Pos | Name | Car | Best Time | Gap Leader |
| --- | --- | --- | --- | --- |
| 1 | Carlos Sainz | Ferrari | 1m32.12s | |
| 2 | Charles Leclerc | Ferrari | 1m32.138s | +0.018s |
| 3 | George Russell | Mercedes | 1m32.355s | +0.235s |
| 4 | Fernando Alonso | Aston Martin-Mercedes | 1m32.478s | +0.358s |
| 5 | Lewis Hamilton | Mercedes | 1m32.585s | +0.465s |
| 6 | Lando Norris | McLaren-Mercedes | 1m32.711s | +0.591s |
| 7 | Sergio Pérez | Red Bull | 1m32.812s | +0.692s |
| 8 | Max Verstappen | Red Bull | 1m32.852s | +0.732s |
| 9 | Kevin Magnussen | Haas-Ferrari | 1m33.017s | +0.897s |
| 10 | Valtteri Bottas | Alfa Romeo-Ferrari | 1m33.105s | +0.985s |
| 11 | Nico Hülkenberg | Haas-Ferrari | 1m33.139s | +1.019s |
| 12 | Liam Lawson | AlphaTauri-Honda RBPT | 1m33.285s | +1.165s |
| 13 | Esteban Ocon | Alpine-Renault | 1m33.361s | +1.241s |
| 14 | Lance Stroll | Aston Martin-Mercedes | 1m33.39s | +1.27s |
| 15 | Oscar Piastri | McLaren-Mercedes | 1m33.461s | +1.341s |
| 16 | Yuki Tsunoda | AlphaTauri-Honda RBPT | 1m33.477s | +1.357s |
| 17 | Guanyu Zhou | Alfa Romeo-Ferrari | 1m33.575s | +1.455s |
| 18 | Pierre Gasly | Alpine-Renault | 1m33.824s | +1.704s |
| 19 | Logan Sargeant | Williams-Mercedes | 1m34.327s | +2.207s |
| 20 | Alex Albon | Williams-Mercedes | 1m35.558s | +3.438s |