"It was one of those laps where you go around the first corner and you feel the tyres are in a good window, you feel 'yeah, that's pretty good', you go round the second corner tyres feel good, yeah and the lap time just keeps on coming, keeps on coming.
"I've not had one single lap like that all year. I had a few of them with Williams…" said George Russell to the TV cameras immediately after his maiden pole position.
A totally out-of-the-blue achievement, it must be said. For Mercedes had been nowhere all weekend.
"Yesterday was our worst Friday of the season," he continued. "We were completely lost, morale was down and we turned it round."
Something about the volatility of track conditions through the weekend – 55-deg track temperature on Friday, FP3 rained out, high 20s/early 30-deg C for qualifying on a green surface – played into the hands of the mercurial Mercedes. No one was quite sure what, even at Mercedes.
But what we do know is that following that disastrous Friday (Russell's long run averaged 1.7s slower than that of Carlos Sainz's Ferrari, barely any faster than AlphaTauri, while Lewis Hamilton aborted his run because of floor damage) Mercedes had a total rethink on set-up.
On Friday, the W13's usual reluctance to get its front tyres up to temperature quickly enough hindered its single-lap pace; that's normal. But the track's thermal punishment of the rear tyres was much worse on the Mercedes than the Ferrari and Red Bull – and that wasn't normal.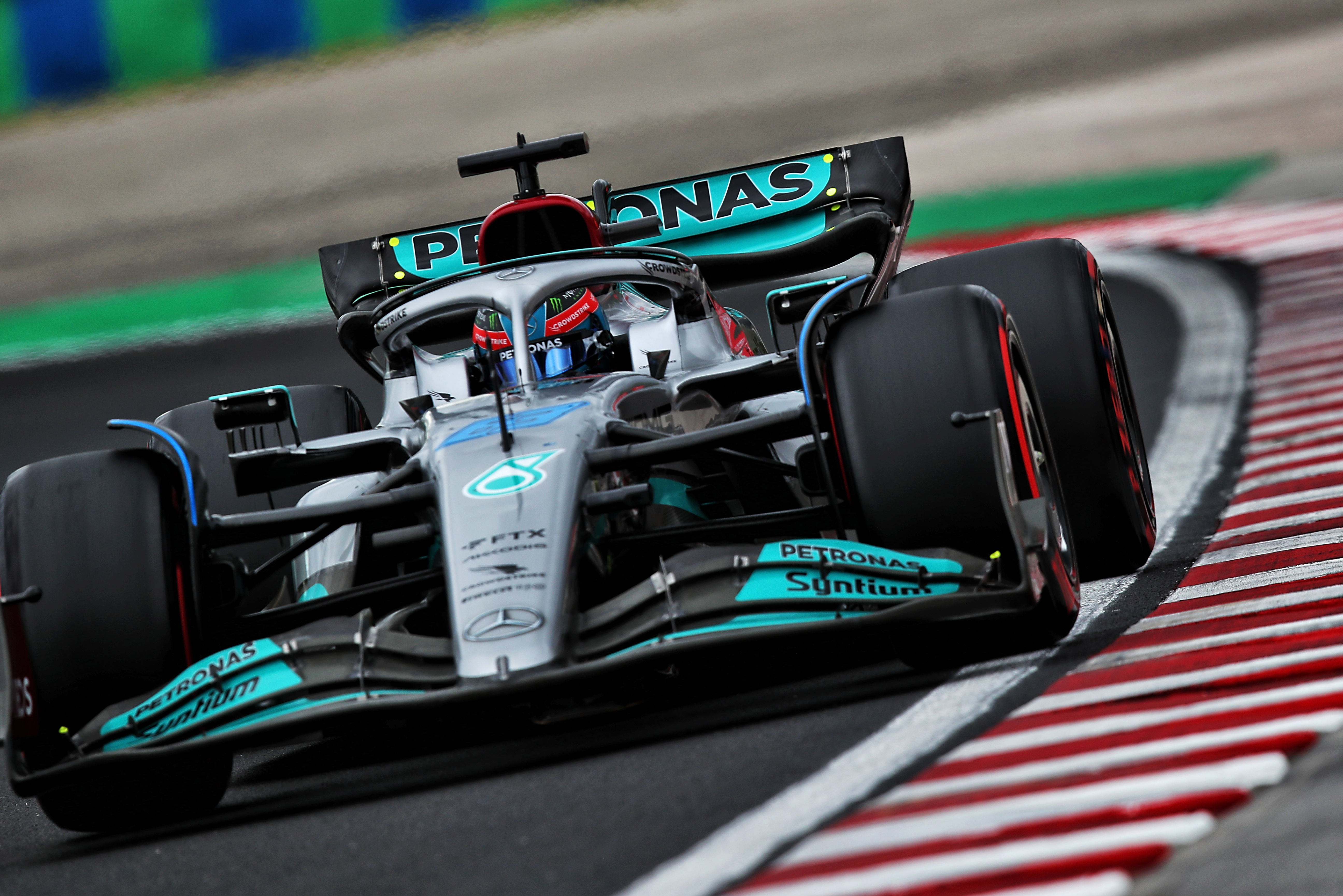 Usually, the mechanism keeping the tyres from coming quickly up to temperature is what also protects them in the race. The W13 is very often better on the tyres in a race stint than either of the two faster cars ahead of it, albeit usually from too far back for it to matter. Only at the British Grand Prix might that have been properly translated. Had Silverstone not been interrupted by the safety car, Hamilton was surely going to pounce on Sainz's compromised Ferrari and may have even had a shot at Leclerc's for the win.
But that's not how it was around the hot Hungaroring on Friday. The rears had to be more protected – even if that meant a more understeery balance, which would be expected to worsen their already compromised qualifying pace. Mercedes has been here before in Hungary. In 2018 in the dry it was overheating its rear rubber badly in the heat of practice but was rescued by a wet qualifying on that occasion.
Back in 2016 Nico Rosberg, having accepted he wasn't going to out-qualify Hamilton, set his car up with a very understeery balance to protect the rears, something he believed would give him the advantage on race day. It didn't work out that way for him, but just to say overheating rears is a familiar Mercedes headache around here, something it is used to making fairly radical workarounds for.
"I'm not going to tell you what we did, obviously," said the elated Russell. "But we were here until 11pm last night, scratching our heads. Morale was down. We felt lost."
As they would if their only solution for their biggest problem (race pace) looked set to make their other problem (qualifying pace) worse.
But it didn't. Magically, the much cooler, much greener track surface somehow dovetailed with the set-up changes to switch the Mercedes on over a single lap for the first time all weekend, the first time all season, in fact. It was apparent right from Q1, where Hamilton and Russell headed the times, albeit after using two sets of new tyres to the one set each of the Ferraris and Max Verstappen's Red Bull.
But with a new tyre boost of around 0.2s over a used set, it implied that Hamilton would have been only 0.1s off the Ferraris on equal rubber and track surface. Which is way closer than at any other track this year.
It's obviously all about the super-sensitive Pirelli tyres.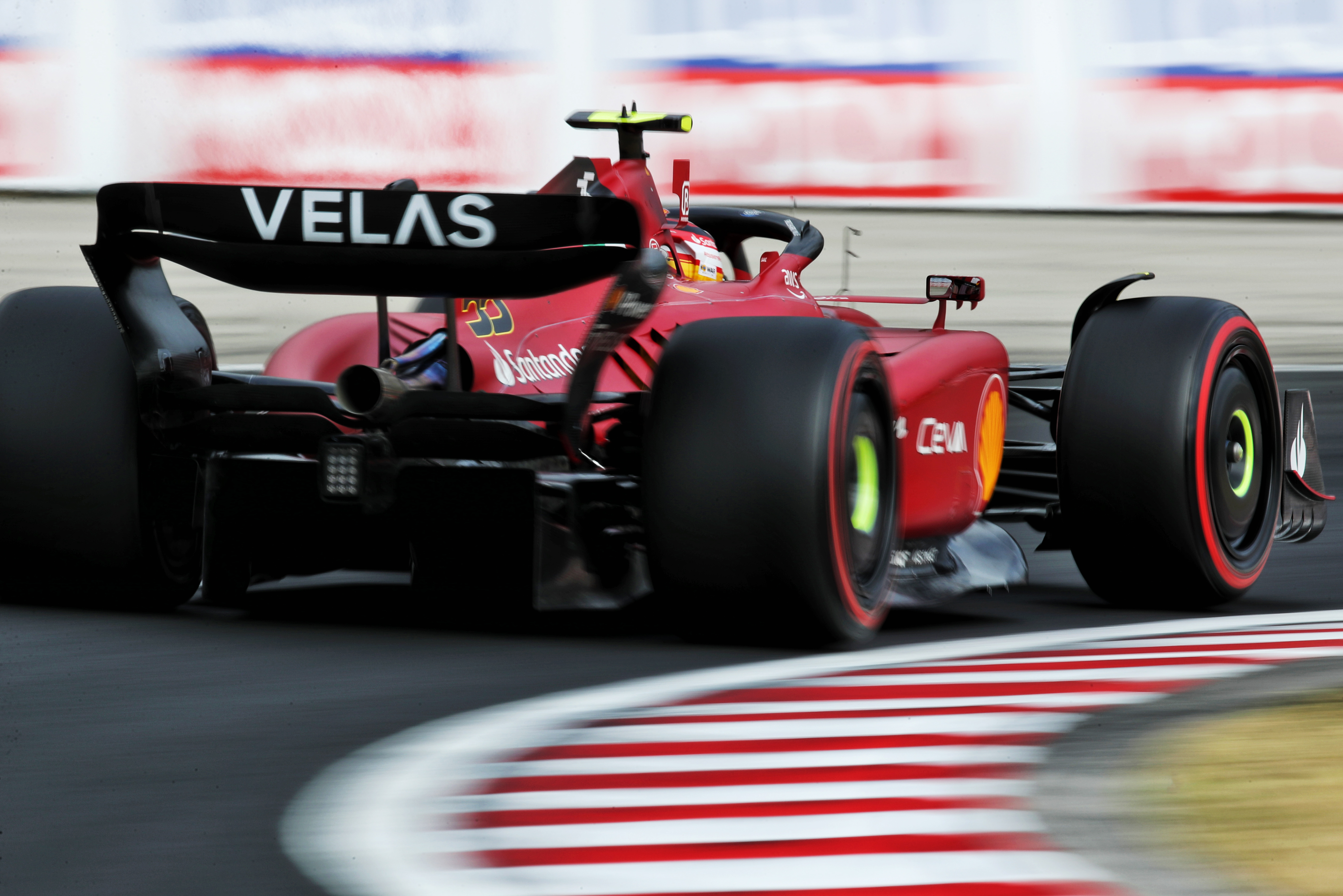 "Something about the track conditions took things away from us, even in Q1 and Q2 compared to Friday," said Sainz about the change in the balance of his Ferrari, which had looked untouchable on Friday. "We didn't have the margin in Q1 and Q2 we have had at other tracks this year, not only over our rivals but even over the midfield."
Around a layout that should have suited Ferrari better than anywhere else other than possibly Monaco. Ordinarily, this may have been discovered in FP3 on Saturday morning. But that session was of course held on a wet track throughout.
Red Bull was closer to Ferrari than on Friday, but it too had a reduced advantage over the rest of the field and looked barely any faster than the Mercedes, maybe 0.15s faster than the McLaren.
Whatever had changed the way the tyres and the resultant car balances were working had shifted things massively in Merc's favour and had stymied Ferrari in particular but also Red Bull. Put that together and it was a massive performance swing. Deny Ferrari and Red Bull a dry FP3 to discover and rectify the problem – and you have at least part of the answer for this anomaly.
There were several working theories as to what had actually happened in the varied reaction of the tyres on the various cars to the change in track conditions. The clues are all there somewhere. It's been suggested that perhaps the Merc's usual reluctance to get its front tyres up to temperature – which would normally be an extremely punishing trait around here with its interlinked corners – is because they slide too much, aren't worked hard enough to get temperature into the core of the tyre, making it hard and inelastic.
After a few laps the rubber typically becomes more malleable and by the end of the stint is in really good shape relative to Ferrari and Red Bull because it has taken less energy from the tyre earlier on. But what if the big drop in tyre temperatures from Friday into qualifying (and the more grainy track surface from being washed clean of rubber build-up) allowed the Merc's front tyres to grip properly immediately for once? And what if that same temperature drop had made the normally happy fronts of the Ferrari overworked?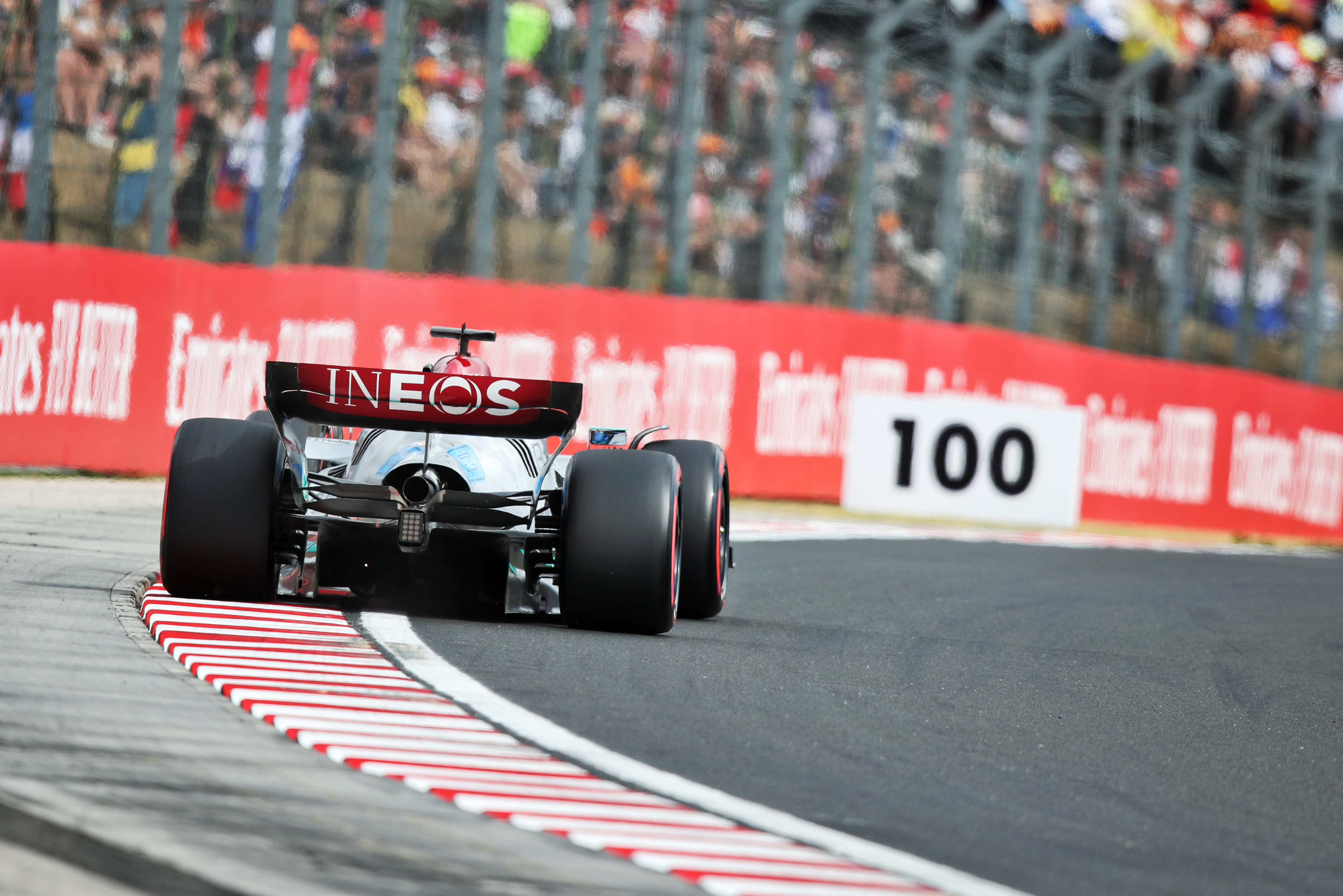 This track poses a tricky tyre conundrum even without wild temperature and surface variations. It heavily rewards front-end response in single lap time but induces massive thermal degradation on the rears over a race stint. So the compromise between a good qualifying and race set-up here is always bigger than at most tracks.
Those making the best compromise on Friday would have more to lose by any change. Throw in those randomisers and things might just fall well for a team that had made a wild set-up change in desperation…
When we compare Russell's pole lap with Sainz's second-fastest lap in the Ferrari (with a gap of just 0.044s between them), we see Russell is faster in sector 1, which is traditionally a power sector but also sector 2, traditionally a downforce sector and where the Ferrari was super-strong on Friday. Only in the final sector – which traditionally rewards those cars whose rear tyres have not overheated after sector two – is the Ferrari marginally faster.
Russell vs Sainz: Corner by corner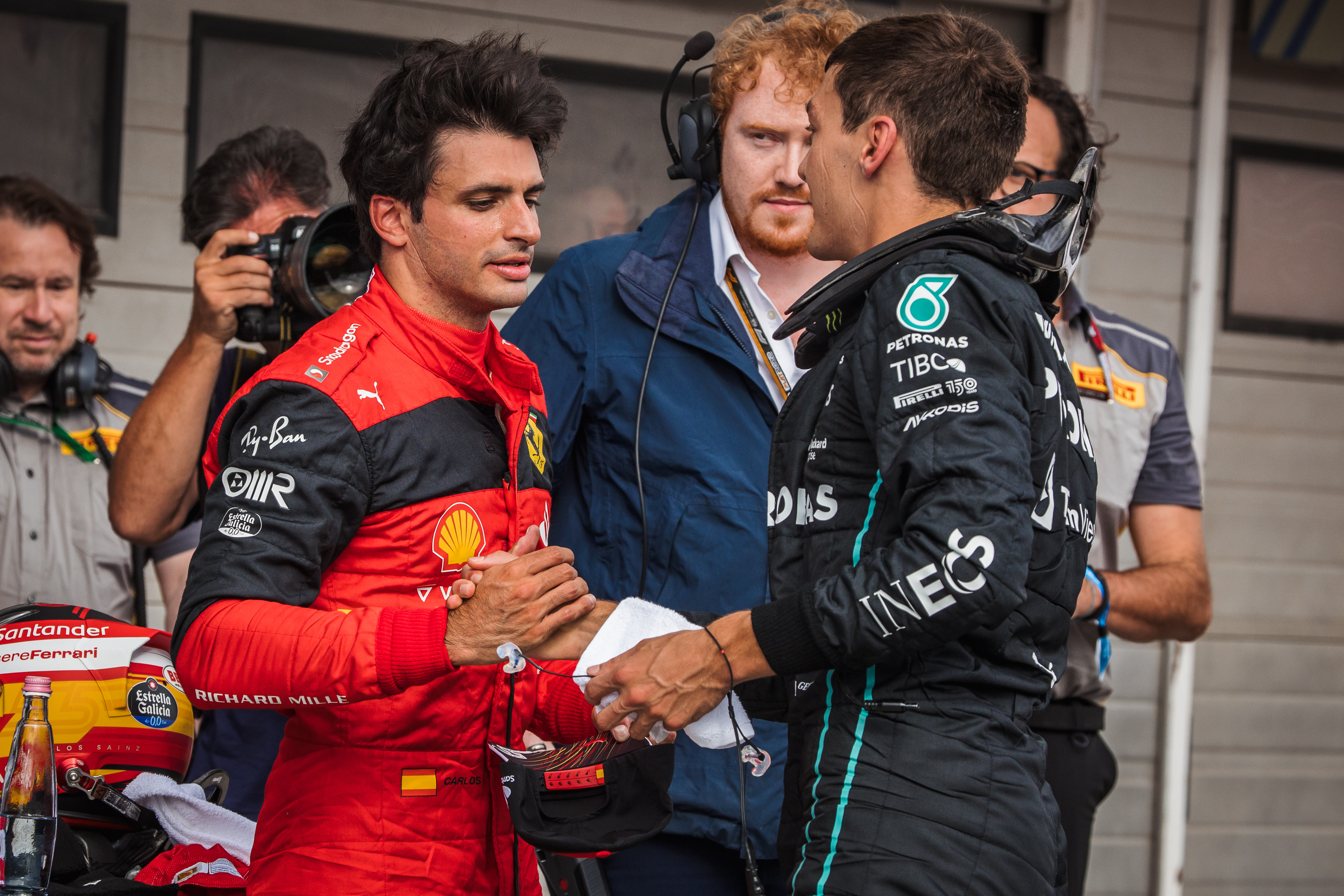 As they get to the braking area for Turn 1, the Ferrari is marginally ahead, but by no more than a couple of metres. Into Turn 1 Russell has a visibly grippier front end than Sainz.
The Merc goes exactly where it is pointed whereas Sainz has understeer and runs well wide of the apex. Sainz adapts to the situation extremely well and instead of forcing the car to that apex instead accepts the longer line and keeps greater momentum there. It scrambles him over the exit kerbing more than Russell but although he's travelled further he's kept more momentum and the two cars are level as they approach Turn 2.
At Turn 2 the Ferrari is still a little reluctant to go where it's been pointed and the Mercedes is again more directionally responsive. Again, Sainz takes the slightly longer way around but maintains good momentum and is marginally ahead on the exit.
Russell gets a cleaner approach into Turn 3 on his more geometric line out of T2 and is around five metres ahead by the time they race up the hill and approach the fast uphill of Turn 4. But by now the Ferrari's downforce and tyres seem to be in a happier place – it clearly likes fast corners and Sainz is super-quick through there. This means he approaches the long, looping right of Turn 5 faster than the Merc, but maybe too fast because the rear of the Ferrari steps out on entry, allowing Russell to claw back what he lost through T4, as they approach the chicane.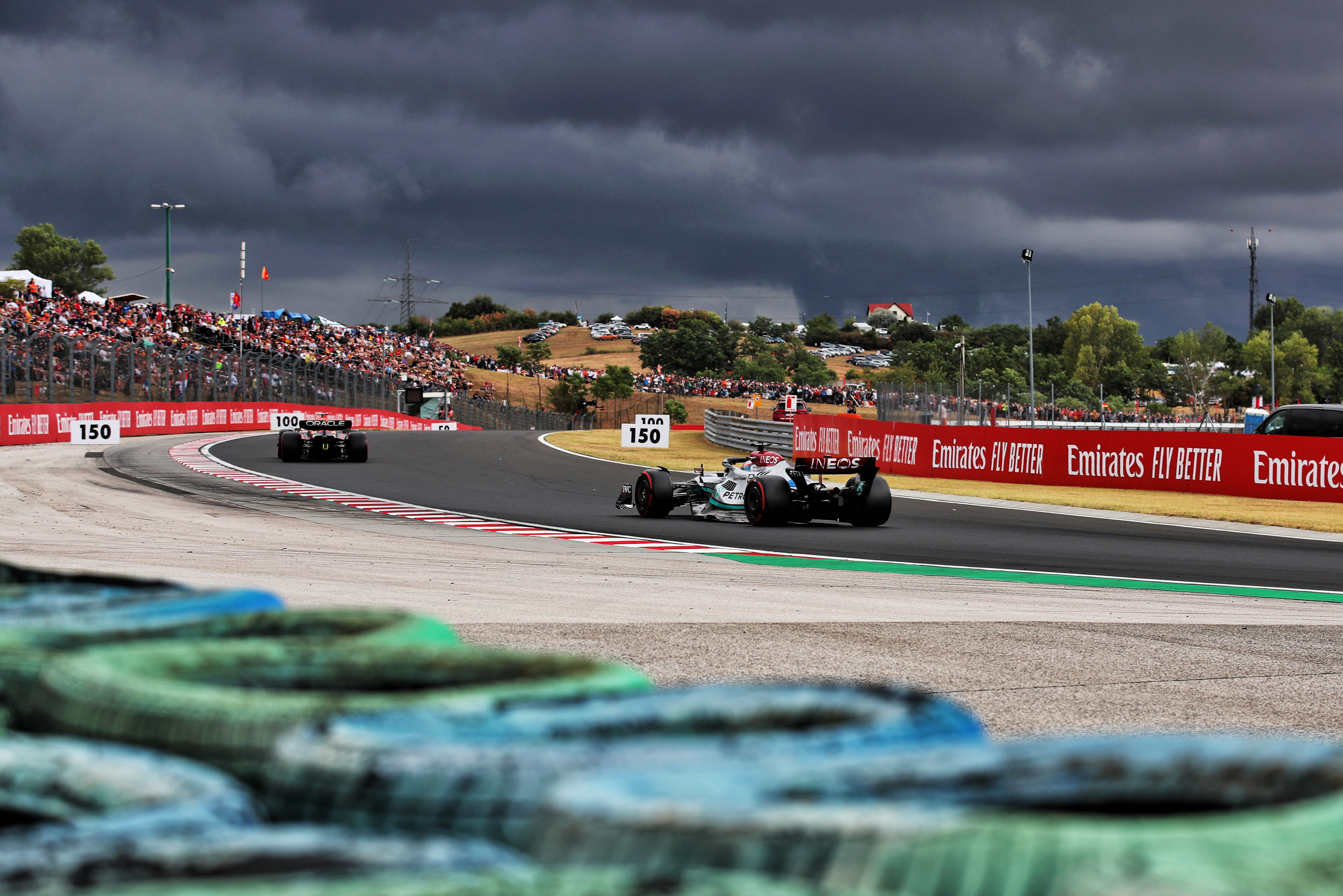 Into the chicane, just like earlier in the lap, Sainz is not as confident in his front end grip as Russell, and is more tentative on the steering, with two bites at the initial turn in contrast to George's single sweep, the building cornering grip balanced beautifully against the decreasing braking force, allowing the car to rotate perfectly and putting Russell much further over the inside kerb than Sainz, allowing him a cleaner exit and to be earlier on the throttle. This is where Russell does the most damage to Sainz. His time gain from the beginning of the chicane to the approach of Turn 8 is substantial.
Through the medium-speed Turn 9 right-hander, Russell either has more grip from the tyres or a more precise feel for the grip he has because Sainz is correcting a small slide on exit at a point where Russell is all smooth momentum.
Through the building speeds of the interlinked Turn 10-11, there's nothing in it. Through the fast right of Turn 12, traditionally where the tyres are crying 'enough', both have understeer. Into the long left of Turn 13, the penultimate turn, Sainz suffers another oversteer snap, though smaller than that of Turn 5.
It looks as if the Ferrari has a less happy front-to-rear load transition than the Mercedes at this point, as if maybe the tyre temperatures front to rear are not as well matched, at least on the right-hand side.
But through the right-handed final turn, Sainz is faster. Is the Ferrari only just beginning to come into balance? The Ferrari then accelerates harder to the line and makes a faster final sector – but not by enough.
Russell's verdict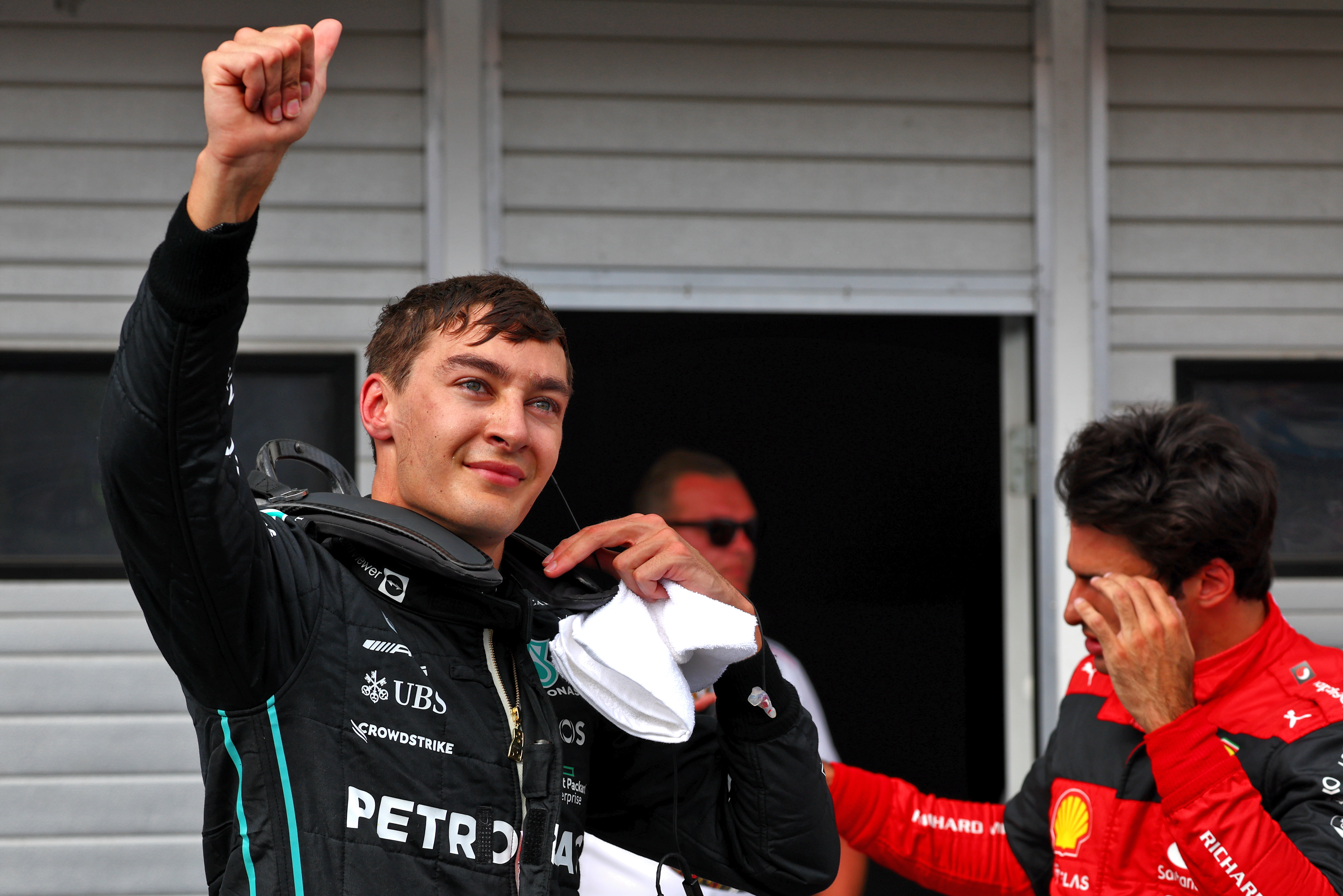 "The tyres are such a limiting factor for so many teams," says Russell. "They're so sensitive at the moment. We just nailed it. Both my Q3 laps were really strong. That 17.9s on the used tyre on the first run felt really strong. Then we improved six or seven tenths on my last lap."
Accounting for team-mate Hamilton having a DRS failure and a PU glitch for Verstappen, all Russell had to do was beat the Ferraris – around a track on which the red cars' advantage was expected to be big. The opportunity presented itself, but Russell was superb in how he grabbed it.
"There may be some things we did last night which may hurt our race pace more compared to previous races," said. "I really don't know… It might be a three-stop might be a one-stop. We really don't know. We'll just have to be on our toes. Just take it lap by lap. We've just got to be fast. If we're fast, we can win."