Max Verstappen is used to the fireworks following him down the Abu Dhabi finish straight at the end of the race. Glittering towers of sparks into the night time skies programmed to go off at intervals defined by the speed of the wining car. They shadow him as he takes the flag, but no one else did. Even though he'd been driving with a lot of margin, keeping his tyres alive.
He stopped only once, exchanging his starting mediums for a set of hards on lap 20 of the 58-lap race. Team-mate Sergio Perez, fighting Charles Leclerc for distant runner-up in the championship behind Verstappen, was thwarted by front graining on his first set of tyres, which put him in an awkward strategic no-man's land and in potential strategic conflict with Verstappen.
Retaining his second place grid position he'd pulled himself out of Leclerc's DRS reach by the end of the first lap, two laps before the feature was even enabled.
Was that when the damage was done? Because by the 14th lap Perez's right-front medium was opening up. Leclerc was 1.3 seconds behind and lapping 0.9s faster, his Ferrari's right-front medium still in good shape. Red Bull had no choice but to bring Perez in on the next lap. Otherwise Leclerc could have undercut the track position from him.
That brought snowballing problems for Perez. It was early enough that he hadn't quite cleared Fernando Alonso and Sebastian Vettel, enjoying their last battle at the foot of the top 10. Regardless of the delay in passing them, lap 15 was very early if Perez was to one-stop, requiring his hards to last 43 laps at a pace good enough to keep a newer-tyred Leclerc behind him to the flag.
This became an ever-tougher prospect as Leclerc managed to go an extra six laps before that first stop. Perez still had the track position and a gap of about six seconds but on the hards he wasn't as fast as the Ferrari. Nowhere near.
Things got a little complicated for Red Bull at this point because Verstappen was running at his tyre-conserving one-stopping pace but Perez, on account of his enforced early stop, was likely looking at a two-stop. So he really needed to be pressing on to buy the extra pitstop time, if Leclerc one-stopped.
But his pace was dictated by Verstappen now – and there seemed no will on the Red Bull pitwall to ask Max to move aside. So Perez just followed, around 2.5s behind so as to be out of tyre-damaging turbulence range. And Leclerc moved closer.
Carlos Sainz – following a respectful distance behind Leclerc and trying to support his points battle – radioed in that the Red Bulls must be going for a one-stop, that they weren't going fast enough for a two. Sainz was right about Verstappen. But Perez was still intending to two-stop. There was a discussion about converting to a one-stop but Perez was wary of it, given how quickly he'd destroyed his first set of tyres.
So again – way earlier than convenient for Perez and Red Bull – Leclerc got close enough to apply undercut pressure for a second stop. Ferrari was pressing the issue, forcing Perez and Red Bull to make a decision. It was only able to do this because of the relatively gentle pace Verstappen (who came into the race with only one set of new hards to the two of Perez and the Ferraris) was imposing upon Perez.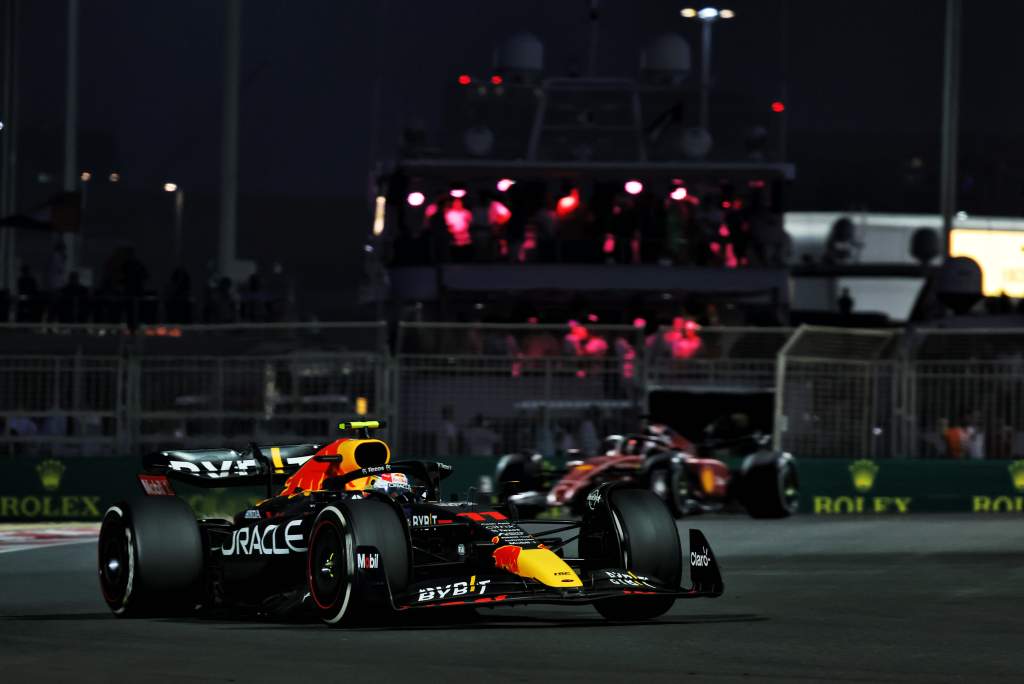 "Box the opposite of Perez," Leclerc was told, which was almost certainly a dummy to bring Red Bull in. It was at this point – only in hindsight – that Perez failed in his bid to deprive Leclerc of runner-up in the race and championship. Leclerc would stay out on a one-stop and Perez would be perhaps one lap short of being close enough to put a DRS pass on him at the end.
It was extremely closely poised between a one-stop and a two, too close even for the teams to call with any confidence, even as the race was unfolding. The gap between Leclerc's one and only stop and Perez's second stop meant the Red Bull was hunting the Ferrari down on tyres 12 laps newer. It wasn't quite enough.
A little further back, one-stopping Lewis Hamilton was on tyres 21 laps older than the closing two-stopping Sainz and was easily going to be caught and passed well before the end, even before he retired with no hydraulic pressure. OK, that was a Mercedes that didn't have quite Ferrari's pace this weekend, but still, that's how closely-matched the one- and two-stop strategies were around here. A 12-lap offset wasn't quite enough for the two-stop whereas a 21-lap lap tyre offset would have overwhelmed a one-stop.
But hang on, how come a Ferrari which has struggled with tyre degradation in the season's latter half, was able to beat Perez's Red Bull through better tyre usage? Earlier that morning Ferrari senior performance engineer Jock Clear put the Ferrari's tyre deg into a different perspective.
"I think that's a myth based around the fact that in the latter part of the season our drivers have been fighting against a faster car," Clear argued.
"In the first part of the season, we were as fast and so there was no apparent difference in tyre deg. In fact, sometimes we were better than them. Against a faster car, you could argue that they should just drive within the tyres but they are racing drivers and they'd got used to competing against that car."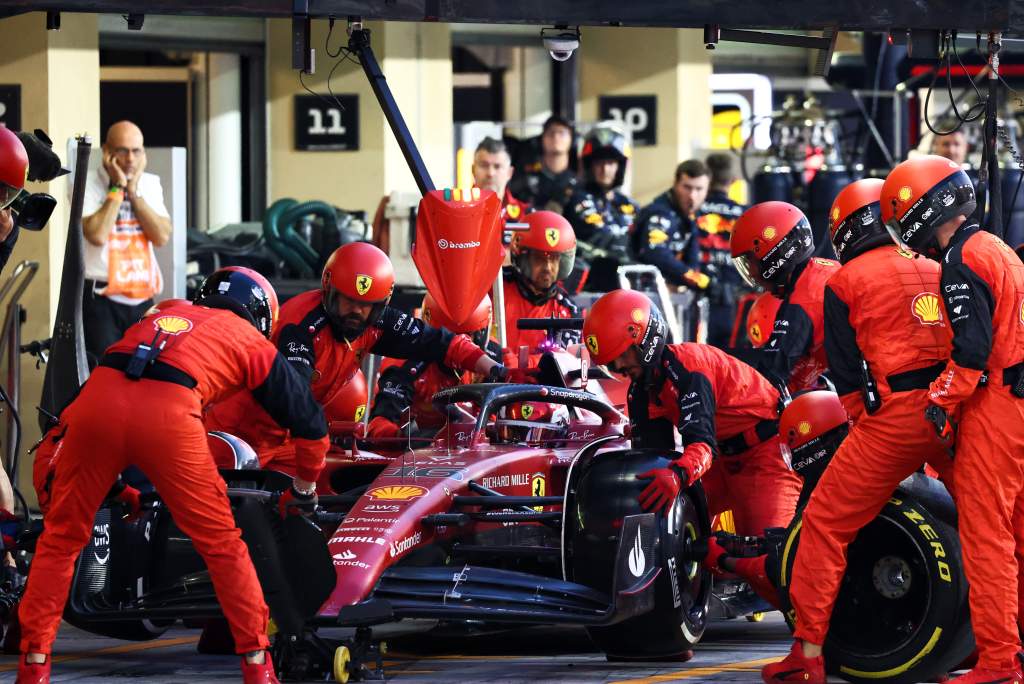 There's maybe something in Clear's theory. Not that the Red Bull wasn't still faster than the Ferrari here – Verstappen's pole was a couple of tenths faster than Leclerc's best – but on race day Verstappen was delicately judging his pace against his tyres and his planned one-stop strategy, doing only what was necessary.
"It was all about tyre management," said Verstappen. "I think we looked after the mediums quite well and then on the hard tyres it was literally managing from lap one to the end."
Perez was maintaining a similar pace 2-3s behind. Running at that one-stopping sort of pace, Leclerc's tyres held on fine. If the race had been an optimum two-stop, allowing more of everyone's pace to be used, likely we'd have seen the usual pattern of the Ferrari using up its tyres earlier.
The thermal degradation imposed on the tyres by the track just wasn't quite enough to make a two-stop quicker, especially if you were forced by graining to stop earlier than ideal. That was the near-perfect scenario for Ferrari. Especially as it was under no threat this weekend from Mercedes.
In contrast to the last few venues, the Yas Marina track heavily punishes any drag penalty and the W13 is a relatively draggy car. In the practices Hamilton and George Russell tried smaller rear wings but found they lost more laptime through the greater oversteer in sector three than they gained from the improved straightline in sectors one and two.
So they reverted to the bigger wing: faster over the lap and looking after the tyres better, they lived with being slow on the straights and planned around a one-stop. If the degradation rates turned out to be high, maybe they could be in contention through Red Bull and Ferrari being forced to two-stop while they could manage on one. But of course, the deg wasn't high and the Mercedes remained out of contention.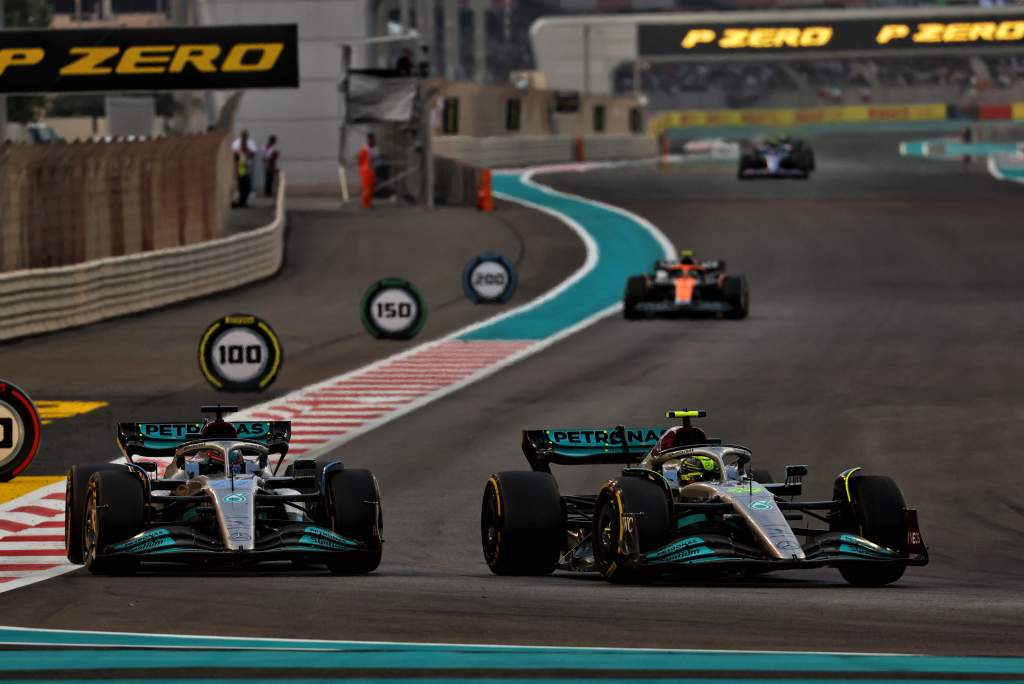 It wasn't heat degradation – the mechanism which together with the pitstop loss usually determines how many stops are optimum – which had forced Perez run into tyre trouble, but graining. "I've struggled with these tyres this year," admitted Perez. "The margins are so fine," said team boss Christian Horner. "You can be a click of front wing out, a tiny bit of ride height or a small bit of mechanical balance and it will have a dramatic effect on your tyre life and Checo's first stint in particular just compromised him."
On his new hards (12 laps newer than Leclerc's), he came out 20s behind with 24 laps left. He was faster, but not by enough. Leclerc was maintaining a perfect balancing act, running only around 0.7s slower than the advancing Perez.
Verstappen, 5s in the lead, was simply judging his pace back to Leclerc. With 14 laps to go he radioed, "The tyres are good. Tell Checo to go full send." Perez pushed as hard as he dared, concerned about the tyres. "Are we going to catch Leclerc?" he asked. "Yes," he was told.
The Ferrari pitwall at this stage was inclined to agree. So delicately poised was this whole contest that it was beginning to believe it had got this wrong, that Leclerc was going to be caught and passed before the end. But by the time it suggested a second stop to Leclerc it was probably too late. "I don't think I'll come back if we box." He'd have likely run out of laps.
He stood his ground and stayed out. The pitwall's belief was based upon predicted drop-off towards the end of the stint. But that's not what happened; Leclerc trod that delicate balance between pace and tyre life beautifully.
Sainz in the other Ferrari had a somewhat busier opening few laps than Leclerc, getting involved in a dice with Hamilton's Mercedes which took more from his tyres and nudged him toward a two-stop. Sainz had dived down Hamilton's inside into the Turn 6 chicane entry on the first lap. Hamilton ran wide onto the kerb, the Mercedes rearing into the air and landing heavily. Their dice continued for a couple of laps until Sainz was definitively up to fourth. Hamilton had used up his battery store in this battle and was then literally powerless to defend being passed by team-mate George Russell.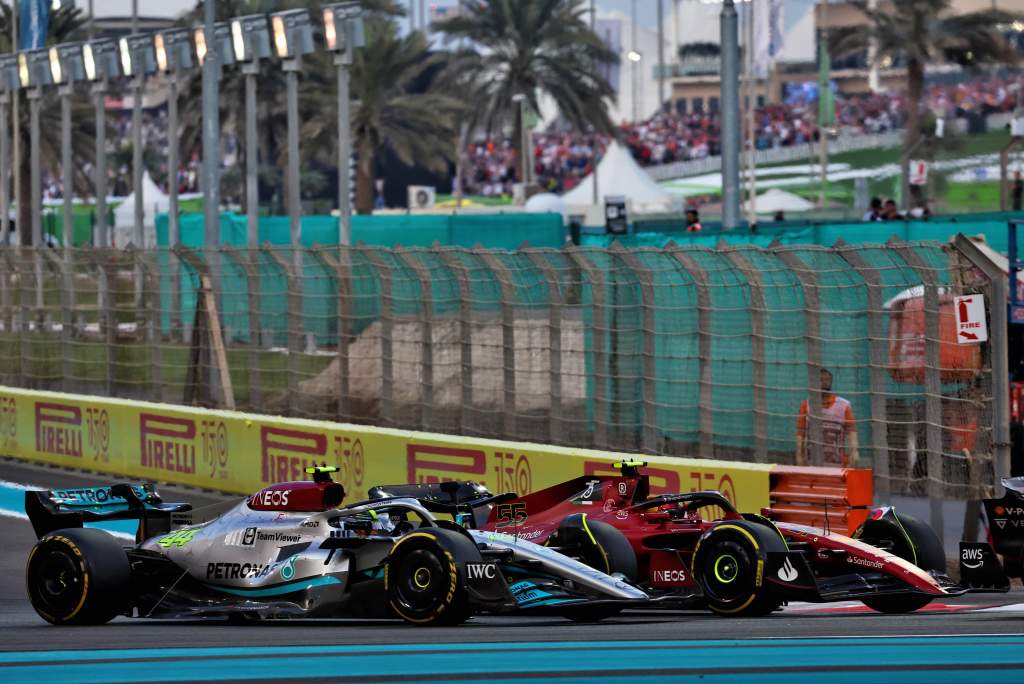 Sainz and Russell each made second stops, covering off each other into stalemate and they remained around 5s apart to the end, in fourth and fifth. On his new tyres Sainz was lapping up to 2s faster than Hamilton and was on course to pass well before the end.
Lando Norris had run on his own well behind this group but far clear of anyone else and became the beneficiary of Hamilton's hydraulics failure, the McLaren's late second stop onto mediums – and the tyre whispering going on up front – helping him take fastest lap of the race.
Two-stoppers Esteban Ocon and Lance Stroll finished ahead of the one-stopping nose-to-tail Daniel Ricciardo and Sebastian Vettel. Alonso's final dice with Vettel after 14 years was brought to an end by yet another water leak in the Alpine.
Fernando was probably long changed out of his race suit by the time Verstappen's fireworks erupted.