Lap 26 of 50 in Formula 1's 2023 Las Vegas Grand Prix and George Russell just didn't see Max Verstappen into Turn 12, didn't think he'd be there on his inside – not on that part of the track just before the long DRS straight – and so got a nasty surprise as he turned in and felt the bump of the Mercedes' front-left hitting the front wing of the Red Bull.
It cost Russell a likely podium but it was much more significant than that; it completely reset the race – and turned it away from what was shaping up into a Charles Leclerc victory into yet another for Verstappen.
That Y-point - how the race diverged from what it was set to be to what it was - just added to the thrill and drama, made it as spectacular a sporting event as it was showbiz.
WHY THE RACING WAS SO GOOD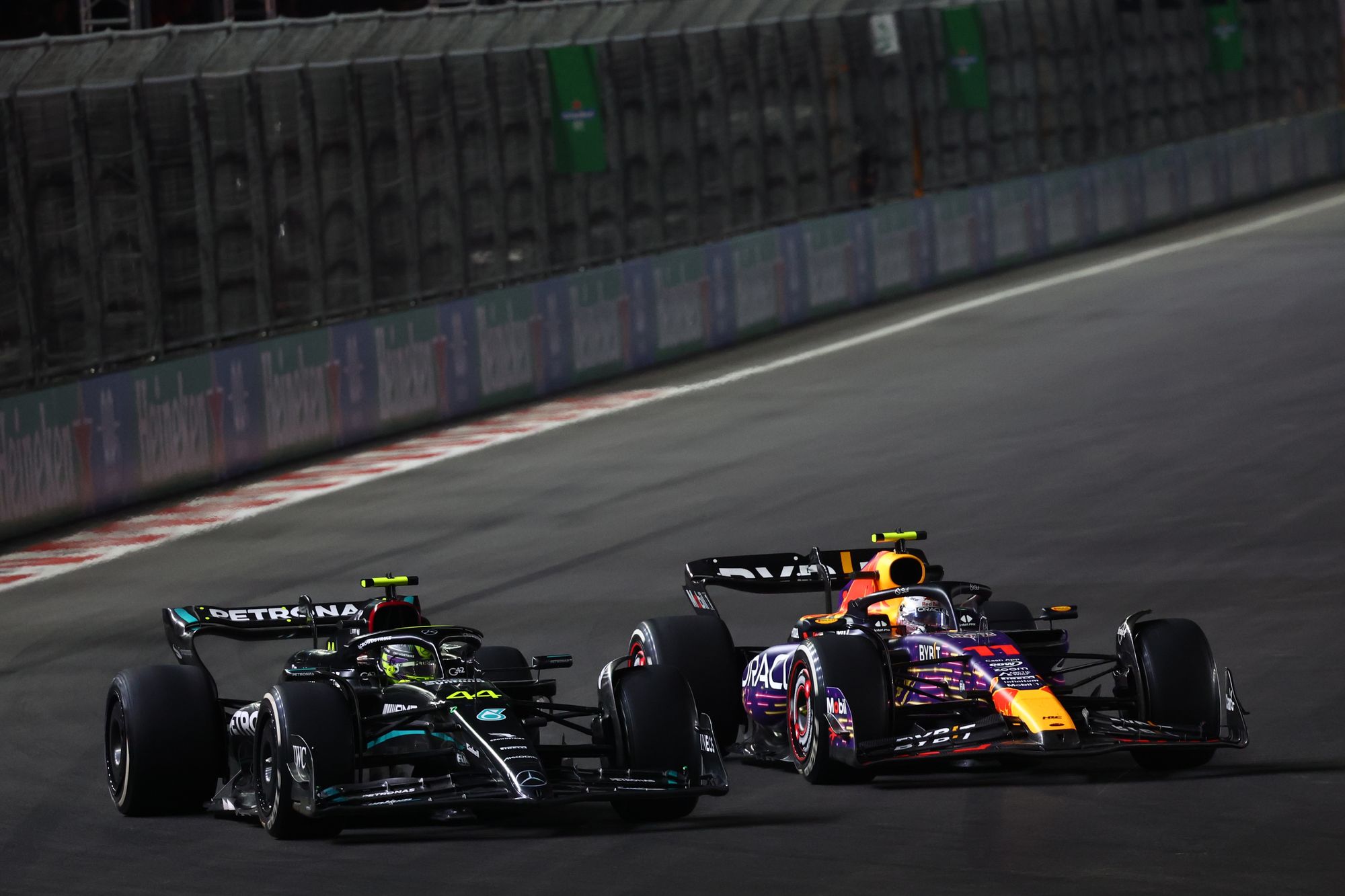 "It's like Baku, but better," said Lewis Hamilton of the track which combined crazy high speeds with a slippery surface and tempting overtaking opportunities. Judged simply as a race, it was perhaps the best of the season.
"The low deg on the hard tyre allowed you to go flat-out," said Verstappen.
"There was a lot of slipstreaming from Turns 9 to 12, then from 12 to 14, then from 16 to 1 and because the corners are low-speed you don't lose much by being behind another car. Plus there was a nice headwind on the long straight up to 14."
As an event it didn't ring his bell but as a race it surely did. He took hold of the second chance he'd been given by the safety car for the Russell incident and squeezed all there was from it, with a pummelling pace at the crucial times and clinical moves. He wasn't about to lose the race a second time.
WHERE RED BULL WAS STRUGGLING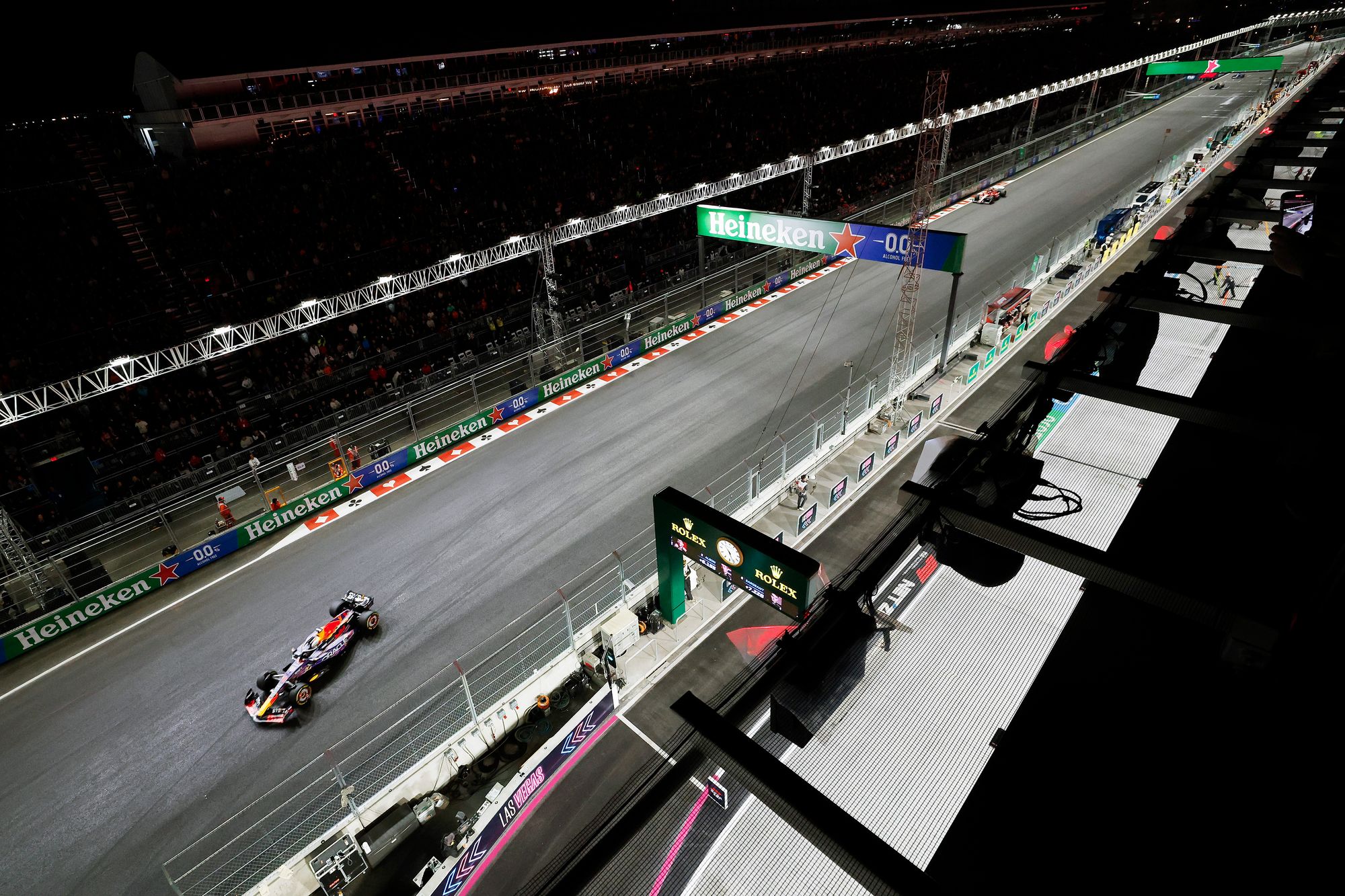 Ironically, the Russell/Verstappen incident was Verstappen's lucky break. He exchanged a bit of front wing endplate damage for a way more powerful combination of track position and tyres as the safety car came out to clear the debris.
The Red Bull with the lower wing level Verstappen (but not Sergio Perez) had switched to for qualifying didn't like the medium tyre almost everyone had started on.
It particularly didn't like it after it had been pushed hard twice – once at the start getting out of Leclerc's DRS range, then again on the restart from an early safety car (for Lando Norris' big accident).
Leclerc and the Ferrari together had been much better on this tyre and they took the lead even before Verstappen peeled off into the pitlane for a far earlier than ideal stop, on lap 16.
Once in there, he had to remain stationary for 5s before work could begin on the car, courtesy of the 5s penalty he'd picked up for running Leclerc off track at the start to take the lead. With the pack still tightly bunched from the safety car, it lost him a lot of places. He rejoined 10th.
Now on the hard tyre, the car was much happier.
"The tyre was just more robust," he explained. "On the medium I opened out the front-right. I'm not sure why because it had been fine on Friday."
But his Friday long run (in the middle of the night practice session) was conducted with a significantly bigger rear wing flap and consequently a bigger angle of balancing front wing. Also, he'd not abused the mediums on Friday the way he had in pushing twice on a heavy fuel load to get out of Leclerc's DRS reach.
But all that was history now he was on the hards. Except he was already a long way behind Leclerc who got out from his own stop four places ahead of the Red Bull and on hard tyres five laps newer, with neither scheduled to stop again.
Lined up ahead of Verstappen as the cars between him and Leclerc were Fernando Alonso's Aston Martin, Russell and Carlos Sainz's Ferrari.
Alonso was left with no battery defences after trying but failing to hold off Russell and so Verstappen was able to zap the Aston Martin without resistance.
But Russell was going to be more problematic and that, together with whatever delays Sainz would inflict upon him, was what was going to lose him the race.
Except George didn't see him coming on lap 26, and everything changed.
FERRARI'S DILEMMA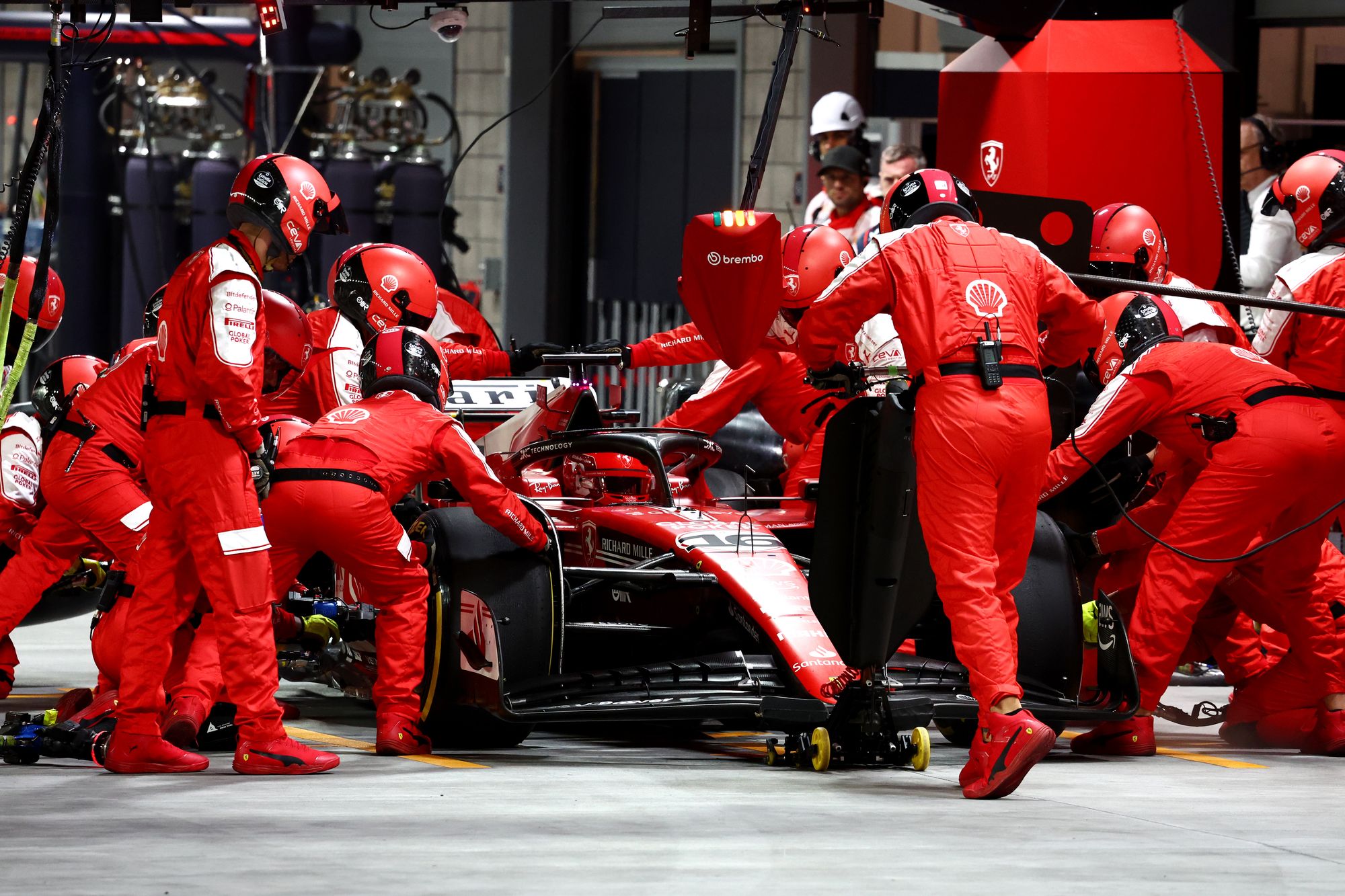 For Leclerc and the Ferrari pitwall, it had been impossible to know what the right call was going to be as that safety car came out.
At the time of the incident he was lying third to Perez and Lance Stroll's Aston Martin (which had vaulted from 19th to ninth on the opening lap on softs, then pitted under the VSC to be rid of them and then glided up the order as others made their stops without having got a gap on him).
If Leclerc had pitted he would likely have come out still third, with those ahead also on new tyres. His tyres were only five laps old, he'd for sure assume the lead if he stayed out. He stayed out.
In hindsight Ferrari should have pitted, for it had now given Verstappen a five-lap tyre advantage and the safety car had reduced how far behind the Red Bull was.
Leclerc had driven superbly and would continue to do so for the rest of the race. He was DRS'd by Perez on lap 32 but made a superb counter-pass two laps later, taking advantage of Perez trying to give Leclerc DRS to keep Verstappen behind (Carlos Sainz-Singapore-style).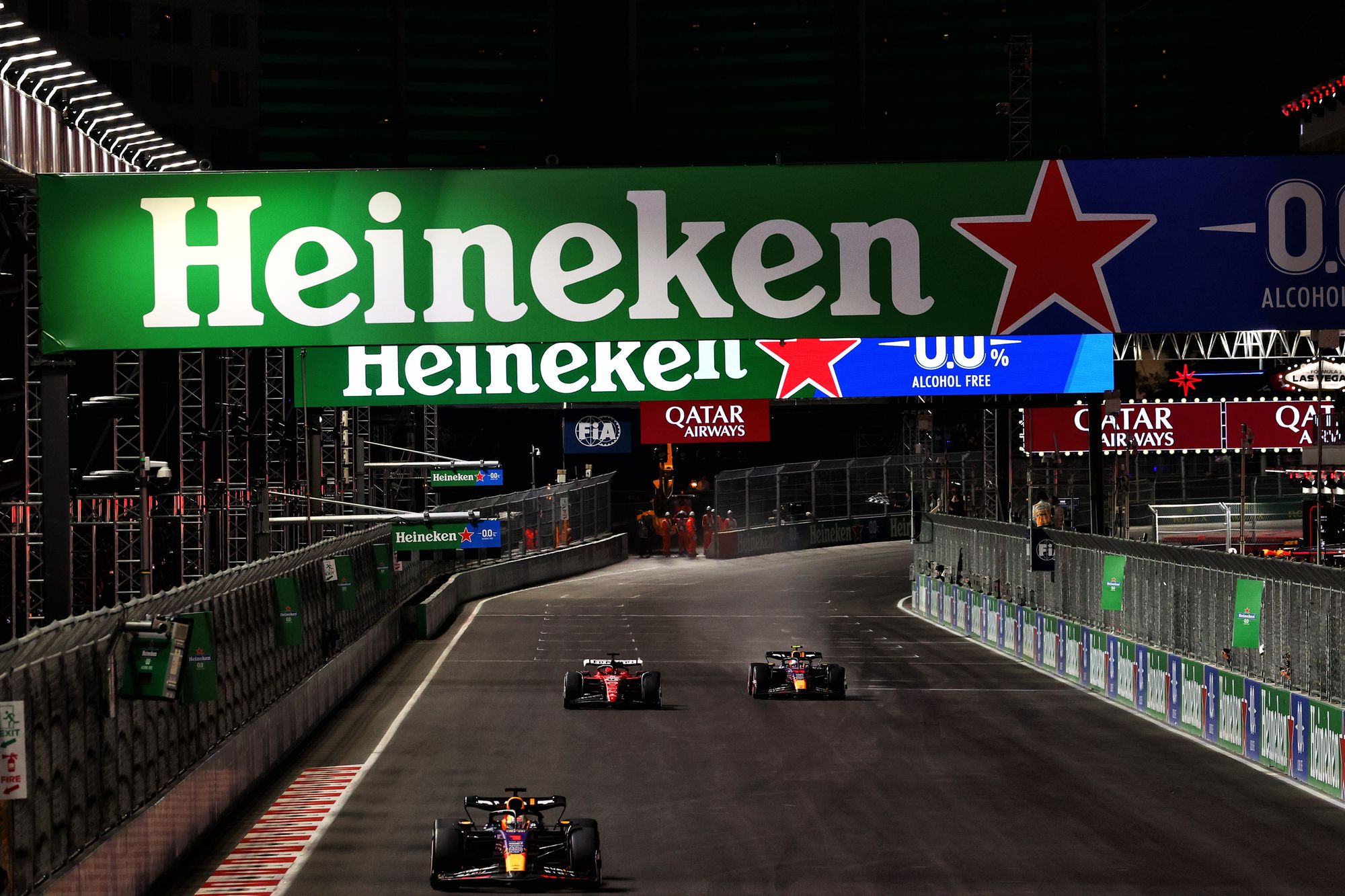 With his bigger wing Perez was then powerless to prevent team-mate Verstappen from passing. Even with the super-low Monza-style wing Leclerc was running (with a smaller chord than he'd run on Friday), he couldn't hold off Verstappen-with-DRS, who assumed the lead with 12 laps to go.
Leclerc's locked brake into Turn 14 allowed Perez back ahead before Charles made amends by a cleverly planned full battery ambush on the last lap.
THE INCIDENTS THAT SHAPED EVERYTHING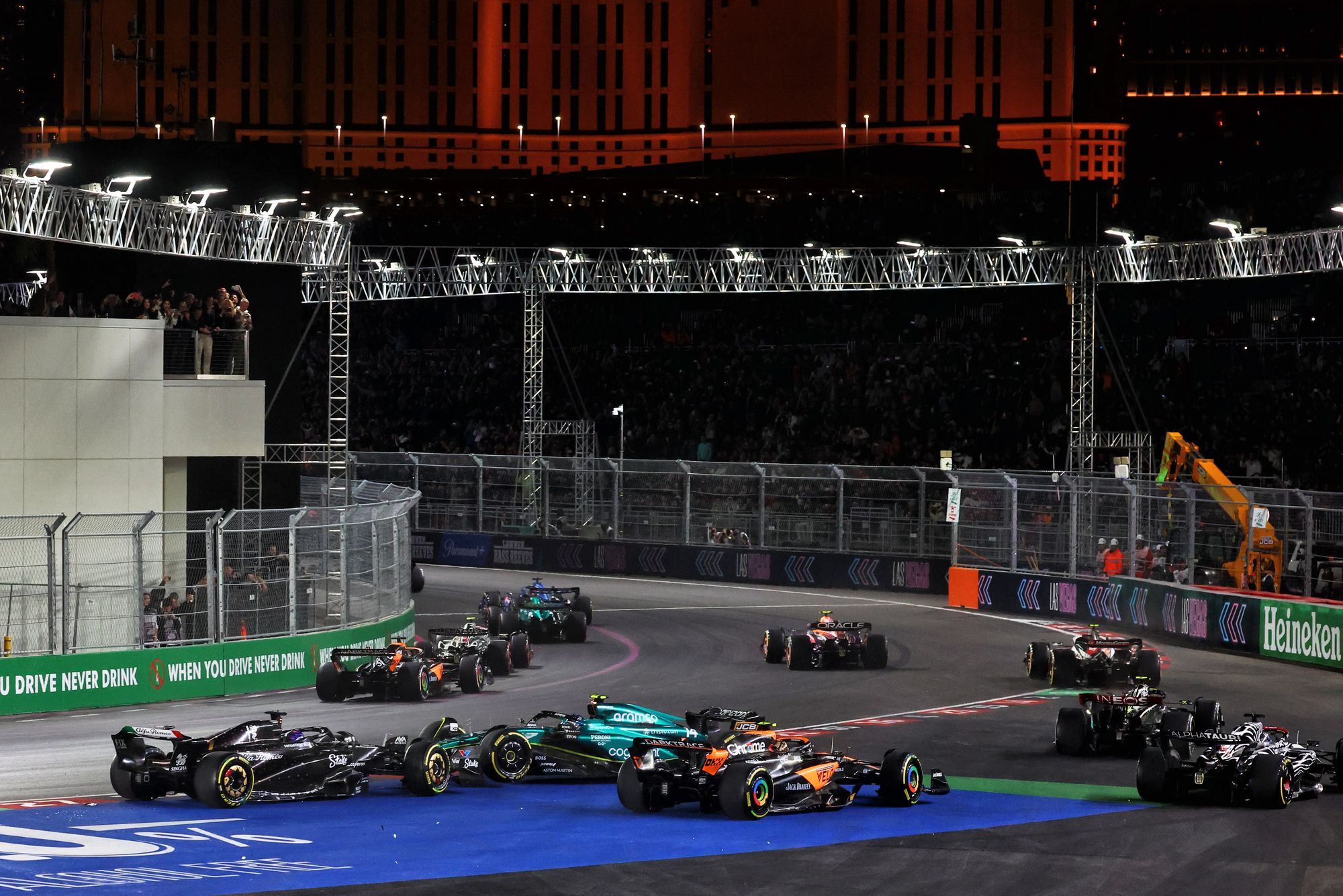 How the stop timings weaved in or out of phase with the random timing of the safety cars is what decided not only the winner but pretty much everyone else's race too.
Tracing the origin of the sequence of the two crucial safety cars, you come to the extremely low grip of the surface, especially at the start.
That was why Alonso spun in the pack at Turn 1, creating chaos and a VSC, putting Perez in the pits for a new nose and last, but with the VSC at least holding up the pack so he could rejoin on its tail rather than 20s back.
The stop had allowed him to be straight onto the hard tyre which the Red Bull much preferred. When the second safety car allowed him another cheap stop and a second set of hards, he got that perfect combination of a boosted track position and new tyres. Thus the scene was set for Checo at his fighting best, a little like Sakhir 2020.
What the Alonso-induced VSC also did was reduce everyone's tyre temperatures and pressures while still on a heavy fuel load.
It was this combination that caused Norris' McLaren to ground out while flat-out through the kink of Turn 11 – and a truly humongous accident ensued, one in which most of the energy was expended in scraping along the barriers before reaching the Turn 12 escape road.
LAP 4/50

⚠️ SAFETY CAR ⚠️

Norris is out of the race and in the barriers, he jumps on the radio to say "I'm okay" #LasVegasGP #F1 pic.twitter.com/hYjo1rkUAR

— Formula 1 (@F1) November 19, 2023
The safety car for that played its part in Verstappen hurting his medium tyres, which would have been crucially significant if it weren't for the next safety car which in turn came about partly through Verstappen being so far back as a result of the first one.
Everyone's races were interconnected by those events traced back to the opening seconds of the race and 20 cars fighting for position on a gripless surface in the cool of a desert night.
Those who had pitted a while before the second safety car - Pierre Gasly who'd run an early fourth, the two Williams who ran just behind him, and Oscar Piastri – all had their races ruined by the timings.
Gasly, Alex Albon and Logan Sargeant (who made a great breakthrough in pace here) just gave themselves impossibly long second stints and wore out the tyres, sending them tumbling down the order.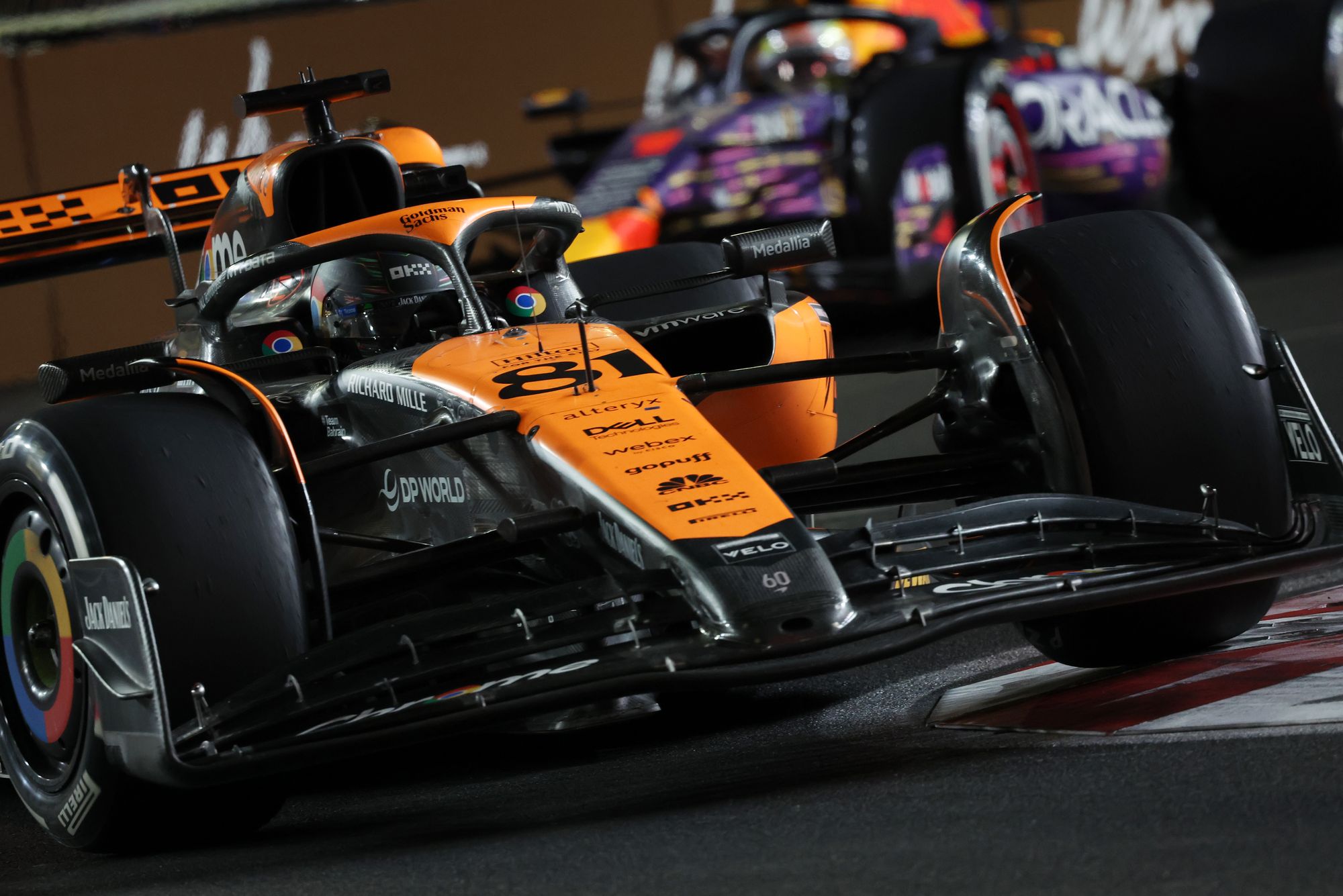 McLaren had switched Piastri to a two-stop when he was forced to pit on lap 16 with a puncture from rubbing wheels with Hamilton. He was duly fitted with another set of hards.
Fantastically combative yet precise on the brakes, he made some stunning passes as he threaded himself all the way up to fourth from 18th.
But with the safety cars he could never get a gap over the field to drop into when he was obliged to stop for the second tyre compound.
He stayed out late in the hope of a safety car but his 10th place didn't do anything like justice to the quality of his drive.
The pitstop timings brought the race alive for the other Alpine of Esteban Ocon, with a fighting fifth place finish behind Russell on the road (fourth after Russell's 5s penalty for the Verstappen incident). 'Hold position' he was told as he was mid-way through his pass on Gasly…
Stroll consolidated his late-season improved form with a strong drive to sixth which became fifth.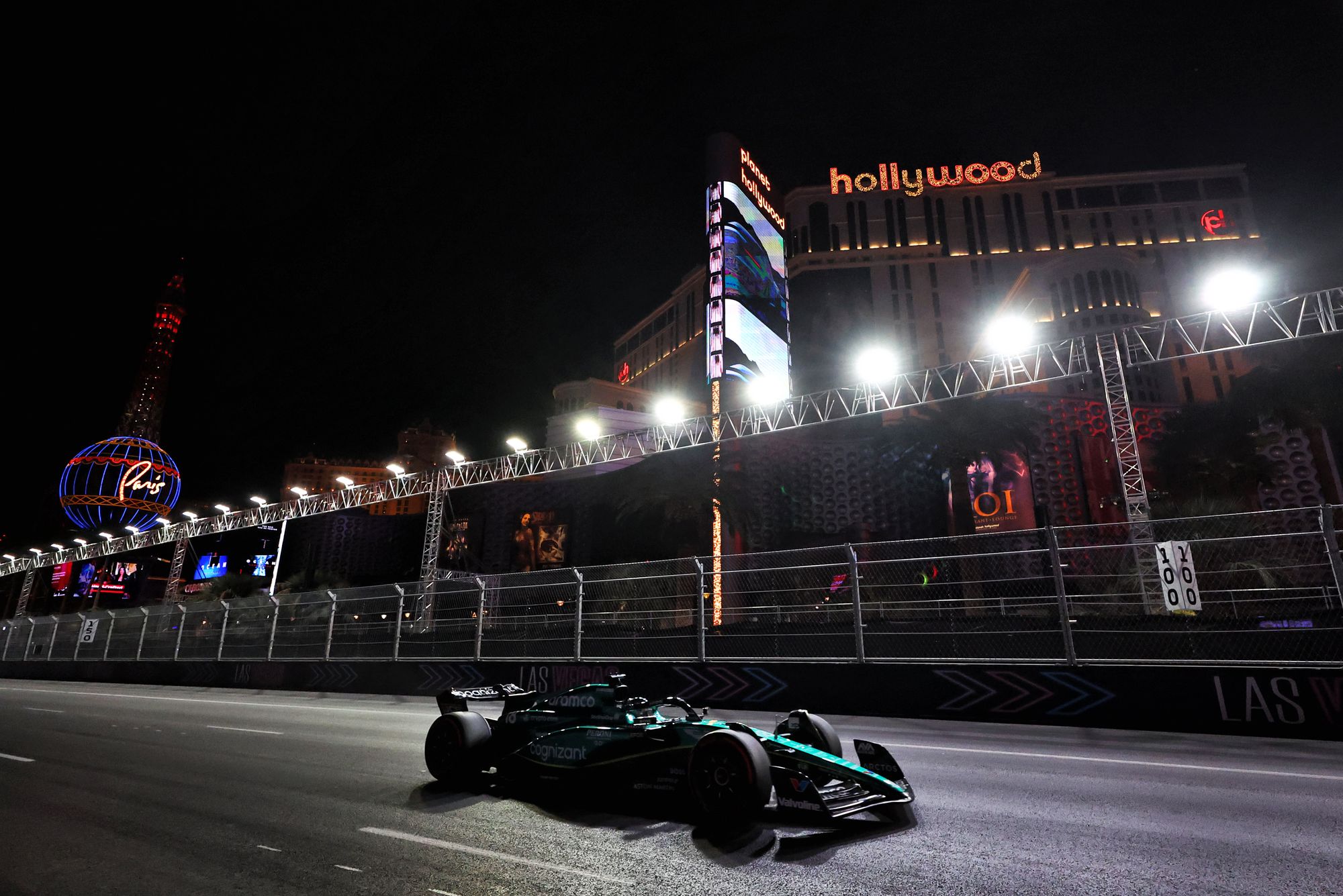 Hamilton had also punctured with that Piastri contact but only felt it after passing the pitentry lane, losing him a whole load of time and putting him near the back, from where he recovered to eighth (seventh after Russell's penalty), getting in between the cars of Sainz and Alonso who had diced virtually the whole race.
Sainz's was a weekend of what might have been but for the water valve cover on Friday.
And that's how the roulette wheel spun.