Yes Max Verstappen and Red Bull broke the records for consecutive Formula 1 driver and team grand prix victories, just as always looked likely. But their route to that achievement in the 2023 Italian Grand Prix at Monza on Sunday was an interesting one.
The significant tell-tale was there on Verstappen's rear tyre temperature read-outs on what was supposed to be the formation lap, before Yuki Tsunoda's breakdown delayed things for a few minutes.
As everyone sat back on the grid with their engines off there was time for Verstappen's race engineer Gianpiero Lambiase to review things.
"I would like you to target between 12 and 15 on the rear left this time," he said. "You were up to 20."
That was significant information. The tyre challenge of staying on the faster one-stop strategy looked like it had changed.
It was warm all weekend but really warm on Sunday and that temperature increase exaggerated the tyre penalty of running a low downforce wing. That just amplified the contrast between Red Bull and Ferrari.
Red Bull's smallest rear wing was still considerably bigger than Ferrari's. Which in combination with fresh engines (and possibly new mapping) had helped Carlos Sainz to that ballsy pole position a hundredth of a second or so faster than Verstappen.
But there was always going to be a race day tyre wear penalty to pay for Ferrari's qualifying speed. The increased track temperature not only increased that penalty but shifted the challenge from the front-left to the rear-left.
It meant Sainz had less rear tread remaining than he realised as he defended fiercely from Verstappen's onslaught, using the Ferrari's straightline advantage to thwart the Red Bull's advances.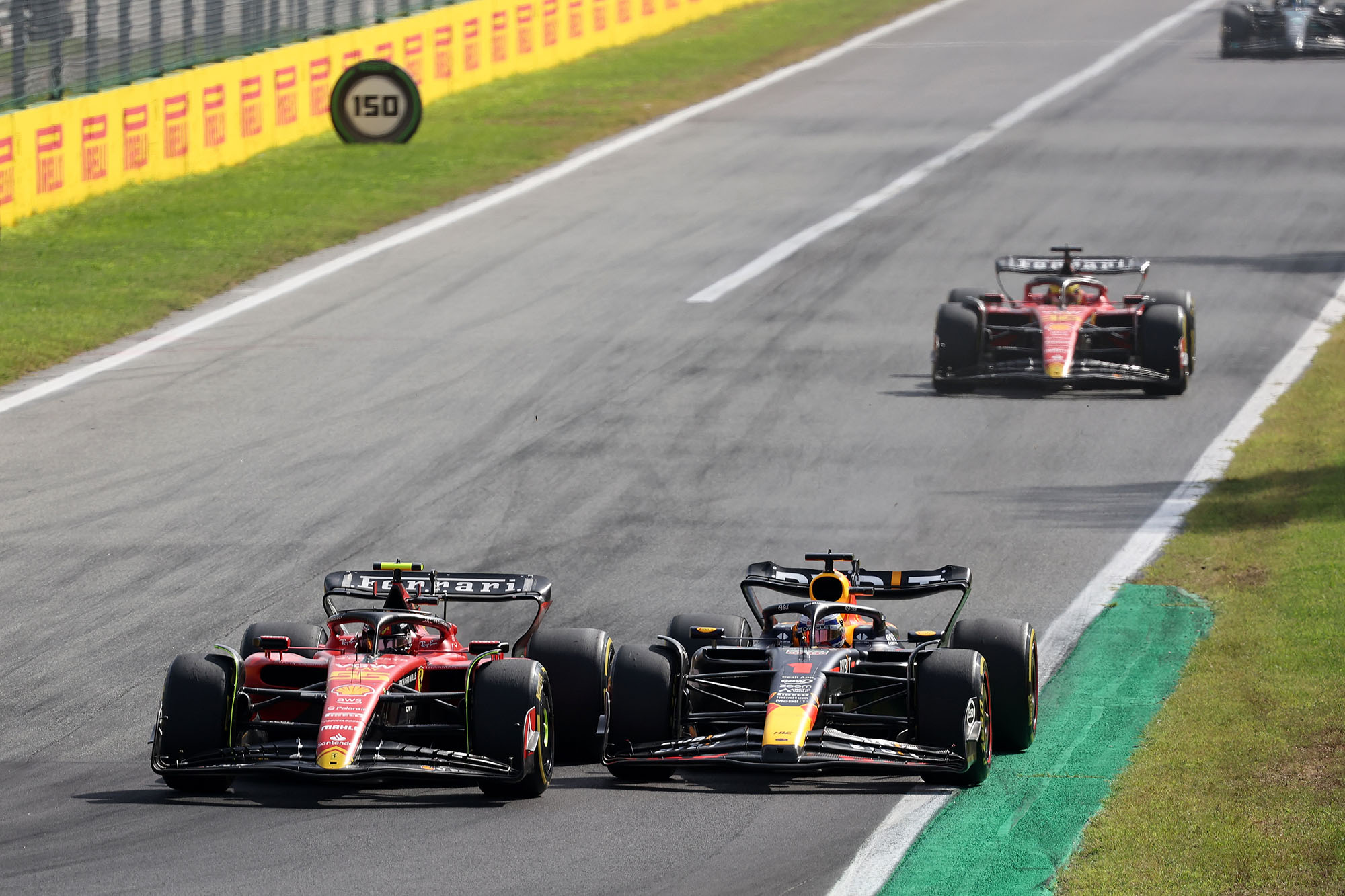 "I felt the rear left giving up earlier than expected," lamented Sainz afterwards, "and realised I'd used them too much, knew I was going to suffer, knew I'd have to box early onto the hard.
"I was pushing very hard, harder than the car and tyres could do as it turned out."
Up until that moment Sainz was still entertaining the delicious possibility that he could pull this off, that he could keep Verstappen in a faster car behind him. If he could just stay in front long enough for a gap to drop into at the stops, maybe they could get him in first and he could repeat the defence all over again in the long second stint. That was no longer feasible; he was nowhere near long enough into that first stint as the rears began to surrender.
Verstappen knew he had the faster car, of course. He also knew that the longer he pressed the Ferrari, the greater his tyre advantage was going to be. He could tell that just from observing how much Sainz was sliding from so early in the race.
So there was no urgent imperative to get past quickly. He knew this, but he's a racer with a racer's instinct and Lambiase was regularly holding his leash tight. He probably didn't need to; Verstappen is very used to the luxury a super-fast car can give him. He knows he no longer needs to grab the first opportunity that presents itself, knows how to override that instinct as he chases down a third title. It's that combination of car, skill and attitude which has along the way set that new benchmark of success.
Still, he didn't want to be hanging around there all day and eventually Sainz, running ever-more front brake bias to protect the rear tyres, locked-up into the first chicane.
This is the biggest brake of the season and with the skinniest wing of the season. It's a tricky combination from 220mph on worn tyres and Verstappen's breath hot on your neck. It was then a routine matter for Max to place himself better as they raced out of there with enough momentum to go wheel-to-wheel through Curva Grande but on the inside line for the Roggia chicane. Like that, after 15 laps, he was through.
A routine stop, ease out the safety car gap over the Ferrari, then nurse an overheated brake disc for the last few laps – and the record was his.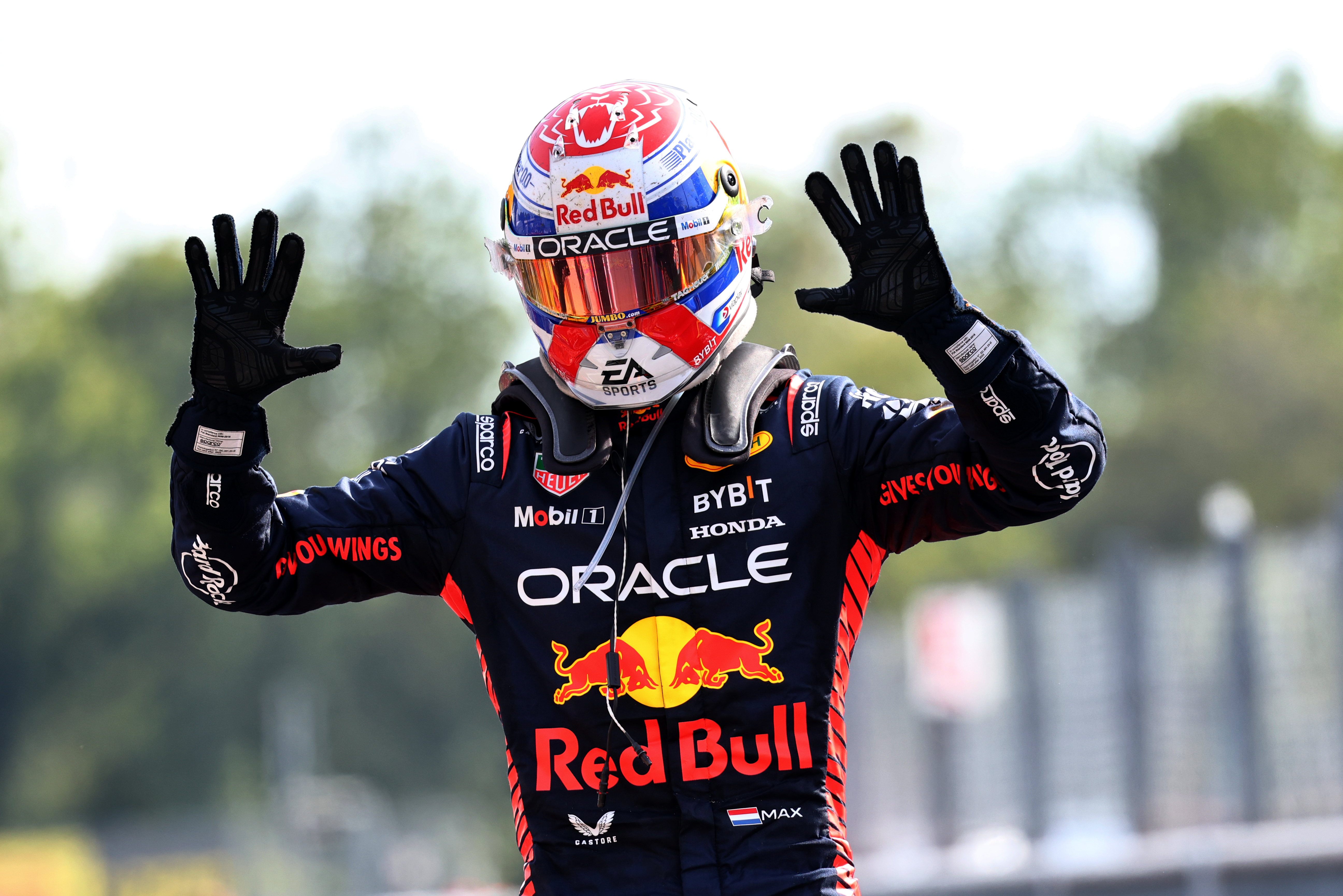 "I never would have believed this possible at the start of the season," Verstappen said as the crowd chanted 'Carlos, Carlos', "but we had to work for it today."
Sainz's valiant efforts (and he was zero compromise whenever Verstappen took a look into Turn 1) in trying to keep track position over a faster car not only brought him in early, but in having to defend again (even more fiercely) against Sergio Perez until that Red Bull also passed, he was vulnerable at the end to his team-mate Charles Leclerc.
Pride and emotion was at play as two Ferrari drivers fought gloves-off in way that's probably never been seen at Monza. Amid the locking wheels they somehow avoided contact and at least gave the tifosi something to cheer.
Afterwards it was being asked could Ferrari somehow have found a way to win this against the odds, to have better used the track position Sainz's pole had bought it?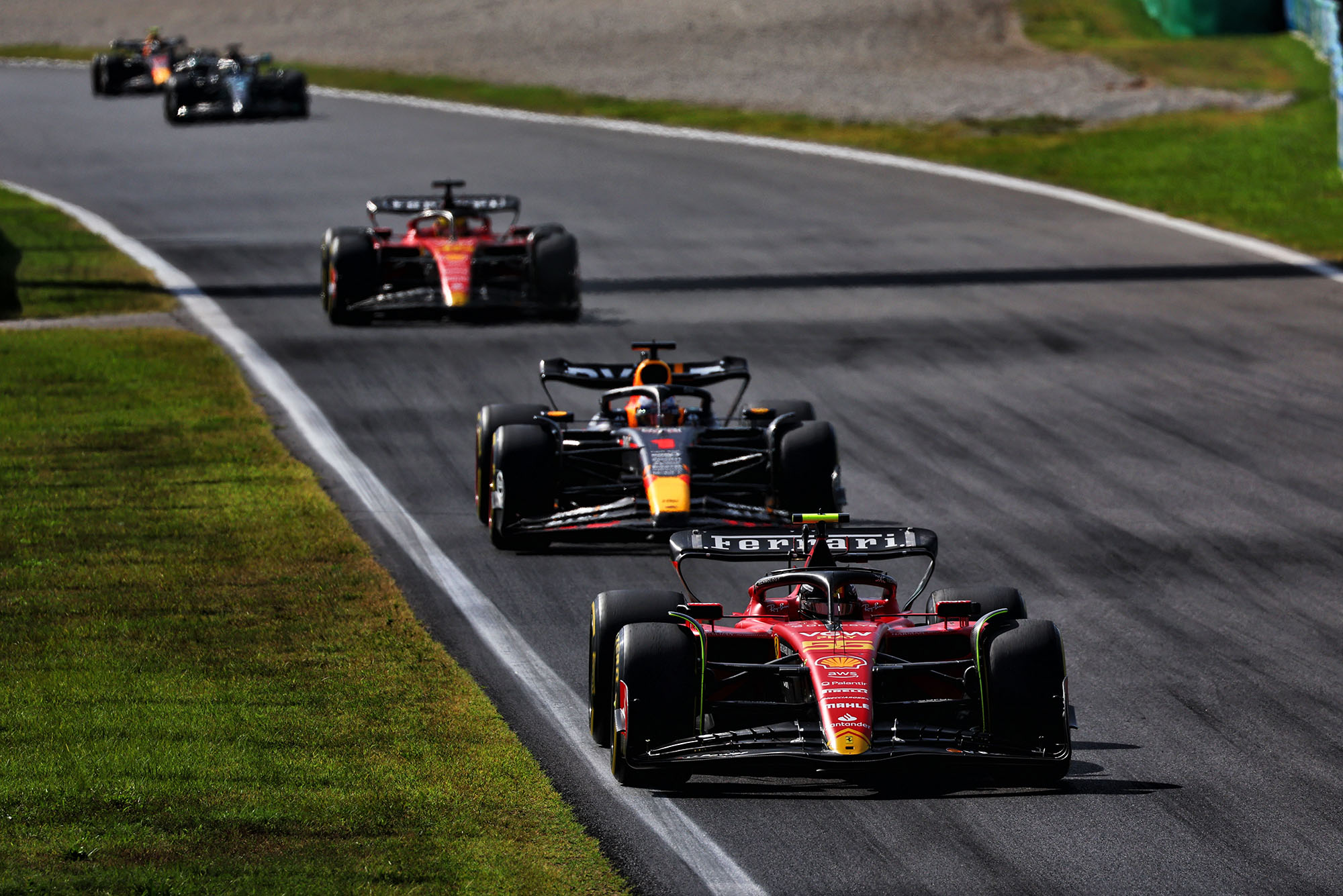 It's difficult to see how. Had he just driven to the rear tyres, he'd have been overtaken earlier. By the time Verstappen was placed to pass, they were not far enough clear of the pack to use Leclerc to pull Verstappen off Sainz's back.
Trying to undercut Verstappen by pitting Sainz as soon as he'd been passed wouldn't have worked either – he'd have come out behind Valtteri Bottas and Esteban Ocon and furthermore would have been left with far too long a second stint, even for the hards, such were the downsides of Ferrari's skinny wing.
Running longer to get a bigger tyre advantage in the second stint wasn't possible – there was zero tread left on the mediums that came off at the stop.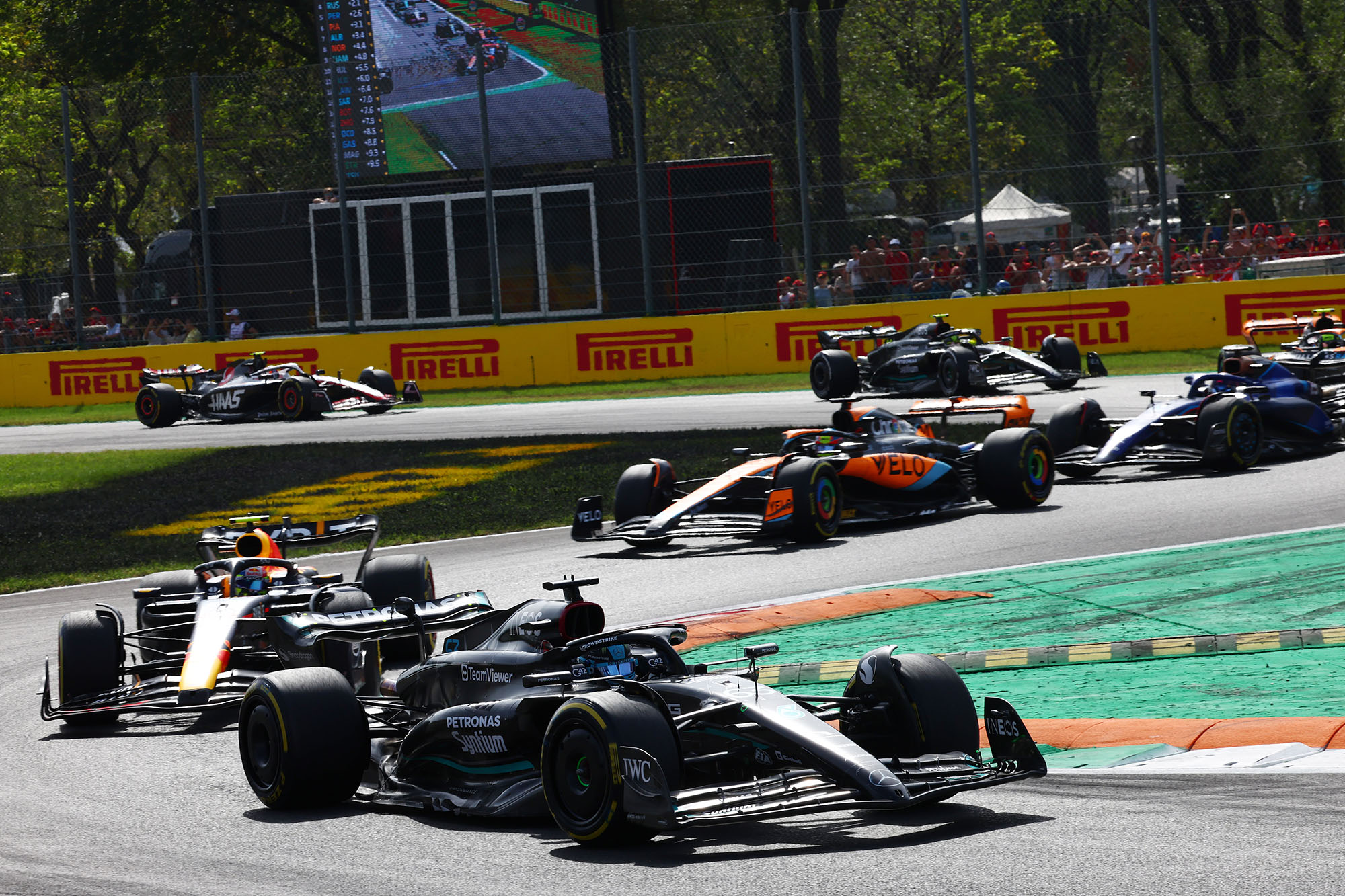 The other teams were just the supporting cast to this Red Bull production and the starring Ferrari cameo. George Russell qualified his Mercedes ahead of Perez's Red Bull because he's a faster driver and the RB19's advantage is at its smallest in qualifying, but Perez was able to comfortably use his faster car in the race, surging past the Mercedes on his way to devouring the two Ferraris later. That left Russell in a no-man's land fourth.
Lewis Hamilton had not put a good Q3 lap together and starting eighth was put on an offset tyre strategy, starting on hards rather than the mediums of the others.
Running long in the pack on a hot day overheated his front-left brake disc and retirement looked likely for a while. He nursed it back into shape but was a long way adrift of the two McLarens bottled up behind Alex Albon's fast-on-the-straight Williams when he rejoined after his long first stint. He was now on faster tyres than them, though, which in combination with the Albon-dictated pace allowed him to catch and pass them all, though not without snagging Oscar Piastri's car along the way, which ruined the latter's race and gained Hamilton a 5s penalty.
Lando Norris in a McLaren which was a little slow on the straight never did find a way past Albon who in another superlative performance brought home Williams seventh place points on a day when Fernando Alonso could deliver only ninth for Aston Martin.
Hot and dazed looking drivers took on liquids and made their way back to their teams, probably not even reflecting that Verstappen had just accomplished something no-one has ever done before.
"I don't think these kind of seasons come around very often," he said, "so we are enjoying it."