Back at a conventional race track with long fast corners where F1 cars can really stretch their legs, the Red Bull RB19 was running free at its magnificent best – and Max Verstappen was going with it every step of the way. The Circuit de Catalunya has always been a great test of car and now, with the abandonment of the chicane at the end of the lap – restoring the final corner to a near-flat blast at up to 160mph (257km/h) – it's even more so.
Having gone fastest in FP1 by over 0.8s to the nearest non-Red Bull, Verstappen made an almost token fast single lap at the beginning of FP2 before settling down to finessing his race car for Sunday. That lap stood as the fastest of the session but was approached much later on by Fernando Alonso's Aston Martin.
The track was almost certainly significantly faster by then, something further suggested by the fact that Nico Hulkenberg was able to record third-fastest time in the Haas, within a couple of tenths of Verstappen's time.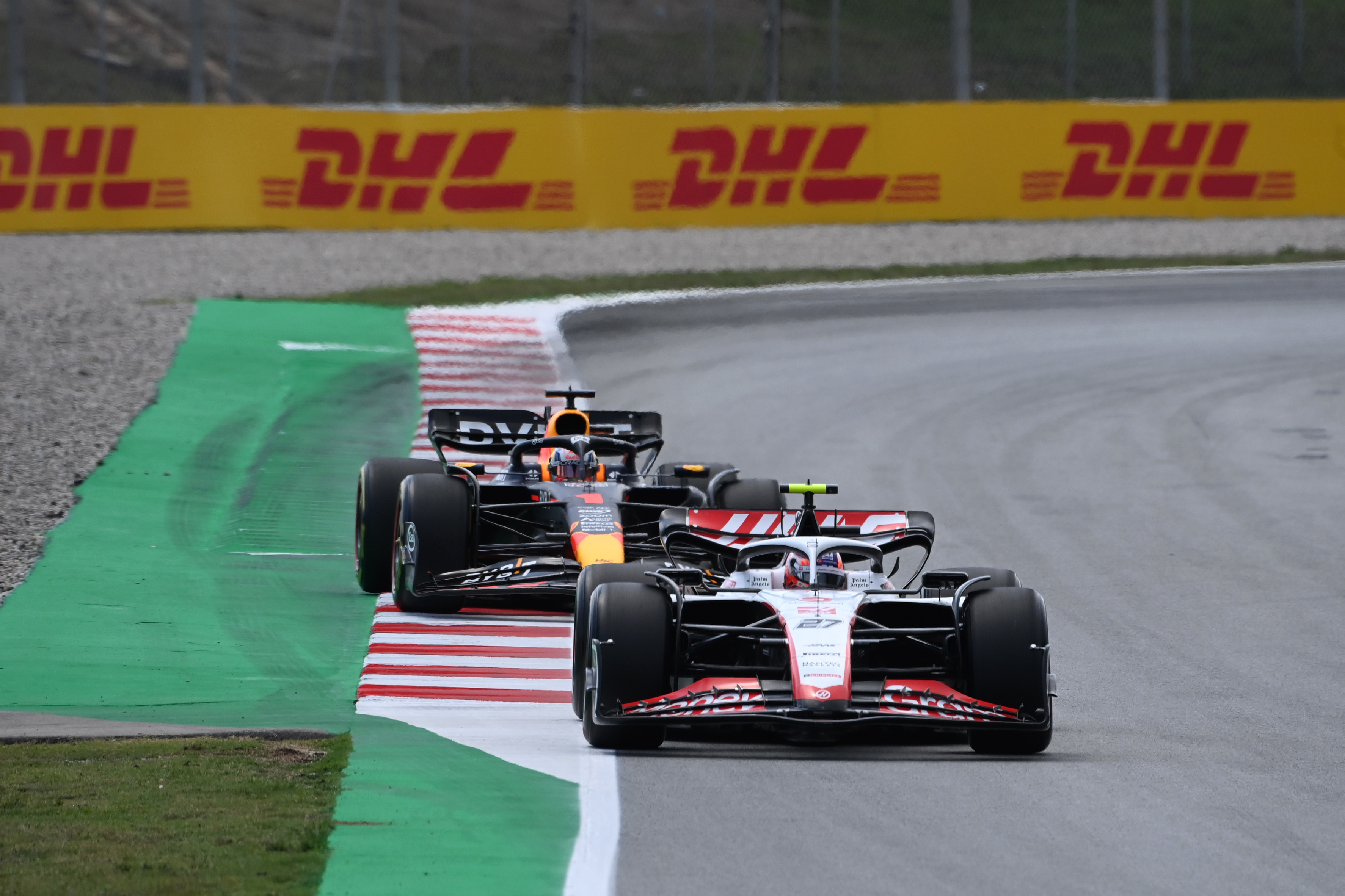 Although the fast corners of this track are well-suited to the traits of the Haas, realistically the competitive order looks quite familiar. Except that Red Bull looks further ahead than at perhaps any other venue so far, regardless of the upgraded cars of Mercedes and Ferrari.
The longer the run, the bigger Verstappen's advantage. Thermal degradation of the left-front tyre is set to be the chief limitation for everyone here, but it appears far less of an issue for Verstappen than anyone else.
With the runs normalised for estimated equivalent fuel runs (especially important today as there was a big variation in the sequence of compounds chosen, so some were heaviest when running softs, others when on mediums), the long run numbers are shown below.
---
Spanish GP practice long runs
Softs
Verstappen – 1m19.296s (6 laps)
Sainz – 1m19.835s (6 laps)
Alonso – 1m19.968s (9 laps)
Leclerc – 1m20.231s (15 laps)
Perez – 1m20.330s (13 laps)
Hamilton – 1m20.402s (4 laps)
Russell – 1m20.534s (18 laps)
Ocon – 1m20.882s (14 laps)
Gasly – 1m20.956s (12 laps)
Mediums
Verstappen – 1m19.947s (9 laps)
Prototype hards
Leclerc – 1m20.117s (5 laps)
Sainz – 1m20.410s (9 laps)
---
However, because there is a lot of tyre degradation there is a bigger difference between shorter 'long' runs and genuine long runs than usual. So, for example, Verstappen's six-lap run on the softs gives a flattering average compared to Charles Leclerc's 15-lap run – but nowhere near flattering enough to account fully for the one-second gap.
Verstappen was finding it difficult to hide his satisfaction with his day's work. "F1 cars feel much better at high speed," he said. "I tried to follow a few cars through [the final corner] as well and it seemed okay, I'm positively surprised by the overtaking opportunities."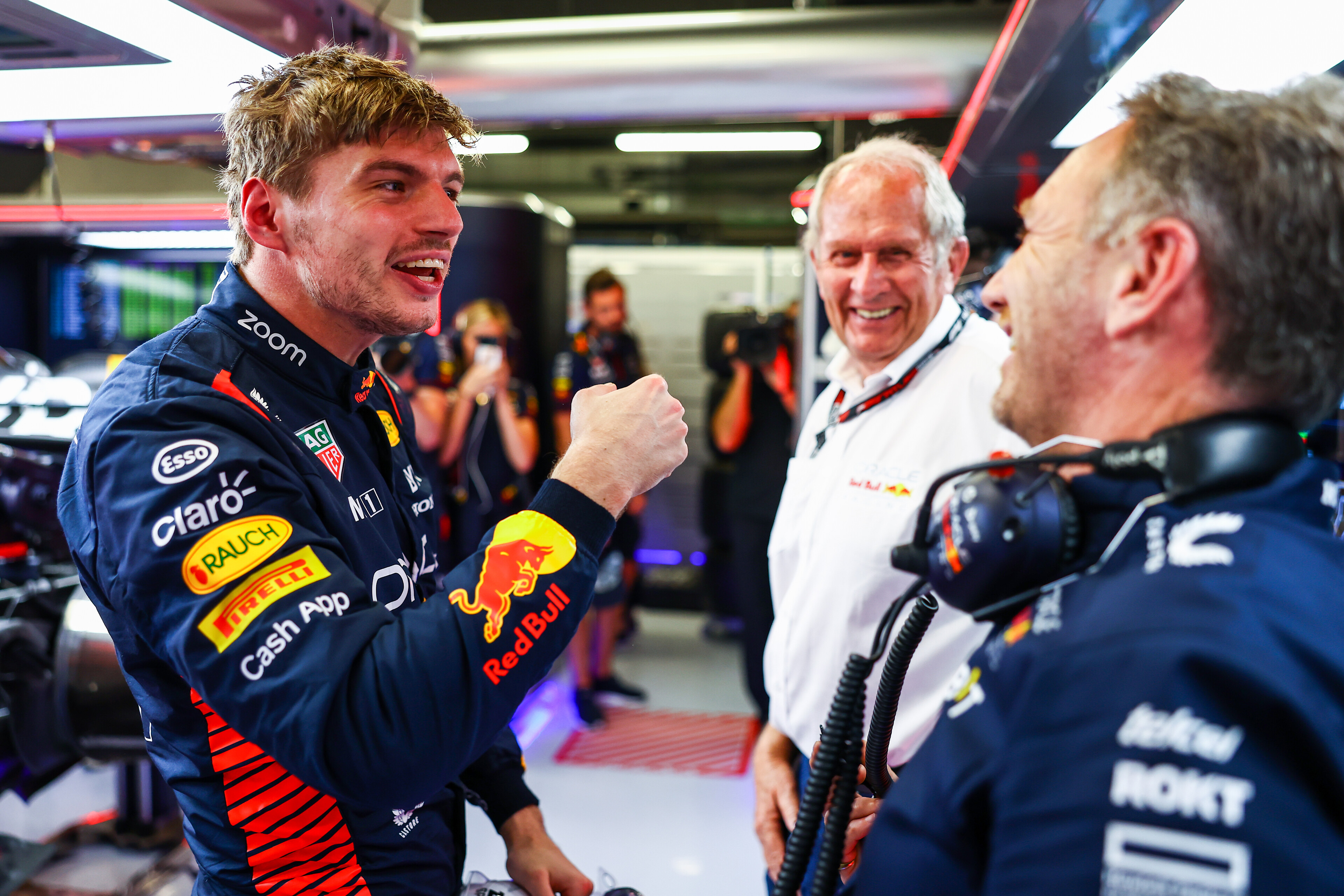 Team-mate Sergio Perez was 0.3s adrift on single lap pace and more than that on the long runs (though again, the deficit is exaggerated by his much longer run). Nonetheless, he seemed confident there was a lot more to come. "Today was a good day," he insisted. "There is plenty of information for us to look at overnight. There were lots of positives to take but we have to turn it up a gear for qualy, as well as try to understand the tyres for the long run."
Such was the degradation rate two-stops look the likely favoured strategy, though such was Verstappen's advantage in the long runs he could probably do it on one if needed.
Alonso's Aston Martin looked best of the rest, a couple of tenths faster than the Ferraris over a lap and with comparable long-run pace to Carlos Sainz despite running more laps on the soft. Ferrari focussed on the upgraded bodywork on both cars in FP2 after back-to-backing them in the first session. Sainz's long-run pace was encouraging, though not vastly different from Aston's or Merc's.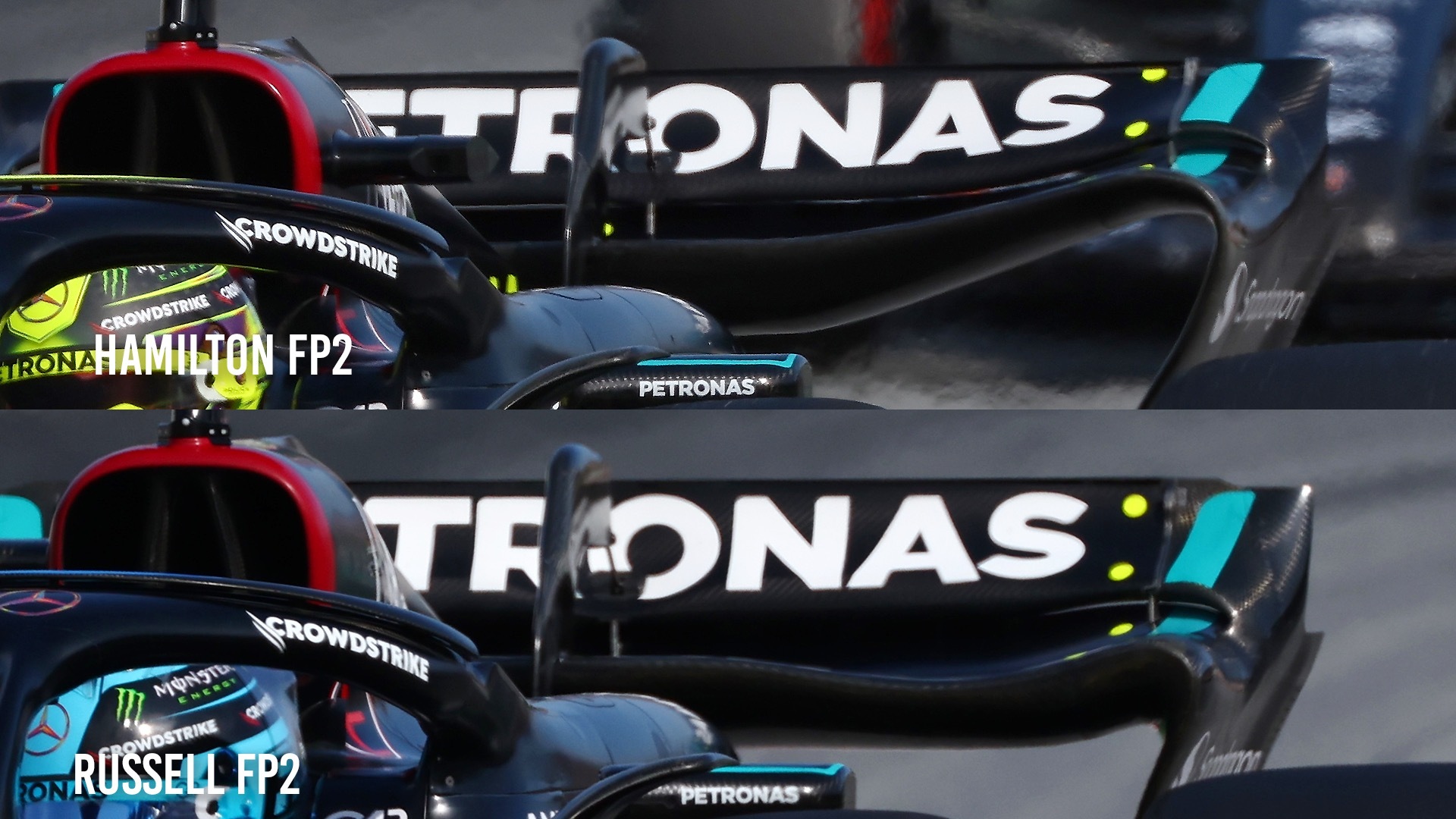 The Ferraris ran skinnier wings than Alonso, as did Lewis Hamilton in the Mercedes. George Russell ran a fuller wing, which definitely seemed to work better on the long runs, though it was felt the smaller wing was probably quicker over a lap.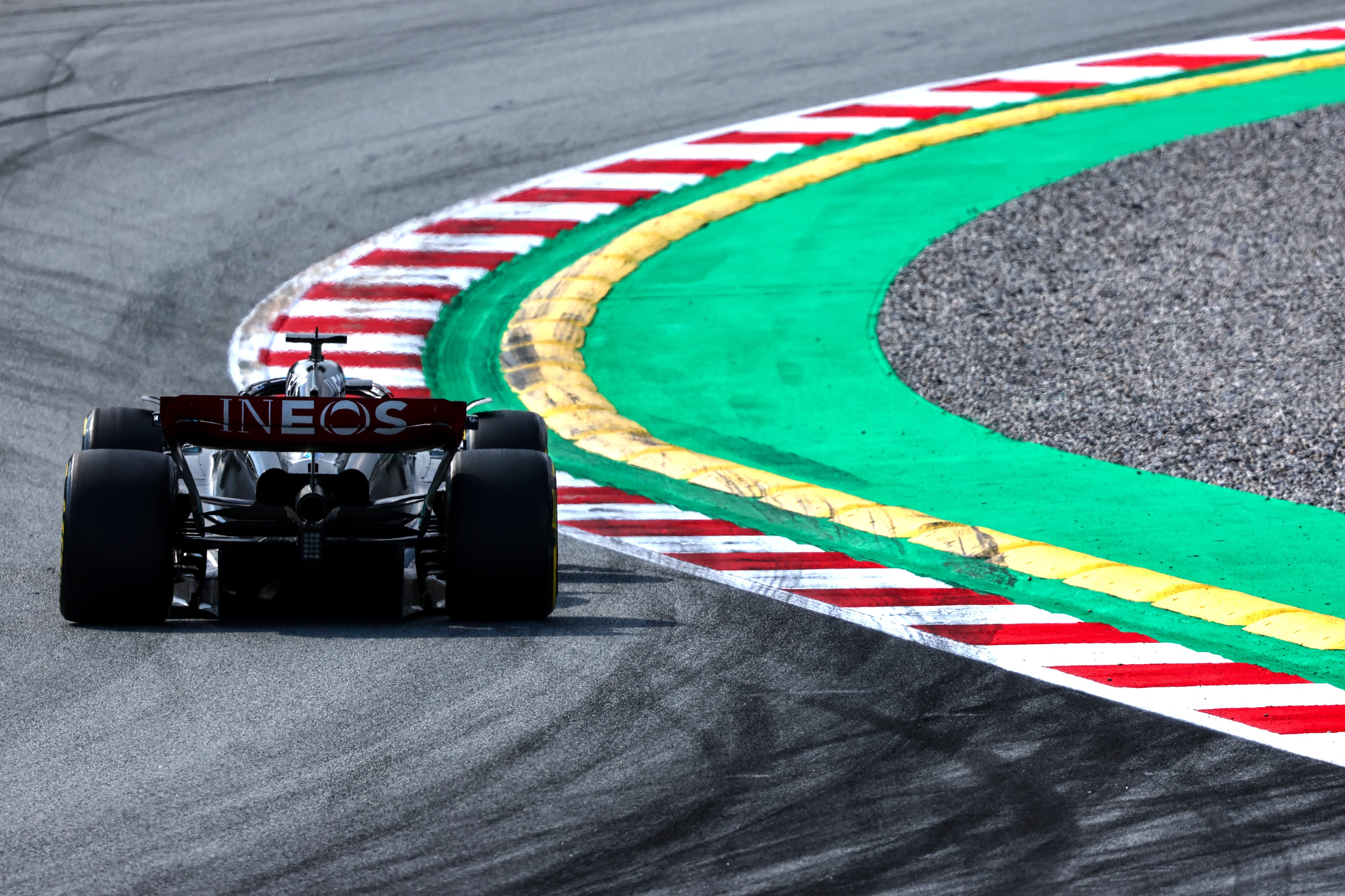 Hamilton seemed underwhelmed by the performance of the car despite his favourable feelings about the upgrade at Monaco last week. "It's ok," he said. "The car feels like the car!
"We're not as quick as we'd like to be."
Uniquely, Ferrari ran the prototype C1 compound tyre for some of its long-running, suggesting it wished to save its actual C1 allocation for race day but still get experience of the compound. No-one else ran either the existing C1 or the prototype version (with a new construction), making any conclusions almost impossible.
The Alpine looks closer to the back of the Aston/Ferrari/Merc pack over a single lap than on a long run, while the Haas looks genuinely comparable with the Alpine here.
Mercedes, Red Bull and McLaren drivers all reported bouncing, especially on the approach to the fast last corner, making things extra interesting. No-one was observed to be taking it flat but several came close enough to suggest that it may be feasible in qualifying. If only one driver does manage it, we can make a pretty good guess already who it will be.
Maybe only the iffy weather forecast is capable of mixing things up – but the Red Bull-Verstappen advantage may even be enhanced in the wet.
Practice 2 Results
| Pos | Name | Car | Best Time | Gap Leader |
| --- | --- | --- | --- | --- |
| 1 | Max Verstappen | Red Bull | 1m13.907s | |
| 2 | Fernando Alonso | Aston Martin-Mercedes | 1m14.077s | +0.17s |
| 3 | Nico Hülkenberg | Haas-Ferrari | 1m14.177s | +0.27s |
| 4 | Sergio Pérez | Red Bull | 1m14.219s | +0.312s |
| 5 | Esteban Ocon | Alpine-Renault | 1m14.242s | +0.335s |
| 6 | Charles Leclerc | Ferrari | 1m14.246s | +0.339s |
| 7 | Carlos Sainz | Ferrari | 1m14.274s | +0.367s |
| 8 | George Russell | Mercedes | 1m14.392s | +0.485s |
| 9 | Valtteri Bottas | Alfa Romeo-Ferrari | 1m14.448s | +0.541s |
| 10 | Pierre Gasly | Alpine-Renault | 1m14.457s | +0.55s |
| 11 | Lewis Hamilton | Mercedes | 1m14.549s | +0.642s |
| 12 | Oscar Piastri | McLaren-Mercedes | 1m14.583s | +0.676s |
| 13 | Guanyu Zhou | Alfa Romeo-Ferrari | 1m14.585s | +0.678s |
| 14 | Lando Norris | McLaren-Mercedes | 1m14.694s | +0.787s |
| 15 | Kevin Magnussen | Haas-Ferrari | 1m14.713s | +0.806s |
| 16 | Nyck de Vries | AlphaTauri-Honda RBPT | 1m14.785s | +0.878s |
| 17 | Yuki Tsunoda | AlphaTauri-Honda RBPT | 1m14.84s | +0.933s |
| 18 | Lance Stroll | Aston Martin-Mercedes | 1m15.01s | +1.103s |
| 19 | Alex Albon | Williams-Mercedes | 1m15.056s | +1.149s |
| 20 | Logan Sargeant | Williams-Mercedes | 1m15.415s | +1.508s |