As the championship struggle between Red Bull-Honda and Mercedes intensifies, are we beginning to see a new dynamic to their competition, one where the reigning champion might have begun to flat-line while the ambitious usurper continues to forge ahead?
It's coming up to four races now since the Mercedes was last decisively the quicker car – in Spain. Since then Red Bull has won three races on the bounce and has just put itself in pole position for a fourth.
Monaco and Baku are tracks with very singular traits where a car like the Red Bull, which can be loaded with lots of low-speed downforce, might have been expected to score heavily. Mercedes might have been hoping normal service would be resumed in France.
Paul Ricard is a conventional artificial track, very much like Barcelona, and although the particular tyre challenge of each turned out to be quite different, the significant thing was Red Bull was this time on top of that challenge, continuing its recent momentum and putting Mercedes on the back foot.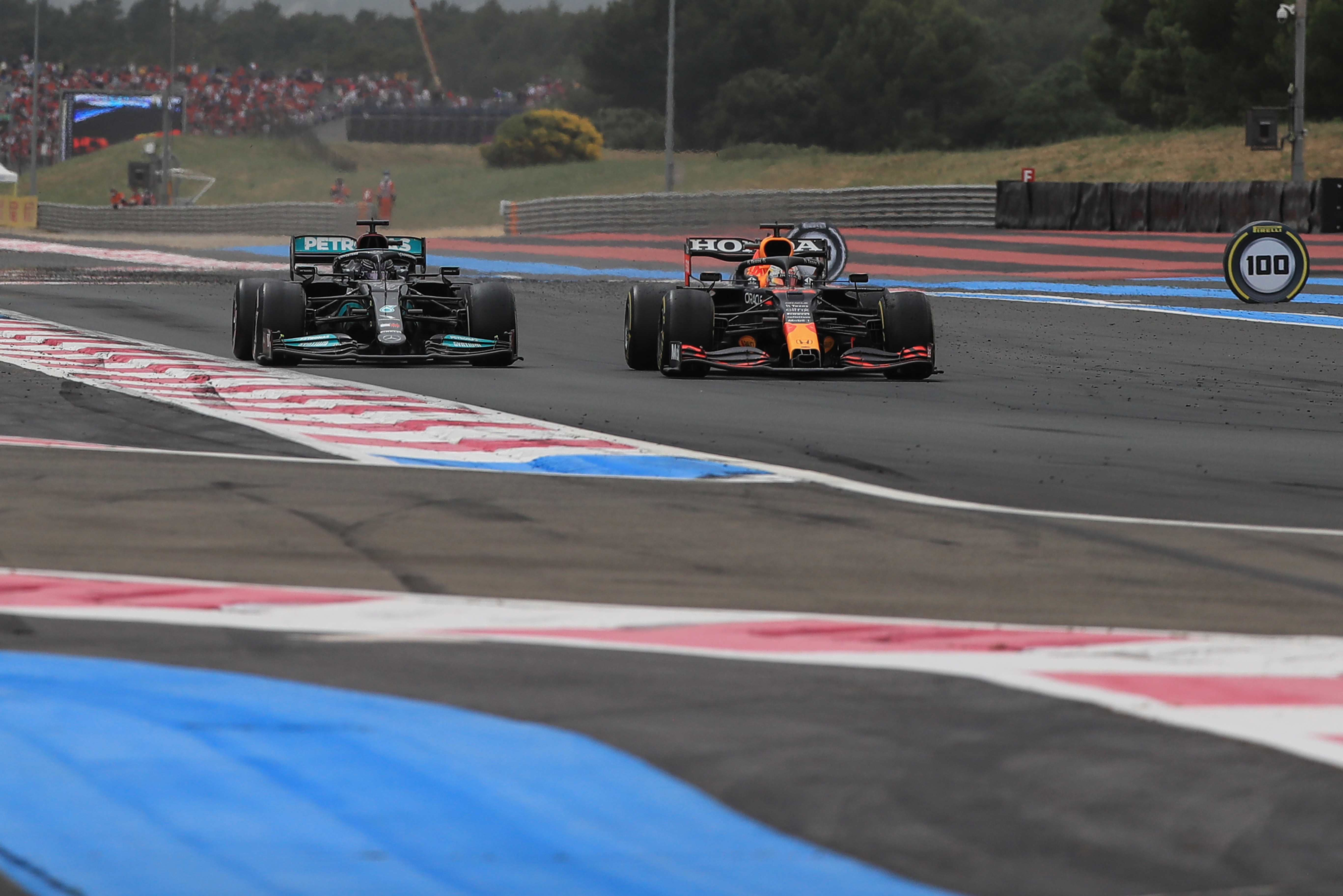 At Paul Ricard for the first time, the Red Bull was faster down the straights, and comparably quick in the corners. It had another new wing there, following from the two introduced at Baku, putting the aero smack bang in the sweet spot for the demands of each track and the tyres.
Mercedes, by contrast, continued with variations of existing wings and maybe it was just a coincidence that there was no equivalent sweet spot there. But the pattern has continued at the Red Bull Ring – leading to speculation that the fresh Honda power units introduced on the Red Bull in France may have been rather more potent than those they replaced, despite the regulation freeze on performance development.
Which all just plays into the niggle. There's a propaganda war ongoing between them. From flexi wings (front and back) to talk of engine upgrades, minimum tyre pressures, it's all through the prism of this slightly ratty competitive dynamic.
One which, you sense, Red Bull is enjoying more than Mercedes.
"It's such small margins, there's quite often less than a tenth, session-to-session, qualifying-to-qualifying, race-to-race," says Christian Horner.
"It's incredibly tight. That's what makes it exciting. I think that's what's motivated everybody within the team, within the factory and definitely the buzz walking into the factory on Monday morning, you just feel that energy."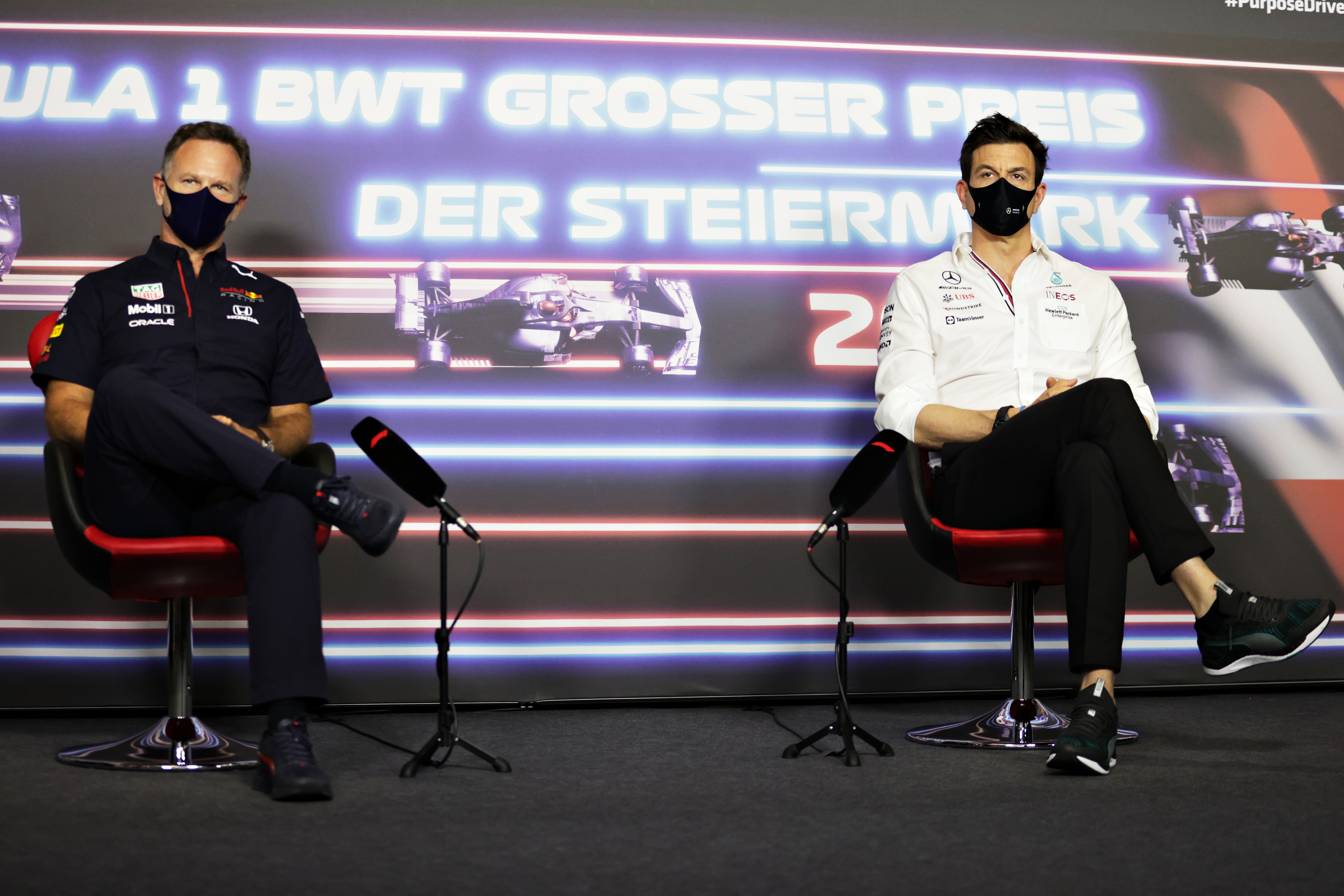 Horner and Toto Wolff initially tried to keep it civil when they were paired together at the Red Bull Ring's FIA Friday press conference. But they couldn't help themselves.
The rivalry seeps through even the most mundane situations. Such as Horner being asked about the new pit stop technical directive. "I think you can see there's an awful lot of pointed activity in our direction at the moment – but that comes with the territory of being competitive.
"An awful lot of energy is going into trying to slow the car down which, you know, is obviously what happens in a competitive business. So, it's something that we're used to but I'm not losing too much sleep about."
"There must be a reason why that TD has come up," said Wolff, "and I'm not 100% sure… you put everything into your pitstop so you avoid your wheel detaching or coming off as the penalties are enormous. We in the past had a policy of making sure that that wouldn't happen, and that also meant to have some circuit-breakers in the system, in a way that that could never happen and that slows you down in the pit stops. But that was our own decision."
Or engine performance: "The power unit is homologated," pointed out Wolff. "You can only come up with reliability fixes and in a way bug-cleaning, so there shouldn't be any difference….
"They ran a low wing and they were still as competitive as us through the corners and that shows that the car has downforce. We just need to do our homework and to continue to improve rather than pointing a figure on the engine.
"This is all in the FIA territory and it is much too early to say anything like this, that the engine is more powerful."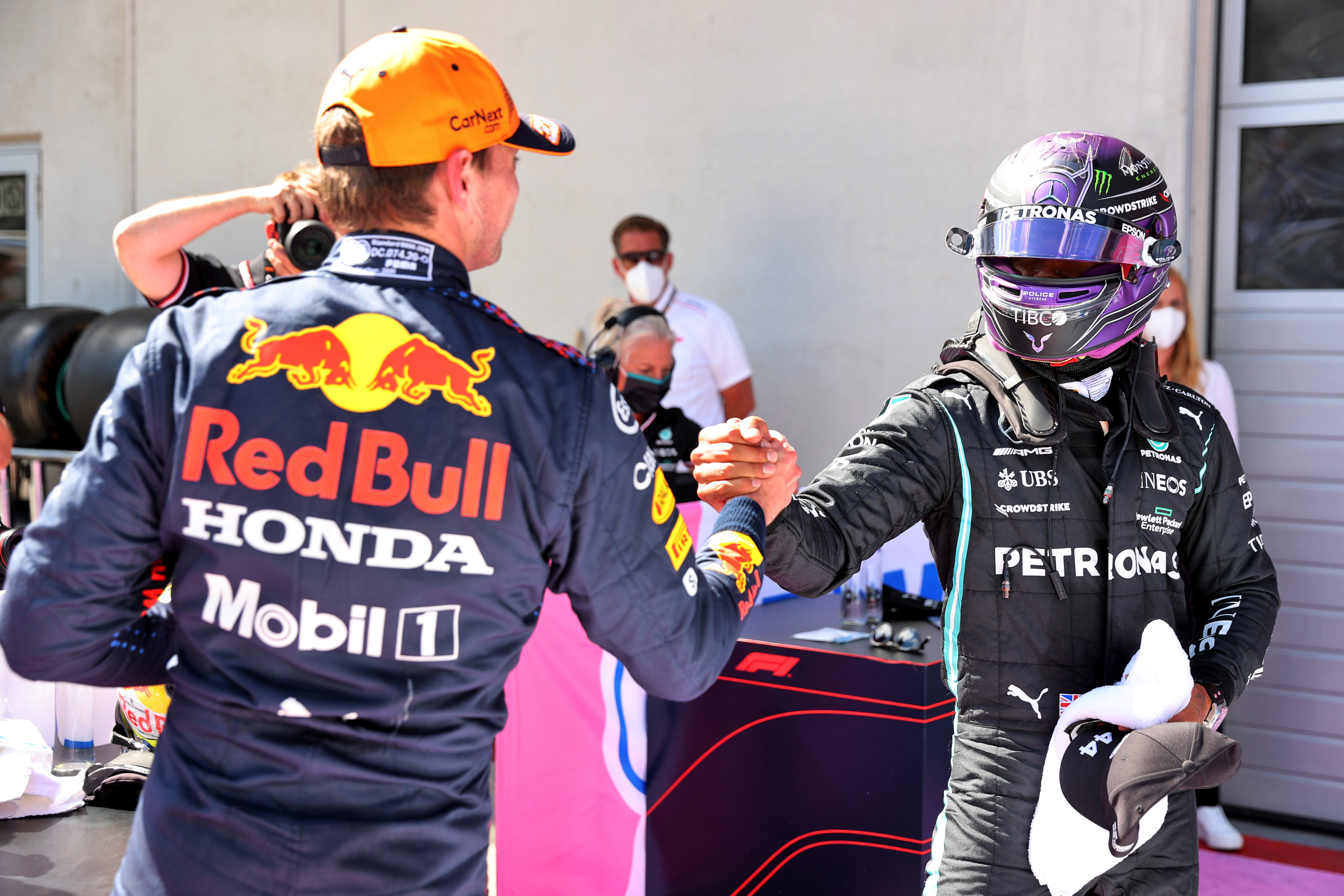 "I think Toto has answered it very well," counters Horner, "and I think maybe he should explain it to his driver [Hamilton].
"I listen with interest and sometimes some of the theories Lewis has are sometimes some way from reality. I think [Wolff] has actually summarised it very well. We run less drag and we run lower wing and as a result of that you tend to go a bit quicker down the straight sometimes."
And Wolff can't leave it at that. "I think there is a factor that needs to be considered. The driver is in the car and he has the feeling and he sees the traction and pull-away, there was a difference in DRS and on-DRS zones. It's pretty clear that the perspective and the feeling that the driver has is really important, especially Lewis." Niggle.
As well as that new wing Red Bull has also been pressing on with its diffuser development and here in Austria there was a further tweak – with the shark teeth (believed to be vortex generators helping the airflow at high ride heights stay attached) now stretching across the full width of the component.
Red Bull is carefully balancing out this robust development programme against the cost cap and next year's car but it's unable to ignore the huge prize of this year on offer. This just might be beginning to tell. Here are some numbers: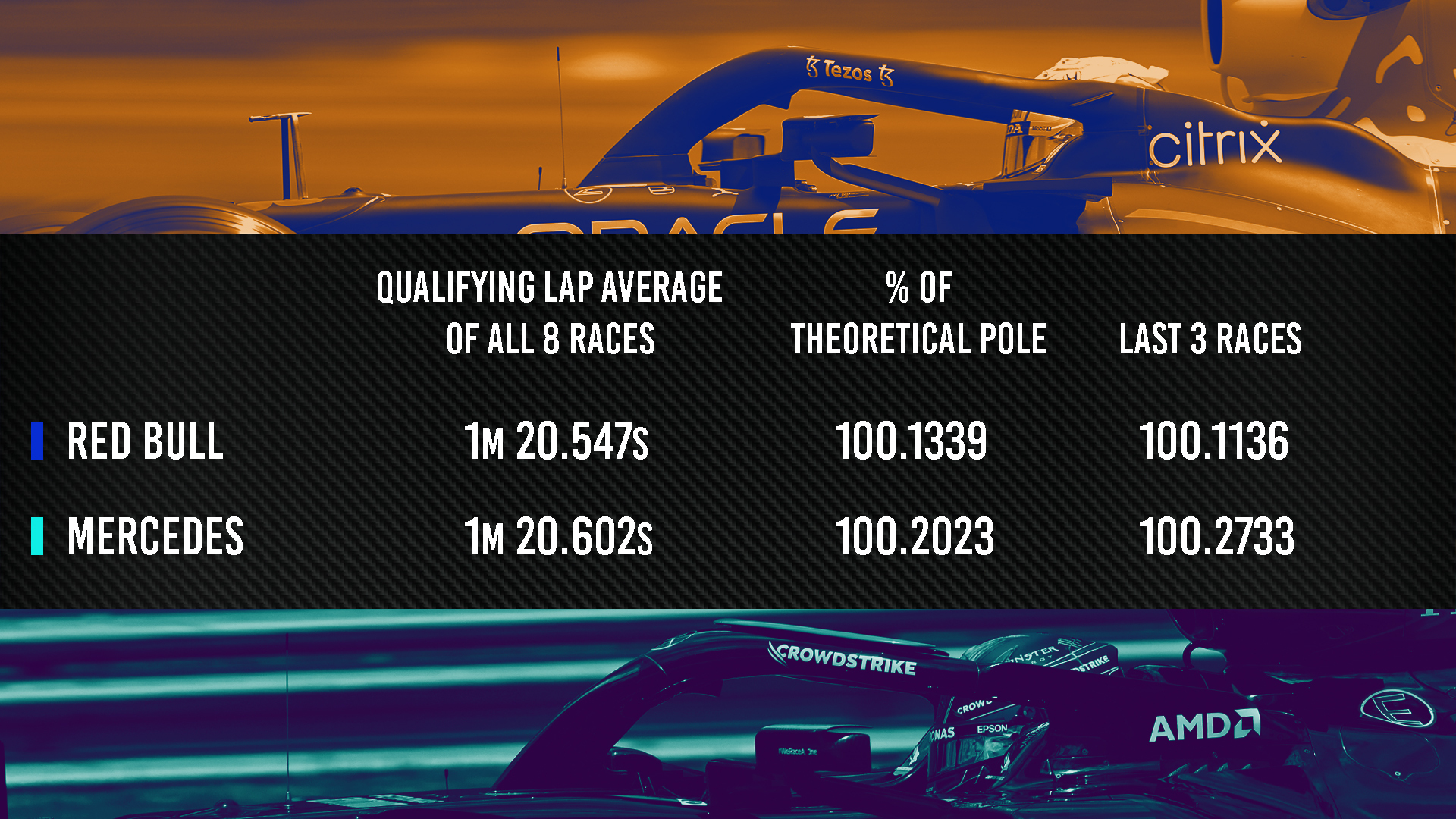 It's all incredibly close but the development momentum looks to be with Red Bull. If we compare the last three races with the overall average, Red Bull-Honda has gained in competitiveness and the Mercedes has fallen slightly. It's less than one-tenth of a second swing, but it's there and could yet be as crucial as Red Bull's faster pit stops.
Back when Mercedes had a way faster car, they could afford to give 1s away at the stops. No longer.
"The most successful team in F1 history which has got used to the luxury of doing things at its own pace, dictating its own terms."
"We know how the tech regulation direction has evolved in '21," says Wolff in reference to how the changes don't seem to have been a friend to low-rake cars like the Mercedes. "We've been on the receiving side. Fact.
"We continue to stick to our resources for '22 with all the consequences this can have; this is a long game. We just have to optimise what we have.
"It's not a secret: there is a trend. They have the faster package at the moment. We need to utilise our tools and intelligence to understand our car and the tyres. But we need to be faultless. If we can align it all we can win the championship. Their package is simply quicker at the moment."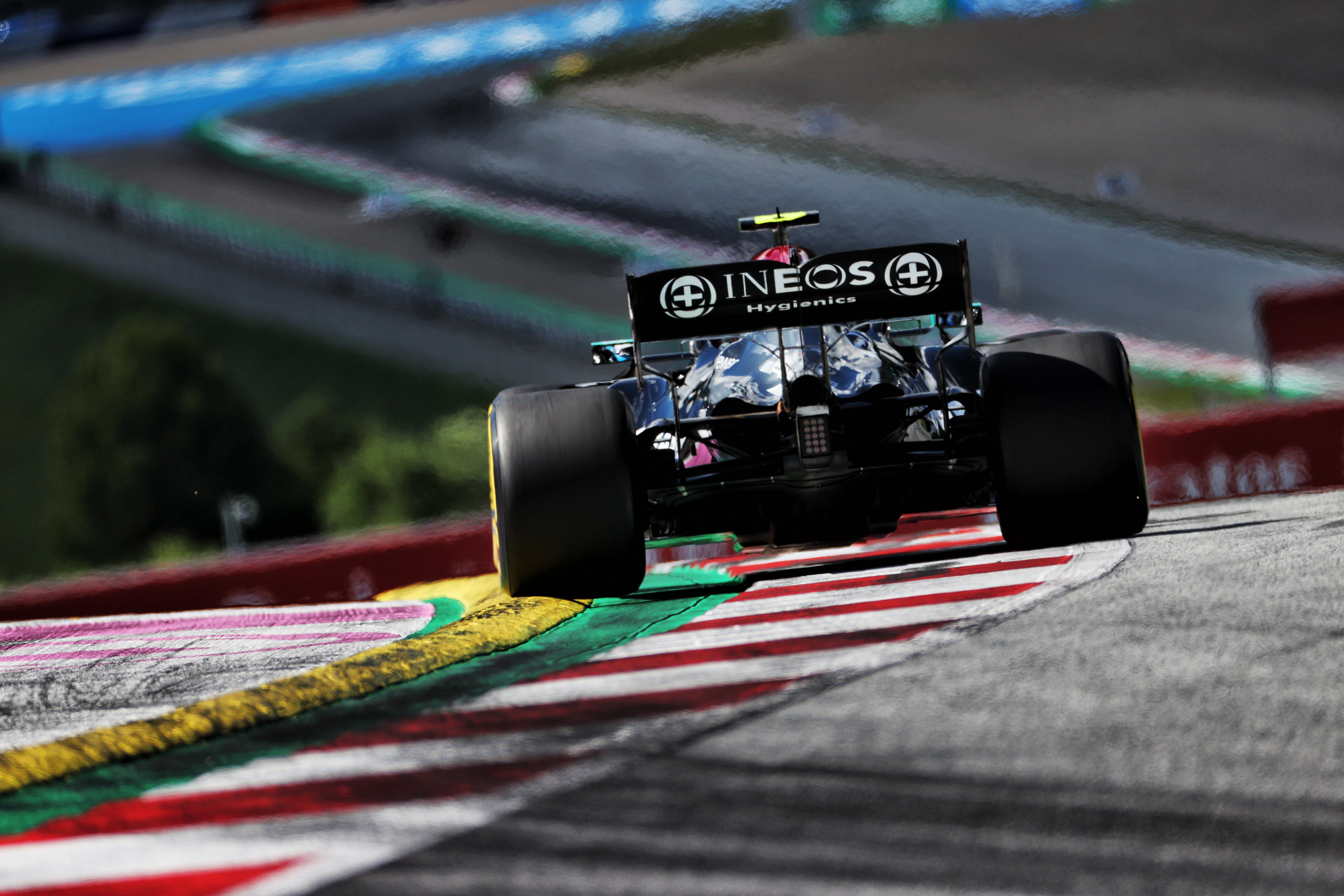 "As part of this creativity, Hamilton ran an unusual three-run strategy in Q3, taking advantage of the short track and trying to pull out an operational advantage to counter the pace disadvantage. Operational tricks rather than hard physical progress with the car. And still, Max Verstappen's Red Bull sits on pole.
The Mercedes W12 seems a more particular car, with a firmer insistence on being in its sweet spot before it performs, and this will surely only be adding to the stress. Everyone needs to be playing their part to perfection if they're to pull this off – and if there's doubt, so conflict can creep in.
"The drivers played an important role," avows Wolff. "They did lots of laps in the simulator and we're still experimenting with the set-up. You can get it right and then you land on Friday and the car drives or you can get it wrong.
"Obviously that gives an advantage of how fast your development curve or performance curve is over the weekend. But still, it's learning in progress and that's what any team should do, even if you've won the championship seven times in a row."
"I don't want to go into the fine details but I think we're discovering quite a lot about the car now," says Bottas. "That we can go into so many different ways with the set-up means it's actually quite easy to get confused which direction to go and we keep learning and we keep optimising. We need to keep on learning because this is a real tough battle ahead this season."
This year, with that elusive glinting prize tangible, Red Bull just seems to be a more ruthlessly focused entity than the multiple title-winning team – the most successful team in F1 history which has got used to the luxury of doing things at its own pace, dictating its own terms.
The energy begins to dissipate at some point. Is it now? Is that what we're seeing? Is the combination of success fatigue, the awkward adjustment to the cost cap in the time of the pandemic and the regulation tweak which might or might not have been deliberately targeted at slowing Mercedes down all just a little too much?
Against that the thrusting ambition of Verstappen, hungry for a title he feels he's waited far too long for and a proud team that knows what it is to dominate but which has been denied that chance for the entire hybrid era.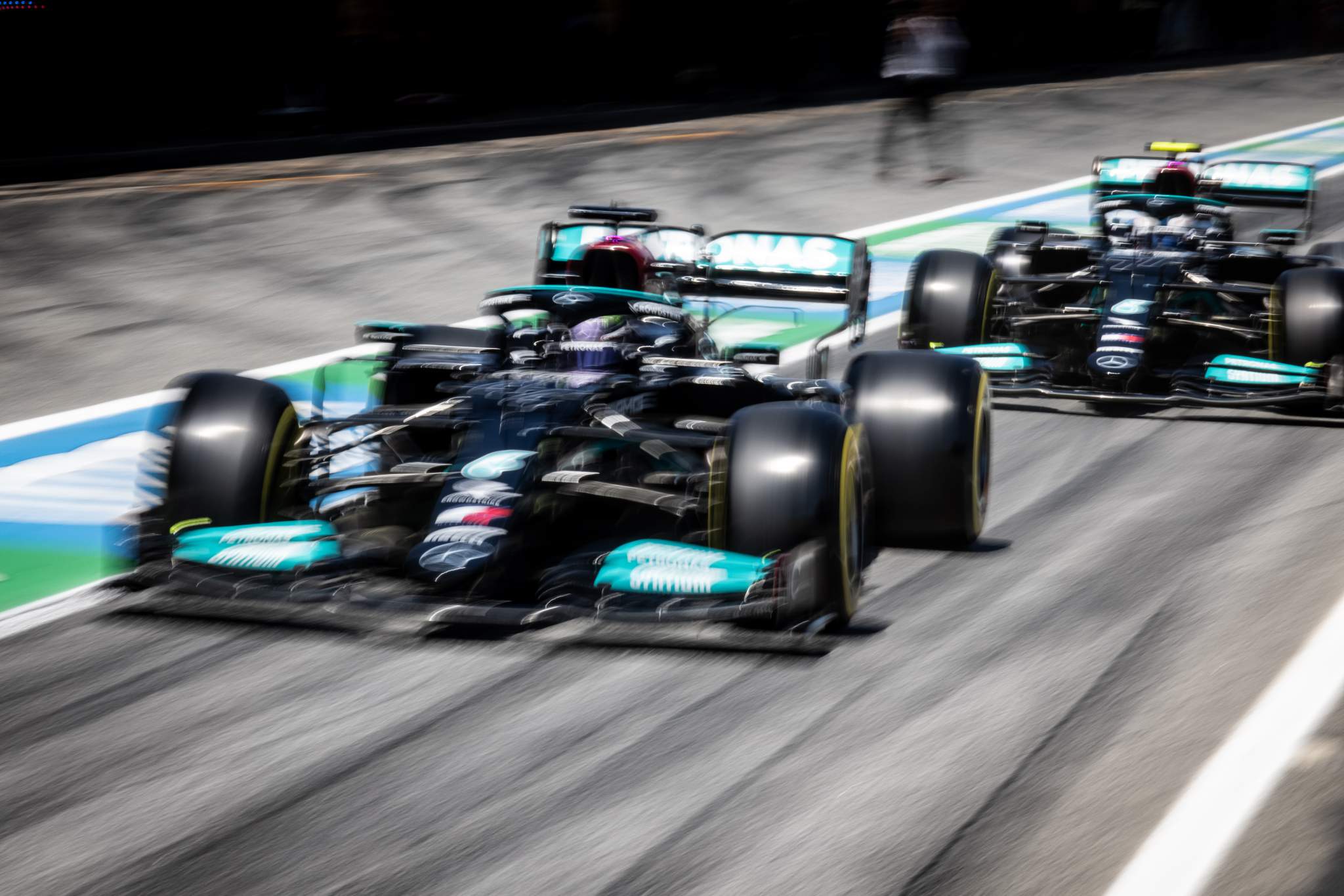 There are stresses. They are showing. We hear it in Bottas's shortness with the team over his strategy in France, or his surprise at Wolff's assessment that his placing of the car at the pit stop in Monaco contributed to his stuck wheel.
We hear it in Wolff's shortness, the way he's taking the bait to provocative questions in a way he'd never have done during the time of easy dominance. We hear it in the way Lewis Hamilton seems sometimes lost for answers, see it in Bottas's occasional reluctance to make things easy on track for Hamilton.
If these are the external manifestations we can be sure that it's amplified inside. This is a war and it's not all sugar and roses.