Max Verstappen won the Qatar Grand Prix as expected. But not as comfortably as he usually does. The Red Bull's easier way with the tyres on race day didn't count for much here. It just wasn't that sort of Formula 1 race.
What the threat of tyre delamination – and the imposed limit on the number of permitted laps for each set – did was inadvertently create an old-fashioned, pre-Pirelli flat-out sprint race in between multiple pitstops.
It was therefore unfortunate for the drivers that this sequence of events should have coincided with the sort of intensely hot and humid conditions that are to be expected early in October in Qatar.
Charles Leclerc summed up the resultant challenge best: "That was the toughest race I think any of us has ever done. One because of the heat, which was absolutely crazy, secondly because of the high-speed corners and third - the most significant thing – was the three stops.
"I think we all underestimated how much more strain we would be under having to push flat-out through the high-speed corners. It's difficult to put into words how difficult it was. It was twice as difficult as a race in Singapore."
This circuit is all about high-speed corners, of course. The Turn 6 hairpin is the only turn of the 16 which could not be described as that. Given that the corners are long and interlinked, they are among the most physically demanding the drivers experience all season, especially in this generation of ground effect car with their incredible high-speed grip.
But couple that with the maximum tyre stint rule making them drive close to flat-out – which is not normally the case at all when they are managing tyres – and the physical stress went off the scale.
Logan Sargeant was forced to retire, on the point of passing out. Esteban Ocon threw up in his helmet. George Russell felt close to fainting at one point. Drivers were angling their hands atop the steering wheel on the straights just trying to divert some air towards them. Oscar Piastri lay down on the floor in the green room behind the podium.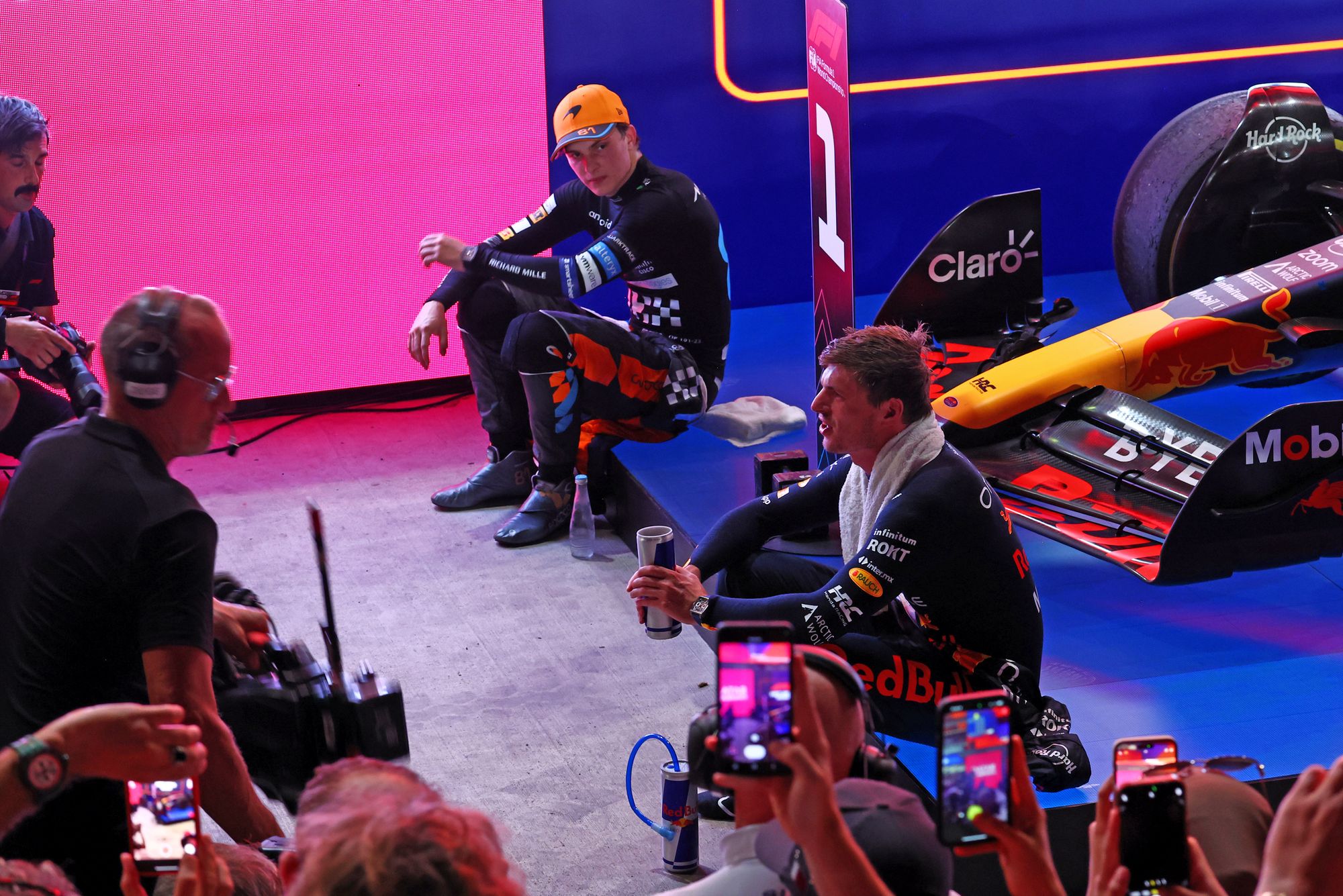 The guy who had it easiest was Verstappen. Because he was about the only one who was doing some tyre management through the fastest turns. He was only doing it as a precaution – because he could, given that he was just driving to the gap behind him to Piastri's McLaren. So he said afterwards it was maybe only in his top five of tough races. For everyone else, it was number one.
Obviously, as soon as the FIA had decreed the 18-lap limit for the tyres and thereby defined the race as a three-stop, it was understood by everyone that they would be running at a pace much harder than usual when the fastest way to the end is to run slower but make fewer stops.
What had not been quite appreciated was just how hard – because the previous day, in the 19-lap sprint race cars were on lower fuel loads – the tyres had been degrading. The soft was good for only about five laps before front-left graining tore up its tread. Even the medium had to be driven carefully. But as the track rubbered in on Sunday, it became far less punishing of the tyres.
Lando Norris was among the first to realise this and having just overcut Ocon for fifth place at the first stops, radioed in, "Our pace is strong. The tyres were still good. We should use our pace." He stepped it up and the tyres weren't complaining as he closed down on Leclerc. He had a lot of recovering to do, having started 10th on account of his deleted P2-level qualifying laps on Friday. So as the fast guy out of position, it was only logical he should have been the first to discover the tyre's ability to run absolutely flat-out.
Because the imposed 18-lap limit was way before the tyre's performance was falling away, there was no undercut effect. If you could run longer (because your tyre had fewer previous laps on it than those of the other driver), you'd pass by overcutting.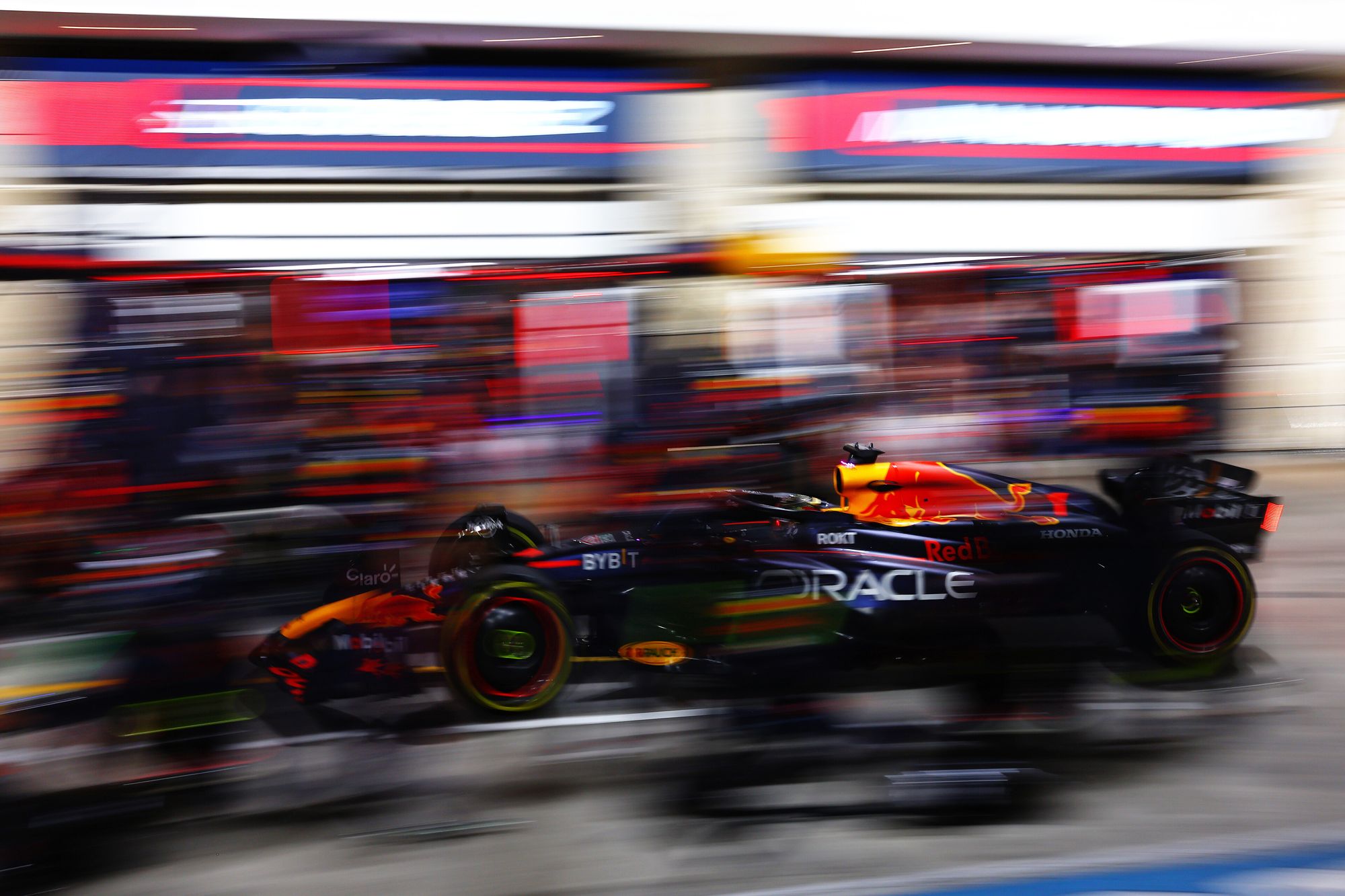 This just made the leader Verstappen's job even simpler. Because of the frontrunners, he had by far the greatest strategic flexibility. With everyone avoiding the soft given its super-short range in the Saturday sprint race, he went into the race with his hards and mediums having a potential of 70 laps available which, given it was a 57-lap race, gave him 13 laps' worth of flexibility about when to stop.
Piastri – who from his sixth-place grid slot had been gifted second place within seconds of the start by the Lewis Hamilton-induced incident ahead of him – had a potential medium/hard availability of just 63 laps (giving him only six laps-worth of flexibility). His starting set of mediums had already done six laps while Verstappen's had done only one.
So even though Piastri was less than 3s behind Verstappen when he was obliged to make his first stop on lap 13, Verstappen's tyres were still comfortably good enough to allow him to continue lapping slightly faster than the new-tyred McLaren, especially as Piastri's relatively early enforced stop had brought him out behind Valtteri Bottas's Alfa Romeo. Verstappen used up his extra five-lap allocation on his tyres before stopping – and rejoined now 8s ahead of Piastri.
"That first stint was really what made my race," said the 2023 world champion. Indeed it was, in its combination of pace and relatively long duration. But he'd been pushing only as hard as necessary like this was just any other 2023 race. He'd not bought into pushing to the absolute maximum, simply because he didn't need to.
On the eve of his first stop, engineer Gianpiero Lambiase told him he could 'use it up'. Verstappen reeled off a lap 1s faster than he'd been going. That was lap 16. When you calculate the fuel effect, the battery equilibrium, the tyre compound and tyre degradation, his 1m27.8s equates almost exactly to his pole lap of 1m23.8s. In conventional tyre management races, that calculation usually reveals even their best laps to be around 2s off what would theoretically be possible.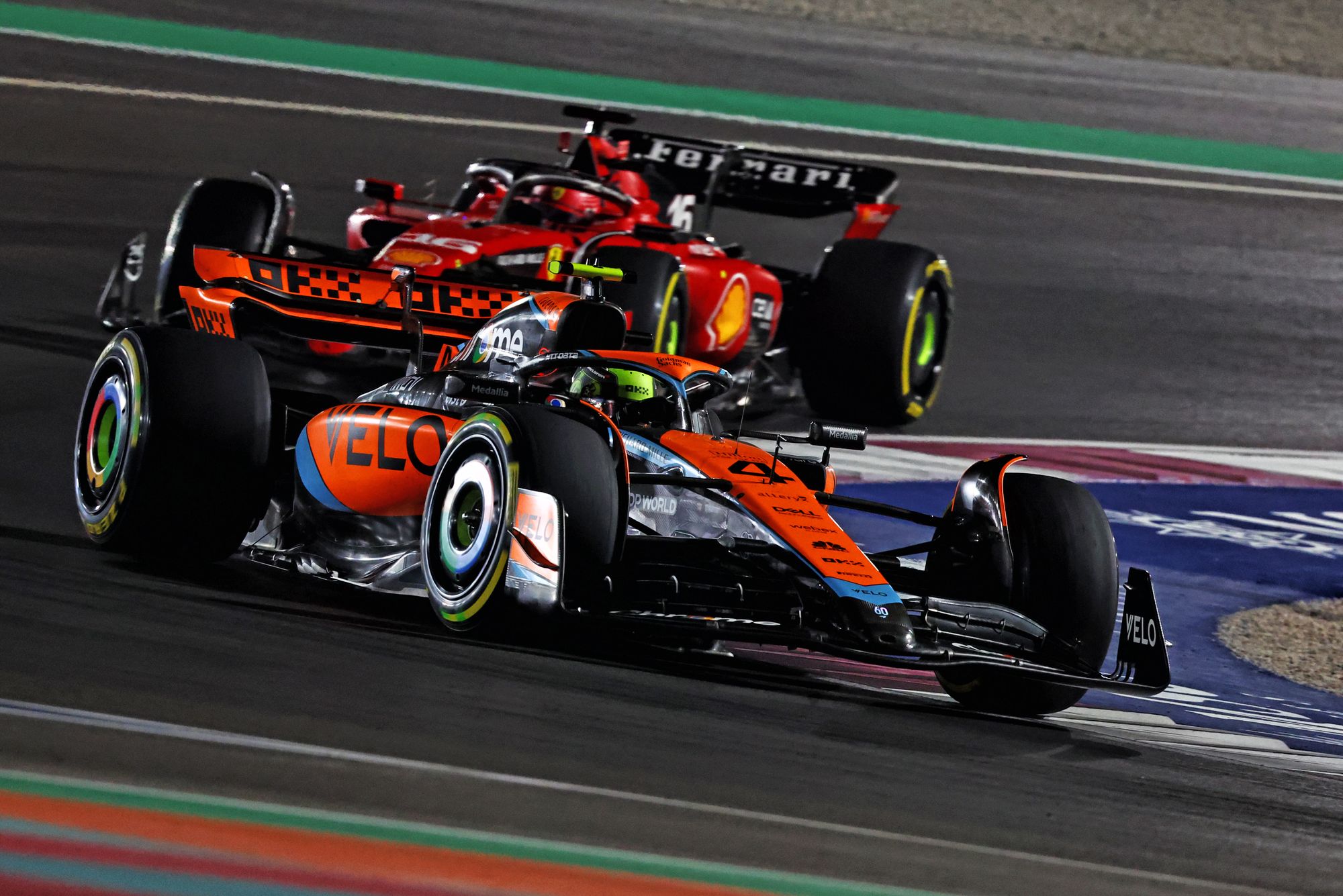 That overcut pattern had worked for Norris in passing Ocon and with his new-found confidence in the tyres, he quickly reeled in Leclerc's Ferrari and passed with the help of DRS into Turn 1 mid-way through his second stint. Next in his targets was Fernando Alonso's Aston Martin and he pulled the same overcut trick that he'd used on Ocon at the first stops.
Coming in one lap later than the Aston Martin, his in-lap, combined with the slow warm-up of Alonso's new hards, allowed him to leapfrog up to a net third. At this point Norris was around 6s behind team-mate Piastri after a much busier race – and going faster. By the time of their third stops – with Norris' tyres able to go an extra lap – he was able to exit right on his team-mate's tail. He asked to be let through and was told no. He asked why. Because the team was worried about Russell, came the reply. It implied McLaren might need Norris to defend from the Mercedes once it had made its fourth stop.
Russell was four-stopping because he'd been obliged to pit for a new nose at the end of the opening lap, having been hit by Hamilton. It was the nightmare scenario for Mercedes, only recused from being a repeat of Barcelona 2016 by the fact Russell had managed to rejoin.
Hamilton had started on softs (because his allocation of mediums and hards had too many laps on them to allow him to do the three-stop using only them). So he was always going to be super-fast off the grid from his third-place slot. As he lined up the dicing Verstappen and Russell into Turn 1 he had more momentum than either of them and potentially was going to sweep into the lead around the outside and then hang onto it for as long as he could before his planned lap eight stop.
Maybe the temptation of seeing that potential lead opening up clouded his judgement, but he left Russell no room, and as Hamilton spun into the gravel trap minus his right-rear tyre, Russell ended up in the gravel too but fortunately restarted. Hamilton's initial assessment of what had happened changed when he saw the replay and he took full responsibility for the error.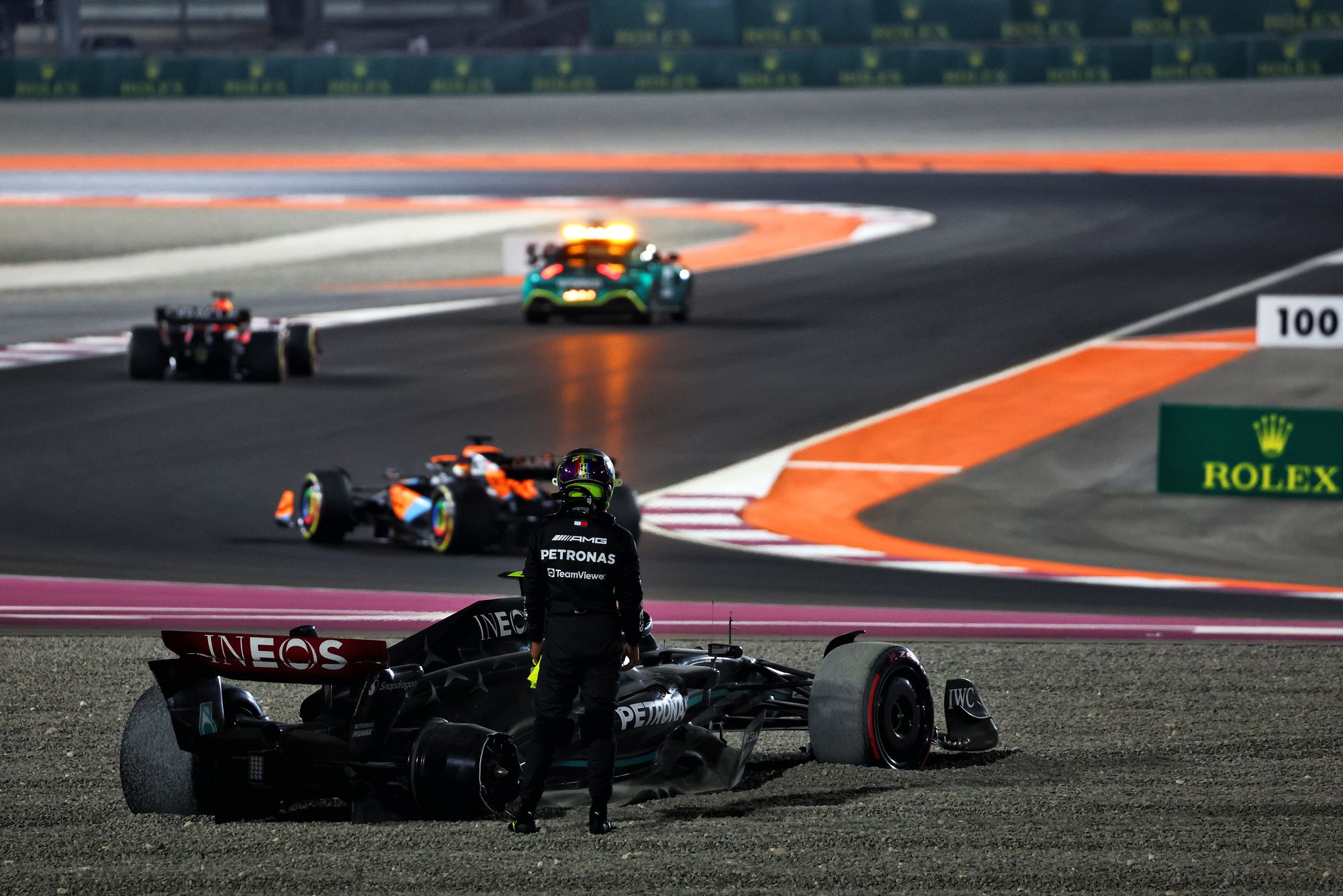 The safety car ensured Russell's stop was less costly than it might otherwise have been, but stopping so early meant a four-stop in order to comply with the 18-lap limit. He fought his way up from the back in impressive fashion, taking full advantage of being able to run flat-out, passing a struggling Sergio Perez along the way. He was running in second with a pitstop still to make seven laps from the end. Mercedes gambled on the softs and he rejoined behind the McLarens. But McLaren needn't have worried. He was too far behind and not lapping as fast on his softs as they could go on their hards.
Fourth place was a great result in the circumstances and without the first-corner incident, it could easily have been Mercedes filling the lower podium places and not McLaren.
Alonso had an off at Turn 2, allowing Leclerc to pass him for fifth but the Ferrari was a long way distant from Russell at the end. Ocon, despite his discomfort, followed Alonso across the line well clear of Bottas, who maximised his generous tyre lap availability with a very early first stop that got him clear air and was boosted by the safety car.
Although Perez crossed the line ninth he seemed to be having a competition with Pierre Gasly over who could get the most five-second penalties for track infringements, thus promoting Zhou Guanyu's Alfa in the official results to ninth.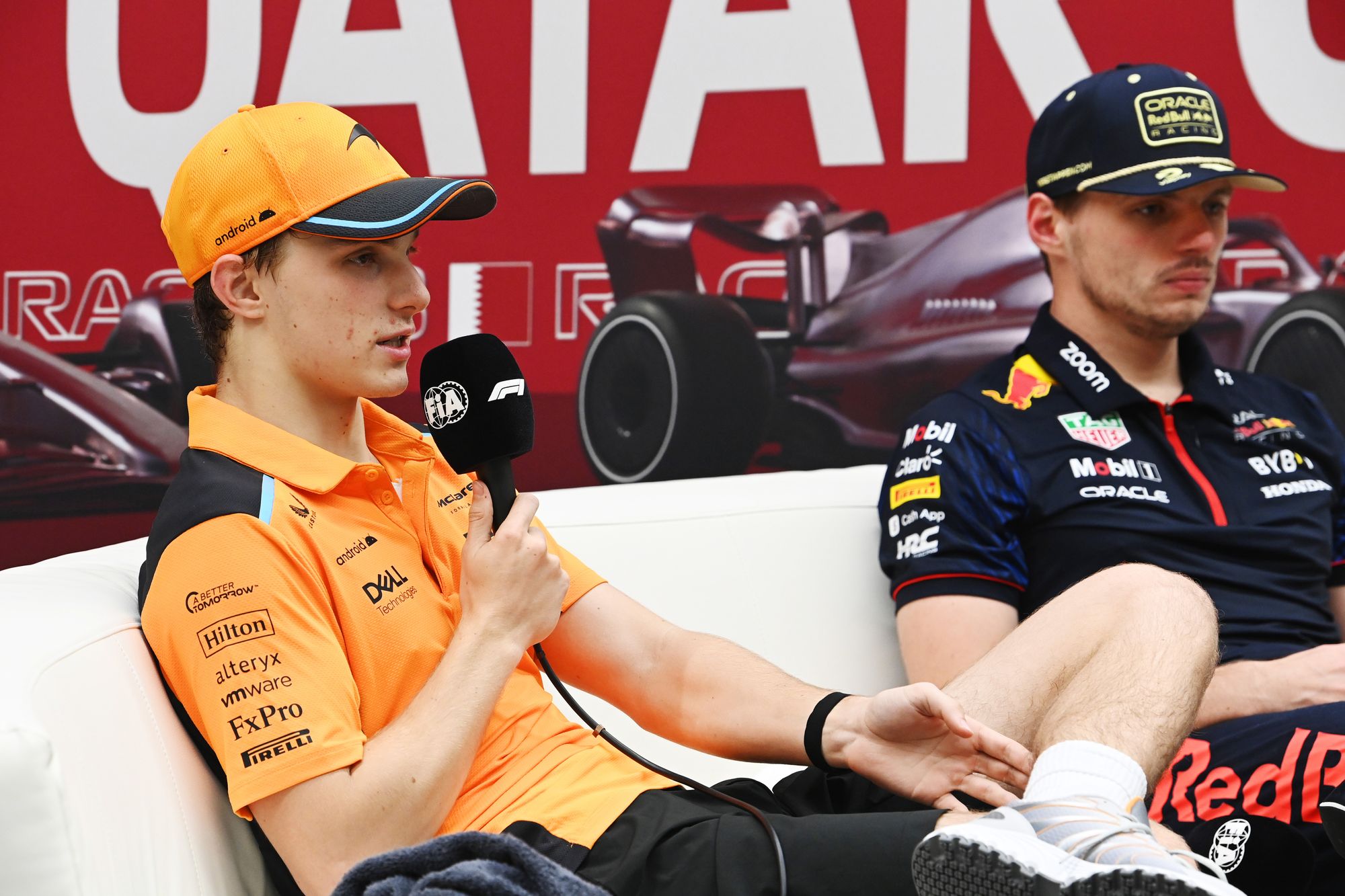 "They were quick," Verstappen said. "I had to push for it today." But there's pushing and there's really pushing. "It was 57 qualifying laps, basically which I definitely feel I have done," said Piastri.
"Three stops was not the fastest way to run that race," confirmed Christian Horner afterwards, "but it was a good solution to the problem."
Who knew that in protecting the tyres from possible structural failure, you'd allow them to be pushed harder? Without that, this would likely have been a standard one-stop, with a standard big Verstappen-Red Bull margin.
Instead, we got something a little different.