Five races in, five clear Red Bull victories so far in 2023. The team's dominance is such that the question of whether it can go unbeaten through the season – which would be the first time for any team since 1952 – is realistically being asked. But, in the Monaco Grand Prix, we are on the eve of an event which has historically been fatal to such hopes.
The two most recent examples were 2004 and 1992 for Michael Schumacher and Nigel Mansell respectively. Although this time around the Red Bull victories have been shared between its two drivers, the parallels so far with 2004 and 1992 are quite striking. In both cases there were five straight victories, relatively unopposed, from the start of the season up until Monaco.
Will history repeat this weekend? 
1992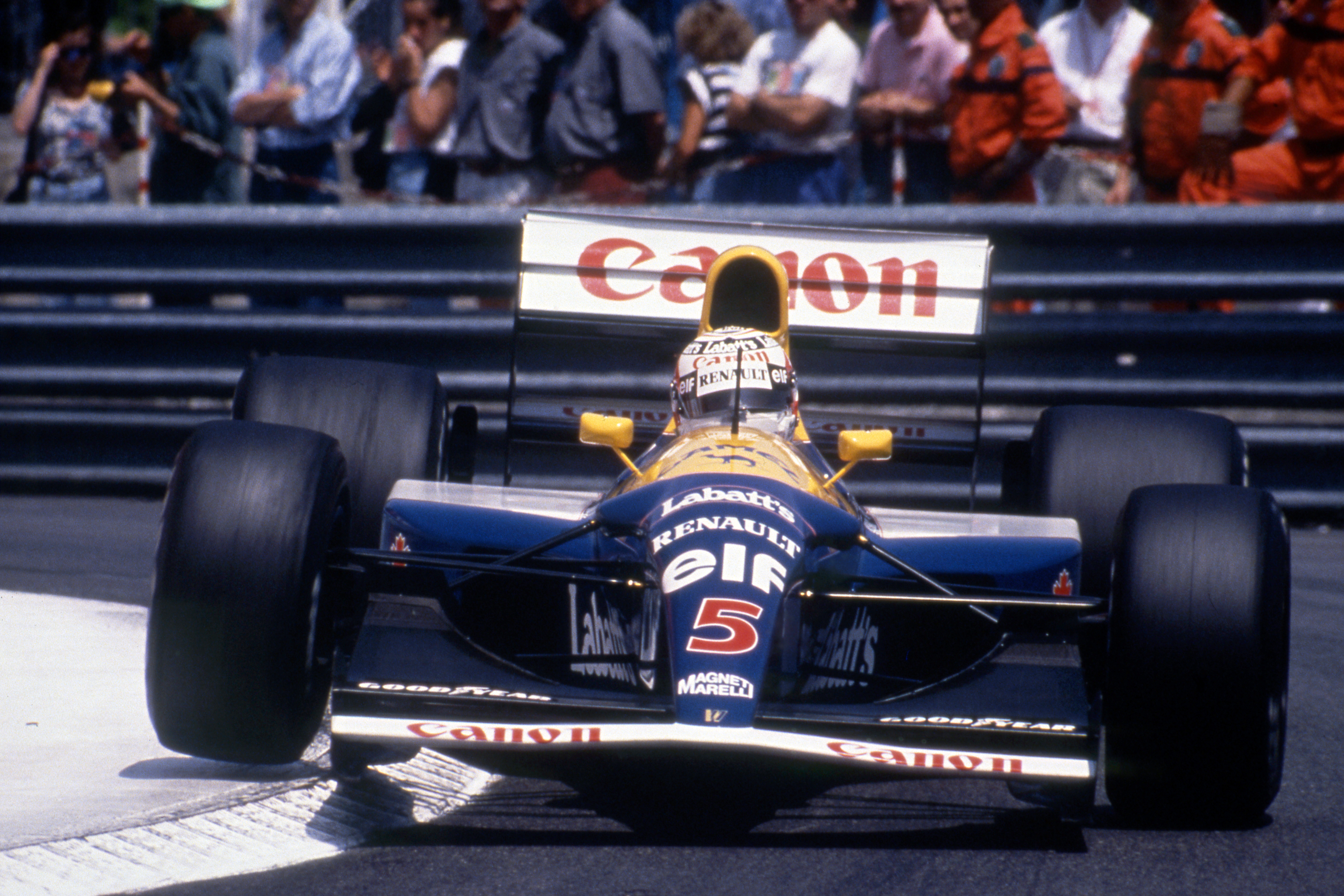 Nigel Mansell in the active ride, Adrian Newey-designed Williams FW14B was an unstoppable force. The car was so much faster than the opposition that even the talents of Ayrton Senna and Michael Schumacher could offer only the most puny opposition. The fastest non-Williams qualifiers at each of the races prior to Monaco were as follows:
Kyalami: Senna (McLaren) 0.8s adrift of Mansell's pole
Mexico: Schumacher (Benetton) 0.9s adrift of Mansell's pole
Brazil: Senna 2.2s adrift of Mansell's pole
Spain: Schumacher 1.0s adrift of Mansell's pole
Imola: Senna 1.2s adrift of Mansell's pole
Mansell won each of those races at a canter. The current superiority of the Red Bull RB19 pales in comparison to the advantage over the competition conferred by the mighty FW14B – and Mansell was incredibly committed to the immense downforce it was capable of generating. "Because of the way the active was configured," explained Adrian Newey, "the car could give strange sensations to the driver on corner entry but you just had to ignore those and have faith that the grip would be there and this is what Nigel was so good at." 
"He was incredible in that car," recalled Paddy Lowe, who had designed the suspension. "Totally fearless." This was reflected in his superiority over team-mate Riccardo Patrese, who the season before in the conventionally-suspended FW14 had been very much a match for him. At Kyalami Mansell had qualified 1.5s faster and although they were separated only by hundredths in Mexico, the gap was 1.1s in Brazil, 1.4s in Spain and 1.0s at Imola. 
The picture after Monaco qualifying looked very familiar, with Mansell on pole, quicker than Patrese and Senna by 0.9s and 1.1s respectively. There seemed no reason to believe this wouldn't just be another routine 1992 race.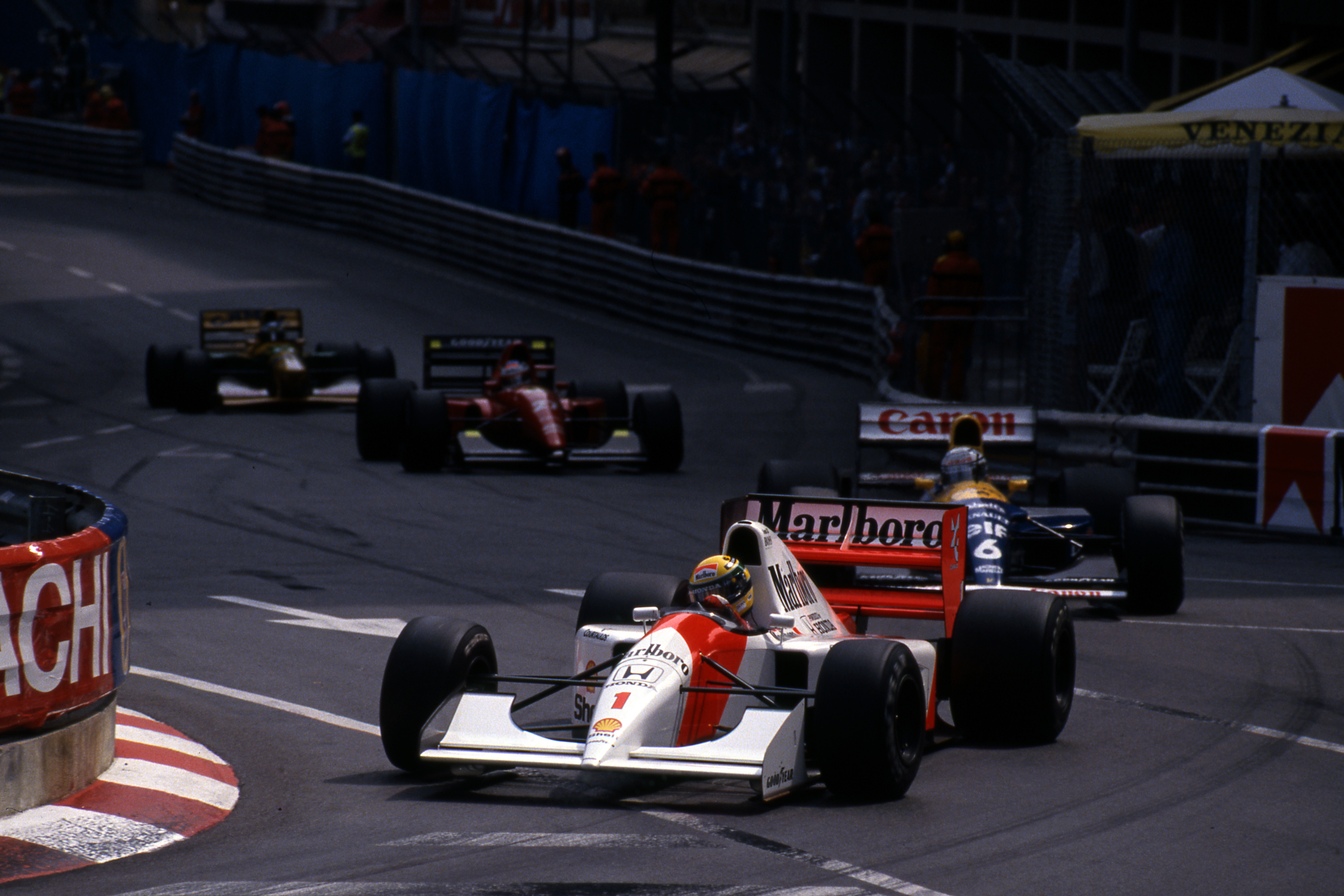 Mansell, despite a power-sliding, wheel-spinning start, was the uncontested leader into Ste Devote but Senna was immediately past Patrese with an incisive move down the inside for second. Mansell was five seconds ahead of Senna after just four laps. 
"I knew there was no way I could beat [Mansell]," said Senna. "It was impossible with the superiority of his car… But you never know what will happen at Monaco. So what I tried to do was go hard enough to be in a position to benefit if anything happened to Mansell." 
He wasn't helped by Michele Alboreto spinning his Arrows at Mirabeau just as Senna was coming to lap him, the incident costing the McLaren driver 10 seconds, increasing Mansell's lead to around 25 seconds.
Mansell maintained it at around that level until with seven laps to go he felt the car suddenly sit down on the left-hand side as he came through the tunnel. Believing he had a puncture, he drove very carefully to the pits. Although all four tyres were visibly inflated, the crew changed them anyway. 
Later investigation suggested a wheel nut on the left-rear had somehow worked its way loose. Senna now led the race as Mansell rejoined 7s behind. On new tyres and in a vastly superior car, he was on the McLaren's tail within three laps. But no way was Senna going to be denied, as he placed his car perfectly despite Mansell's theatrical attempts at pressuring him into error. 
The FW14B's reliability wasn't as impressive as its raw performance and it won 'only' 11 of the 16 races that year. But Monaco was its first defeat. 
2004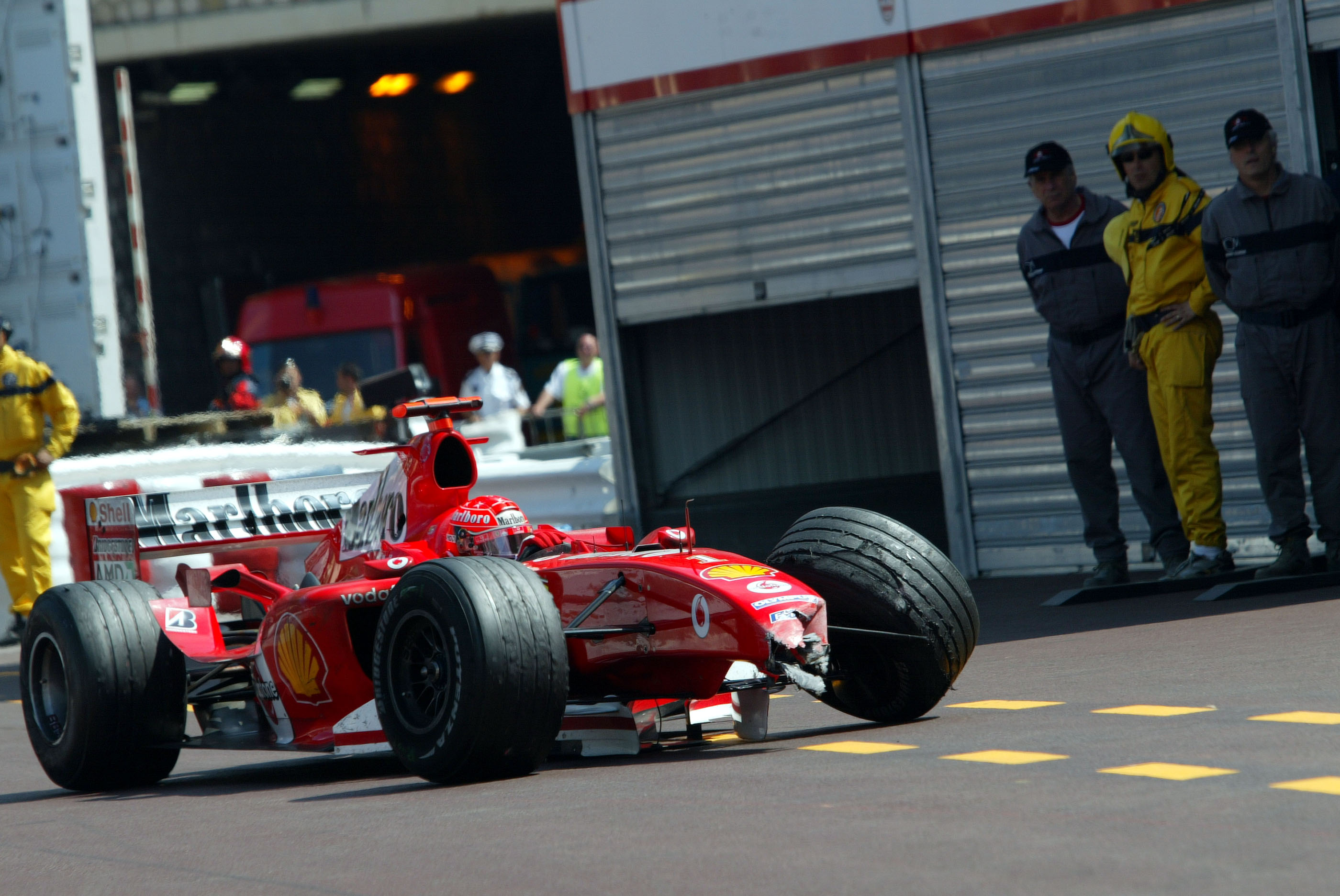 Coming into Monaco in 2004, Schumacher and Ferrari had won all five races up to this point: Australia, Malaysia, Bahrain, Imola and Barcelona. The F2004 was a truly formidable piece of kit, the pinnacle of the Rory Byrne era Ferrari. Schumacher's winning margin over the best non-Ferrari was frequently in excess of half-a-minute.
But rather like the current Red Bull, it wasn't at its absolute best over a single lap of qualifying, albeit for a different reason. Its use of Bridgestone tyres rather than the Michelins of its main rivals meant it sometimes struggled for front tyre temperature. Around Monaco that was particularly punishing (which is something which might prove very relevant this weekend) and Schumacher was able to qualify only fifth-fastest, albeit with a heavier fuel load than all the Michelin-shod cars ahead of him. 
The plan was for him to stay close enough in touch with the first stint leaders that he could overcut his way past them as he let rip on low fuel and a clear track as they rejoined heavy.
In this refuelling era Monaco was a two-stop race. Schumacher's long first stint allowed him to overcut three of the cars ahead of him and he rejoined in third pace behind the two Renaults of Jarno Trulli and Fernando Alonso. Just prior to the second stops, Alonso collided heavily with Ralf Schumacher's Williams while lapping him in the tunnel. This brought out the safety car, under which Trulli pitted – but Schumacher did not.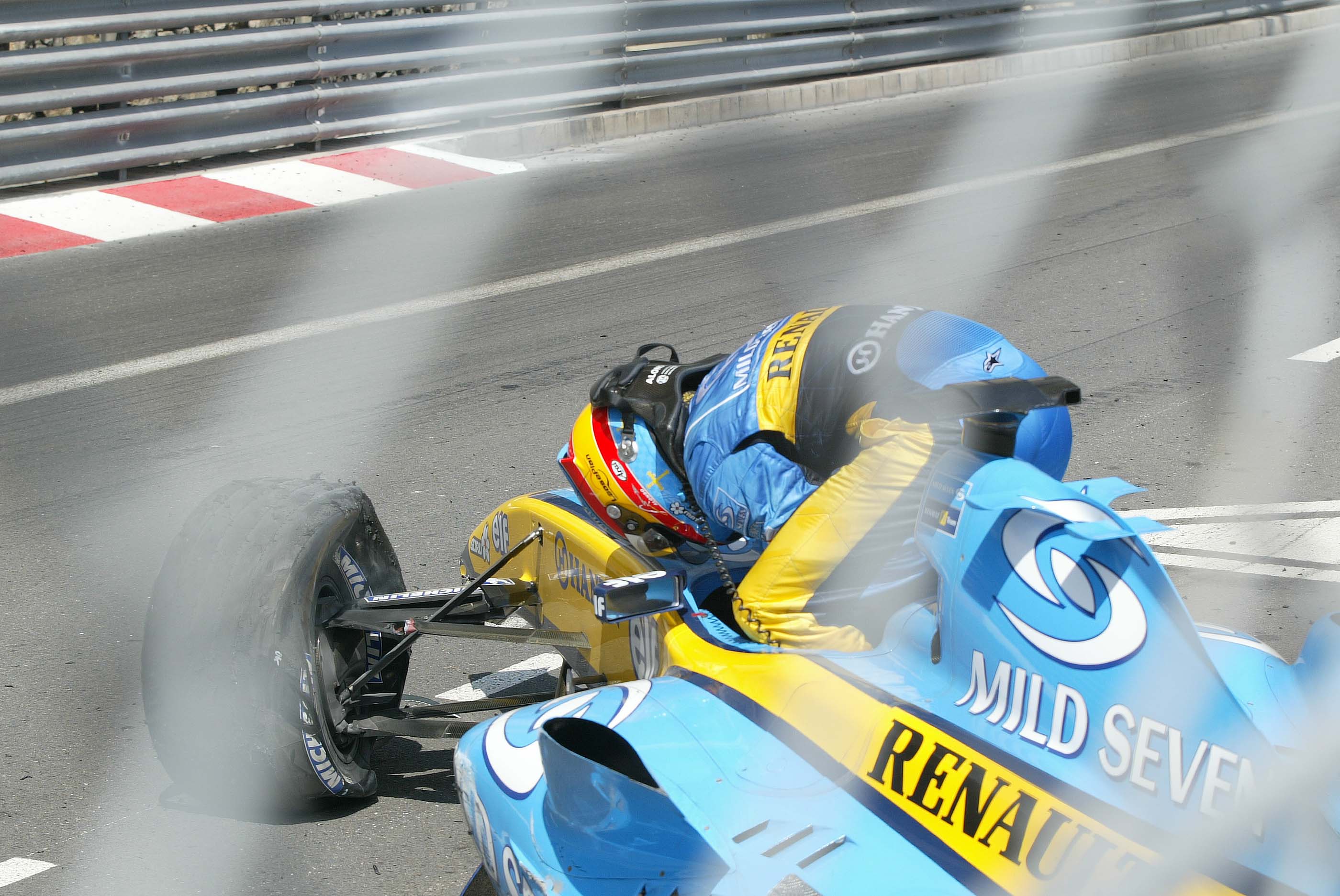 On the Ferrari pit wall Ross Brawn had decided there was no point in following Trulli in, as they'd be guaranteed to be beaten that way. Instead, he left Schumacher out, now leading, with the aim of pulling out a required 17s in the 17 laps his remaining fuel load would have allowed. Had he succeeded in pulling out 1s per lap on Trulli – feasible, but difficult – he'd have emerged in the lead after his final stop. 
But we were not destined to find out. As the safety car for the Alonso/Ralf Schumacher incident prepared to come in, drivers were preparing their brakes and tyres for the restart. Directly behind Schumacher's Ferrari in the queue – but a lap down – was the Williams of Juan Pablo Montoya.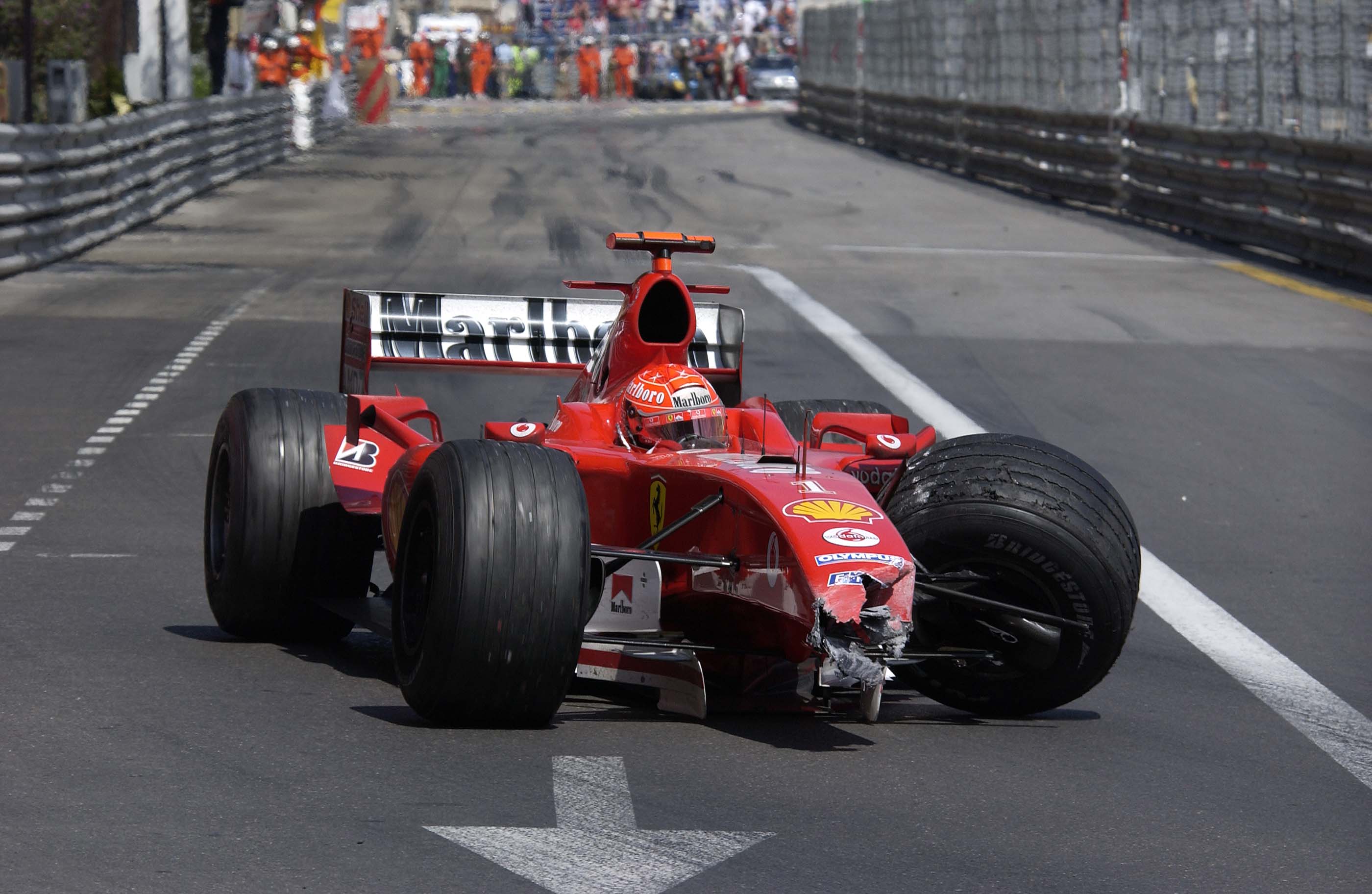 Schumacher and Montoya got disastrously out of sequence in their braking and accelerating, causing Montoya to pile into the Ferrari, bouncing it into the wall and destroying its front suspension. Like that, the Ferrari-Schumacher 2004 spell was broken, paving the way for Trulli's only grand prix victory.
2023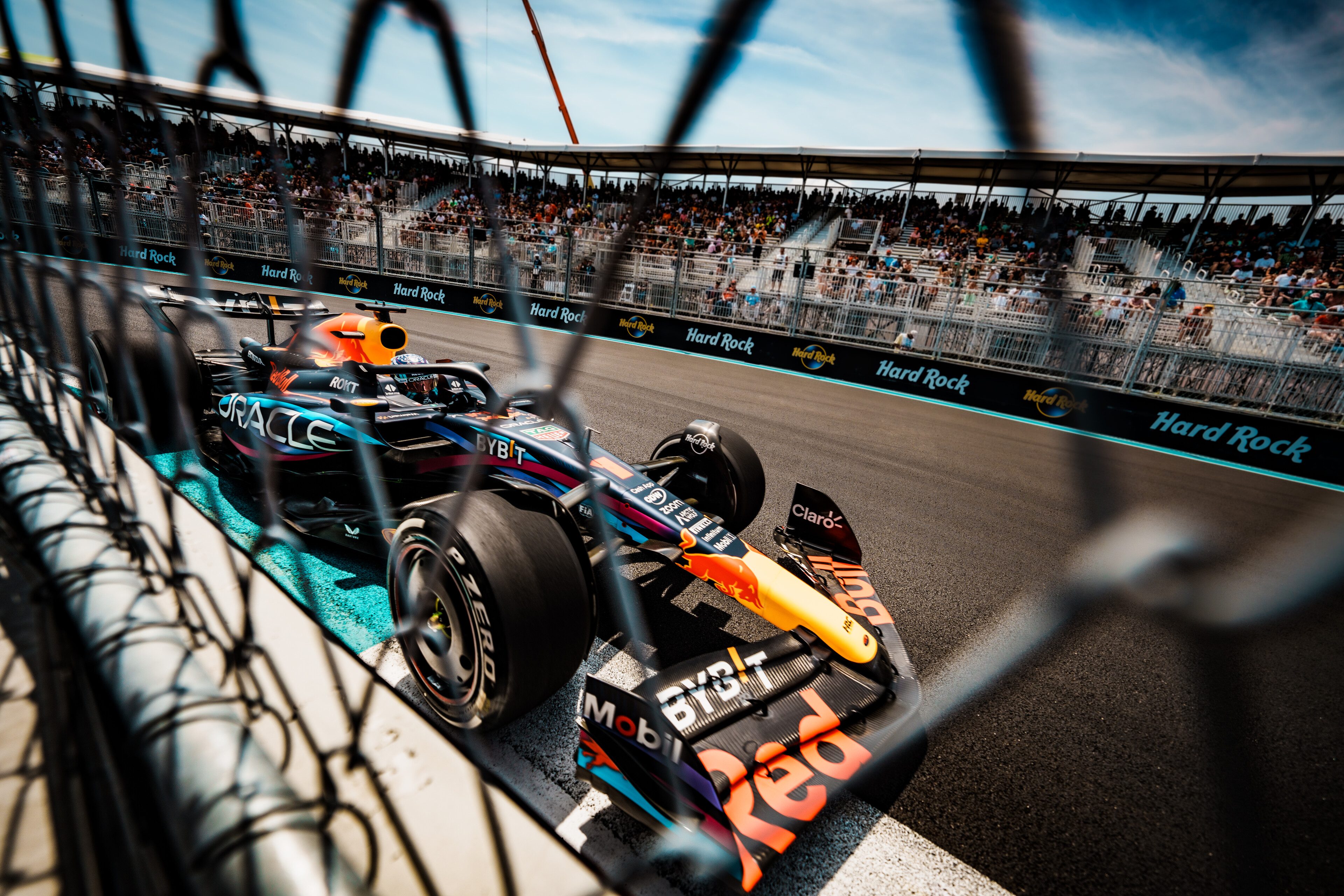 So what do we have coming into this Monaco weekend? 
A dominant Red Bull but one which is sometimes reluctant to generate good front tyre temperature over a single qualifying lap versus an Aston Martin with great downforce and braking, driven by Alonso around a circuit which does not really punish its high drag. And a Ferrari with superb slow corner agility driven by Charles Leclerc (the pole position man here for the last two years) and the not-to-be underestimated Carlos Sainz.
Combine all that with the ongoing in-house rivalry between Max Verstappen and Sergio Perez and the potential for an upset to the formbook is clear.