As if there was ever any doubt! Fernando Alonso is back and, at 40 years old, driving at or something very close to his best.
His recent starring roles at the Hungaroring and Silverstone have returned him to the limelight but they are just the headline performances from a deeply impressive F1 comeback after two years away.
Because the Alpine can comfortably race in the part of the grid in which it qualifies – unlike the McLarens of 2015-18, which didn't have the horsepower or deployment flexibility to drive anything other than defensive races – we have seen a fuller range of Alonso's repertoire in this half-season than at any time since 2013. And it is still very much intact.
Sure, he has driven some epic defensive races – Styria, Silverstone and Hungary come to mind – but he has also been seen in swashbuckling attacking mode in the late stages of both Portugal – where he used newer tyres to pass a whole sequence of cars – and France, where he put unrelenting pressure on Ricciardo and Gasly just ahead of him.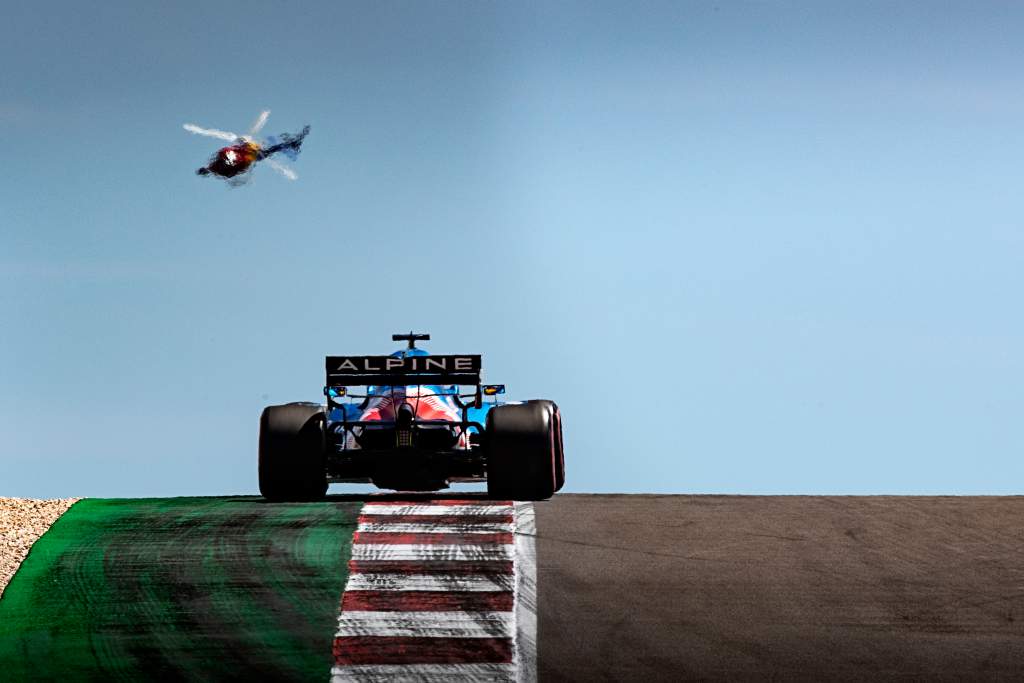 His sense of where to put himself in wheel-to-wheel battle is uncanny, a skill of his that an admiring Mark Webber once said marks him out from any other driver. It was on brief but electrifying display on the final lap at Baku (where he made up four places) and the opening lap of Silverstone's sprint race (where he made up six). But it was on sustained exhibition for those 11 laps in Hungary during which he engaged his old foe Hamilton, in the full knowledge that he was buying his team-mate Esteban Ocon the victory.
It was only Ocon rather than Alonso taking that victory because of where they each happened to be in the opening seconds of the race as the Bottas-induced chaos happened. Their respective race laps show Alonso had at least Ocon's level of performance there, arguably more.
He's back in the limelight, but how is his performance stacking up beneath the headlines? Looking at the most obvious metric of performance, comparison with his team mate, his initially quiet start to the season, as he played himself in, is reflected in an average qualifying time that is 0.069s slower than Ocon's. But taking only the last six races, Alonso is ahead by 0.242s.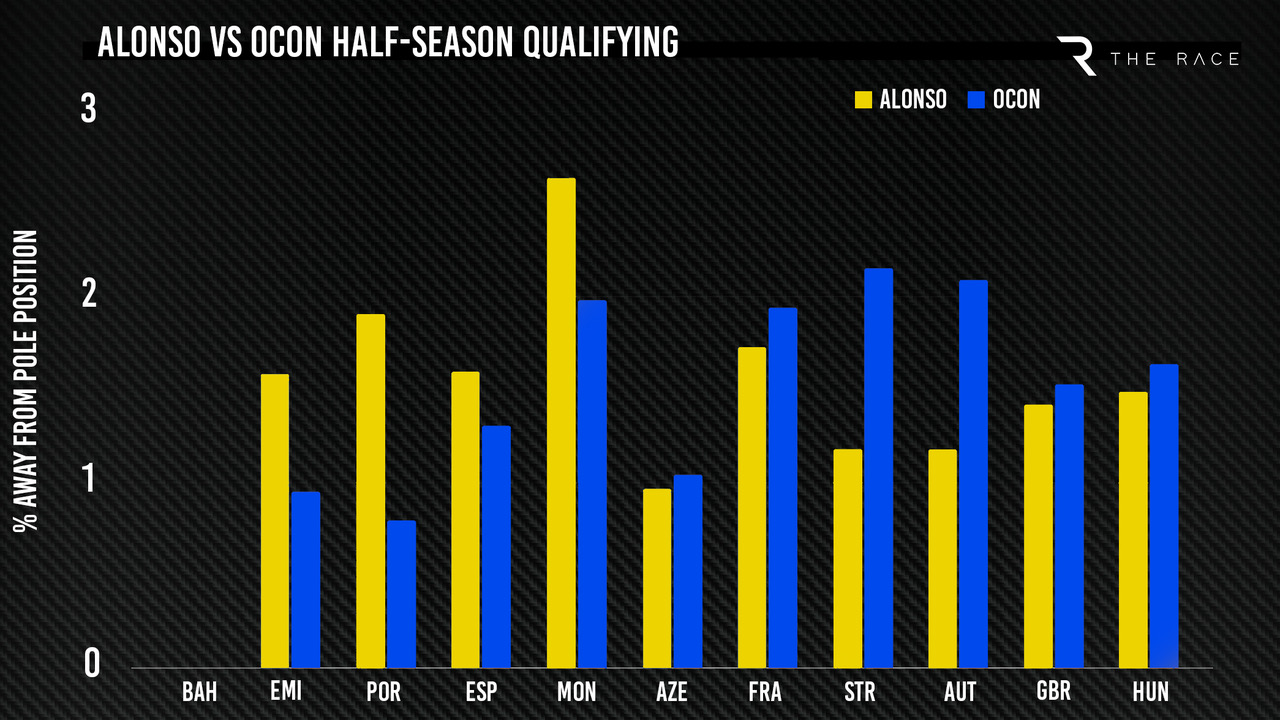 That does overlap into Ocon's 'rogue chassis' problems, which were corrected with the new car from Silverstone. So the last few decimal points of Alonso's raw speed cannot really be calculated yet. But he's for sure at or somewhere near the pace.
But qualifying pace was never the most outstanding facet of his game. He was always super-fast, of course, but his big advantage over his team-mates traditionally came on race day. That's part pummelling lap-after-lap performance and part cockpit smarts.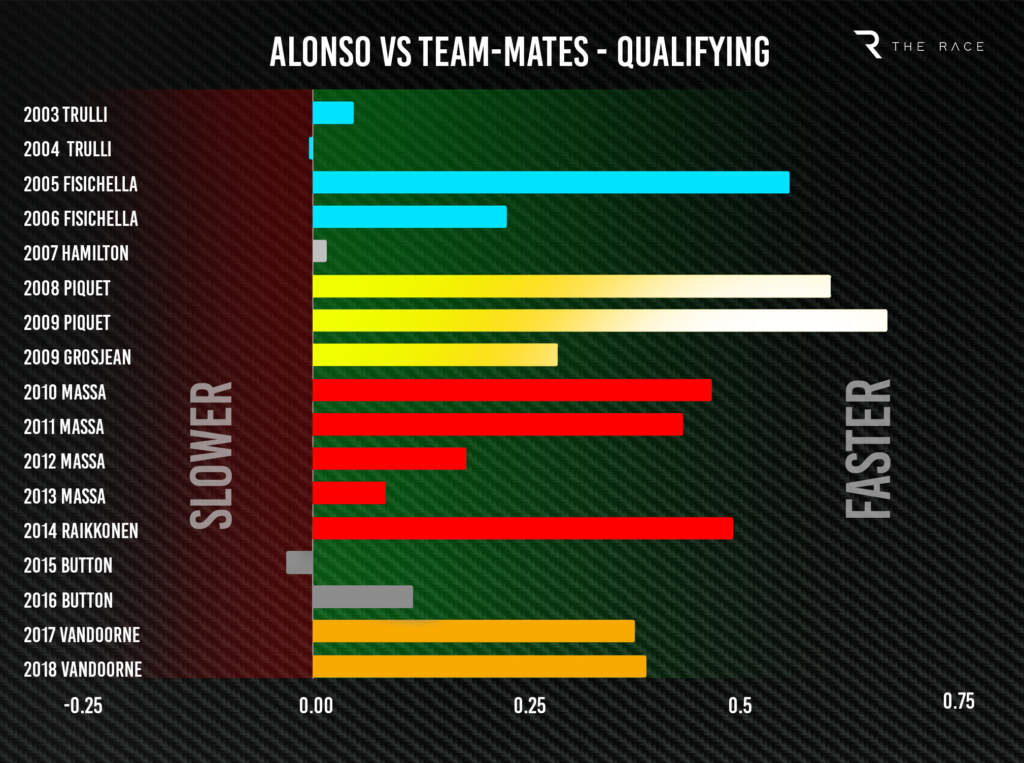 Even aside from how he can make a tyre live while still keeping up impressive laptimes, those smarts go much deeper.
At the British Grand Prix, for example, running an early seventh place, he understood his main threat of the cars behind was Pierre Gasly's AlphaTauri and not the immediately-following Lance Stroll. He deliberately allowed Stroll close enough to get into his DRS train, so that Stroll couldn't be picked off by Gasly.
"For me, that was fantastic," says Alpine team director Marcin Budkowski, "effectively forming a DRS train behind him because he wasn't afraid of Stroll but he was afraid of Gasly and therefore he eliminated any possible attack from Gasly by putting him in Stroll's DRS.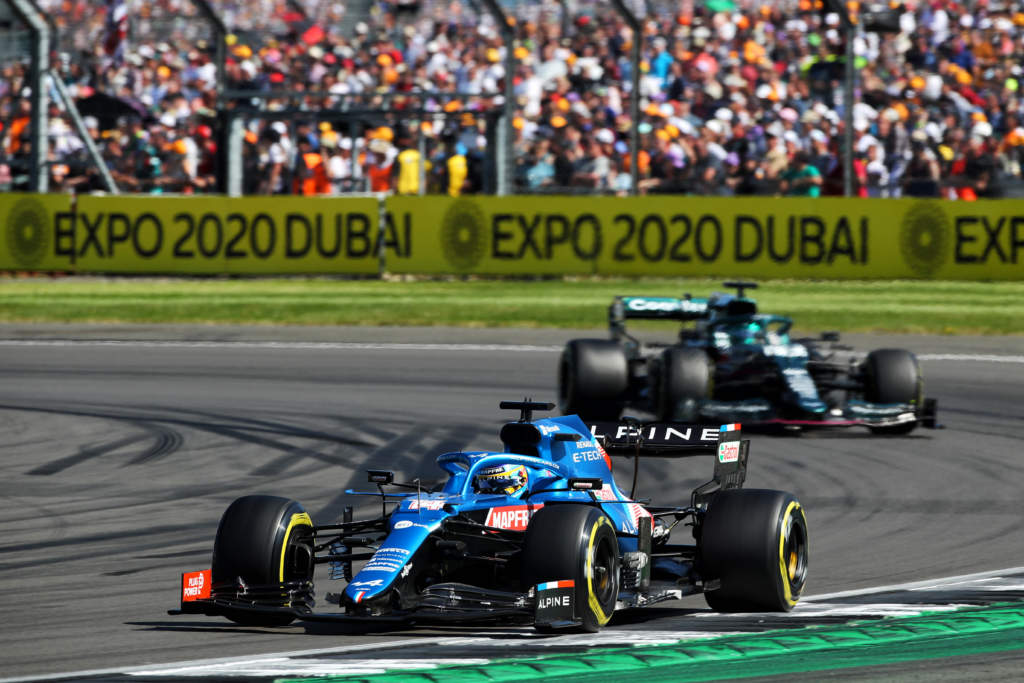 "For me it is mind-blowing almost because we are sat on the pitwall we have all the data, we have full visibility on the race, he's in the car driving at full speed and he has almost the same analysis of the race that we have on the pitwall with nowhere near as much data and ability [to view it]."
There are many such races, where he pulls a result which to the outside world looks nothing remarkable, but which is when his race is studied in any detail.
His early-season races were largely unspectacular, it's true, but not substandard. In Bahrain, he put the car in Q3 but comparison with Ocon was lost because of the latter falling foul to yellow flags in Q1. From Imola through Portugal, Spain and Monaco he was struggling a little in qualifying, definitely lacking a couple of tenths even if he did race more than respectably in Imola and Portugal.
But the pieces of the puzzle were coming together and there was a breakthrough of sorts in Baku, even if he still believed he wasn't at his limit there.
Baku was followed by ever-stronger subsequent showings, not in terms of results but in extracting the maximum from the car and in being able to demonstrate that glitter and sparkle that made Alonso such an exciting performer for all those years.
Budkowski has given some thought to that difficult period between Bahrain and Baku and thinks he knows what was happening. "I haven't discussed it with Fernando," he says, "but we tested in Bahrain before and he had a bit more time to get accustomed to the car on the track and push it. But on a normal race weekend it is always a bit more tricky.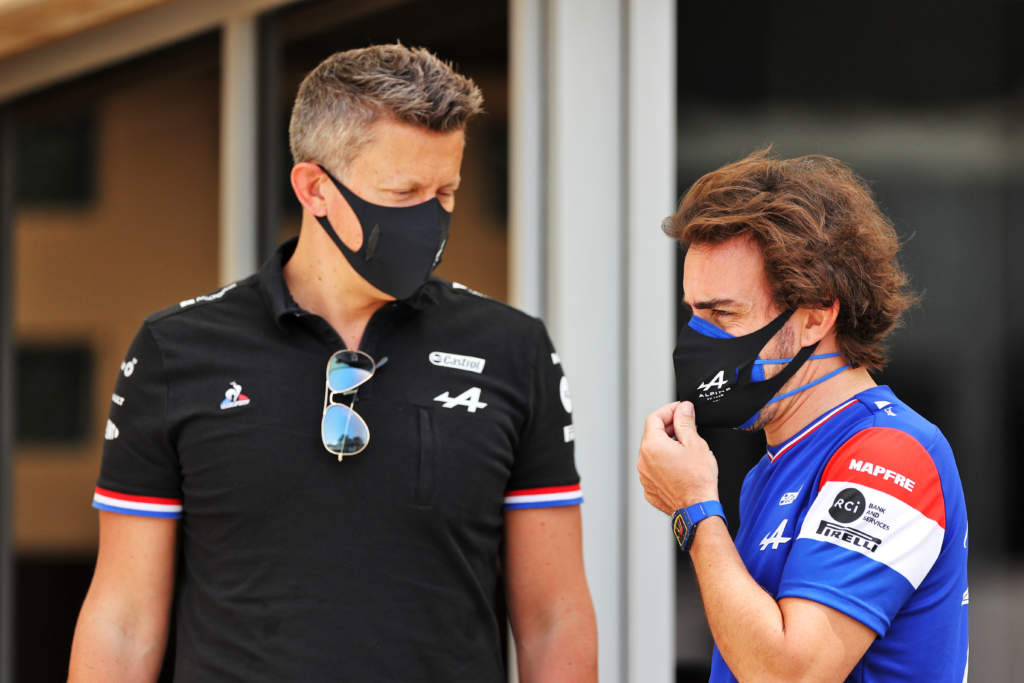 "But I got to say, not a single time since the beginning of the season did he say the car's not good enough or the set-up is not good enough or the team is not working well enough. He said: 'Yeah, we are missing two tenths. It's on my side. I'll find it, bear with me.'
"And he did. He just worked it out, got his head down with the engineers and knowingly he had to find this last kind of squeeze, his last bit of laptime from the car and progressively every race he is getting a bit more comfortable.
"When we went to Monaco, then Baku, it was a bit unfortunate because Monaco we had a bit of a nightmare weekend with the tyres, Baku is a circuit where you have walls everywhere and it's not really the one where you want to push to the extreme limit. But I remember after Monaco, Fernando said, 'I'm looking forward to Paul Ricard because I feel good in the car now but I want a circuit where I can actually try it out if you want and go and find the limit' and that's exactly how it happened."
We know now that Alonso is operating once more at a very high level. But until he's in a truly front-running car, we cannot measure him in the milliseconds that make a difference – those measured against the Verstappens and Leclercs of the world, drivers 15 or more years younger than him. But the very fact that it's a valid question says everything about just how remarkable he remains.