A track limits violation cost Max Verstappen pole position for Formula 1's United States Grand Prix, leaving Charles Leclerc to take his third pole of the season.
Verstappen was under pressure throughout qualifying with both Ferrari driver Leclerc and Mercedes' Lewis Hamilton looking like genuine challengers to his supremacy.
He pushed hard on his final lap, running slightly wide at Turn 1 before running wide on the exit of the Turn 19 left-hander.
He still ended up 0.005s quicker than Leclerc but he lost that time for violating track limits at Turn 19.
That drops Verstappen's Red Bull to sixth on the grid with Leclerc promoted to pole and Lando Norris joining him on the front row.
The McLaren initially didn't appear to be a challenger for Red Bull, Mercedes and Ferrari but Norris delivered a last-gasp effort in Q3 to grab second ahead of Hamilton – and even expressed regret that he didn't snatch pole after qualifying.
Carlos Sainz ended up in fourth place ahead of George Russell who lost his Q3 banker lap to track limits.
He recovered to qualify fifth ahead of Verstappen and the Alpines of Pierre Gasly and Esteban Ocon.
Sergio Perez was ninth in the second Red Bull ahead of Qatar sprint race winner Oscar Piastri.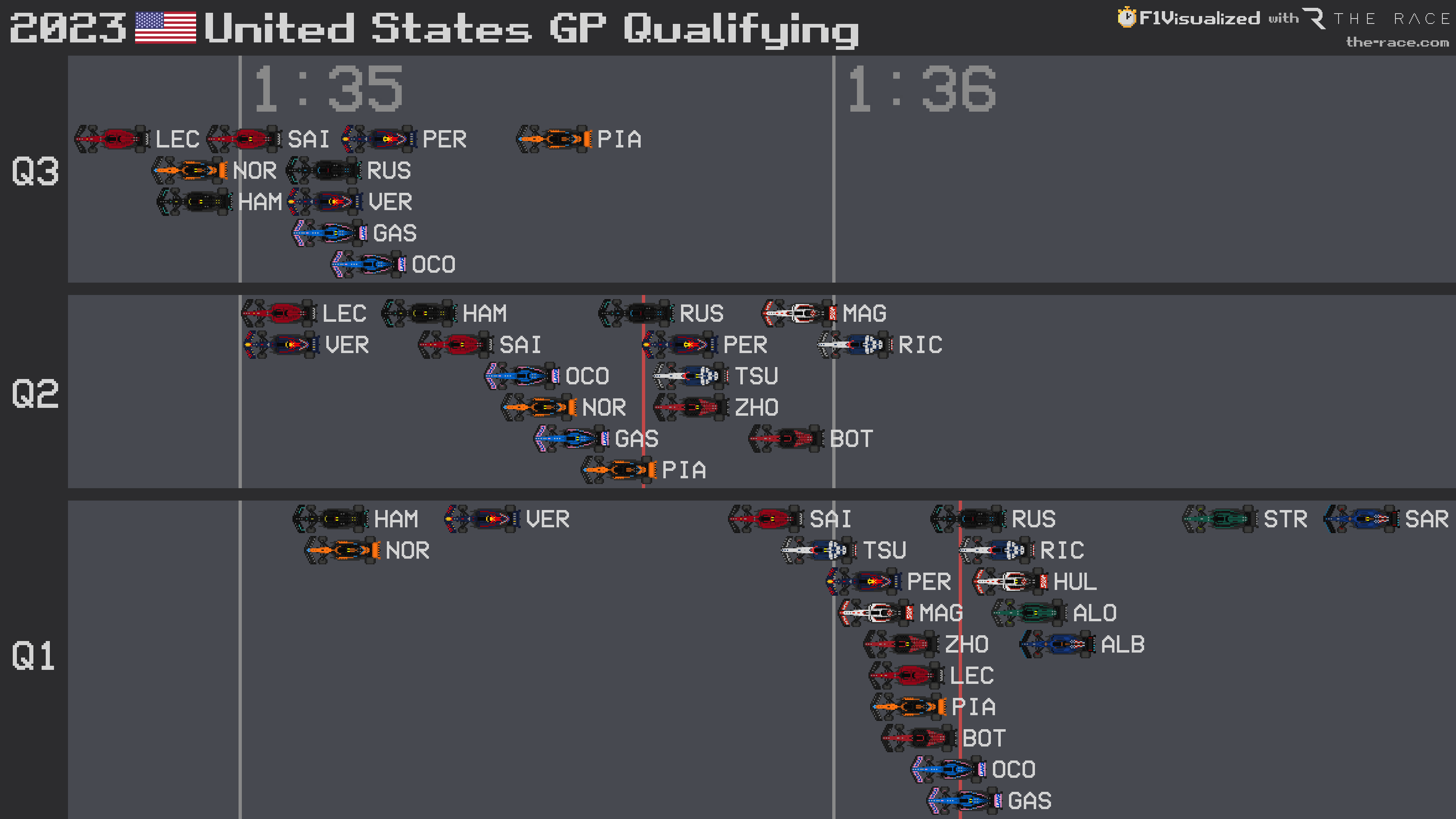 Yuki Tsunoda came within just 0.018s of dumping Perez out of Q2 but ultimately fell just short and ended up in 11th place.
He edged Alfa Romeo's Zhou Guanyu by just 0.001s to relegate him to 12th although Zhou did outqualify team-mate Valtteri Bottas and escape Q1 for the first time since before the summer break.
Haas's biggest upgrade of 2023 didn't yield a Q3 appearance as Kevin Magnussen qualified 14th ahead of returning AlphaTauri driver Daniel Ricciardo who fluffed his final lap.
Nico Hulkenberg was unable to join Magnussen in Q2 because of a track limits violation that knocked him out of Q1 in 16th place.
Fernando Alonso lost his 100% record of making it into Q3 at every grand prix this year when he was dumped out of Q1.
He could only manage the 17th fastest time ahead of Alex Albon – out in Q1 for the first time since Spa – and Aston Martin team-mate Lance Stroll who lost the majority of FP1 with a brake issue.
Under-pressure F1 rookie Logan Sargeant posted just one representative laptime in Q1 struggling with front locking throughout the session that caused his initial flying lap to be deleted for track limits.
"That was terrible man" was Sargeant's summary of his sole legal Q1 lap. "Something didn't feel right."
He ended up 20th and slowest in qualifying for the sixth time this season.
Qualifying Results
| Pos | Name | Car | Q1 | Q2 | Q3 |
| --- | --- | --- | --- | --- | --- |
| 1 | Charles Leclerc | Ferrari | 1m36.061s | 1m35.004s | 1m34.723s |
| 2 | Lando Norris | McLaren-Mercedes | 1m35.110s | 1m35.441s | 1m34.853s |
| 3 | Lewis Hamilton | Mercedes | 1m35.091s | 1m35.240s | 1m34.862s |
| 4 | Carlos Sainz | Ferrari | 1m35.824s | 1m35.302s | 1m34.945s |
| 5 | George Russell | Mercedes | 1m36.165s | 1m35.606s | 1m35.079s |
| 6 | Max Verstappen | Red Bull | 1m35.346s | 1m35.008s | 1m35.081s |
| 7 | Pierre Gasly | Alpine-Renault | 1m36.158s | 1m35.496s | 1m35.089s |
| 8 | Esteban Ocon | Alpine-Renault | 1m36.131s | 1m35.413s | 1m35.154s |
| 9 | Sergio Pérez | Red Bull | 1m35.989s | 1m35.679s | 1m35.173s |
| 10 | Oscar Piastri | McLaren-Mercedes | 1m36.064s | 1m35.576s | 1m35.467s |
| 11 | Yuki Tsunoda | AlphaTauri-Honda RBPT | 1m35.913s | 1m35.697s | |
| 12 | Guanyu Zhou | Alfa Romeo-Ferrari | 1m36.052s | 1m35.698s | |
| 13 | Valtteri Bottas | Alfa Romeo-Ferrari | 1m36.082s | 1m35.858s | |
| 14 | Kevin Magnussen | Haas-Ferrari | 1m36.009s | 1m35.880s | |
| 15 | Daniel Ricciardo | AlphaTauri-Honda RBPT | 1m36.213s | 1m35.974s | |
| 16 | Nico Hülkenberg | Haas-Ferrari | 1m36.235s | | |
| 17 | Fernando Alonso | Aston Martin-Mercedes | 1m36.268s | | |
| 18 | Alex Albon | Williams-Mercedes | 1m36.315s | | |
| 19 | Lance Stroll | Aston Martin-Mercedes | 1m36.589s | | |
| 20 | Logan Sargeant | Williams-Mercedes | 1m36.827s | | |