Charles Leclerc beat Sergio Perez to second place in the 2022 Abu Dhabi Grand Prix – behind a dominant Max Verstappen – and in the Formula 1 world championship as well.
With Leclerc and Perez tied on points coming into the weekend, and particularly given the Brazil Red Bull team orders controversy, most of the Abu Dhabi focus was on whether Ferrari could at least salvage the championship runner-up spot for its erstwhile title contender or Red Bull could claim its first ever drivers' championship 1-2.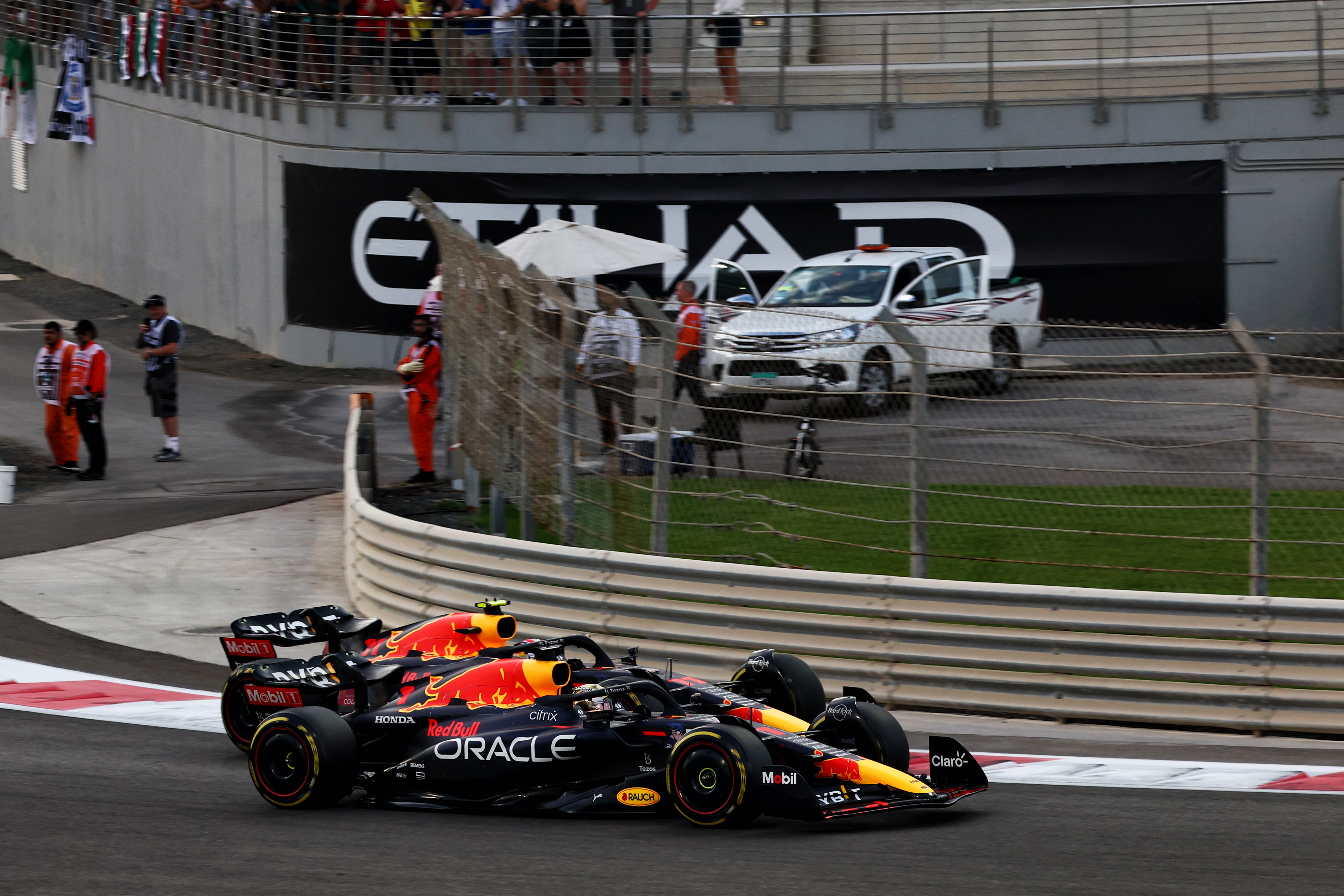 Perez had a half look at Red Bull team-mate Verstappen for the race lead into the first corner after making a better getaway but was rebuffed, and then did the same to Leclerc when the Ferrari had a sniff down the inside into the left-hander onto the long back straight.
After that the top three began to spread out and it looked like Leclerc had little hope of defeating Perez.
But the Ferrari began catching the Red Bull, with Perez among the first to pit as he came in on lap 14 – losing time on his outlap by being repassed by Sebastian Vettel after running wide at the Turn 6/7 chicane.
Rather than reacting instantly and trying an undercut, Ferrari left Leclerc out six laps longer. Though that meant he rejoined six seconds behind Perez, it gave him the option of one or two stopping from there.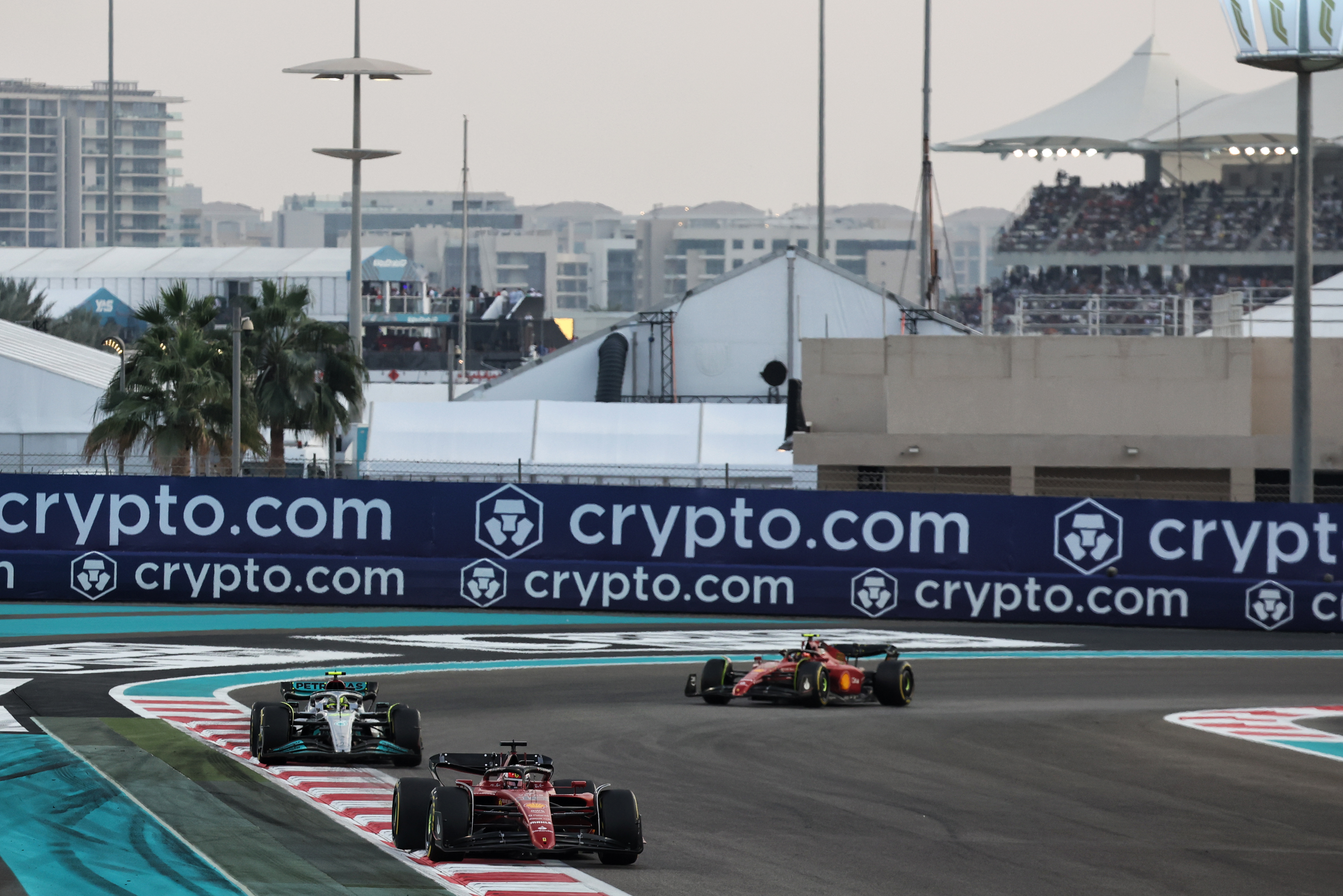 As Leclerc began catching Perez again near half-distance, Ferrari said it would do the "opposite" to whatever Red Bull did – which meant committing to a one-stopper when Perez made his second stop.
Perez spent the rest of the race trying to close back in on Leclerc, regularly lapping a second quicker.
But he lost time having to fight had to pass the one-stopping Lewis Hamilton for third, and was also delayed in traffic that included AlphaTauri's Pierre Gasly. He never quite made it onto Leclerc's tail, finishing 1.3s behind.
Verstappen was serenely ahead of all this, having a no-drama one-stopping run to a 15th victory of the season by nearly nine seconds.
Hamilton retired late on with a hydraulic problem just as he was being caught by two-stopper Carlos Sainz in their own version of the Leclerc/Perez fight.
LAP 56/58

Hamilton is slowing down and losing places 😫

The Mercedes driver returns to the pits and retires from the race ❌#AbuDhabiGP #F1 pic.twitter.com/xdlL6tL2qQ

— Formula 1 (@F1) November 20, 2022
Sainz and Hamilton had fought hard in the opening laps, with the Ferrari diving alongside the Mercedes on lap one at the end of the back straight, but Hamilton going wide, leaping over a kerb and keeping the place via the run-off in a repeat of his similar incident with Verstappen on the first lap last year.
Unlike last year, Hamilton was ordered to give the place back. He did so, then repassed Sainz on the road, but was overtaken by both Sainz and team-mate George Russell in the following laps while reporting a lack of power. Hamilton also suggested he had floor damage later on.
His retirement allowed two-stopper Russell into fifth, his race affected by falling behind Lando Norris on lap one then getting a five-second time penalty for an unsafe release in front of Daniel Ricciardo at his first pitstop.
Norris and Ricciardo's sixth and ninth places for McLaren weren't enough for it to beat Alpine to fourth in the constructors' championship despite Fernando Alonso retiring yet again – this time with a water leak. His team-mate Esteban Ocon was seventh.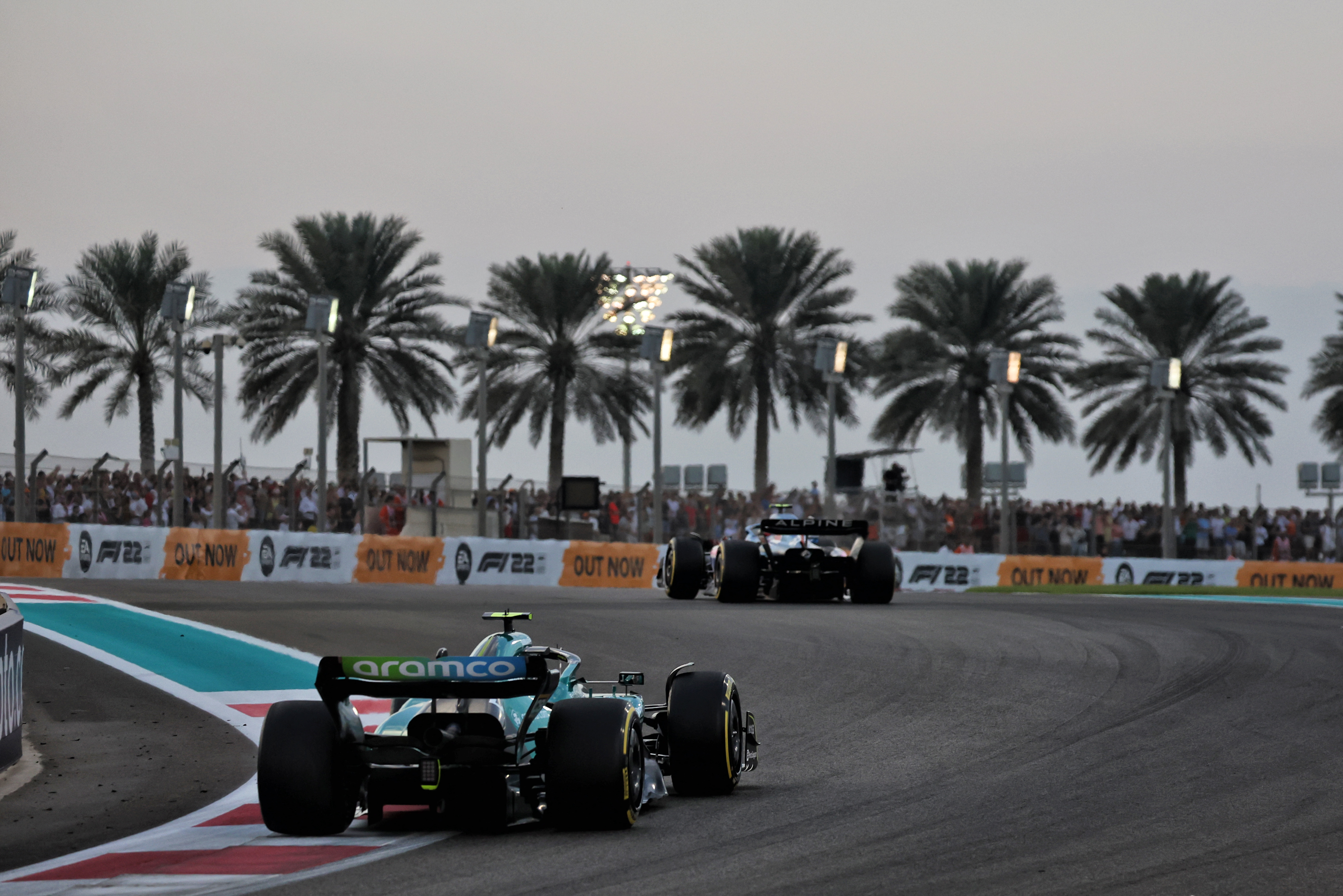 Sebastian Vettel ran as high as fourth in his final Formula 1 start, but bemoaned his one-stop strategy as he later lost ground – including to two-stopping Aston Martin team-mate Lance Stroll, who passed Vettel and Ricciardo late on to take eighth. Hamilton's retirement at least meant Vettel bowed out with a point.
He chased Ricciardo to the flag, but a 10th-place finish meant Aston missed out on overtaking Alfa Romeo for sixth in the constructors' championship on countback.
The other two departing drivers collided: Mick Schumacher getting a time penalty for tapping Nicholas Latifi into a spin and the wall. The Haas driver still finished 16th, Latifi later retired.
Race Results
| Pos | Name | Car | Laps | Laps Led | Total Time | Fastest Lap | Pitstops | Pts |
| --- | --- | --- | --- | --- | --- | --- | --- | --- |
| 1 | Max Verstappen | Red Bull | 58 | 57 | 1h27m45.914s | 1m29.392s | 1 | 25 |
| 2 | Charles Leclerc | Ferrari | 58 | 1 | +8.771s | 1m29.719s | 1 | 18 |
| 3 | Sergio Pérez | Red Bull | 58 | 0 | +10.093s | 1m28.972s | 2 | 15 |
| 4 | Carlos Sainz | Ferrari | 58 | 0 | +24.892s | 1m28.879s | 2 | 12 |
| 5 | George Russell | Mercedes | 58 | 0 | +35.888s | 1m28.836s | 2 | 10 |
| 6 | Lando Norris | McLaren-Mercedes | 58 | 0 | +56.234s | 1m28.391s | 2 | 9 |
| 7 | Esteban Ocon | Alpine-Renault | 58 | 0 | +57.24s | 1m29.333s | 2 | 6 |
| 8 | Lance Stroll | Aston Martin-Mercedes | 58 | 0 | +1m16.931s | 1m29.62s | 2 | 4 |
| 9 | Daniel Ricciardo | McLaren-Mercedes | 58 | 0 | +1m23.268s | 1m30.785s | 1 | 2 |
| 10 | Sebastian Vettel | Aston Martin-Mercedes | 58 | 0 | +1m23.898s | 1m30.312s | 1 | 1 |
| 11 | Yuki Tsunoda | AlphaTauri-Red Bull | 58 | 0 | +1m29.371s | 1m29.489s | 2 | 0 |
| 12 | Guanyu Zhou | Alfa Romeo-Ferrari | 57 | 0 | +1 lap | 1m29.6s | 2 | 0 |
| 13 | Alex Albon | Williams-Mercedes | 57 | 0 | +1 lap | 1m29.939s | 2 | 0 |
| 14 | Pierre Gasly | AlphaTauri-Red Bull | 57 | 0 | +1 lap | 1m31.081s | 1 | 0 |
| 15 | Valtteri Bottas | Alfa Romeo-Ferrari | 57 | 0 | +1 lap | 1m30.352s | 1 | 0 |
| 16 | Mick Schumacher | Haas-Ferrari | 57 | 0 | +1 lap | 1m29.833s | 2 | 0 |
| 17 | Kevin Magnussen | Haas-Ferrari | 57 | 0 | +1 lap | 1m31.158s | 1 | 0 |
| | Lewis Hamilton | Mercedes | 54 | 0 | DNF | 1m29.788s | 2 | 0 |
| | Nicholas Latifi | Williams-Mercedes | 54 | 0 | DNF | 1m30.309s | 3 | 0 |
| | Fernando Alonso | Alpine-Renault | 26 | 0 | DNF | 1m30.579s | 2 | 0 |