One-fifth of the 2023 Formula 1 grid was handed five-second time penalties in the most recent grand prix at Monza last Sunday, such is their popularity as the stewards' punishment of choice.
But is that still the most suitable penalty for the majority of incidents?
Mercedes drivers Lewis Hamilton and George Russell picked up one each for their clumsy incidents with Oscar Piastri and Esteban Ocon respectively, while Logan Sargeant received one for hitting Valtteri Bottas at the Turn 4 chicane and a frustrated Piastri got one for passing Liam Lawson off-track.
It prompted plenty of debate among fans over whether a five-second penalty really the right punishment for all of those incidents, especially in the case of Hamilton's transgression – where Piastri's race was ruined and it cost him a points finish while Hamilton was able to create enough of a gap that the 5s penalty made no difference to his result.
That was essentially the question asked by both Oscar Robledo and Francis Chia from The Race Members' Club, who provide questions for The Race F1 Podcast to answer after every grand prix.
Action over consequence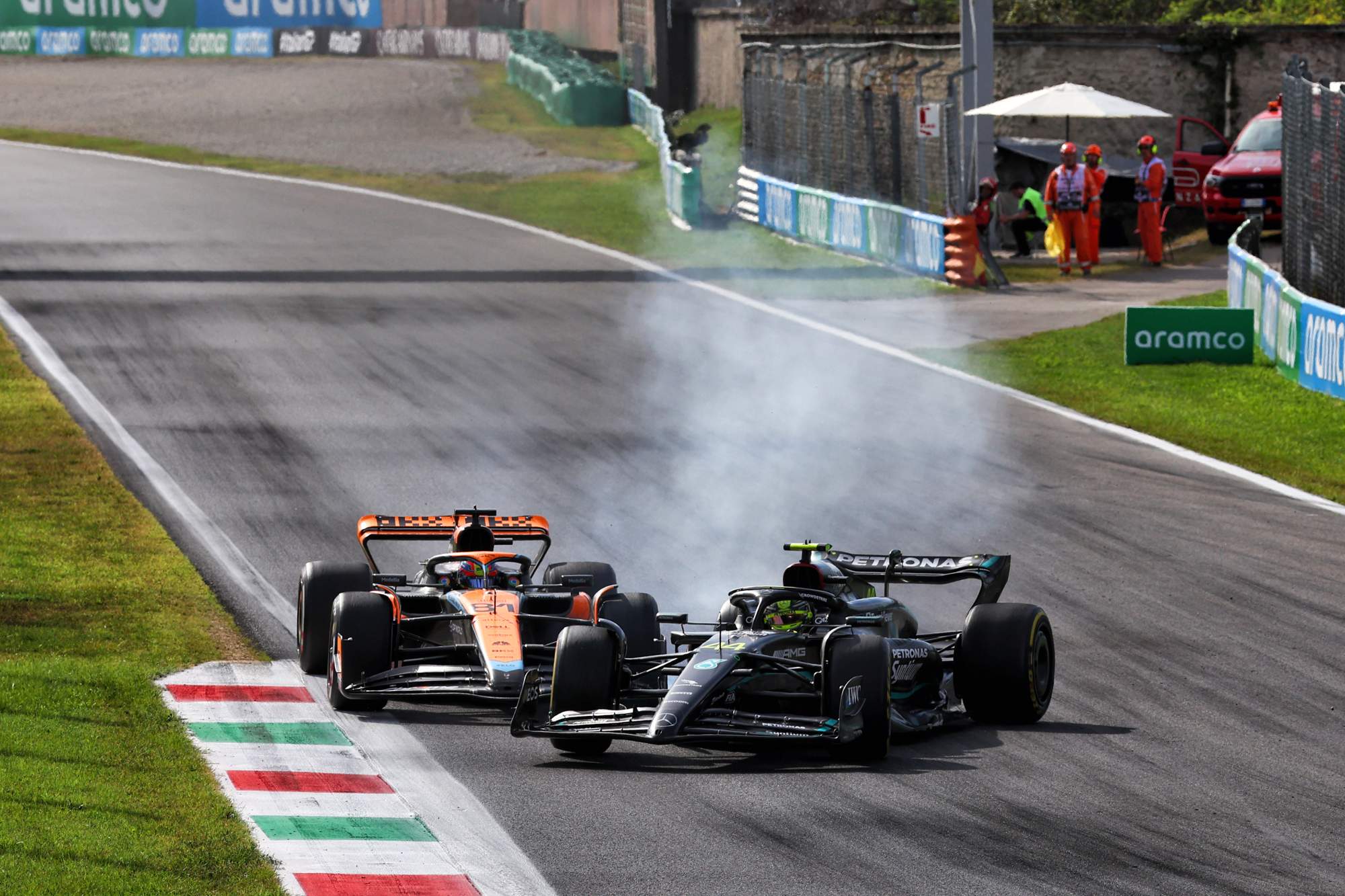 Edd Straw put the question to Scott Mitchell-Malm, who explained he believes the punishments should be based on the specific offence rather than the consequence of their actions.
"I understand where this is coming from because it basically adheres to the principle of 'does the punishment fit the crime?' and the difficulty is that, generally speaking, there is an effort to punish the offence, rather than the outcome," Mitchell-Malm explained.
"So you don't take the circumstances into it. I was once of the view that you should only focus on the specific offence. As in, not the details of it and what happened to the aggrieved party, but specifically only the actions of the offender.
"I still believe in a racing context that is broadly an OK principle to follow. Otherwise tiny, tiny errors in judgement that do cause big things will get disproportionately punished.
"[For example] if a driver breaks their front wing on someone's left rear tyre and that causes that person's left rear tyre to suddenly deflate while braking for Turn 1 at the start and that car flies into the pack. If you're judging that by the consequences, the guy who starts that by hitting the person's tyre should get a race ban or something because they've just caused this massive Romain Grosjean-style Spa 2012 shunt – and that's not right.
"So, there are scenarios where a five-second penalty is correct for a small transgression even if the consequences were bigger."
Are drivers gaming the system?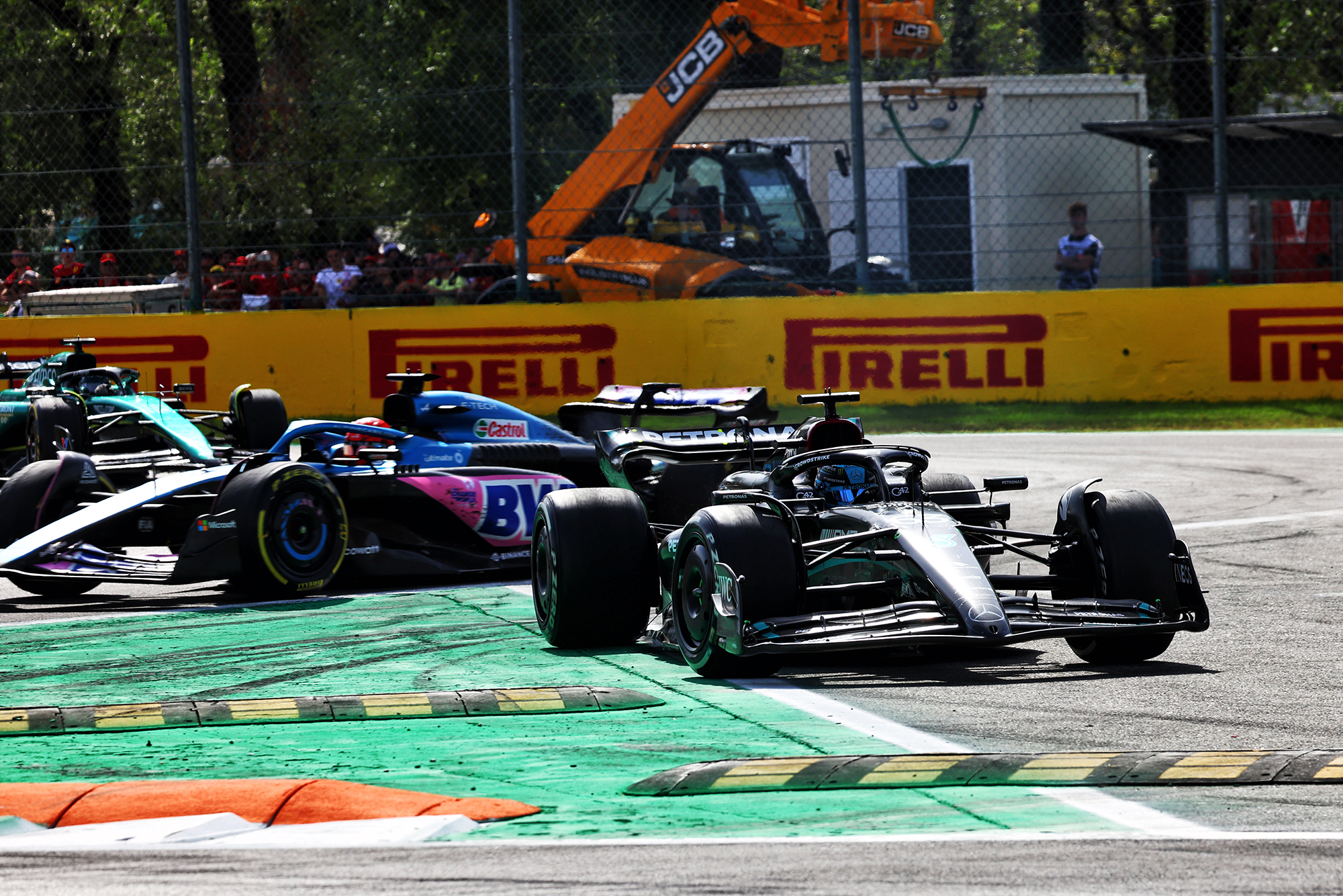 The fact that both Russell and Hamilton's penalties were essentially neutralised during the race called into the question the possibility of drivers gaming the system.
If there's an incident like Russell running himself and a yet-to-stop Ocon off the road, a driver who would have held up Russell and cost him significant time at that point in the race, why would Russell give back the place and force himself to make another move happen when there's an easier option of staying in front and building a five-second cushion?
That's exactly what Russell and Mercedes elected to do rather than playing it safe punishment-wise and handing the place back.
"There is an element of, you do risk a scenario where people play the penalty that they think they're going to get," Mitchell-Malm added.
"I have a sneaking suspicion that kind of happened with Russell with the Alpine. 'Worst-case scenario all I'm going to get is five seconds, but I've got 10-15 seconds on the person I'm really racing behind then it's worth the trade-off to get the clear air and run the race'.
"What there needs to be is a bit more freedom in the use of [which penalty is used] because they do have a little menu of options available to them for any of the offences and penalties they dish out.
"There are five and 10-second time penalties, non-specified time penalties, a drive-through, stop-and-go. And that's just for impacting a driver that finished the race – if they don't, that's when you normally see a grid drop for the next event.
"Maybe a bit of variety of using that menu wouldn't go amiss.
"It's a little bit like the cost cap, where we say the reason you don't know what the penalty is for breaching the cost cap is because then you can't play your penalty against what you'd pay for breaking the rules.
"It should be the same in racing [offences]. Instead we just see stewards dishing out penalties in line with previous punishments."
For your chance to have your questions answered by our journalists on The Race F1 Podcasts, to get an ad-free version of The Race, early access to content including every episode of Bring Back V10s, suggest features you'd like us to write and other benefits, click here to join The Race Members' Club.