"Thank you so much everyone for this experience, I absolutely loved it", said Guanyu Zhou after his first outing in a Formula 1 car on a grand prix weekend.
While it was 'only' a runout in the first free practice session of the Austrian Grand Prix weekend, it was an important step in his career with the hopes of China on his shoulders – as well as the pressure of not damaging Fernando Alonso's race car.
Zhou needn't have worried, in fact, he ended up impressing the two-time champion, both in his preparation and during FP1.
"He's very professional," Alonso said. "He's hard-working on the simulator the last couple of weeks, and he did enjoy today.
"He executed FP1 perfectly in my opinion. Slowly building the pace, not stressed with things because it was not an easy FP1 with traffic, with the [practice] start at the end. He managed very well."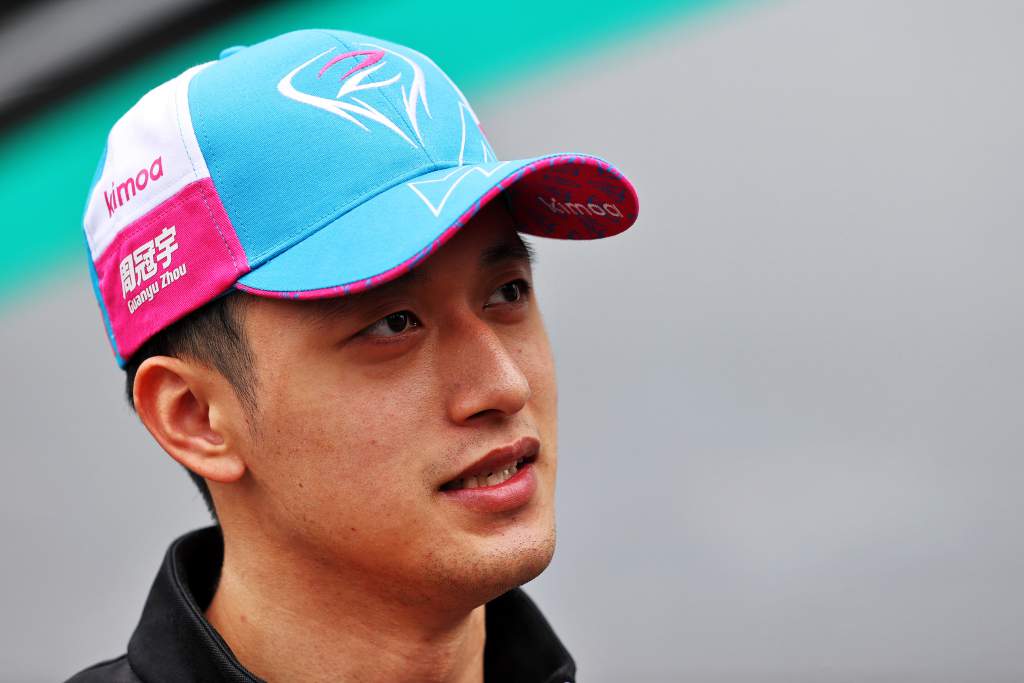 The Formula 2 points leader did an accomplished job, racking up a total of 29 laps and setting the 14th-fastest time – 1.271s off the pace.
While he clearly revelled in the experience, he stressed that he wasn't only there to enjoy himself and was pleased to have dealt with the expectation and acquit himself so well.
To be honest, I started the week with a lot of pressure on my shoulders, because God knows how many people are watching – especially back home," said Zhou.
"In China, everybody's watching, probably more than the races. So I have to do well and make no mistakes, taking care of Alonso's car, pushing myself to the limit, not just enjoying myself.
"So I've definitely done that. I was able to push as hard as I would like to have done on the push laps."
He also brought back Alonso's car in one piece, as well as expressing his gratitude for the guidance the Spaniard had given him ahead of his F1 'debut'.
Thanks to Pirelli bringing prototype tyres with a modified rear construction, Zhou was given three runs – each time on fresh rubber.
Alpine executive director Marcin Budkowski confirmed Zhou ran the same programme as Alonso would have, which he said "tells a lot about how we consider him as a driver".
He added Zhou was a "Intelligent young chap" and that he "progressively cranked up the pace".
The Race followed his session in detail to evaluate his performance.
RUN ONE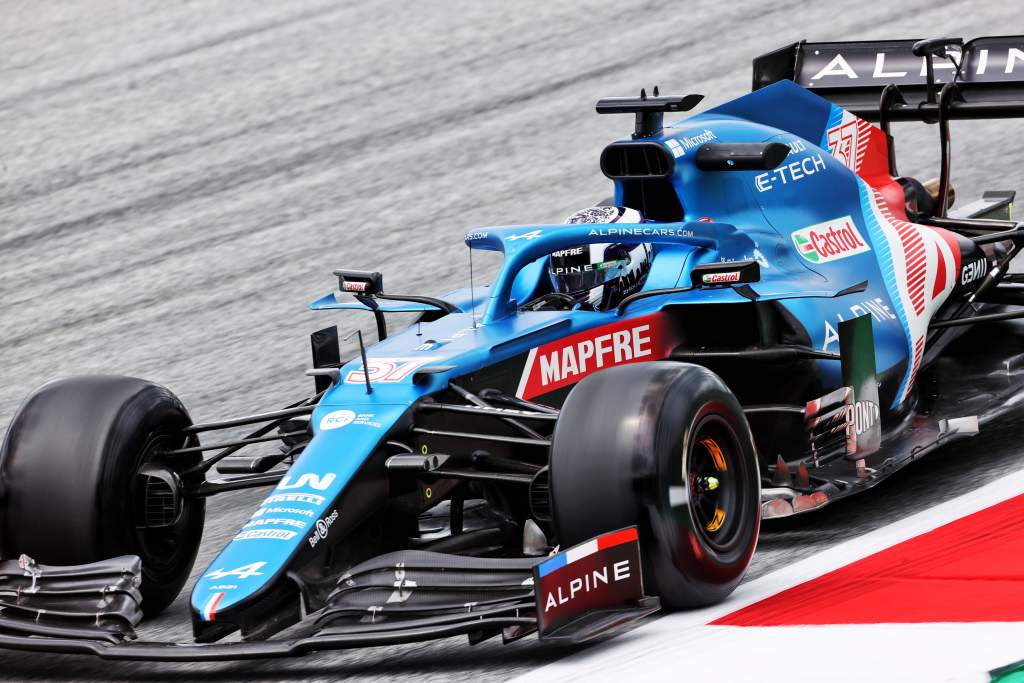 Zhou's first run was on the prototype tyres, which correspond with the medium (C4) compound. After four minutes, he headed out and straight into a run of 11 laps that included five push laps.
He opened up with a lap of 1m10.086s as he was understandably cautious, but took just under 1.3s off that time on his second push lap, running a slightly wider line in Turn 3, having had the rear step out a little at the apex on his first lap.
"Good progress again," he was told by engineer Karel Loos on his cooldown lap. "A bit of time to gain under braking for Turn 1, 3, 4".
He took that on board, improving by just over a second on his third push lap to a 1m08.158s. He was told that braking for Turn 3 and 4 had indeed improved, although there was still time to find in Turn 1 and to build up in the higher-speed corners.
Zhou found another half-second on his fourth push lap despite the inevitable tyre degradation, although he was having difficulties hearing the messages from his engineer.
"The radio is so difficult to hear because it's only coming on the left-hand side," he reported.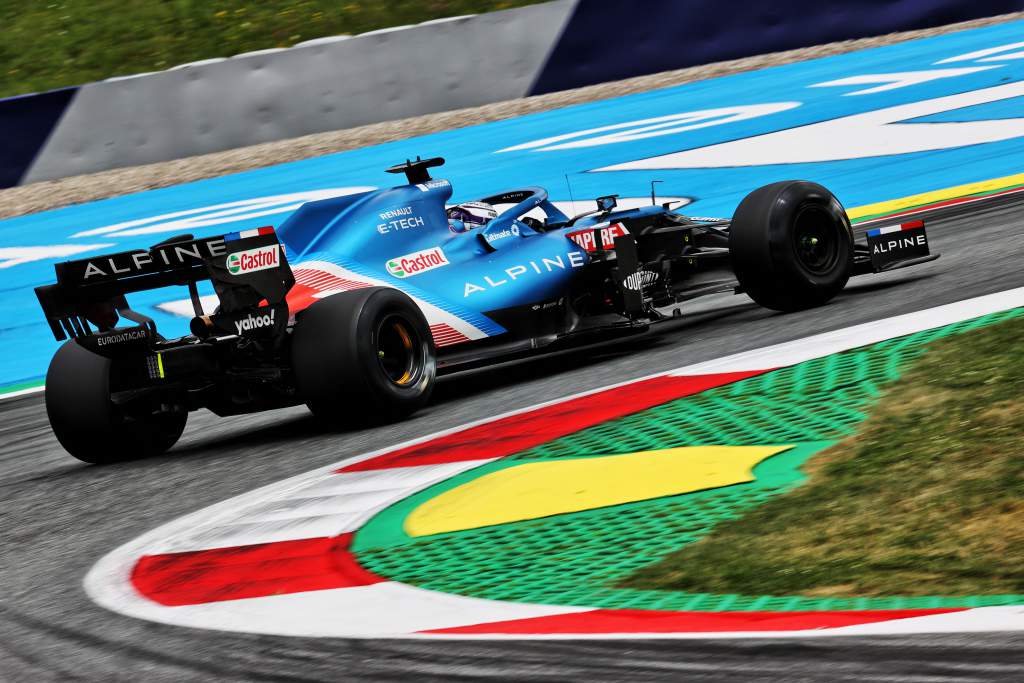 Ahead of his final push lap of the run, Zhou was told that "main time to gain compared to Esteban [Ocon] is the late entry of Turn 1 and Turn 9 and 10 mid-corner".
That helped him to find another three tenths on the final lap, ending his run with a best time of 1m07.314s before heading to the puts via a fifth-gear "aero cruise" on the run to Turn 4 and a practice pitstop when he returned to the garage.
"Obviously, the team was focused on Turn 1 because at the beginning that and the last few corners is where I lost the most lap time," said Zhou when asked by The Race about the challenge of Turn 1.
"But I guess the last two corners is down to confidence. Overall, I think I was really, happy with the progression I was making. Every lap I was getting worse tyres, the rear was getting a little bit warmed up but I was still improving the laptime."
While he drove the 2020 Renault in Abu Dhabi last December and has had running in the 2018 Alpine, most recently at Silverstone, as well as an old-car test at the Red Bull Ring in 2019, this was Zhou's first outing in 2021-spec machinery.
That meant he had to adapt to the feel of the Alpine A521, and while he was making big gains every lap on his first run as confidence built, there were no major errors.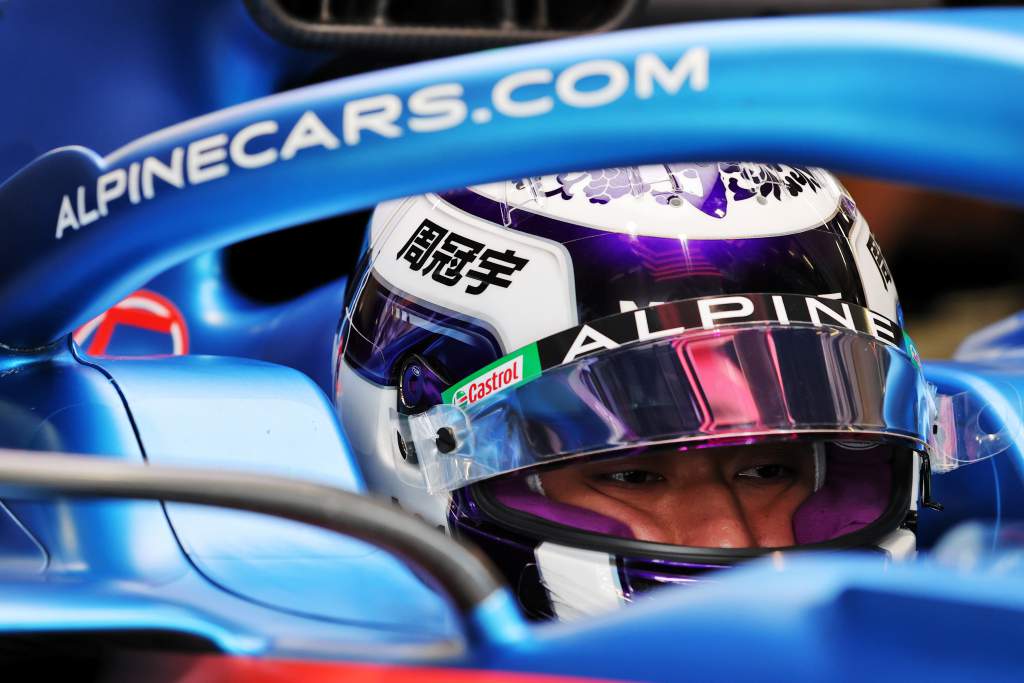 "Compared to what I drove, the 2018 car, there is a huge difference to the current car," said Zhou. "You have much more downforce, much more speed, acceleration.
"Obviously, compared to last year's Abu Dhabi car there is not as much gap. But that car I only drove once so I'm not too familiar with that. And every year we have a different aero package, a little bit different car balance.
"I was surprised with how much later I have to brake. I was studying a lot the onboard lap of the pole position, of my team-mates the last week to have a good reference straightaway for my first stint. So I started already better than I did in Abu Dhabi last year. It was more natural so I was able to have another step each lap.
"The power is never easy to adapt to. In Formula 2 it's a completely different feeling was different tyre grip."
RUN TWO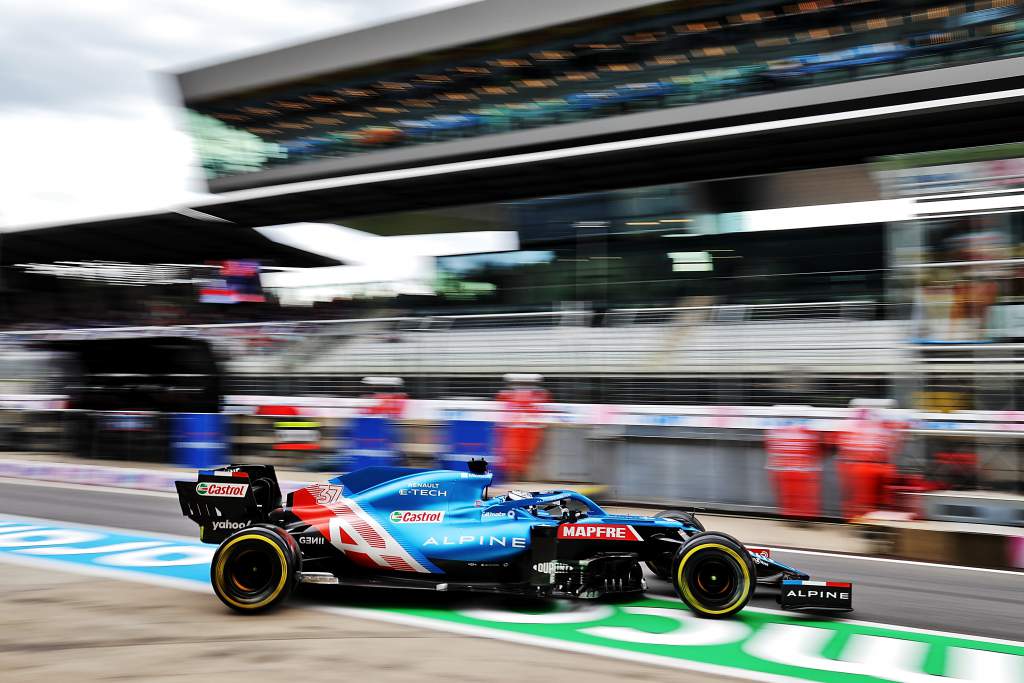 Zhou was given a fresh set of the regular medium tyres for his second run, immediately improving his fastest time by a few hundredths. But his attempt to carry a little more speed through Turn 1 appeared to compromise his exit.
"It was ok, a bit of understeer", he reported after the lap. Zhou was then frustrated that his second lap, on which he was on course to improve by several tenths, was aborted thanks to Lance Stroll spinning in the final corner.
Stroll has gone off again

Lance is back on track after sliding at Turn 10 #AustrianGP 🇦🇹 #F1 pic.twitter.com/a7zY2JHEC1

— Formula 1 (@F1) July 2, 2021
After being told that the main improvement to be found was with a late entry and mid-corner speed at Turn 1, he then improved to a 1m06.926s. "I'm struggling a little bit with traction", he reported, which was supported by the wheelspin apparent in the slower corner exits.
Following a fourth and final push lap on this run, improving again to a 1m06.822s, Zhou returned to the pits via another aero test on the run to Turn 4 and a practice pit stop.
RUN THREE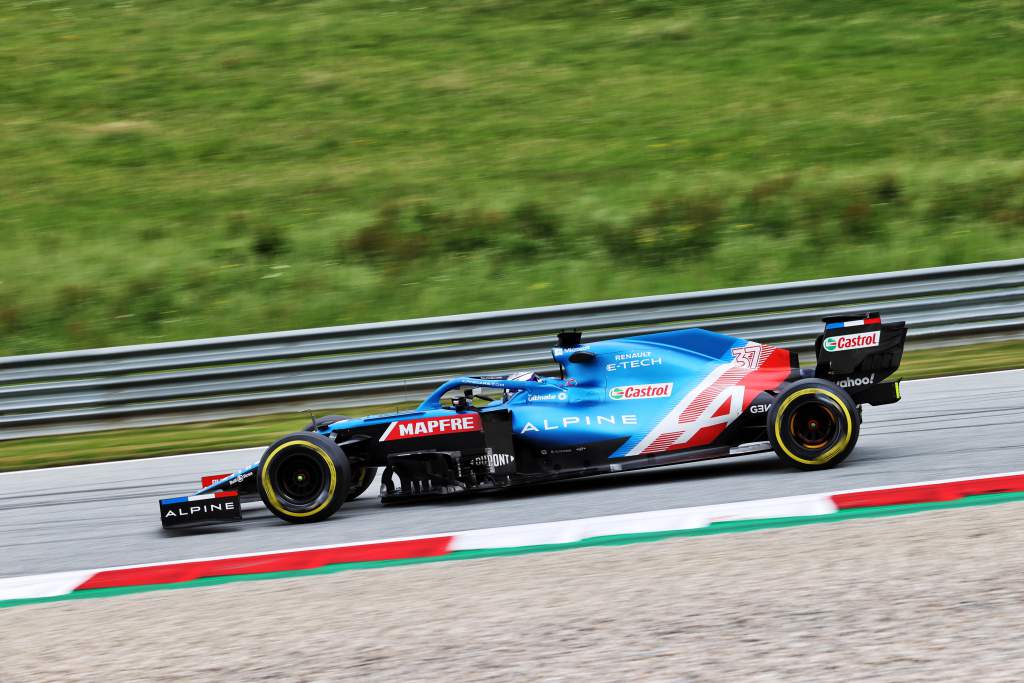 Zhou was given another set of fresh mediums for his final run, again the regular construction. He was also on relatively low fuel for this performance run, later saying that "I decided to give it my all on lap one, which is where the tyres were in the best condition".
His first lap was his quickest, despite him locking the inside front under braking for Turn 4, having gone past team-mate Esteban Ocon – who was out of the way on the inside line while on a slow lap. That led to Zhou running a little wide and a little lost time.
But despite that, he set a personal best in all three sectors with a best time of 1m06.414s, showing that he'd learned from his earlier runs by taking a slightly later entry to the Turn 3 hairpin so he didn't ask too much of the rears on traction at the exit.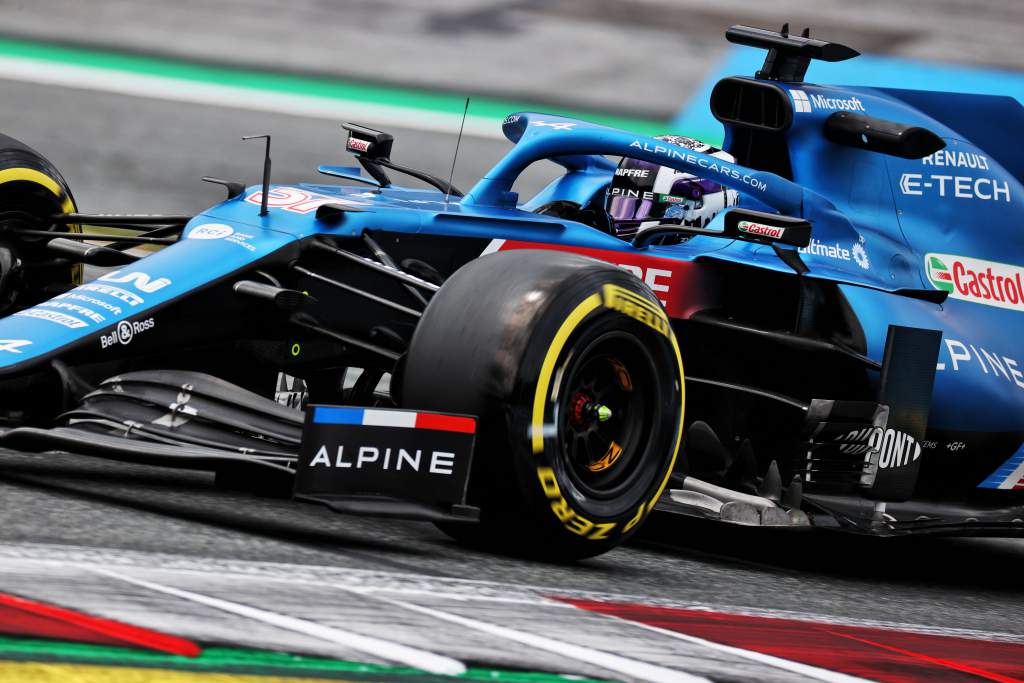 Traffic, both on his cooldown lap and push lap, meaning that his next lap was 1.2s slower and he appeared to have lost front tyre temperature.
"In FP1s, people are doing different programmes," said Zhou. "For me, sticking with the medium tyres, I wanted to improve my lap time.
"That was a crucial outlap to have a clean track to be warming up your brakes, your front tyres. I was lucky I got the first lap properly, I only had traffic in Turn 4 with Esteban and got a but locked up.
"After that, the last two laps there was a bit more traffic. I really felt the difference, getting affected a bit aero wise. You just feel less downforce when you had somebody more than two seconds in front."
Zhou's final push lap of the run was eight tenths off his best. After that, he completed two cooldown laps before completing a well-executed practice start.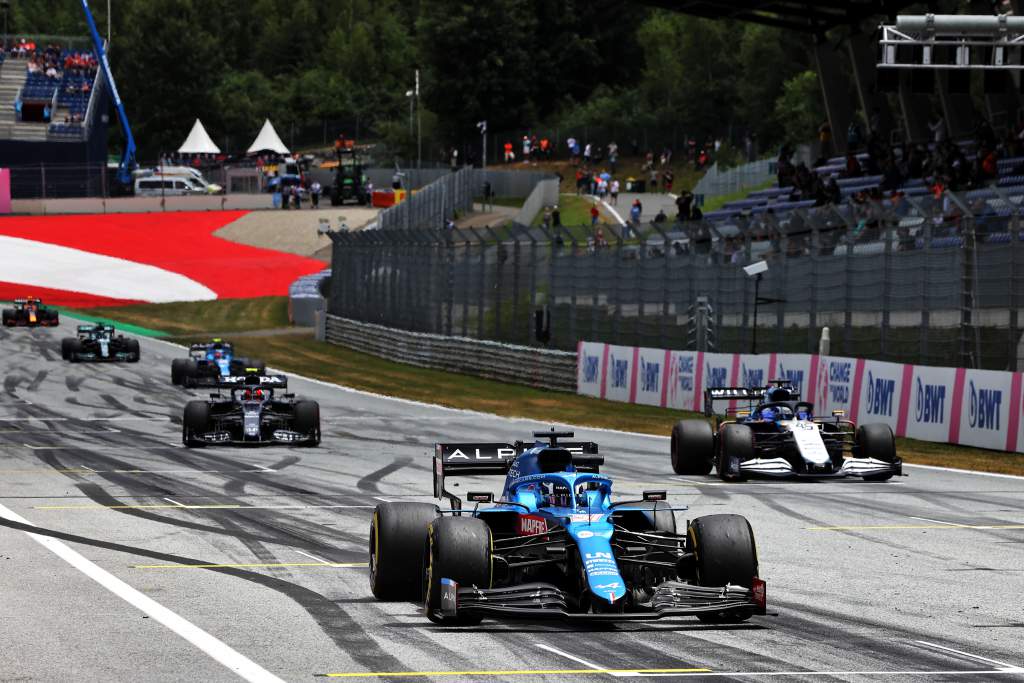 His quickest lap was just 0.434s slower than Ocon, although the comparison is of limited value given Ocon set his best time on softs and on a very different runplan. But he was also just one-tenth off Ocon's best time on mediums during the second run – albeit running higher fuel.
Laptimes are of little significance in FP1, but it's a session in which a new driver's attitude, approach and competence are tested – the assured way Zhou met those challenges was more relevant than even the decent times on the stopwatch themselves.
WHAT NEXT?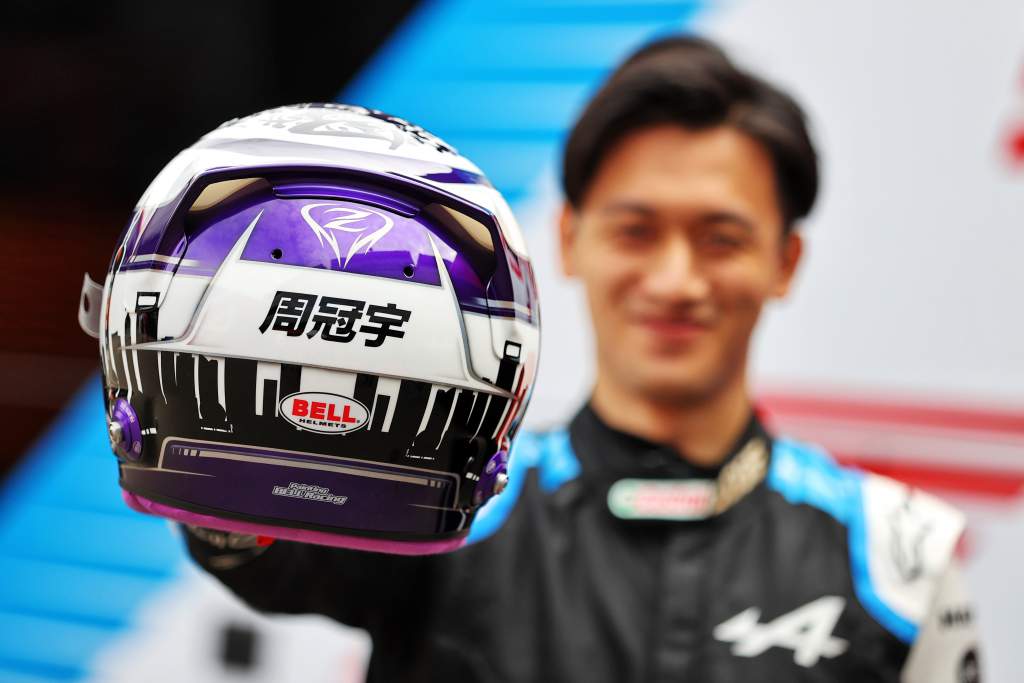 Alpine has yet to confirm if and when Zhou will next run on a grand prix weekend, although given the superlicence point he learned for his participation took him to a total of 39 – one short of the threshold for F1 – it would seem logical at least to give him one more even though Zhou will surely get over that line with his F2 finishing position.
The question is whether he has a realistic shot at a place on the 2022 F1 grid given Alpine has Alonso and Ocon signed up? His hopes appear to depend on landing a place with a team like Williams or Alfa Romeo – although for now he says his focus is on ensuring he carries on with his good form in F2.
Whatever happens, this good, professional performance in FP1 at the Red Bull Ring won't have done his prospects any harm.