Many once-great Formula 1 teams have teetered on a precipice. Very few made it back from there – either never regaining competitiveness or disappearing from F1 altogether.
The closest McLaren came to that point of no return was 1980.
That season being the transition stage from its old order to the Ron Dennis and John Barnard led era is a well-known tale.
But just how tumultuous and tetchy that 1980 campaign was on the inside is easily overlooked, and stands in sharp contrast to the legendary achievements McLaren would go on to accumulate under its new leadership.
An experienced John Watson should have been in his prime that season, and with European Formula 3 champion Alain Prost as his team-mate, McLaren had a driver line-up with huge potential had the car been competitive.
But the fact that the duo scraped together just 11 points (the same tally as Fittipaldi and Arrows), is evidence of one of McLaren's worst ever campaigns.
It was so wretched Prost ended up in hospital twice after two of the biggest accidents of his career. The second of these led to him fleeing the team for Renault, although this is only a small part of the wider story of 1980.
The chaos and frustration on the track was doubled off it.
McLaren was in a parlous state in the late 1970s and that was exacerbated by the disastrous M28 design for 1979.
That uncompetitive car made lead sponsor Marlboro and parent company Philip Morris twitchy and they lost belief in the Teddy Mayer-led troops. Heading into 1980, Marlboro was seriously thinking about the future and whether it should involve McLaren in its present guise. Team members, drivers… everyone was up for debate.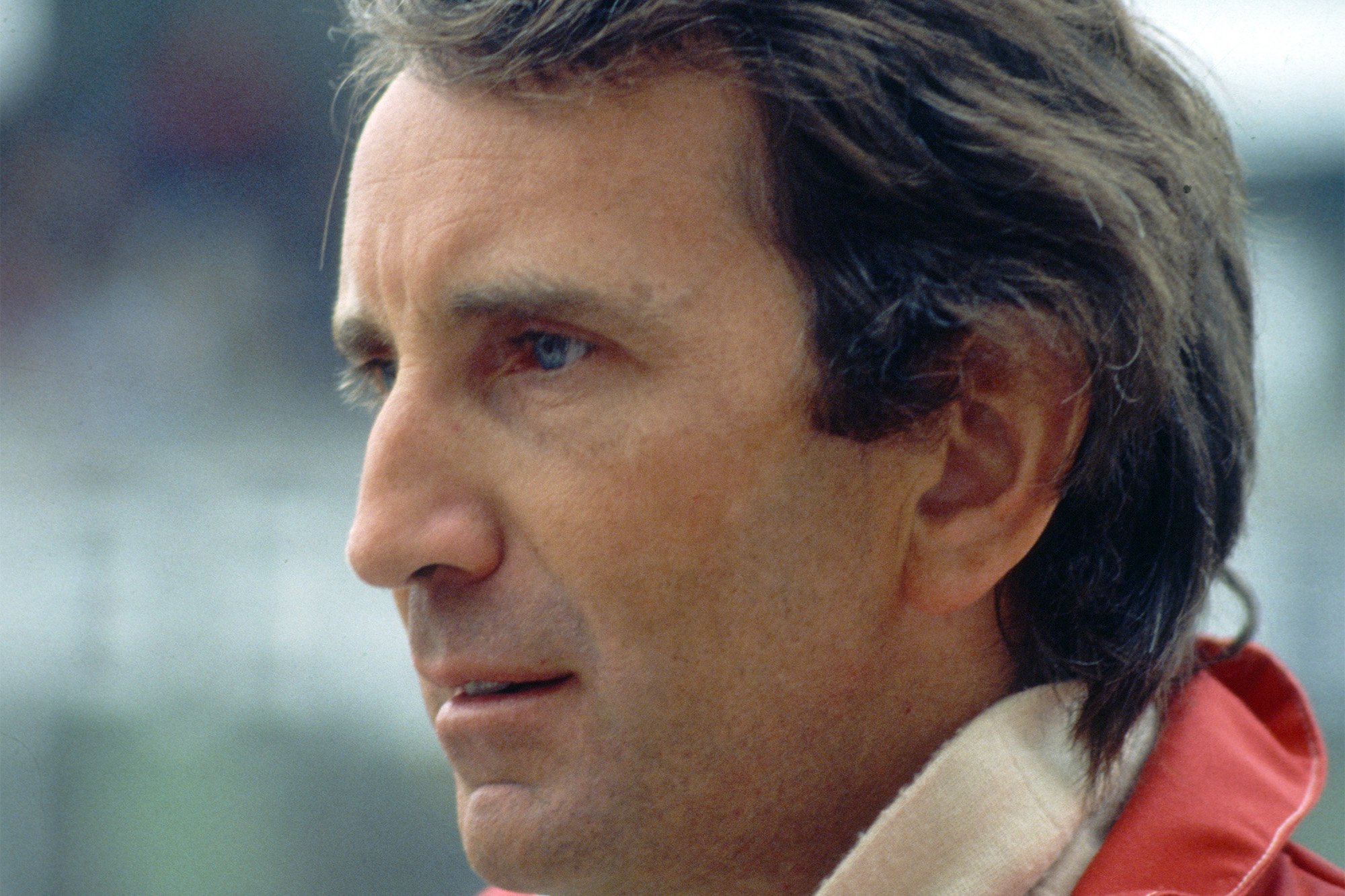 Watson (above) had joined the team from Brabham at the back end of 1978, knowing that he was taking a seat that would have been filled by Ronnie Peterson had he lived.
The tragic events of Monza in September of that year meant Watson was made an offer, one he believed would quickly move his career on and give him chance to add to what was then his sole F1 victory, which had come with Penske in the 1976 Austrian Grand Prix.
Prost replaced Patrick Tambay alongside Watson for 1980 and made an instant impression with a point at Buenos Aires on his debut and then a spectacular drive to fifth a few weeks later at the old and fearsome original Interlagos.
In his first two races Prost had outqualified and outscored Watson with apparent ease. But if the rookie star thought F1 was easy, he got a painful reality check in the next race at Kyalami.
"That Friday night Marie-Claude Beaumont, one of the best female racers of her day and then working for Marlboro, came to me and said: 'John, Alain's had a shunt and is in real pain, can you take him to hospital please?'" Watson recalls.
"I said 'Marie it's almost 10 o'clock and I'm about to go to bed. Can't someone from the team look after him?'
"They seemingly couldn't get hold of anybody in the team, so I then had to drive towards Johannesburg to find a hospital to get him examined.
"They x-rayed him and discovered he had broken the scaphoid bone in his wrist.
"By the time we got back to the hotel it was past midnight.
"I eventually ran into Teddy. I wasn't happy because the team were nowhere, probably at the bar or whatever, so I just said: 'he isn't going to be racing, because he's got a broken scaphoid'. They didn't have a clue really."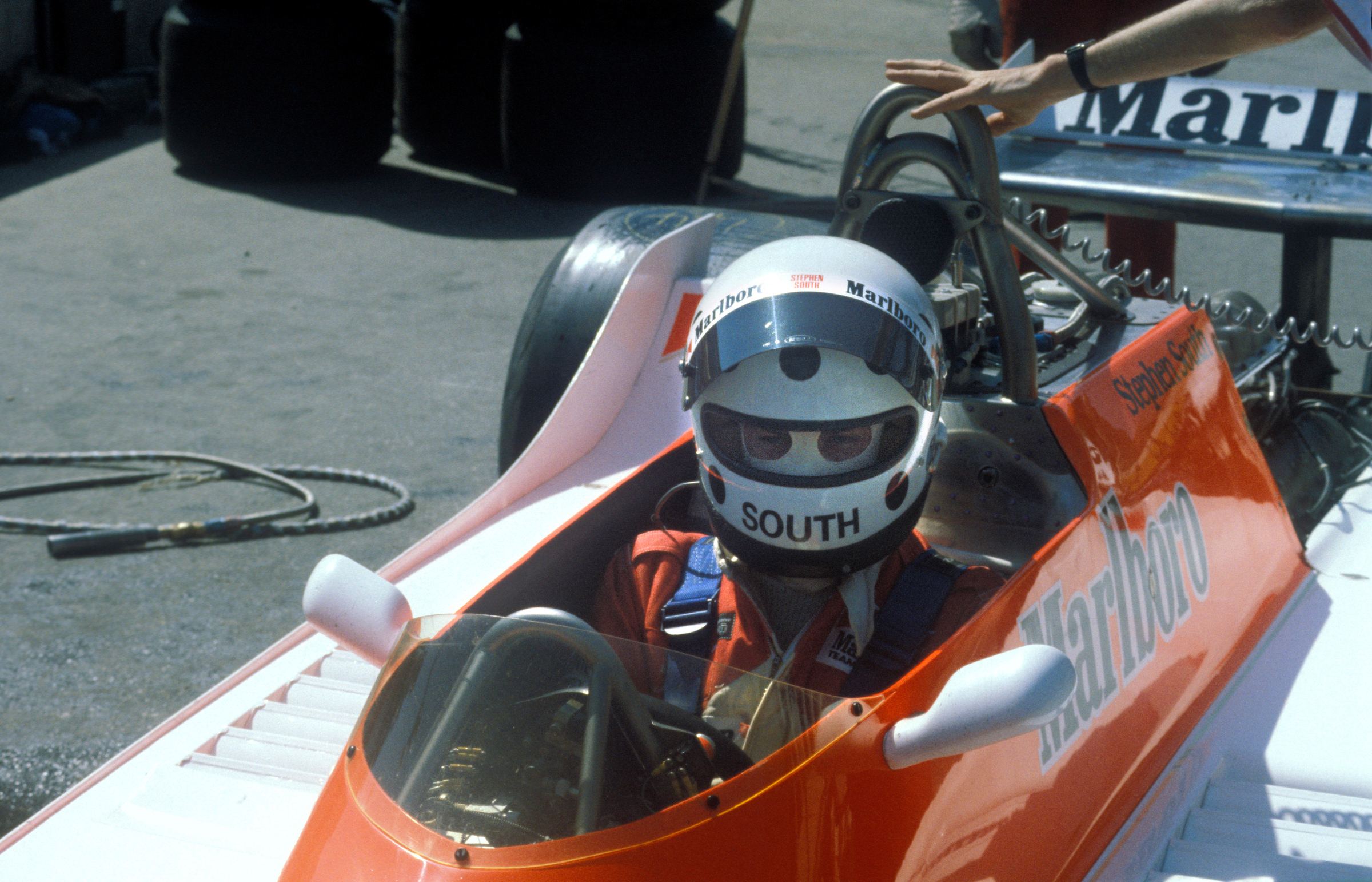 McLaren reacted by running just Watson at Kyalami and getting then Formula 2 hotshoe Stephen South (pictured) in for Long Beach. But South didn't qualify the wretched M29, while Watson himself only managed to qualify 21st – although he capitalised on a race of attrition to come through for his first points of the season in fourth, albeit lapped by Nelson Piquet's victorious Brabham BT49.
By then, Watson was sensing a shift in the team, a sense from the leadership that Prost "was actually going to be the salvation of McLaren" rather than him.
"It was at this stage that I got the sense there was this pressure coming from Philip Morris and that the team needed to prove its performances to retain the sponsorship," says Watson.
"For me it was clear that a bigger focus was being placed on Alain by the management than there was on me and I was being sort of shuffled back, and Alain wasn't even at that race!
"There just seemed to be a permeation in the air that the reason why McLaren was not being as competitive as it should be was because of me."
That falsehood lingered across the summer and it riled Watson. It still does to an extent.
He could live with Prost's obvious brilliance but the internal politics, some disrespect from his own team and a growing notion within the media that he was somehow to blame for McLaren's poor form all played on his mind.
On Prost, Watson is honest in his appreciation of him both then and now, saying that "apart from his natural ability, he was very good at going through what I would call the minutiae of vehicle dynamics like dampers, roll springs.
"Honestly, I felt it was somewhat irrelevant and that the fundamental problem for the team was that they still hadn't fully understood or embraced aerodynamics.
"Alain in Brazil was excellent; he did an outstanding job. South Africa he hurt his wrist and the momentum tailed off a bit.
"And it probably took his absence for me to begin to garner that there was this pressure coming from Philip Morris."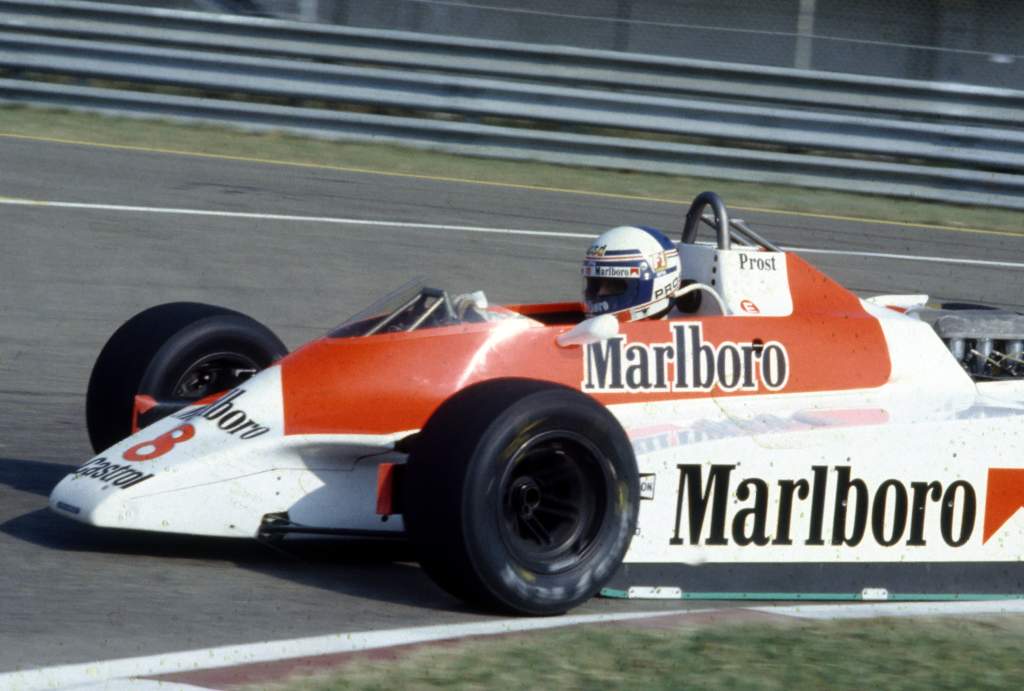 Watson found the pressure of Prost's pace and the wider Marlboro situation manageable.
What wasn't was what was happening off track. Both technical misadventure and an internal disrespect, which to this day Watson still calls out, were rife.
"Some of the members of my own team, and I'm talking about people that were working on my car, thought it was very funny to change my name [on the side of the car] from John Watson to John 'Whatswrong' at one race," remembers Watson.
"It was disgusting, disingenuous and disrespectful.
"The management allowed that to stay on the car. That was a flaw of theirs to be honest.
"In fact, there were two flaws at that time: there was the technology they didn't have, so other people moved forward much quicker, and then there was too much power divested on the factory floor.
"That type of disrespect, well today you'd get fired for that on the spot. At that time, it all seemed to be fun and part of the scene. I had to carry all that s**t, though!"
While Watson largely swallowed what would now be classed as psychological bullying by his own team, the lack of technical improvements could clearly not go on.
He didn't qualify in Monaco and was devastated by that. He'd always excelled on any street circuit and there he was with an Osella, an Ensign and a pair of hopeless Shadows in an early bath.
That triggered an eventual turnaround for Watson, spurred by McLaren engaging former March design genius Robin Herd as a consultant.
"Robin produced a carbon fibre underbody with what I would call radiused turns rather than 90 degree ones," says Watson.
"Aerodynamics don't like 90 degree corners. They like nice radius corners so the air that flows can adhere to that, at 90 degrees then air separates.
"Naturally the first one went to Alain because he is the salvation of the team, etc."
Herd's work was also intended as a counter against the increasing pressure from Marlboro to thrust Dennis, who had been waiting in the wings for his F1 promotion for some months by the summer of 1980, into the team.
Marlboro was pushing the existing McLaren directors hard to integrate Project 4 – the F2 team Dennis had created – into the team to create a new dawn led by Dennis and Barnard, who was at the time working in IndyCar.
But the final line of resistance, led by Mayer, proved formidable.
That manifested itself in the team producing a successor to the M29 to try to prove it didn't need the external help. The McLaren M30 debuted at Zandvoort in the hands of Prost, while Watson took the Herd-tweaked M29.
It was a weekend that changed Watson's season and began to cast a shadow upon Prost's.
Watson starred, coming back from a hefty shunt at Tarzan to outqualify his team-mate by 0.6s and nine places. From ninth on the grid he then raced comfortably in the top 10 before retiring with an engine problem, while Prost eventually nicked a point in sixth – albeit behind Jean-Pierre Jarier's elderly Tyrrell.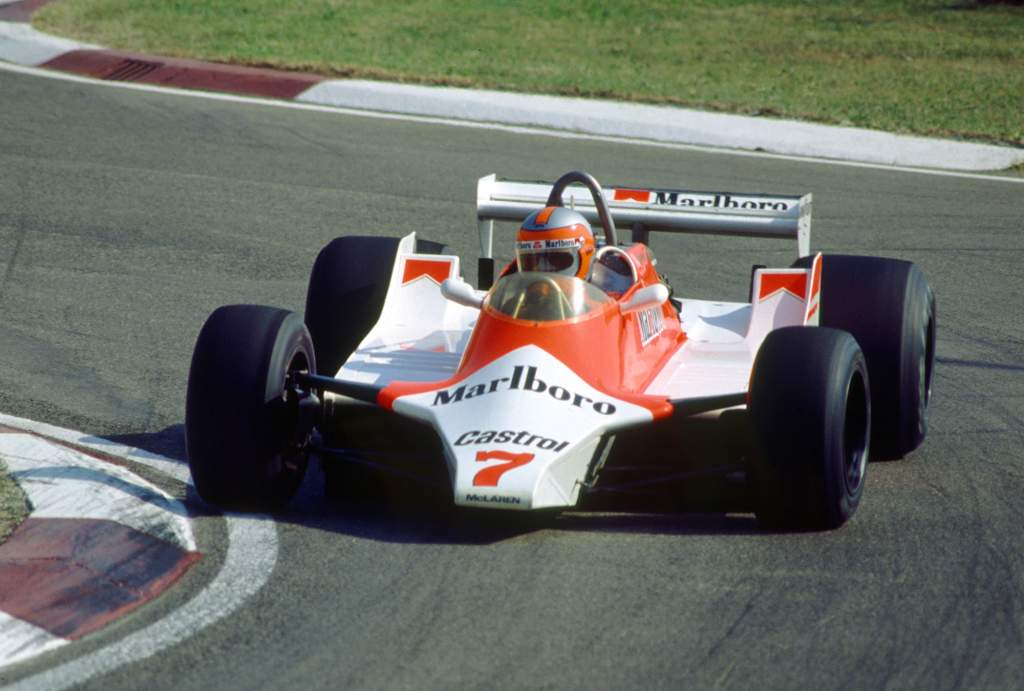 At Imola a few weeks later it was much the same. Prost was nowhere and in fact only just scraped on to the grid itself.
Watson was again undone by reliability but had been much quicker all weekend. Why?
"I just now had a car that I felt was doing what I wanted my car to do, that simple," he explains.
"Alain was no further down the road with his M30 than he had been with the old car.
"I'm performing better and Alain is naturally losing faith in the team at this point. So, all of a sudden, Alain's looking and thinking, 'this team has produced a brand new car and actually it's no better, while Renault is at the front and winning races'."
That form upturn was the cue for Watson to let off some steam to the press, which he felt had been on his back all season.
"I think at Zandvoort there was an issue with the press and I might have told them they were a bunch of w**kers or whatever," he says.
"I can't remember that particular situation in detail. But I had been getting negative press throughout 1980 and my view was that the press didn't have a clue as to what was going on within the team."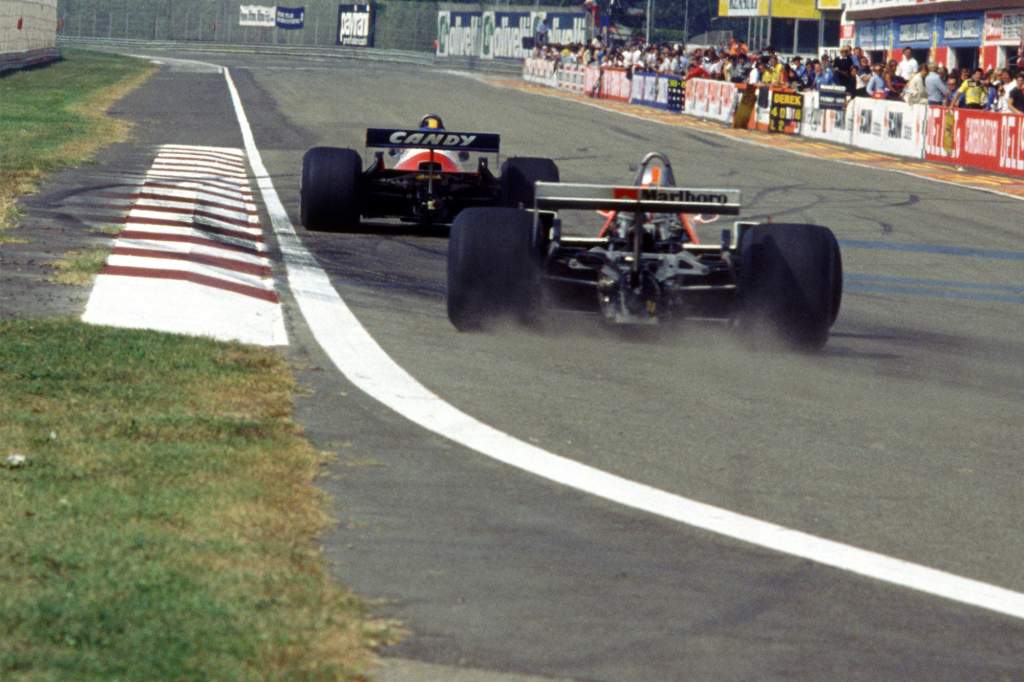 What actually transpired was that in an interview with Motoring News, and also in his own column for Autocar, Watson questioned the knowledge of some elements of the press who he felt 'spend too much time enjoying sponsors' free food and booze rather than doing what they are paid for'.
"I hate to say it," says Watson now, "but some of those old eminent members of the press had a certain amount of information, but they didn't have anywhere near the understanding of my issues, or the issues within McLaren.
"All they saw was that Alain was doing a fantastic job, which I was the first to stand up and acknowledge.
"And remember, I was the person who took Alain to hospital in South Africa. I acted like a big brother to him. I had no problems at all with him in 1980 and we're still good friends to this day."
Prost was soon gone, though. Disillusioned by McLaren and fully seduced by Renault.
His decision to leave came even before a monster shunt at the finale at Watkins Glen which meant he failed to start another race thanks to an injury inflicted by his car. It was a suitably dreadful and coruscating end to a rookie season that had started so well.
It was the third big wreck of his season (after Kyalami and a qualifying shunt at Jarama when his suspension collapsed) and again caused by a breakage on his car. Never again did Prost have that number or magnitude of accidents in any of his 12 subsequent seasons in F1.
For McLaren, losing Prost was a hammer blow but in the context of what he went on to achieve probably not one fully recognised at the time.
"I went on to the medical centre at The Glen to see him," recalls Watson.
"Here's this kid lying on a gurney, who's been beaten up and he's bloody miserable. It was a big shunt.
"He turned around and said, 'John, I can tell you now that you will be the number one driver of McLaren in 1981 because I'm not going to be driving for them, I'm going to Renault'."
And it became a full changing of the guard in the team, as finally Marlboro got its way and inserted Dennis and Barnard (pictured together below at the 1980 Canadian GP, behind Mayer in the red hat) into the company.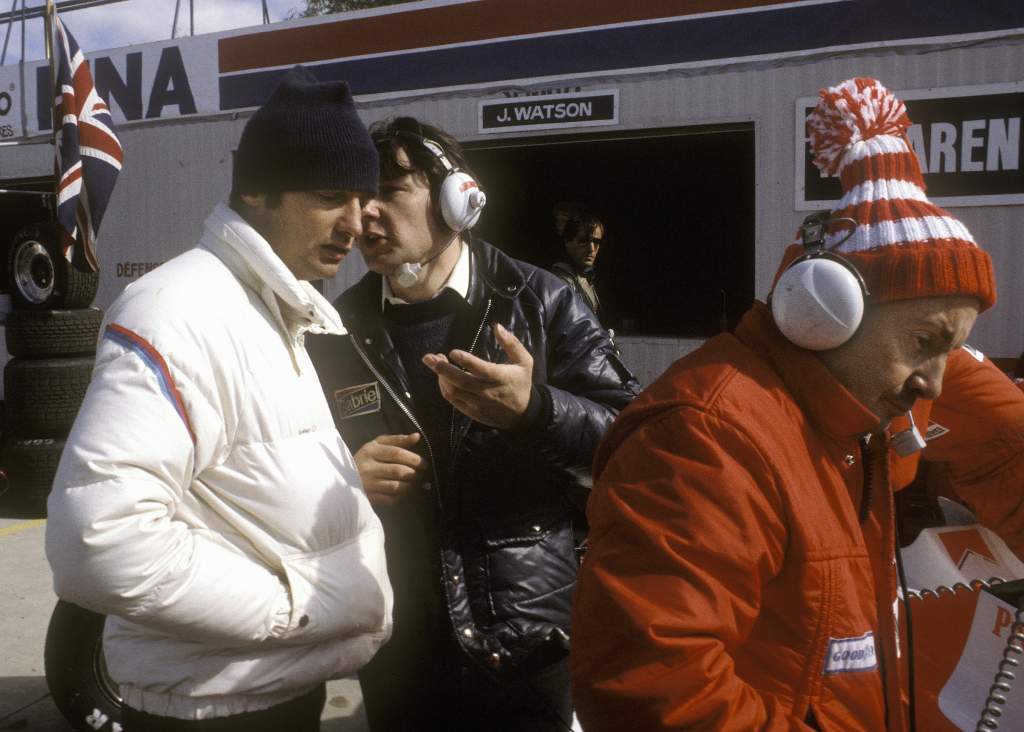 As part of that deal Marlboro Italy managed to roll Andrea de Cesaris into the new package to replace Prost and partner Watson for 1981.
Watson finished the 1980 season off with a flourish, scoring a fourth in Montreal and then qualifying ninth at Watkins Glen. The mojo, which in fact had only been temporarily misplaced rather than lost, was back with a vengeance.
Forty-two years on Watson has no qualms when rationalising those times. He still believes that Prost was "being used to try and block Ron and John coming into the team".
"He was a political pawn to stop the introduction of new management coming in as a partnership to save their own bacon basically," asserts Watson.
As McLaren passed from its old to its new era, not a huge amount appeared to change at first. Mayer initially remained, as did Watson of course, but while on the face of it there was stability, Dennis and Barnard were actually orchestrating a revolution few could comprehend at the time.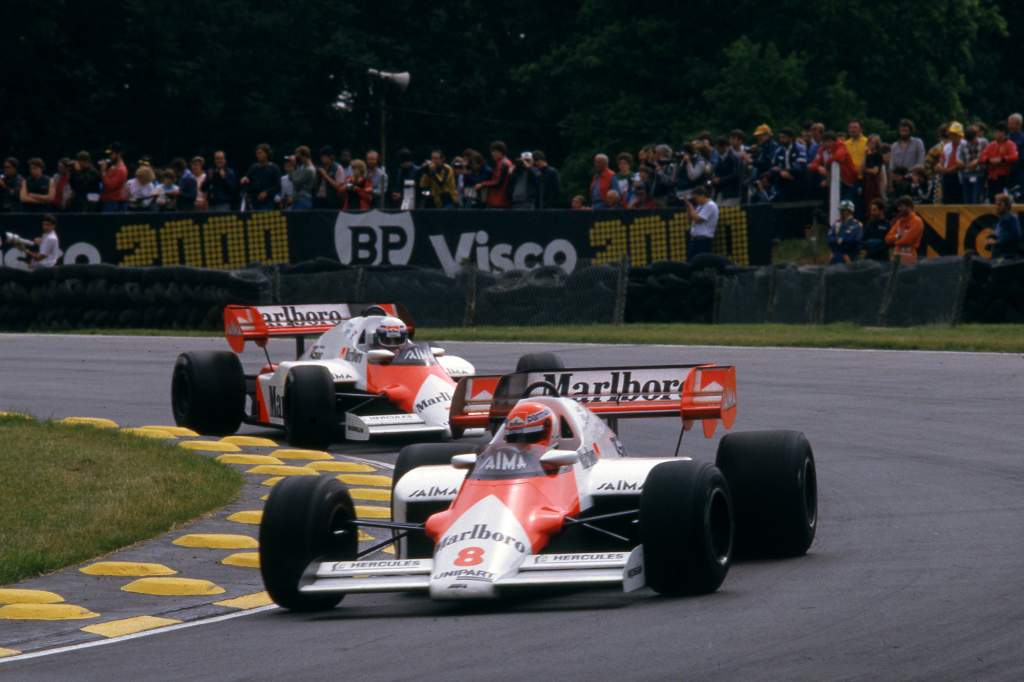 Just four years beyond 1980, McLaren took a dominant championship double after tempting Niki Lauda from retirement, getting TAG to bankroll a Porsche turbo engine and welcoming Prost back after his Renault dream turned into a fractious and political nightmare.
Watson, who won three grands prix for the team between 1981 and 1983, is without doubt one of the unheralded foundations of what was the first iteration of modern day McLaren.
When Lauda was injured just prior to the 1985 European Grand Prix at Brands Hatch, Dennis only considered calling one driver: John Marshall Watson.
How many drivers in that period garnered the respect that Watson did? Not many, certainly not to the extent of getting a invitation back after two years off the F1 grid.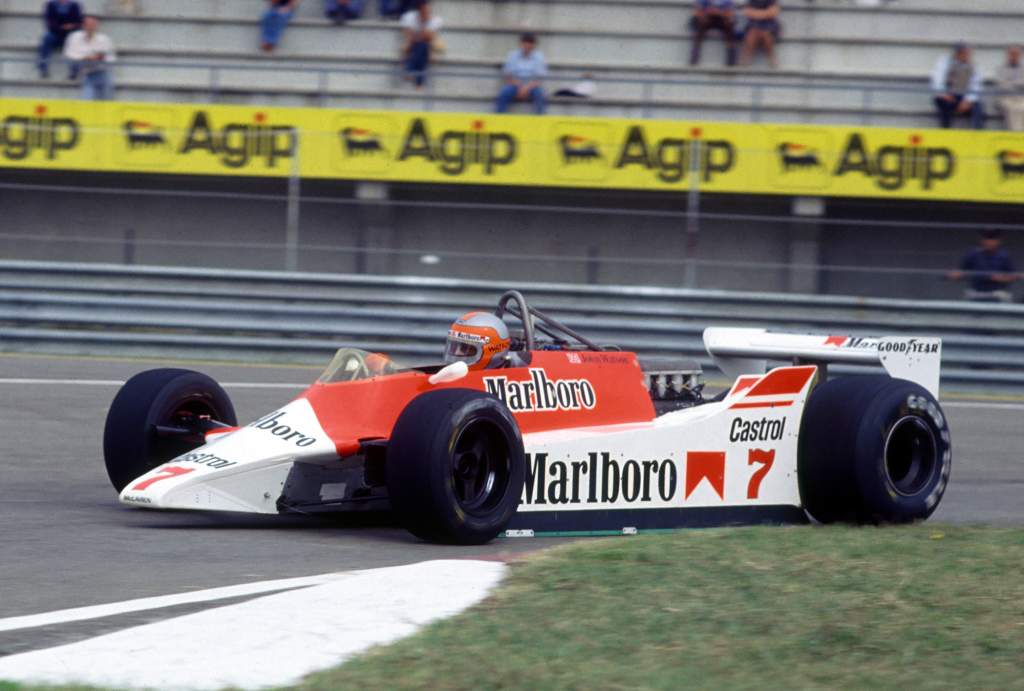 Through the tumult of 1980 Watson was a stable force who wasn't afraid to fight his corner from misunderstanding and sporting prejudice.
He and others at McLaren saw it out and went on to taste the fruits of their labour, emerging successfully from the time when the team teetered on the kind of precipice that the likes of Brabham, March, Tyrrell and Lotus would eventually fall off.