Fans of Formula 1 and IndyCar might be delighted to hear that Max Verstappen got to drive an IndyCar-engined machine this week ahead of the Miami Grand Prix.
Sadly, it wasn't a current IndyCar, but happily, it was arguably the world's most bonkers SUV.
This Group B rally-inspired monster is nicknamed The Beast, has nearly 800bhp, the rear end of an IndyCar, the front end of an NSX GT3 car, a full hybrid unit and bodywork to make any nine-year-old run to plaster it all over their bedroom wall. If kids still do that, anyway.
𝘼 𝙗𝙚𝙖𝙨𝙩 𝙙𝙧𝙞𝙫𝙞𝙣𝙜 𝙩𝙝𝙚 𝙗𝙚𝙖𝙨𝙩 😈@Max33Verstappen & @redbullracing joined us in Miami for some laps in the @Honda CRV-Hybrid Racer!

Max was able to get up to speed quickly with some tips from a helpful Canadian 😁#PoweredByHonda // #F1 pic.twitter.com/zWzUgtmXCC

— HPD-North American Motorsport (@HondaRacing_HPD) May 4, 2023
For any fans of the Ford Supervan, Renault Espace F1 or the Alfa 164 Procar, you'll immediately recognise a totally unbridled approach to building a wild and iconic machine, based on the CR-V road car.
The car was the brainchild of a Honda Performance Development team looking to find ways to take the hybrid technology involved in the next IndyCar engine rules cycle from 2024 and use it to promote the system, series, and Honda's work within it.
In an age where manufacturers have to develop machines to suffocating technical regulations, starting with a totally blank sheet of paper and building out a car around the engine has been a liberating task for everyone at HPD, who have burnt the midnight oil in their own personal time to get the passion project finished.
There must be something peculiar in the water at HPD because it also put an IndyCar engine in a pickup recently, in conjunction with the Hoonigan company made famous by the late Ken Block.
The Beast CR-V made its debut at the St Petersburg IndyCar race weekend in March, where race winner and Indy 500 polesitter James Hinchcliffe gave The Race a passenger ride around the circuit.
What's it like on track?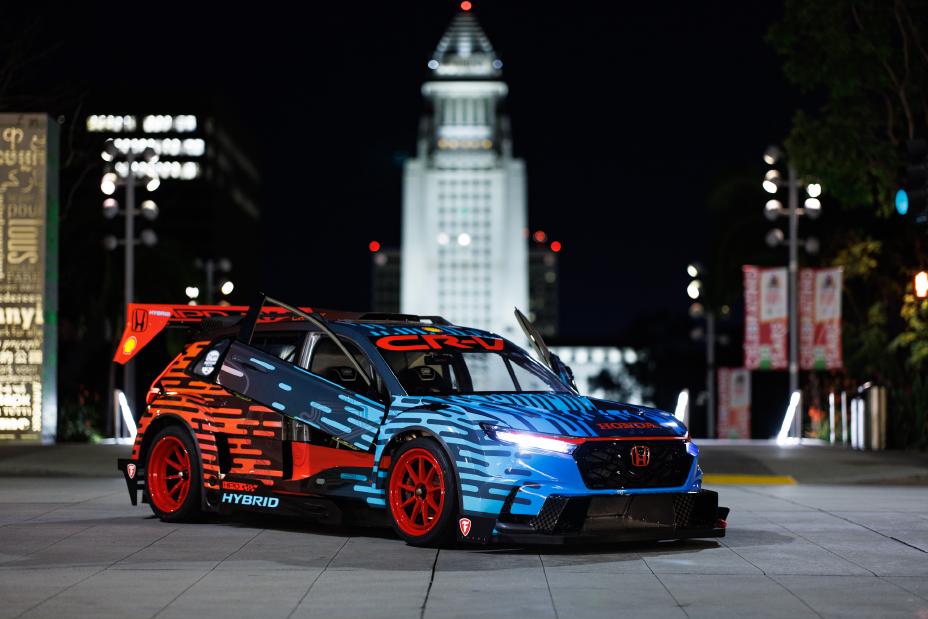 Join me for a passenger ride in St Petersburg. It's going to get gnarly.
Strapped into the passenger seat of this maniacal, mythical beast, it starts silently. Hinchcliffe presses a succession of what look like R2D2 lights on the steering wheel and the car shudders forward with only the mechanical whirring of the bearings, a high-pitched whine from the hybrid, and the tyres rolling on the ground for noise.
'Is this it?' I thought. I'm a part of the 'noise is an important part of motorsport' brigade, so the silence was deafening.
But then Hinchcliffe presses one final button.
It's like 10 tonnes of C4 have gone off three inches behind my head as the traditional, fuel-powered IndyCar engine we all know and love awakens from its slumber.
The car has the capability to roll out to the track totally on the hybrid motor and then the engine can be fired, which you can watch happening in the video below.
"It's definitely quite a bit different, but man, it did sound cool, didn't it?" Hinchcliffe told The Race afterwards.
"But I kind of like it. You definitely miss the big smokey burnout leaving pitlane, which is such a signature of driving an IndyCar these days.
"To be told, if you follow this procedure, this is what's going to happen, and having never experienced it before, you're always a little bit cautious as a driver – like, let's see if all of this actually works.
"Sure enough you flip the right switches and press the right buttons and boom, this incredible IndyCar engine fires to life, from about 30mph on the hybrid motor.
"It was amazing, it ran completely smoothly from there.
"As we drove around on that out-lap, for me it's the same sound echoing off the walls, back at the IndyCar. It's pretty cool."
What's going on here then with @Max33Verstappen and @Hinchtown? We can't wait to show you 😎#Honda #CRVHybridRacer pic.twitter.com/8xGMhW7J34

— Honda Racing Global (@HondaRacingGLB) May 3, 2023
We've got an out-lap and then an in-lap to play with, and you can almost immediately tell the car is on road tyres as Hinchliffe throws it at the St Petersburg walls and you can feel the car moving through your bum in the seat. It's stable, but there's movement, which makes the passenger experience all the more fun.
"Can it be both?" asks Hinchcliffe when The Race asks whether throwing some slick tyres on would be preferable.
"I would love the opportunity to throw some slicks on it and see what we can do. But at the same time, no, because of the nature of the vehicle itself it's sort of cool that we're running on performance street tyres.
"Honestly, even with that I was really impressed with the level of grip that the car had. Both from a lateral standpoint and a traction standpoint.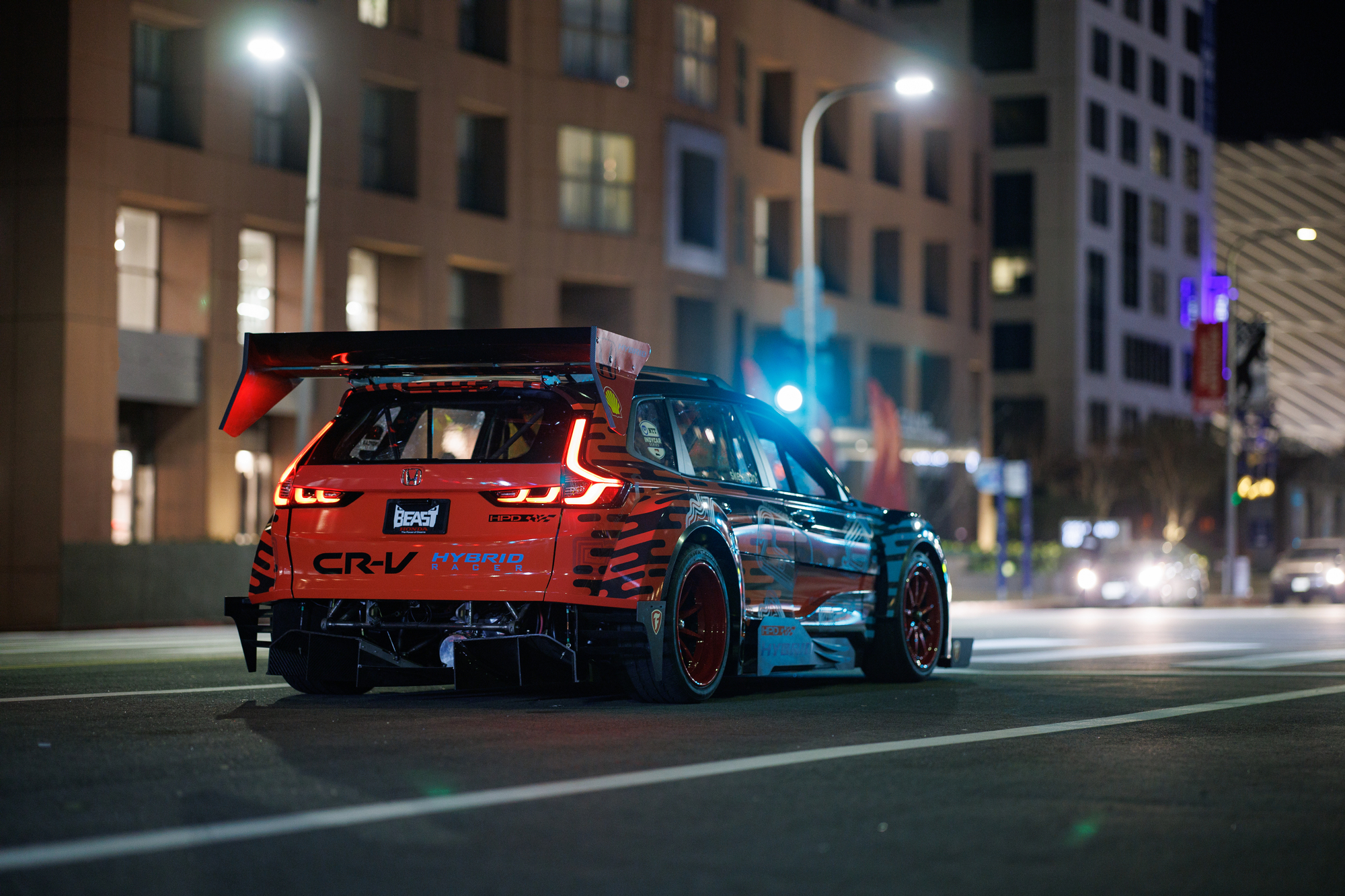 "When you think you've got street tyres and a 800bhp engine in the back, I was almost expecting to never be able to hit full throttle."
It's limited on the straight as this is its first weekend of proper running, but it still feels punchy, and through the bends it's so much fun. Planted enough to feel like an aero-dependent race car but enough movement to be fun and remind you that it could, in the hands of a lesser driver, spin out of control at any second.
Hinchliffe demonstrates his talent because even though this is a hodgepodge of GT3 and IndyCar, he's sitting on the left instead of the middle and there's a lot more weight than an IndyCar, but he's got it up on the kerbs and within touching distance of the walls immediately.
I'm not exaggerating when I say I could have touched the walls without the window net.
There's no doubt Verstappen will have found the experience odd, having that much power while being sat off-centre to the left, but he must have had a lot of fun in his run at Homestead.
What is HPD trying to achieve with this?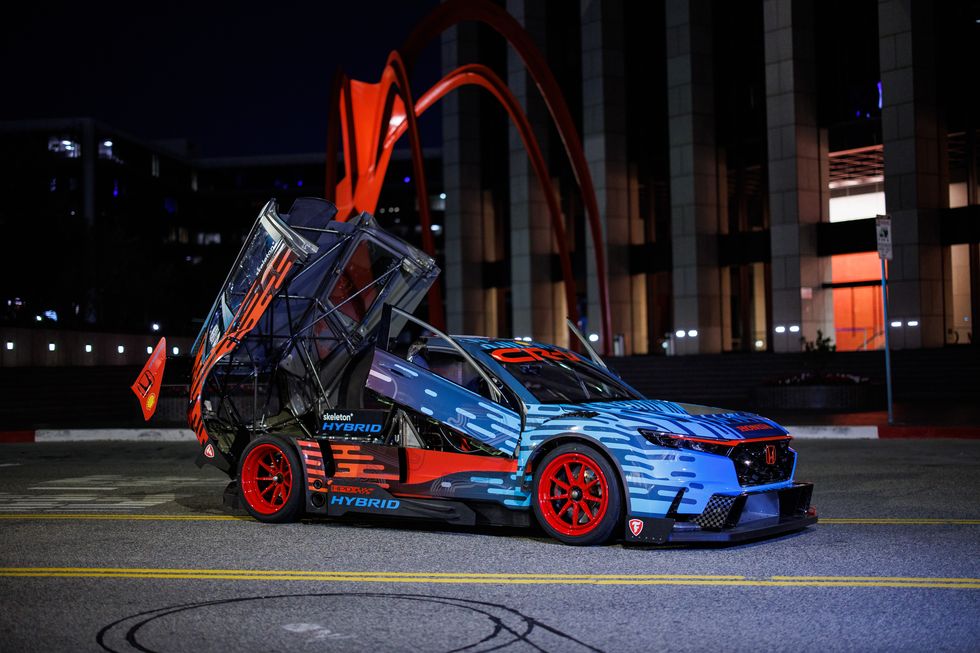 Fundamentally, of course, this is a marketing scheme for Honda. But witness the mechanics tweaking and preparing this beast and you can see it means more to them.
It's a ground-up build of a fairytale. An almost totally unadulterated chance for everyone to design something new rather than sticking to a sheet of paper. While building race cars and engines, in HPD's case, isn't a boring job by any stretch, it is demanding, and The Beast has allowed the team in California to let loose and remember to enjoy the ride.
Even the simulation department was roped into the build and was absolutely key to joining the NSX front end and IndyCar running gear and rear end together to make a car that not only worked, but handled like a racing car. And it absolutely does.
"Just over a year ago, we were looking at where we're going with IndyCar, electrification is an important thing in all of our lives and electrification for Honda is [being] fun to drive, showing efficiency, showing technology, and IndyCar seems a great place to show that and IndyCar is going hybrid," HPD president David Salters told The Race.
"We thought: 'Can we activate around that and do something cool, let our engineers have some fun and show what they can do as well?'
"Celebrating our racing heritage, we've done reasonably well at the Indy 500, 15 wins, five in the last seven years. It's got the IndyCar engine, so we wanted to celebrate the racing heritage.
"You invest in racing to publicise it, so why don't we activate around it?"
Another aspect that hasn't been mentioned is that a big part of this build is targeted at people ingrained in car culture in the US. Honda plays a huge role in the urban car culture including when it comes to tuning and bodywork, for example.
When looking to bring IndyCar to new fans, why not start with those people who love cars anyway?
"The good thing is Honda, especially in the US, is embedded in car culture," Salters, who used to be Ferrari's F1 engine chief, adds.
"Tuning, styling, that's where a lot of its popularity came from. Efficient cars that are great to drive and people really celebrate that. You can see some wild Hondas out there that are awesome.
"We're in that and have been in that for a long time and it's nice to celebrate that."
Larry Chen is responsible for the beautiful pictures of the car in downtown LA and for the above video of the car in depth with one of its principal designers. Chen is part of that car culture activation as he has a huge following with the cars he photographs and videos.
Where can I see The Beast?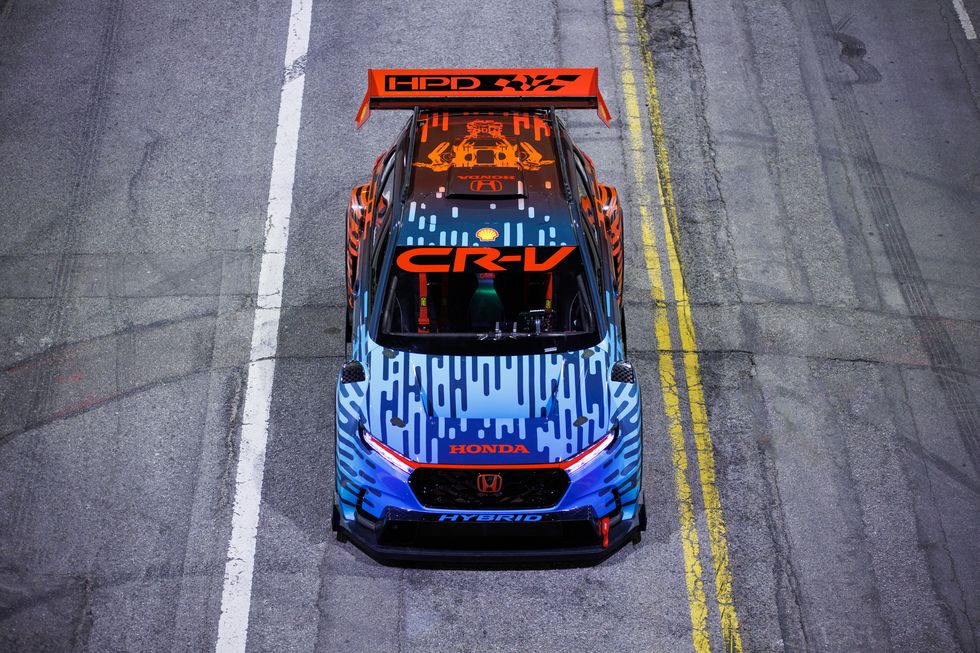 At the moment it's being restricted to demo runs and appearing at various IndyCar race weekends. But it's safe to say there's an appetite to expand the horizons of this car and try to break some records with it at some events you might not expect to see it at.
HPD is still deciding what those events might be – tweet them with suggestions; The Race's is Pikes Peak! – so for now an IndyCar weekend or salivating over YouTube are your best options.
What's happening with IndyCar's engine regs?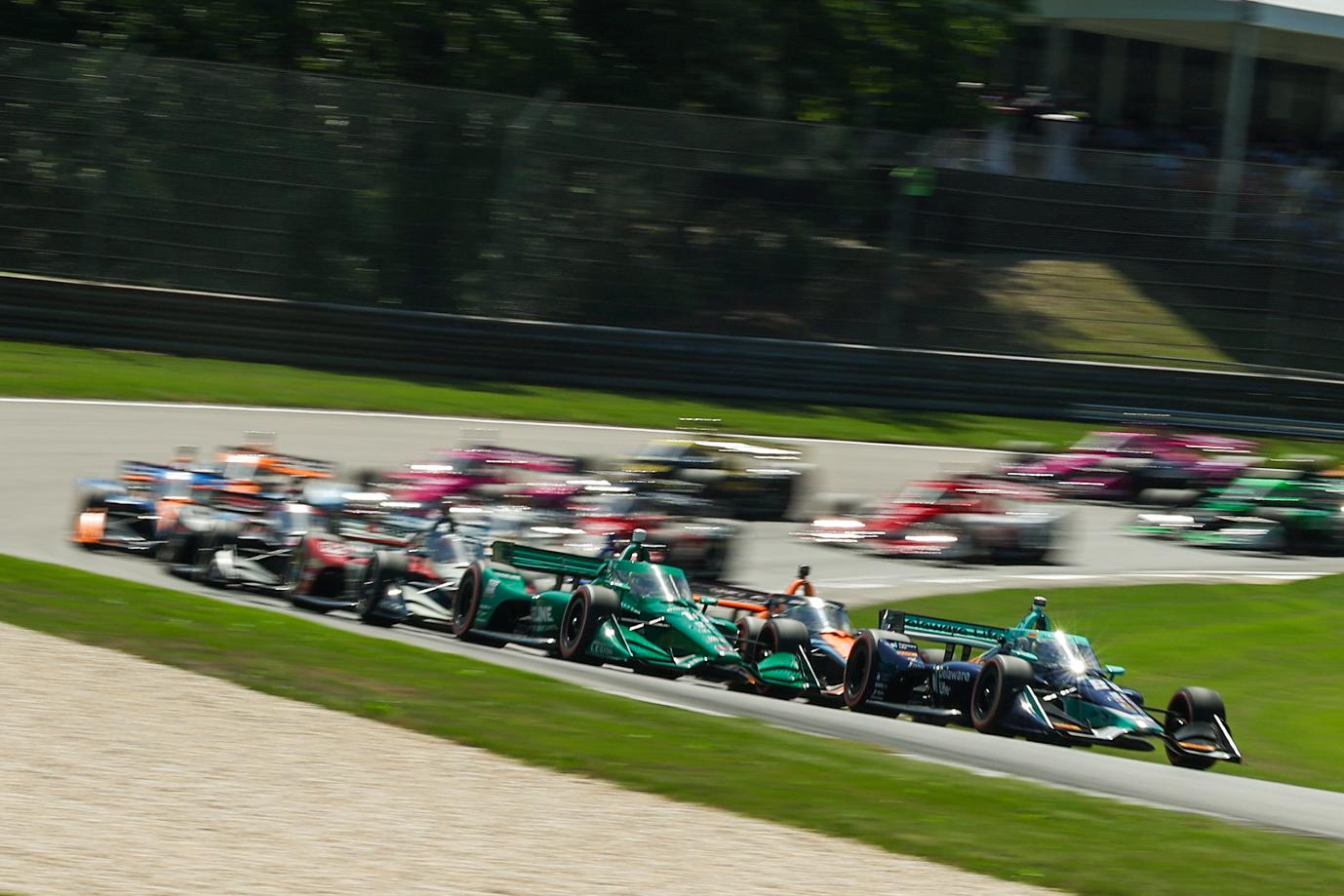 IndyCar is keeping its current 2.2-litre engine for 2024, but Chevrolet and Honda are working together to finalise a hybrid unit that will be used in the final specs.
There's still a lot of testing to be done to decide just how the hybrid will be used exactly.
What's extremely likely at this stage is the hybrid unit will power IndyCar's push-to-pass overtaking system, which will give drivers somewhere near an extra 100bhp for a set period of time over the race distance. It's currently 60bhp with 200 seconds of use.