McLaren is a vocal critic of what it calls B teams in Formula 1 and the closeness of technical partnerships such as the Haas/Ferrari and AlphaTauri/Red Bull alliances. But ironically, it's reaping a harvest the team itself sowed back in 2008.
McLaren was a very different team then in terms of leadership. That means there's no criticism implied of Zak Brown or Andreas Seidl, who have been so vocal in their complaints, in pointing out this quirk of fate.
F1 was also very different in 2008. The global financial crisis was biting, so cost control was a big topic – although the resource restriction agreement that was put in place ultimately proved too flimsy to have anything other than a temporary braking effect on rising costs.
Meanwhile, the newly-rebranded Force India team, having been bought by Vijay Mallya and Michiel Mol, was struggling at the back of the grid and seeking ways to boost performance after the ex-Jordan team had been through several changes of identity as Midland and Spyker.
In a deal hammered out during 2008, Force India announced its technical partnership with McLaren-Mercedes in November. Officially, this was a partnership with McLaren Applied Technologies and Mercedes and was described in the announcement as a "unique long-term deal".
We're so familiar with such partnerships today that it's easy to forget how extraordinary this deal was. Inter-team collaboration was not part of what we would today refer to as the DNA of F1.
Customer cars were part of F1 for the first three decades of the world championship before effectively being outlawed by the first Concorde Agreement in 1981.
There were occasional examples of teams selling technology to its rivals. McLaren allowed Footwork a deal to run its TAG Electronics active suspension system in 1993. This was originally a two-year deal, with Footwork introducing the system at that year's French Grand Prix, but that plan was harpooned by the gizmo ban for 1993. Another example is Simtek securing a supply of 1994-specification Benetton gearboxes as part of its deal to run Jos Verstappen in 1995. But these were rare.
McLaren was at the forefront of moves to bring back full-blown customer cars in the first decade of the 21st century. Both the Prodrive and Direxiv projects, neither of which got off the ground, would have run McLaren chassis and effectively been B teams.
Arguments over customer cars were long and fractious – occasionally resulting in threats of legal action – during that period, with both Toro Rosso and Super Aguri able to run machinery supplied by Red Bull and Honda respectively. But this was clamped down on for 2009 – although at the time the McLaren/Force India deal was being hammered out there was still a faint possibility customer cars might be permitted.
Instead, schedule three of the 2009 Concorde Agreement laid out the 'listed parts' rules that detailed what components a team needed to make to be considered a constructor. This system, a halfway house conceived to let small teams lean on bigger ones while still being responsible for their own key performance parts, remains in place under the name 'non-transferrable components', although it has been tightened up over the years.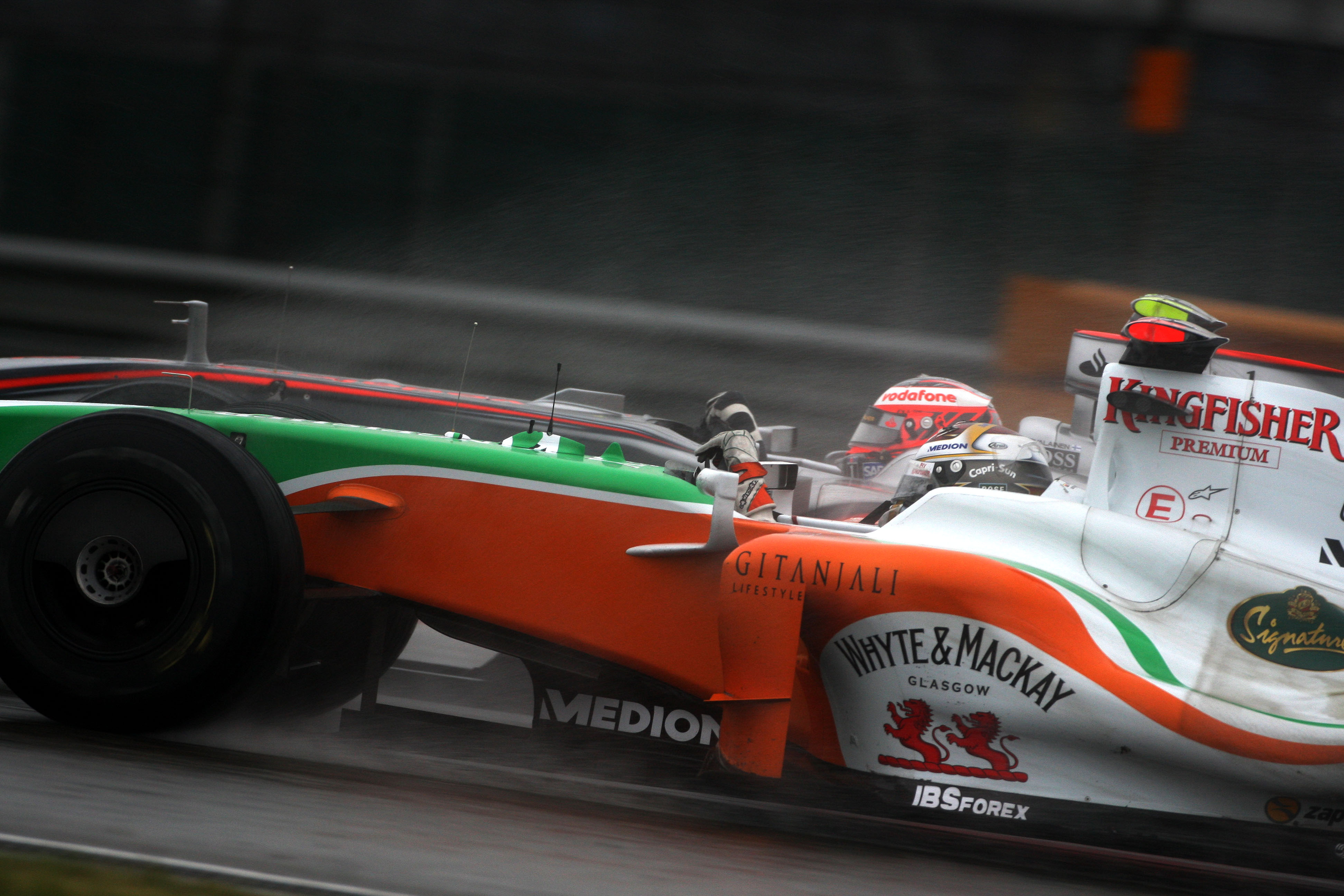 The new technical partnership gave Force India a supply of Mercedes engines, McLaren gearboxes and hydraulics and also access to its supplier network and team facilities. There was also the potential to use the McLaren-Mercedes KERS system in 2009.
Force India planned to introduce KERS mid-season, but problems accommodating it along with the cost of peripheral equipment led to it dropping the plan – although it did use KERS from 2011.
As part of the deal, McLaren also loaned Simon Roberts to Force India to take on the role of COO. He held this position for a year, before returning to McLaren.
While this supply deal fell short of customer cars, it required a huge change of mindset. Paddy Lowe, then McLaren's engineering director, has talked of the challenge of selling it to the rank and file within the team, with everyone used to a very different kind of competition.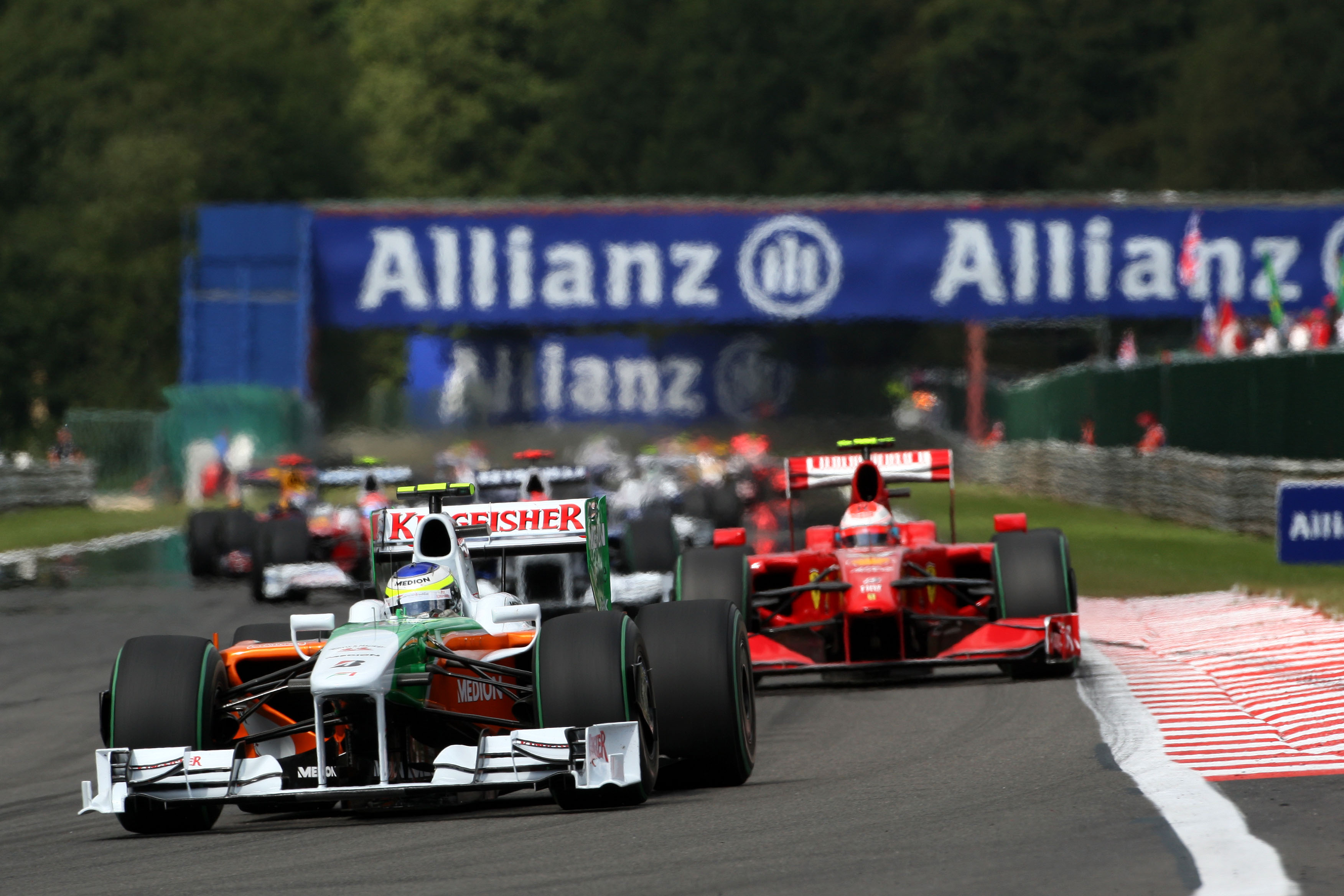 The low-drag Force India VJM02 was stunningly quick at Spa and Monza in 2009, with Giancarlo Fisichella taking an improbable pole position for the Belgian Grand Prix and finishing second. Adrian Sutil also took fourth at Monza, with team-mate Vitantonio Liuzzi in the mix for a potential third place on a one-stop strategy prior to retiring.
While those were Force India only two points finishes, the McLaren technical partnership had a hugely positive effect. It allowed Force India to focus its limited resources on aerodynamic development rather than gearbox development. This was crucial to the team's rise from backmarker to consistent points-scorer.
The deal remained in place until the end of 2013, at which point it shifted to become a technical partnership solely with Mercedes for the V6 turbo hybrid era. The team, now Aston Martin, continues to use Mercedes engines and gearboxes to this day.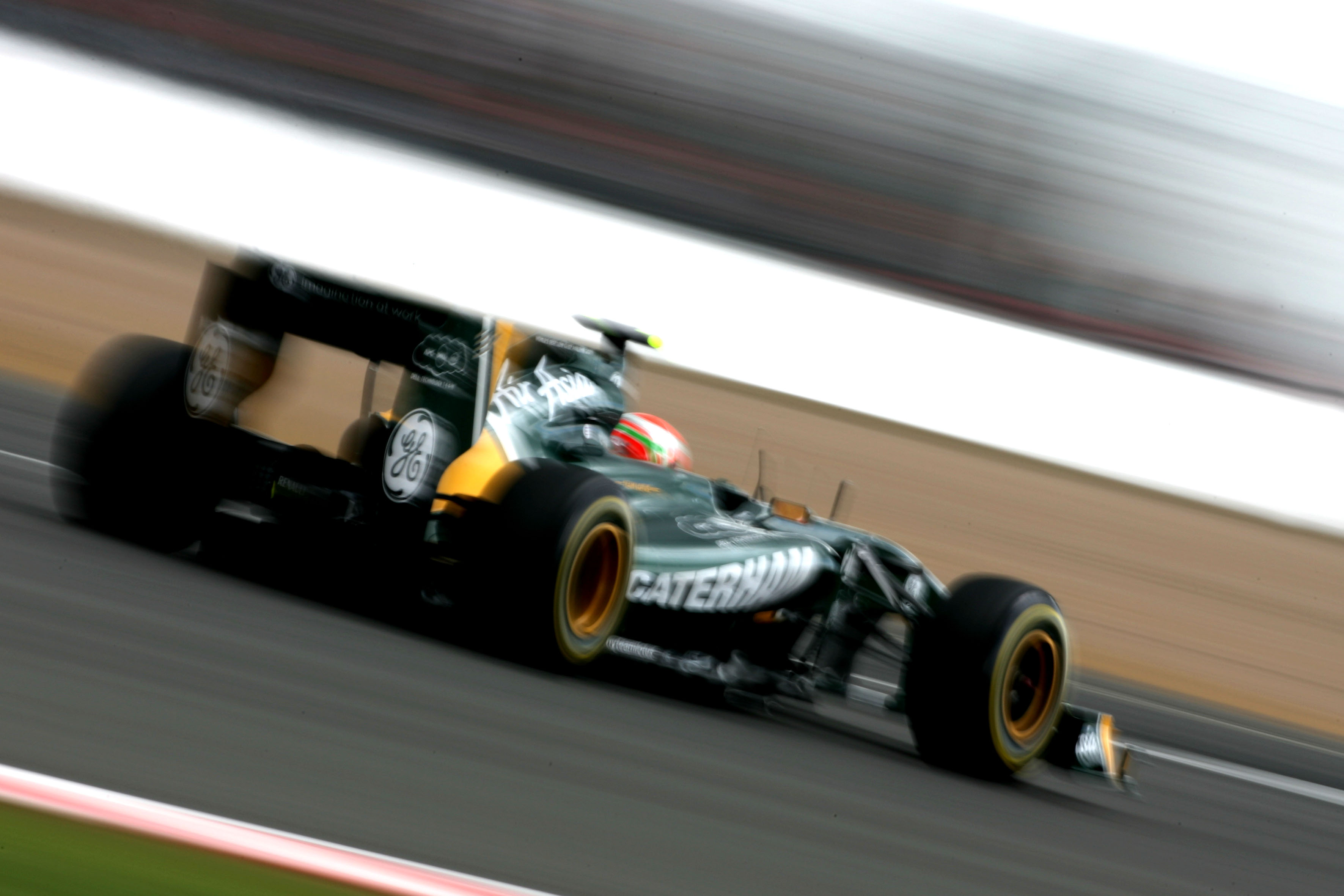 You can't keep a good idea down and, once Force India had pioneered it, such technical partnerships soon proliferated. Caterham agreed a supply deal for gearboxes and hydraulics systems from Red Bull Technologies for 2011 onwards, while Virgin signed a technical partnership with McLaren in the middle of 2011 that included access to its Woking windtunnel. It also led to a cohort of McLaren personnel being embedded with the team, which was renamed Marussia in 2012. HRT also formed a partnership with Williams for 2011 to run its gearbox and hydraulics.
But it was the arrival of Haas in 2016 that upped the ante for technical partnerships. With customer cars having again been on the agenda, Gene Haas intended to enter with customer Ferraris. When that avenue was closed off, Guenther Steiner hit upon the idea that led to the creation of today's Haas team by going further down the technical partnership avenue than any other team.
Its deal with Ferrari allowed it allowed it maximise the non-listed parts it took, giving it a supply of latest-spec components. At that time, the listed parts were limited to the monocoque, survival cell, front-impact structures, roll-over structures, bodywork (with the exception of airboxes, exhausts and any prescribed geometries), wings, floor and diffuser.
This allowed Haas to create a successful team from scratch, using the Ferrari windtunnel and its partnership with Italian chassis specialist Dallara to create a car capable of finishing in the top six twice in its first two starts. It should be stressed that the rules dictate that aero data could not be shared and that despite paddock whispers, Haas and Ferrari have always been found to be in compliance.
The introduction of the cost-cap has also had an impact on such arrangements. Haas now has its own facility at Maranello largely staffed by ex-Ferrari personnel and led by on-loan technical director Simone Resta. AlphaTauri, too, has taken on some staff that the cost cap forced Red Bull to cut. This gives rise to fear about the sharing of knowledge, but the FIA is closely monitoring this.
The regulations have been tightened up over the years to the point where today's non-transferrable parts list comprises the survival cell and primary roll structure, the front impact structure, all aerodynamic components (unless otherwise specified) the plank assembly, wheel drum/drum deflector and fuel bladder. Crucially, that means that the key performance factor – aero – needs to be a team's own design.
Even Williams, for so long the most emphatic hold-out against such partnerships, has joined the ranks of team taking components from a rival. For the first time this year, it not only takes its power unit from Mercedes, but also the gearbox and hydraulics.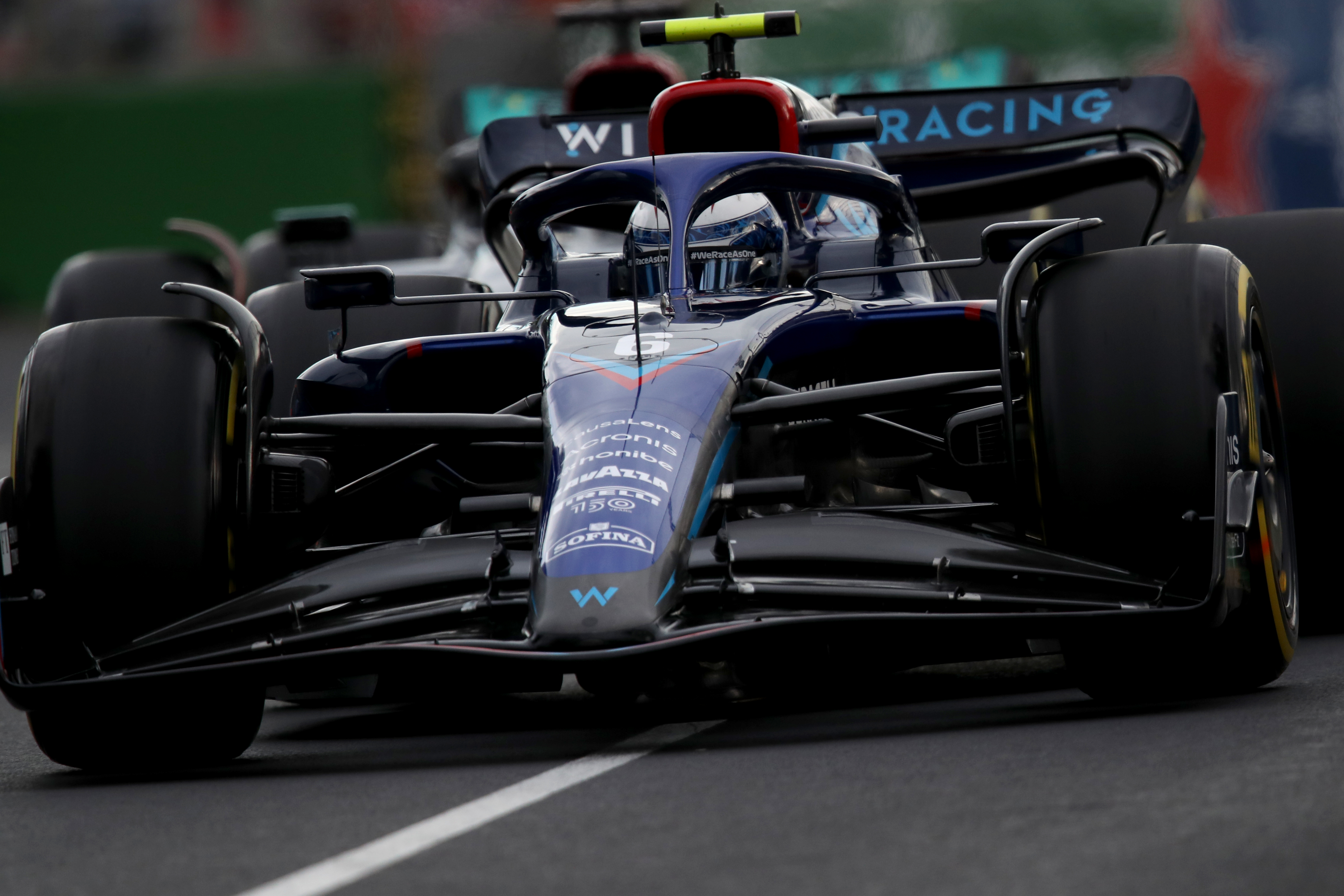 This year, only five teams produce their own gearboxes – Mercedes, Red Bull, Ferrari, Alpine and McLaren. The rest use ones supplied by partner teams, although Sauber opted to use Ferrari internals in its own casing design to facilitate the switch to pushrod rear suspension.
Each of the teams that do take parts from another have slightly different deals ranging from the comprehensive Haas/Ferrari deal to the Williams and Aston Martin deals for Mercedes power unit, gearbox and hydraulics. AlphaTauri, owned by Red Bull, varies by year in what it takes from its partner team, in 2022 using the gearbox, hydraulics and rear suspension – but it makes its own front suspension.
The battle lines have been drawn. It's no surprise that McLaren, which has no technical partners currently, along with Alpine, in a similar situation, and Mercedes, which has a technical partnership with Aston Martin that will inevitably scale back soon, is at the forefront of the calls to make such comprehensive team relationships illegal.
"It's clear that in Formula 1, the maximum that you should be allowed to share is the power unit and the gearbox internals," said McLaren team principal Andreas Seidl. "That's it, there should be no sharing of any infrastructure and so on, because as soon as you allow that, IP transfer is happening on the car side.
"We know from the FIA that it's difficult to police, and if something is not possible to police then you need to ban it. For two reasons: because it makes B teams overly competitive compared to teams like us; and at the same time the A teams are also benefitting from this, which is even more worrying for us.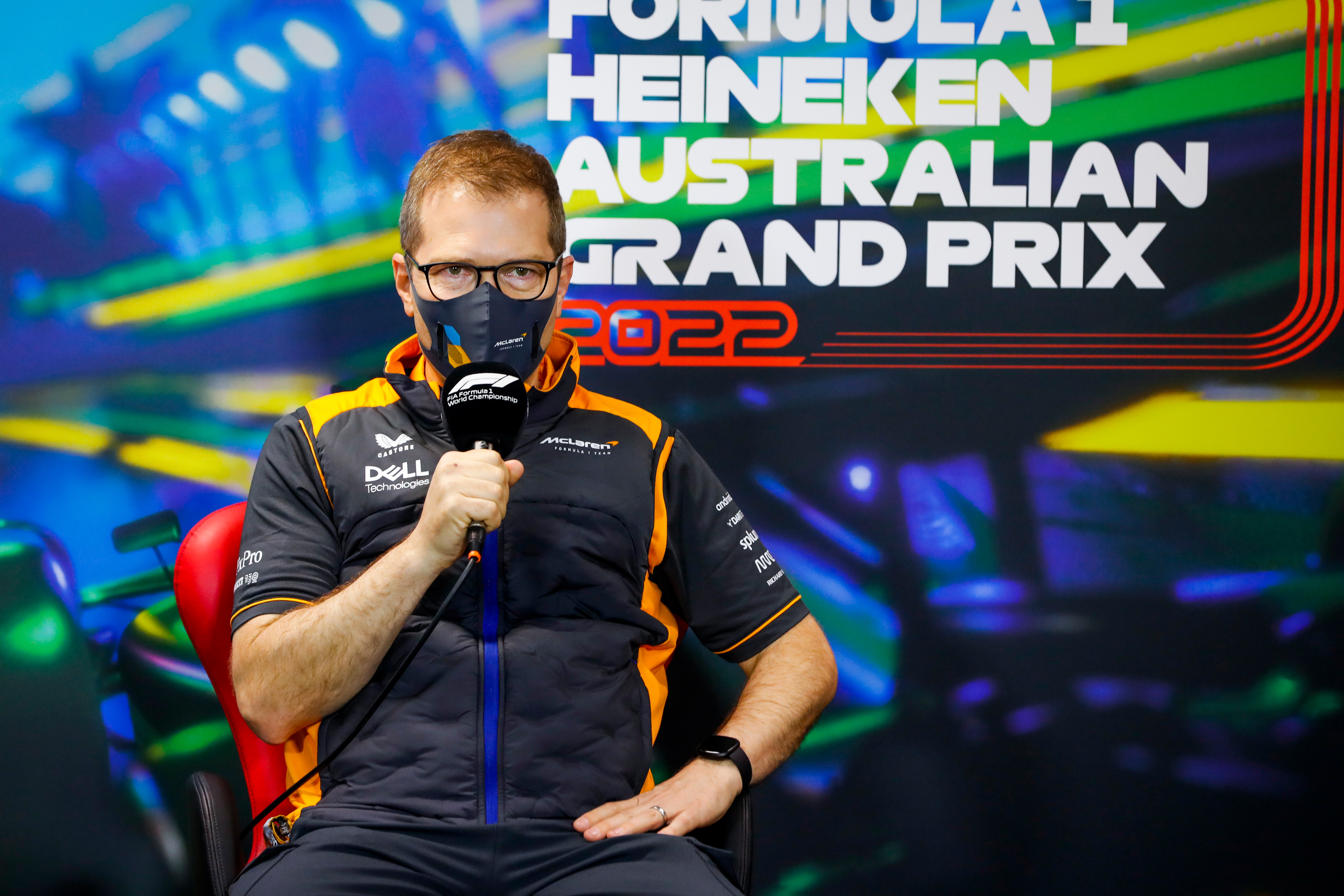 "We just hope with all the dialogue that is happening with F1 and several teams that we finally see some action there in the next years in order to correct this situation."
McLaren's argument stretches beyond the benefits to teams and also to the political battleground. As Brown has argued, it can lead to partner teams voting against their own interests to support a bigger partner team – in particular, AlphaTauri given the commonality of ownership with Red Bull.
Steiner gave Seidl's argument short shrift and pointed out that the regulations are clear and have been in place for some time.
"Andreas doesn't run the FIA, fortunately, so he can suggest it but there is a governance in place which will define that as much as he wants to run it," said Steiner, when asked by The Race about Seidl's suggestion that such partnerships should be restricted to a supply of engine and gearbox internals.
"There's sometimes things in the rules that if they don't work for you, you cannot go and change it. Mercedes won the world championship eight years in a row, they had a very strong engine – good for them they did a good job but nobody said 'we now need to change the engine because Mercedes is winning everything'.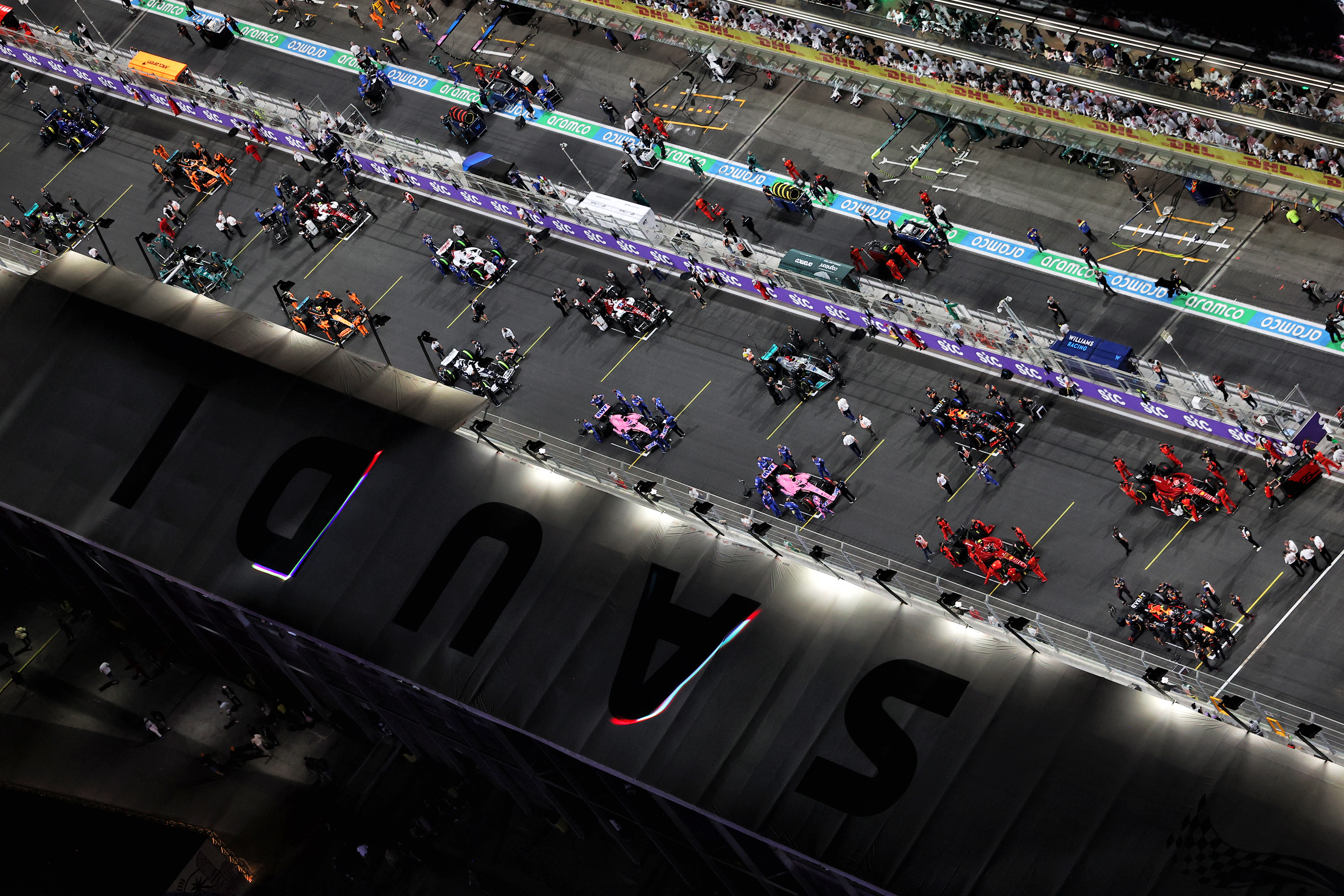 "There's governance in place and certain people think they can change everything by just speaking. I don't think that is going to happen."
This argument is showing no signs of abating and will continue to rumble on for as long as such technical partnerships exist.
That McLaren was a pioneer of such deals and now finds itself on the other side of the fence is a reminder of how much a team's situation can change over the years in F1.