Formula 1 medical delegate Dr Ian Roberts and medical car driver Alan van der Merwe have given a detailed description of the scene they encountered at Romain Grosjean's horrific Bahrain Grand Prix accident.
In an interview with Sky Sports F1, Roberts revealed that the fire that erupted when Grosjean's Haas pierced the Sakhir barriers melted the Frenchman's helmet visor.
He also explained the initial concerns they had about Grosjean's condition, and how quickly they were reassured that he had escaped serious injury.
"I think I told him to sit down," said Roberts.
"You could see obviously he was very shaky and his visor was completely opaque and in fact melted.
"I managed to get his helmet off just to check that everything else was OK.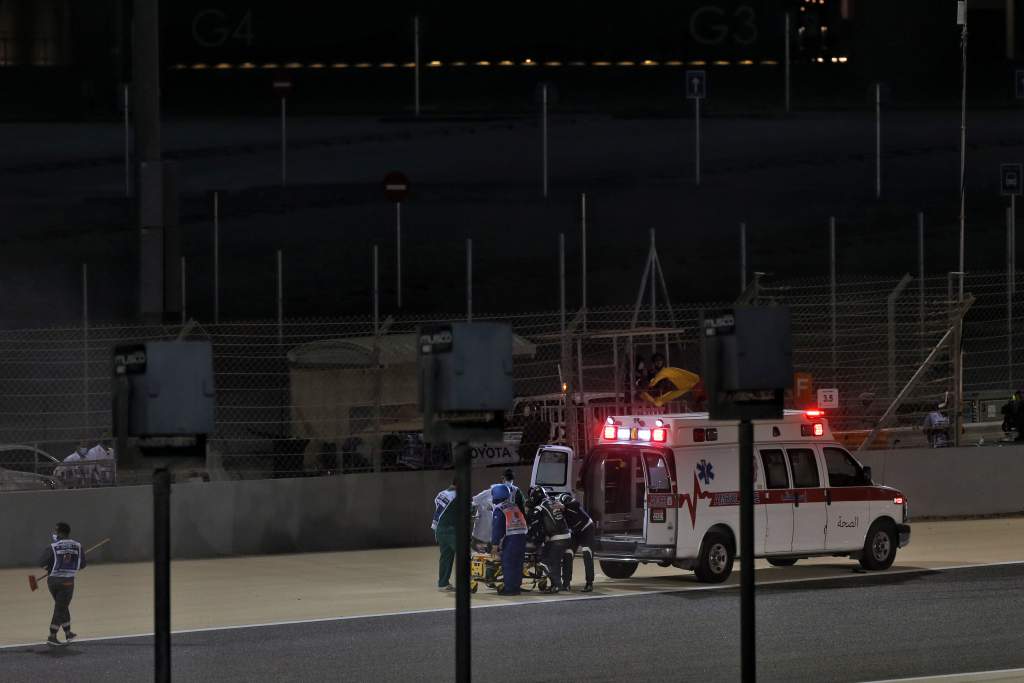 "He had got some pain in his foot and on his hands, so from that point we knew it was safe enough to move him round into the [medical] car, just a little bit more protection, get some gel onto his burns and get him in the ambulance and off to the medical centre."
Roberts said his immediate priority was assessing how Grosjean had been affected by the fire, and whether he had sustained any head injury from the impact.
"From that sort of thing it's going to be flame, smoke inhalation, airway issues," he explained.
"But in fact, nothing went up into his helmet, we've had a look at the helmet as well.
"Certainly looking at him clinically we were quite happy with him from a sort of life-threatening injury point of view and it was just trying to make him comfortable from the injuries that we could actually see."
Roberts also praised the fire marshal who attacked the flames while he was approaching the barrier to assist Grosjean.
"It was a very odd scene, where you've got half a car pointing in the wrong direction and just across the barrier," Roberts added.
"Just a mass of heat. I just took stock and looking to the right at that point I could see Romain trying to get out.
"We needed some way of getting to him. We got the marshal there with the extinguisher, and the extinguisher was just enough to push the flame away as Romain got high enough, then to reach over and pull him over the barrier."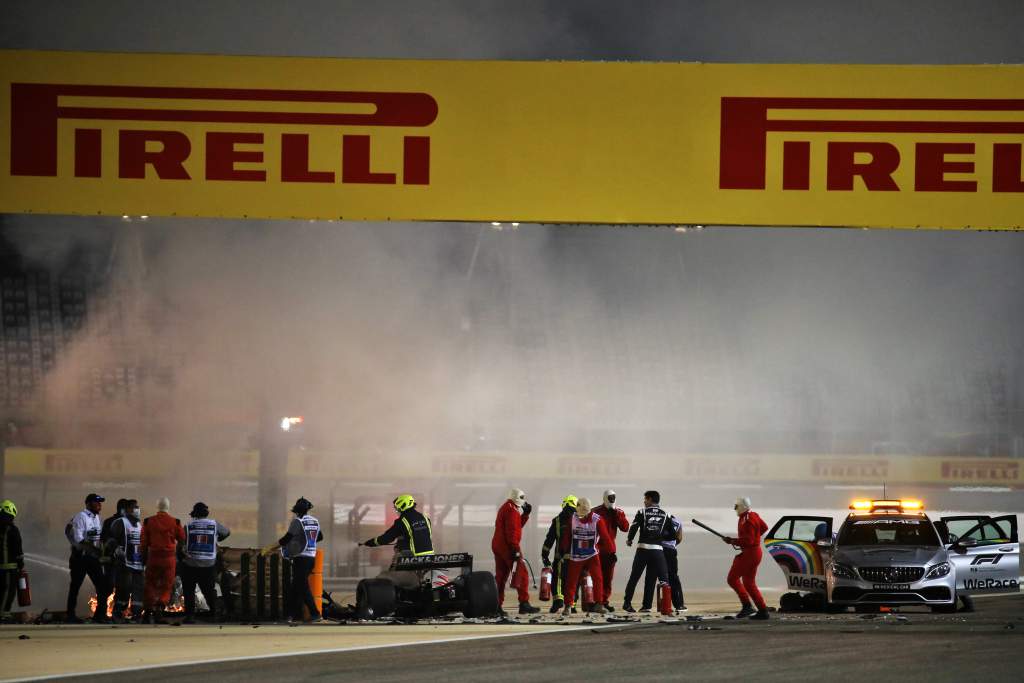 Van der Merwe, a British Formula 3 champion and BAR F1 test driver in his own racing career, said he and Roberts just had to operate on instinct when they came across the unprecedented scene.
"A lot of this is just preparation, but when you get to something like this, we've not seen this combination before," said van der Merwe.
"I've not seen fire like this in my stint as the medical car driver, so a lot of it is new and unknown territory, so we can only be prepared as our own ideas.
"We do a lot of checklists and a lot of scene prep, talking about scenarios, but this was crazy – honestly to get there and see half a car and the other half nowhere to be seen and just a huge ball of flame.
"So you literally have seconds, you are thinking on your feet.
"Preparation only gets you so far and then after that there's a lot of sort of instinctive and a bit of quick thinking."