Haas will be able to run at Formula 1's cost cap limit for the first time from the 2023 season thanks to its newly-signed title sponsorship deal with MoneyGram, which team principal Guenther Steiner confirmed was the biggest financially in the outfit's history.
The American team has operated below F1's cost cap for the past two seasons, but will run at the maximum permitted level in 2023 and beyond thanks to this multi-year deal.
Next year, the cost cap baseline figure drops to $135million – although the real figure is higher thanks to adjustments to account for inflation and extra allowances for the number of races being held.
Steiner said "yes I would say so" when asked if the MoneyGram deal was Haas's biggest financially since coming into F1 in 2016, and stressed the importance of hitting the cost cap in terms of its potential to fight for top results.
Although Haas has enjoyed some strong seasons in F1, its best constructors' championship performance was fifth in 2018 and it has yet to finish higher than fourth in a grand prix. It's hoped MoneyGram's arrival will create a platform for it to fight for podium finishes in the future.
"With this deal, we can go to the budget cap and then everybody is on a similar platform," said Steiner.
"Obviously, the big teams can spend more outside of the budget cap, but I always say with the budget cap, in the mid-to-long-term, there shouldn't be this problem anymore that you cannot fight for podiums. And that is what we want to do.
"I think we make that step that in a few years – we can fight for podiums. I'm not promising for next year, because we just came back from two years which were very bad for us and we recovered pretty well and we will continue to improve. But it will take time.
"We are realistic. We don't want to send out messages [about] what we are going to win and what not. But this is the step to the next level for Haas F1, that we can really fight with other people at the same level.
"Now it's down to us to do a good job. I've never been afraid to work hard, or ask the team to work hard to achieve certain things. And that is what we continue to do as long as I'm here."
The majority of teams are already operating at the cost cap limit, with Haas one of the few below it. Sauber-run Alfa Romeo is below the cost cap this year, but plans to be operating at the maximum in 2023, while Williams also plans to max out on the allowed spending in the future.
This means Haas is now able to operate on a similar level to its rivals, particular those such as AlphaTauri which are also dependent on a partner team – Red Bull – for components in a similar way to its own Ferrari deal.
Haas's wider sponsorship portfolio is also contributing to this. Ahead of the Belgian Grand Prix earlier this year it announced a new partnership with CFD trading platform Hantec Markets. That was described as a multi-million pound contract that runs to the end of next year.
The MoneyGram deal marks the first time F1's only American team has had a title partner from the USA, something Steiner admitted is partly down to Haas being able to play more to that market than it did in the past.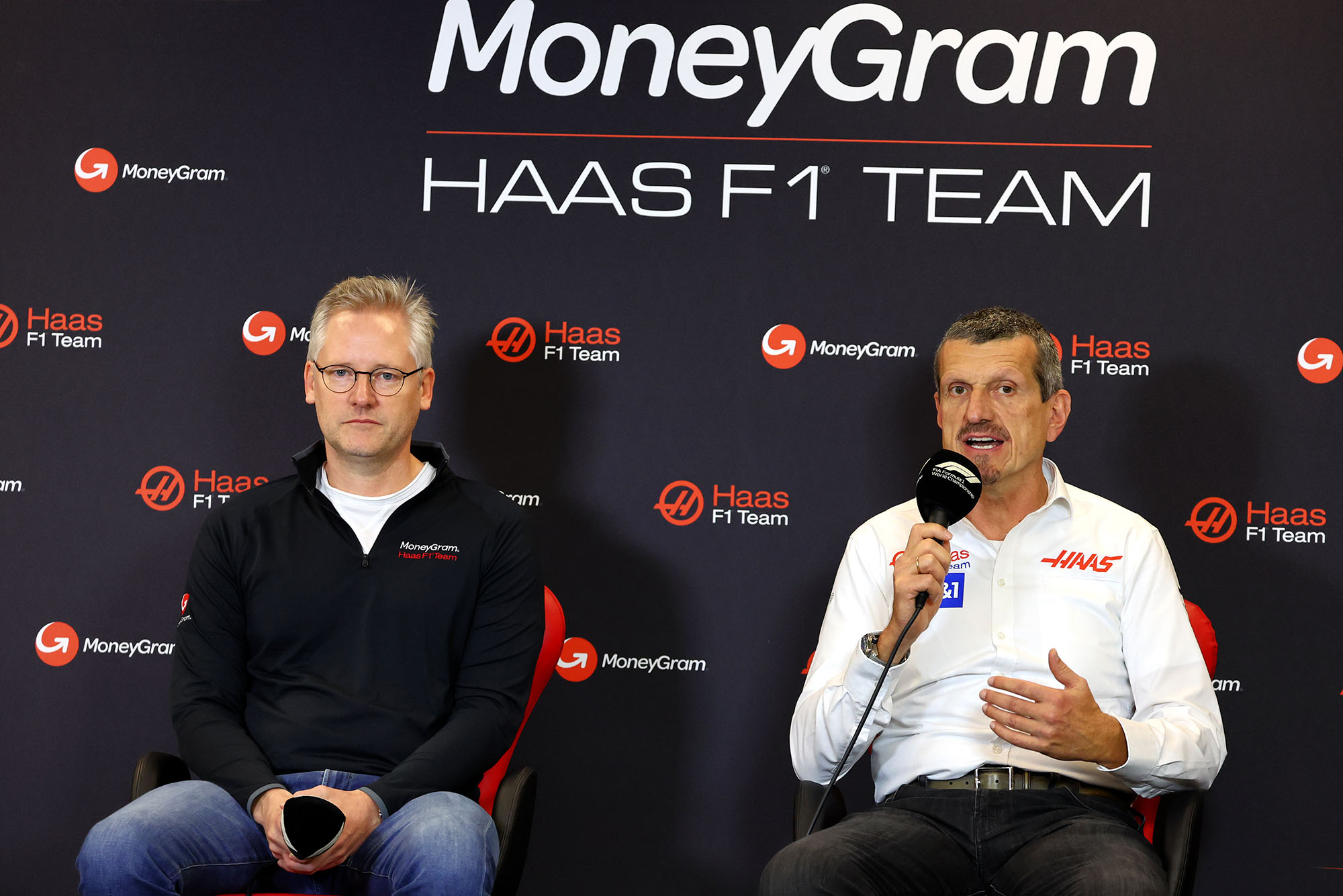 "We started to be a little bit more of an American thing since it became much more prominent here in the States," said Steiner. "But we always knew that it would take some time for the companies to realise what it is because we had the fans joining F1 but the big companies cannot say 'oh we are going to now make big sponsorship'.
"MoneyGram was one of the first American companies which actually saw what is possible to do with Formula 1, and they came on board.
"The sport is picking up here in popularity. And I think it's stable now because we have got a third race coming next year. So I think it's a good point to come into Formula 1 for MoneyGram.
"But we continue to lean a little bit more than America in that is the first step and we are very happy that MoneyGram is an American company."
Haas has yet to finalise its driver line-up for 2023, with Mick Schumacher's place as Kevin Magnussen's team-mate uncertain given the team's interest in Nico Hulkenberg.
But despite MoneyGram's significant investment in the team, chief marketing officer Greg Hall stressed that the identity of the team's second driver "is not a decision for us, this is a racing decision".
MoneyGram chairman Alex Holmes echoed that position, adding that it will fully support the team's driver choice.
"We want to be helpful, we want to be involved, we want to have the right brand representation, we want to have the right partnership globally," said Holmes.
"And obviously, the drivers play a big role in that. It was great to chat with Mick this morning a little bit.
"He's great young driver and we'll take Guenther's lead on that. And whoever's driving for the team, we'll give him all the support in the world."