Ferrari says it has adopted "a lot of very extreme concepts" on its 2020 Formula 1 car, after revealing the SF1000 on Tuesday evening.
The new car, named to honour Ferrari reaching 1000th grands prix during the coming season, features the same inboard-loaded front wing as last year.
That concept focuses on pushing the airflow from the wing around the front tyres, the opposite of what Mercedes and Red Bull pursued in 2019, and team principal Mattia Binotto admitted that with stable regulations it was "difficult to transform the car completely".
However, he insists Ferrari has gone to significant lengths to increase its downforce levels with the SF1000.
"The starting point of that car is the SF90 but certainly we have been extreme on all the concepts as much as we could," said Binotto at Ferrari's launch in Italy on Tuesday evening.
"We developed the car and tried to look for the maximum aero performance – that's first trying to maximise the downforce level.
"So the entire car, the monocoque, the power unit layout, the gearbox has been really packaged in a way to have a very narrow and slim body shape.
"I think that's quite visible on it."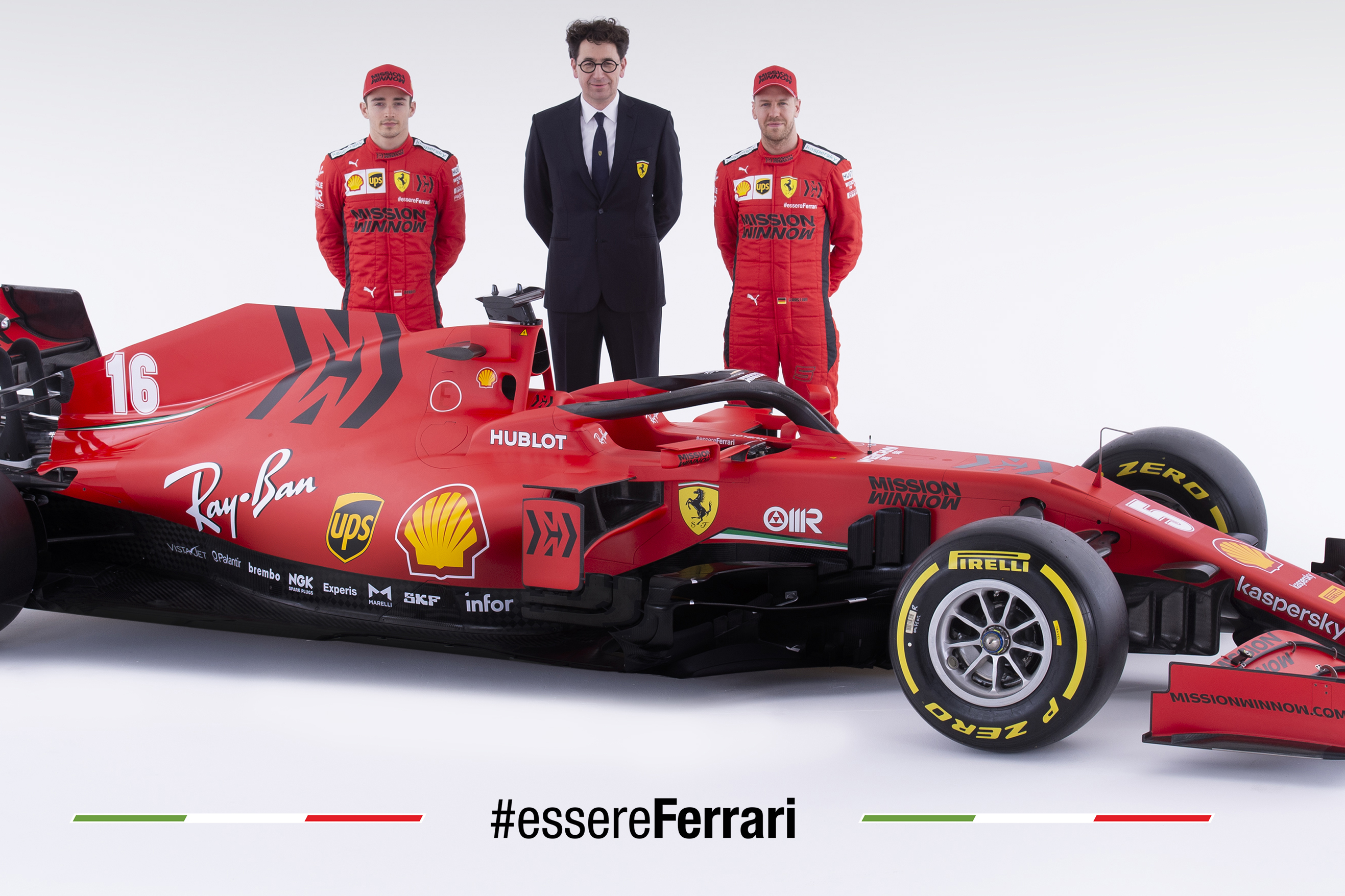 Ferrari had already pledged to overhaul parts of its engine design for 2020, highlighting the cylinder technology in particular.
It already had a power advantage over its opposition last year, although this came under intense scrutiny as rivals questioned the legality of its design, and Binotto reiterated it had "worked a lot" on the power unit.
He said this was in pursuit of packaging and performance gains but also to "cope as well with a change in technical regulations where the oil consumption will be reduced by 50%".
Binotto said several other areas that had been improved, including making the car more compliant on a greater range of circuits.
"The suspension has been designed to have greater flexibility when being on the race track for the set-up, obviously trying to adapt the setup to whatever best suits the two drivers whatever is the circuit," said Binotto.
"We put a lot of effort to keep the weight down, we worked a lot on the power unit.
"Obviously it may look very similar to last year but believe me it's completely different to the one of last year and a lot of concepts are very extreme on the car."
Four-time world champion Sebastian Vettel, who is entering the final year of his current contract with Ferrari, said he could easily spot the changes to the car and was excited to drive it next week in Barcelona pre-season testing.
"We had the opportunity to see it a little bit before and to have a direct comparison to last year's car you can spot the differences," said Vettel.
"The back of the car everything sits a lot tighter.
"We found some clever solutions to be able to achieve that."