Zhou Guanyu's declaration that "we earned this" over the radio after finishing in what subsequently became eighth place in the Canadian Grand Prix wasn't just about his performance in that race, but summed up what has been a quietly accomplished start to his Formula 1 career that hasn't always been rewarded as it should have been.
It was only the 23-year-old's second points finish of a season that kicked off with a fine drive to 10th place on debut in Bahrain having been last on the first lap. But his race performances had caught the eye beyond Bahrain and Canada, notably in Azerbaijan where he suggested he would have finished "just behind or in front of Sebastian [Vettel]", who finished sixth in Baku.
Speaking with Zhou, an articulate, talkative character who has been well-liked by the teams he's worked with on his way to, and in, F1, before the Canadian Grand Prix his frustration was clear. As he puts it, "the results rarely matched how my performances were so far this season".
It wasn't a complaint, but a statement of fact that he was entirely entitled to make given he'd retired from three of the previous four races. That run included Baku, where a cooling problem eliminated him. Zhou also pointed out he wanted to convert the "speed and progress I'm making" into results soon – something that came to pass a few days later in the race.
"I have a very experienced, strong team-mate," he says of Valtteri Bottas. "That is very good for me, I can learn a lot from him, but it gives me extra pressure. Some people might see me at the same level as him, but I'm not. All I can do is close the gap.
"I was happy in my debut to finish in the points. I already proved to myself and other people that I have good potential. Since then, I was able to keep that mentality, keep focused because there's races that were very good, the first two, and then you have the downs.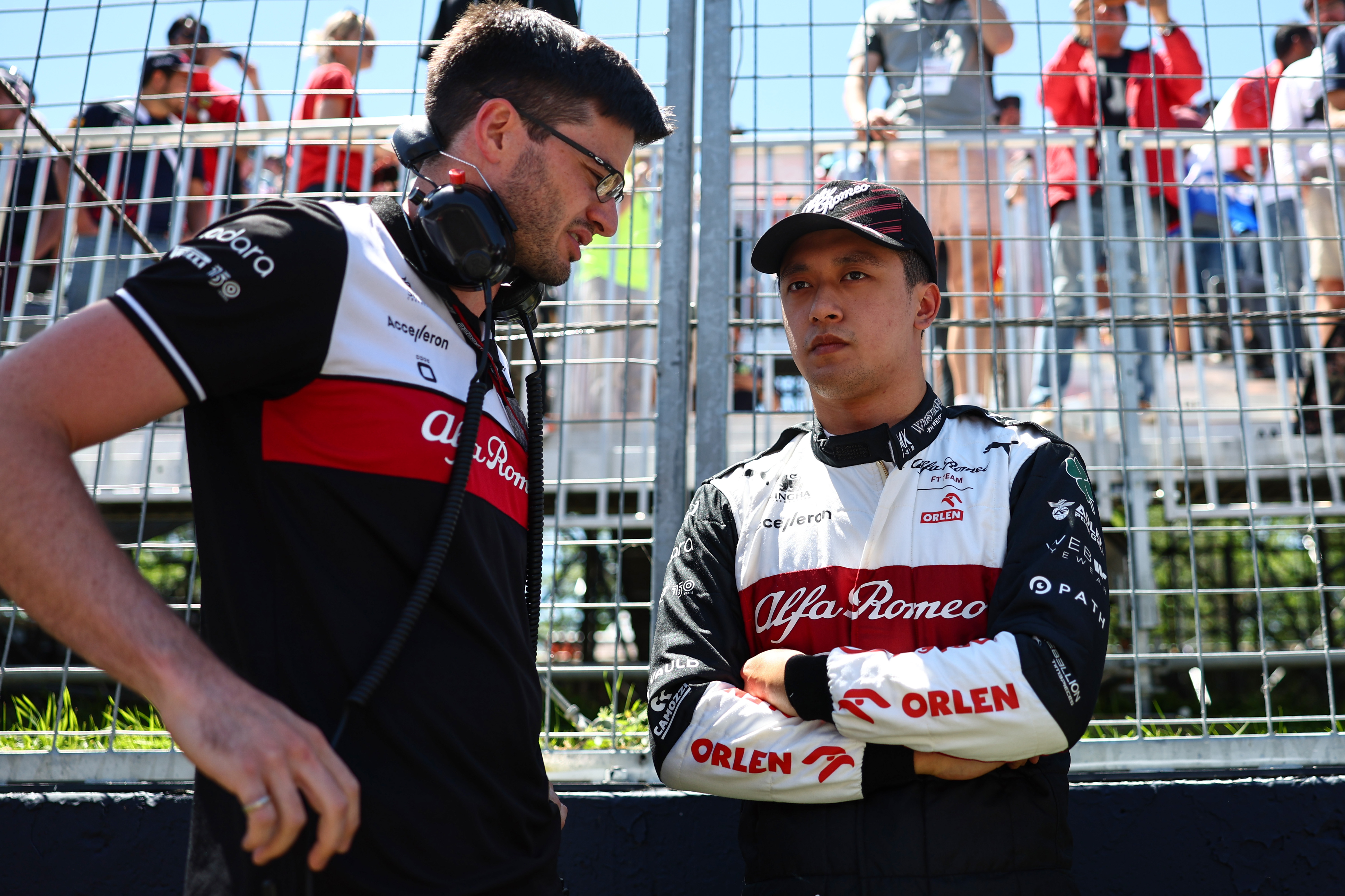 "In Miami I had a technical failure, then in Monaco we struggled to get the speed up there, but we bounced back in Baku.
"So it was always about managing myself in the best way possible. I was able to do that in a very mature way. Nothing really affects me from outside, I can focus on my thing and this seems to be working very well.
"We're closing the gap in terms of performance, especially in qualifying. From the first round to now, it's a good step up from myself."
That maturity is clear. Perhaps the most impressive aspect of Zhou's rookie season is the lack of incidents. He hasn't had any crashes other than the collision with Pierre Gasly at Piratella on the first lap of the Imola sprint.
It was a racing accident but you could understand Zhou's annoyance. Beyond that, while he needed a sharp save to pull the car back from an alarming angle approaching the chicane while battling with Yuki Tsunoda in Monaco, he's been clean. That's impressive, particularly for a driver who has the hopes of a nation of 1.4billion people on his shoulders.
As Alfa Romeo's head of trackside engineering Xevi Pujolar explains, one of Zhou's strengths is a level-headed and patient approach.
"He's building the weekends in a very progressive [way]," says Pujolar. "Even in the race, he's absorbing all the information that we give to him and he uses that to perform and what he needs to do with the tyres. But it's not only in the race, in qualifying [too].
"Also, he's taking this kind of approach, without doing mistakes, that if you can avoid having incidents it helps a lot to build the confidence race-by-race and that one has been a strength as well. So if he can keep like this, I think he's got a great future in F1."
That Zhou has been so clean is a consequence of multiple factors. His calm approach, not pushing himself to step over the limit to shortcut the learning process and a car that's generally handled well and responded to driver input.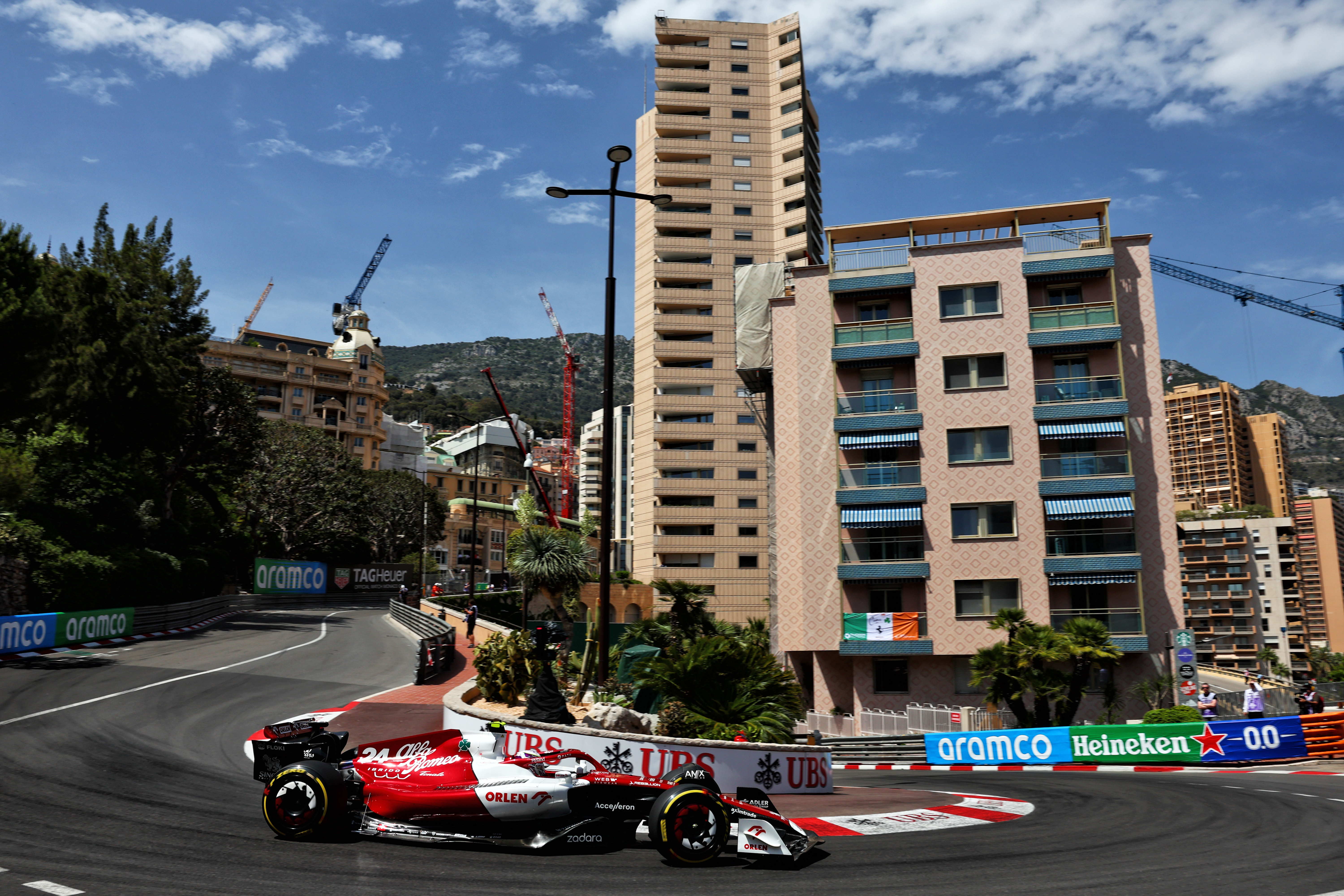 In a season where plenty of far more experienced drivers have been caught out, that's a good sign. And he's proved he's got the car control when things do go wrong, for example when he had a big rear-end snap coming through Turns 1-2 while trying to pass Williams driver Alex Albon for 10th at the start of the final lap in Australia and in that aforementioned Monaco hairpin moment.
"Monaco counts as this, I could catch it having a decent handle on the car and maybe good reactions," says Zhou when asked how much of his clean season is down to a cautious mindset and how much can be attributed to a car he's on top of.
"But these things happen so quickly in an F1 car. You're going through a corner at 200km/h and the wind changes, a little snap and you will lose the back end. It was clear coming to the season I want to build up my mileage and to not make any mistakes on Friday or in FP3 to give me the track time to improve for Saturday quali and the race.
"But I have to say I'm very happy and proud of this of this approach. Basically, zero errors from my side in terms of rookie mistakes with crashing the car.
"Obviously I have had rookie mistakes – like I did not understand the anti-stall at the start sometimes [or] the way to approach qualifying, but then these things are normal.
"There haven't been any crazy ones, so it just shows that we are in a good rhythm and I'm quite happy with that."
The anti-stall problem Zhou references cost him both in Bahrain and Saudi Arabia. This was partly down to his lack of familiarity with the rev range of an F1 car, holding the car in third when he should have downshifted in the first turn in Bahrain and then triggering an ill-timed upshift after light contact with Daniel Ricciardo in Jeddah.
But that's something he has now got on top of, assisted by the team making its anti-stall system a little less sensitive.
So Zhou has been consistent, deployed decent racecraft and proved himself to have a level-headed approach to the weekends. That paid off in Canada where, but for getting stuck behind Lance Stroll after his pitstop and the timing of the safety car, he might have finished a little higher. But he has been less impressive in qualifying.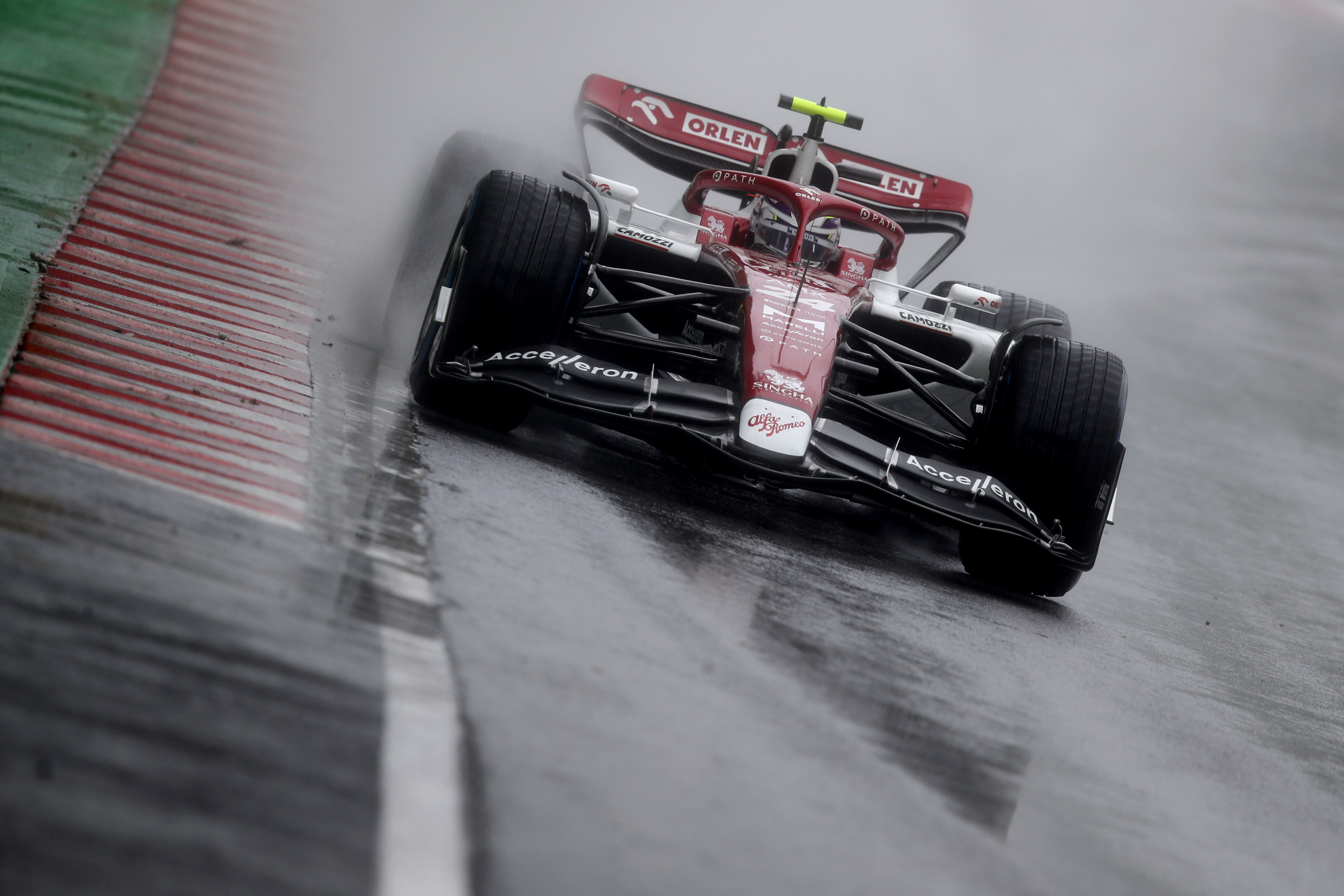 Canada was the first time Zhou caught the eye in qualifying, reaching Q3 with an accomplished performance in a rain-affected session.
Although that was the second time he outqualified experienced Bottas, the first instance in Baku had been a consequence of Bottas having a rear suspension problem that wasn't pinned down until after the race.
Zhou has set himself realistic, sensible targets for Saturdays – primarily the desire to reach Q2. He's achieved that seven times in nine attempts, missing out in Miami and Monaco partly down to traffic and an ill-timed red flag even though on both occasions his pace before those intervened was so-so.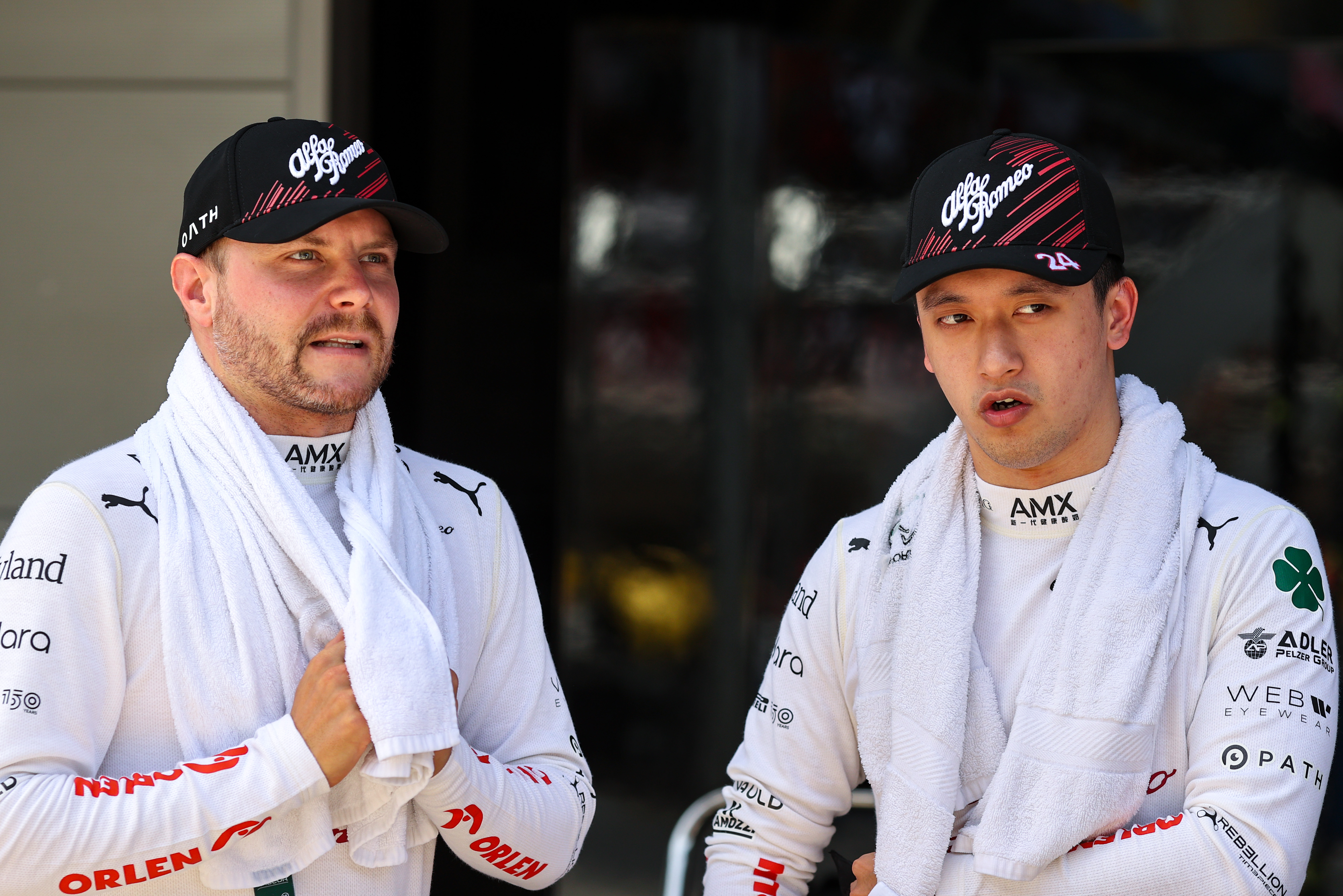 As that's in a car that Bottas has been able to get to Q3 in six times, it's fair to say that single-lap pace – a critical skill for a driver – has not been Zhou's strong point in dry conditions in particular.
Often, Zhou has been guilty of over-driving in Q2 – having achieved his baseline target – and failed to produce the speed he should have done. While he's chipped away at it, there's still a long way to go.
That's perhaps not a surprise for a driver with a record in single-seaters prior to F1 of lacking that final edge of qualifying speed even though he did manage to top qualifying three times during his seasons in Formula 2.
Zhou puts what is, by the standards of Bottas, his underachievement in qualifying down to a "a mix of the strategy, the approach, yellow flags", and it is fair to say there has been a little misfortune. But he has made progress in unleashing pace more quickly in Q1 and continues to stress the important benchmark of regularly getting to Q2.
That's part of his sensible approach and it's a good mindset that avoids him over-reaching in qualifying and making big errors, but long-term it's the biggest question mark that hangs over him as an F1 driver. Good racecraft and pace on Sunday is a positive, but any driver consistently starting out of position in F1 is going to struggle and he's going to need to prove as time goes on that he can unleash more one-lap pace without mistakes creeping in.
To this, we have to add the caveat that he's being benchmarked against Bottas. The Finn is thriving in pastures new after five years as Lewis Hamilton's wingman at Mercedes, and has to his credit taken an active interest in helping Zhou to make progress. But he's also a tough person to be compared to on Saturdays in particular. Bottas's qualifying record compared to Hamilton is proof of that.
"We have very similar car feedback and similar driver style," says Zhou. "When you have the same feedback, it's very good for the direction of the team.
"In terms of being compared to him, he's very quick on one-lap pace. Rather than the driving style, it's more just the confidence and experience he has. He knows where the limits of the tyre and the car are in one lap and can achieve it to a maximum, whereas for me it's probably around 98% that I can give. That extra 2-3% is probably two or three tenths.
"The driving style isn't much of a change so it's good we have a similar set-up and don't have to go in different directions, like some other teams do. It's about gaining and keeping improving every time on track."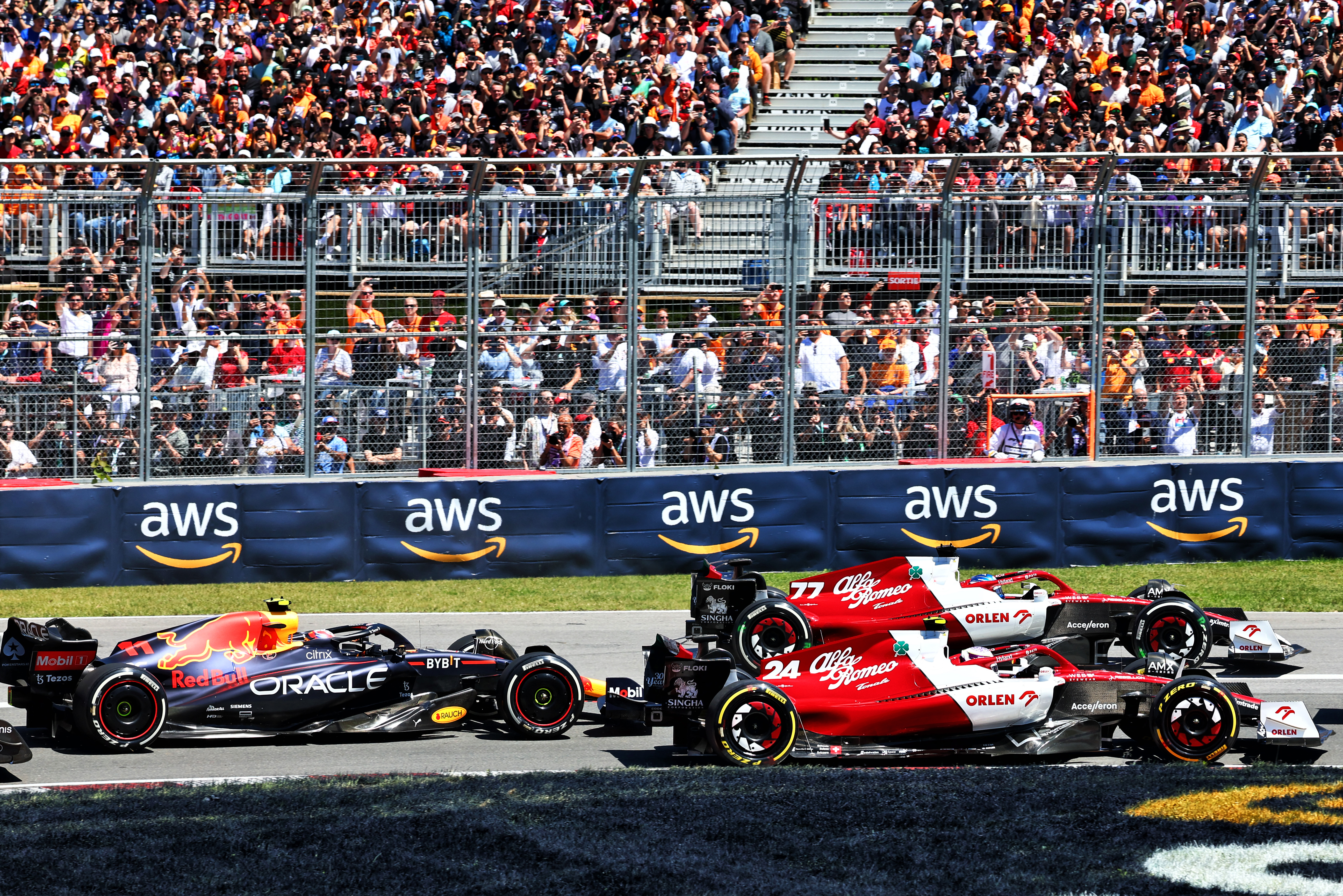 The Alfa Romeo does have its vices, particularly the rear-end instability at high speed that was a particular problem earlier in the season. Zhou has also been working on trying to understand the challenge of achieving the ideal set-up compromise and get the best out of a car that's more sensitive and, as he puts it, easier to make mistakes in than what he's driven prior to F1.
In many ways, Zhou has inverted the usual expectations of rookies. You would normally anticipate more mistakes, greater spikes of single-lap pace and perhaps more struggles on Sundays. That again points to Zhou's biggest strength of a level-headed approach, but after the summer break in particular he'll be expected to kick on and close the gap to Bottas on qualifying pace.
"I feel like I've already shown my potential speed and also showed my potential to be here as a Formula 1 driver and a fast one," he says. "So I'm happy with that and it's a case that plenty more will come from the season."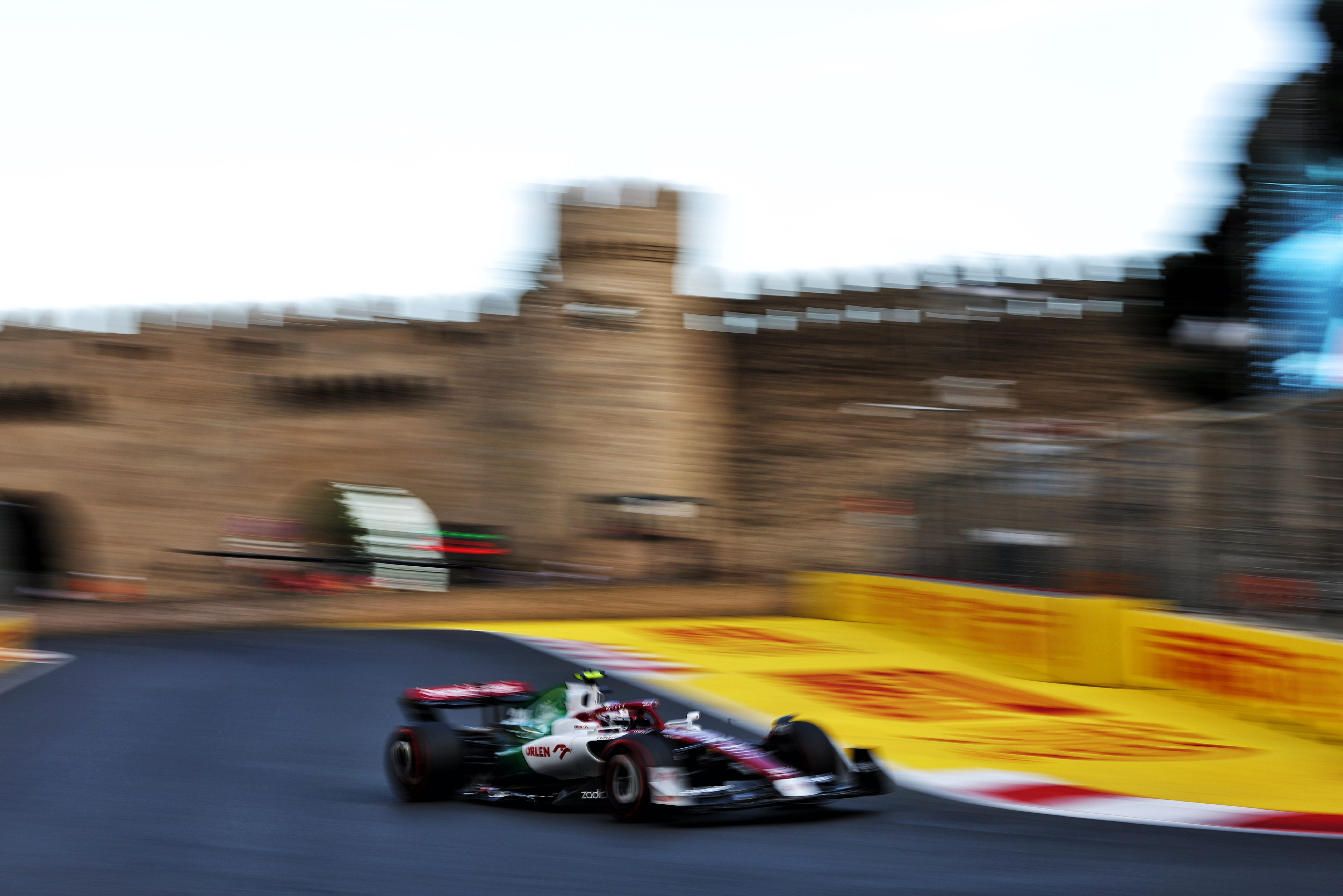 Overall, Zhou has made a good, solid start to his F1 career. It's an inescapable fact that he owes his place on the grid thanks to significant backing and fair to say that his junior car-racing career – in which he peaked with third place in F2 and his sole title was in Asian F3 held in January and February last year – was decent rather than spectacular. But he's at least established a foothold in F1 and demonstrated he's far from out of his depth.
With his F1 future not entirely clear beyond the end of the season, as Alfa Romeo has Bottas signed up long-term and F2 frontrunner Theo Pourchaire waiting in the wings, Zhou now needs to score points more consistently – admittedly something that also depends on the team's iffy reliability improving – and show that he can develop his qualifying pace in dry conditions without starting to make big errors.
That's perhaps going to be the most challenging box to tick in all of F1. As the saying goes, it's easier to make a fast driver consistent than the other way round. But his good mindset, intelligence and diligence means he's on a positive trajectory.
Where that progress levels off will dictate the longevity of his F1 career, but despite the legitimate question marks about his ultimate potential, Zhou has made a quietly accomplished start and it won't be a surprise to see him cropping up in the points with increasing regularity as the season goes on.