During Formula 1's coronavirus-forced hiatus, The Race will be revisiting great races from the past. For each grand prix we select, we will run a story on Friday setting the stage, a qualifying report on Saturday and a Sunday race analysis. These will not be repeats of old articles, but fresh retrospectives of these events.
"Ever since I was a kid, all I wanted to do was be here, waving at the crowd from pole position," said Rubens Barrichello. Under the most intense weight of expectation, with the baying crowd audible even over the screaming engines, the Ferrari driver nailed the most emotional of pole positions at his home circuit in 2003.
It wasn't the perfect lap, as even on the resurfaced Interlagos circuit the bumps were lying in wait to catch out the unwary, affecting Barrichello a little into the first corner and costing him time to McLaren driver David Coulthard.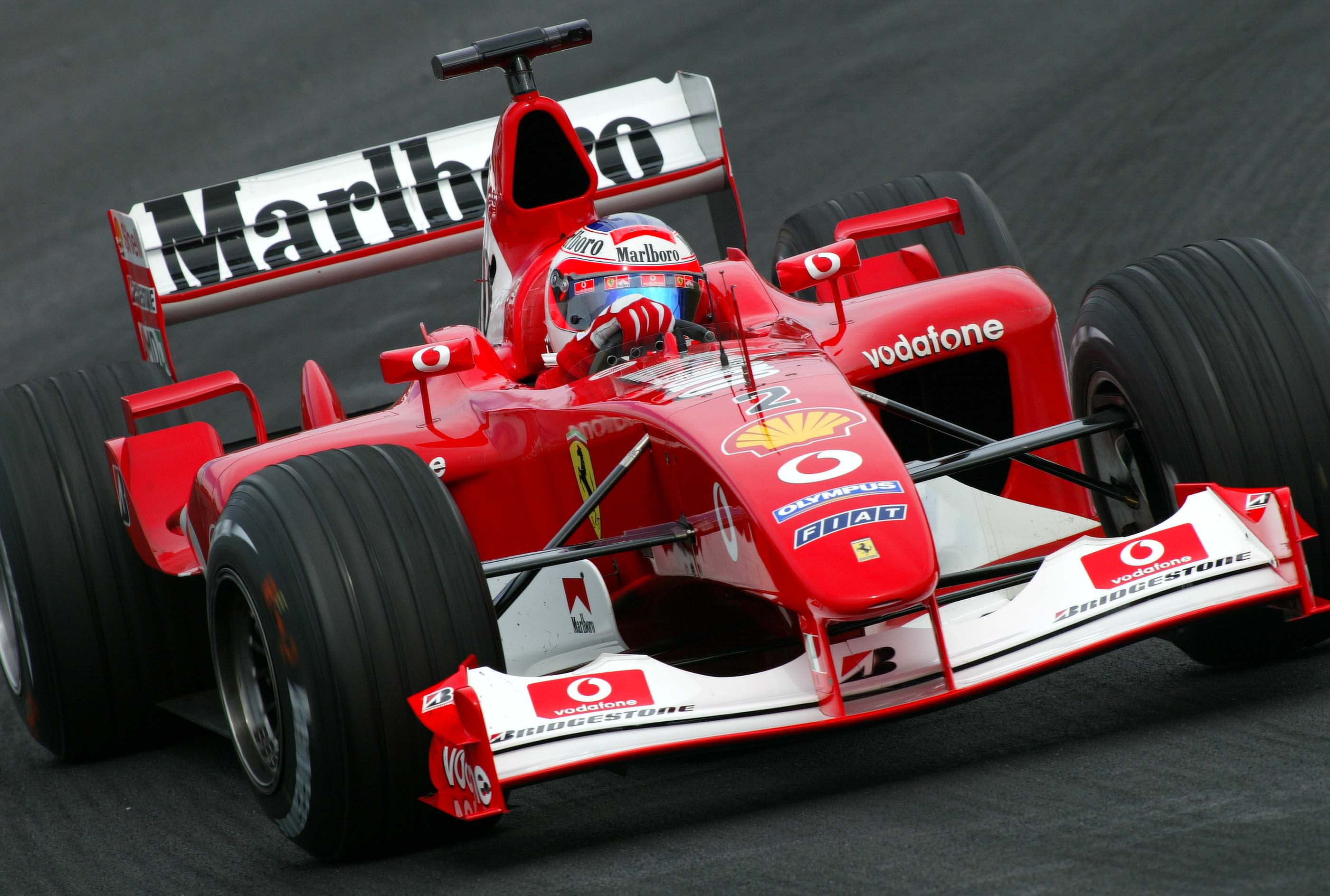 "I was a little bit worried on the first corner and locked up a little bit on two because of a bump, but I felt we only have a tenth so I have to go on," said Barrichello.
"You have to reset your mind all the time because if you are doing good you keep on doing good and if you're doing bad you have to turn it into a good laugh. There was a lot of energy going through [me] and I had a good run today."
"We are very, very competitive here I believe" :: Mark Webber
But it was a close-run thing. Almost a tenth down on Coulthard after the first sector, Barrichello had inched in front by six-thousandths of a second by the start of the short, sharp final sector. He crossed the line just 0.011s quicker than the McLaren driver.
With only the shock Friday pacesetter Mark Webber still to complete his lap in a Jaguar that surely wasn't quick enough to be a problem, Barrichello had pole position in the bag.
But Webber (below) had other ideas. While changing conditions had played a part in his Friday pace, the Jaguar genuinely has speed this weekend around the Interlagos circuit.
Finally with a car at his disposal worthy of his talents, assisted by Michelin rubber that was working well, Webber raised eyebrows with a first sector 0.037s quicker than Barrichello.
But his pace through the middle sector was startling, putting him just over a quarter-of-a-second up. With pole position in his grasp, Webber picked up a little understeer into the Juncao left-hander leading onto the long blast to the line.
With the Jaguar running in relatively high-downforce specification, hence its pace in the middle sector, the combination of the poor straightline speed and compromised exit meant he crossed the line 0.044s down and third. But it was still a mighty effort for a driver who had never had the equipment to qualify better than 14th in F1 before now.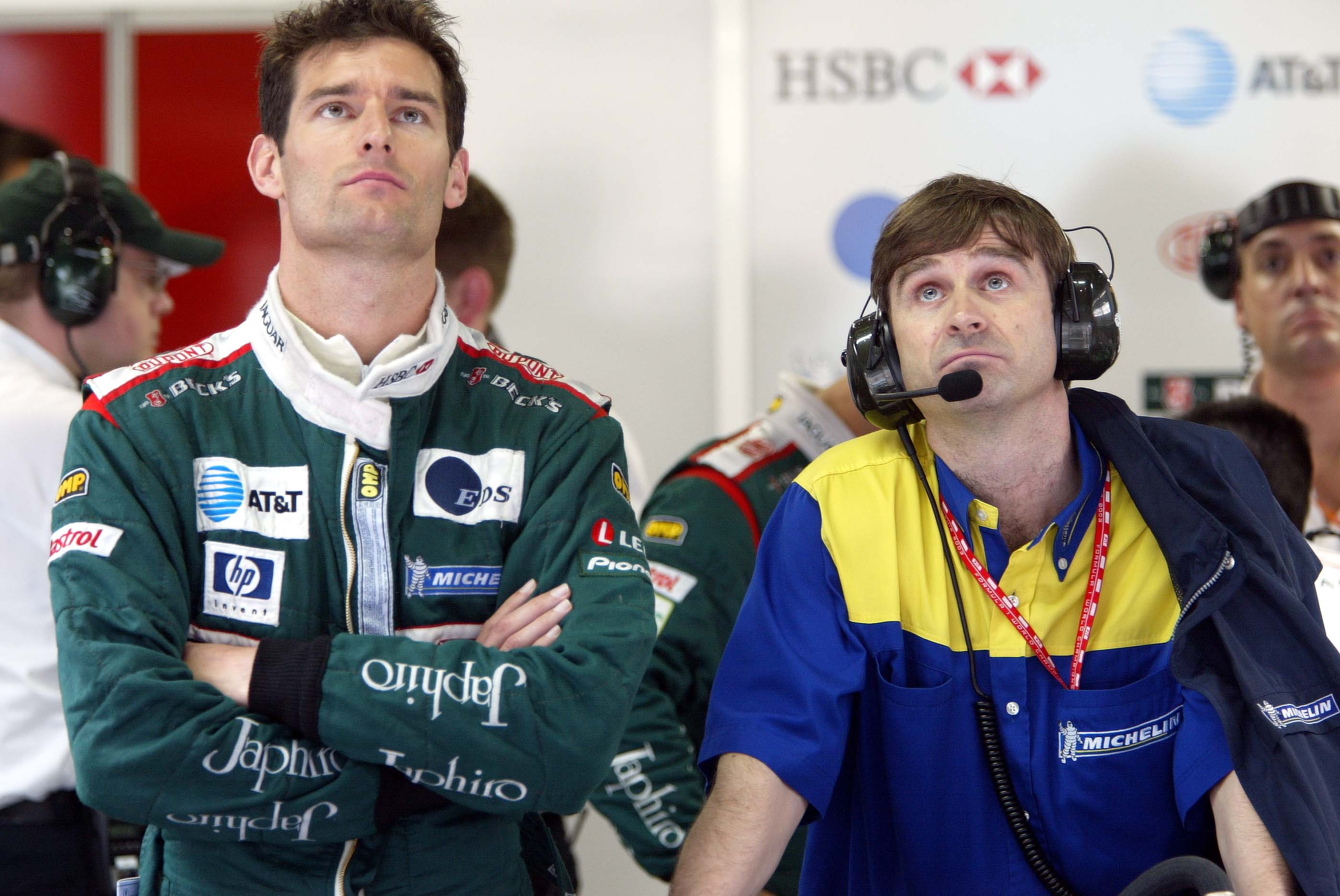 "We are very, very competitive here I believe," said Webber. "We've been reasonably quick in all the tests that we've done and the hard work we've done. It is going to be a long race for us but it could be good. Malaysia was a very hard race for us, with a lot of mysteries and a lot of snags, a lot coming at us which we didn't have in testing which is hard on the boys and hard on the factory.
"This is a nice little reward. We know in ourselves that we are making clear progress and it has been a good day for us."
It was a great performance from Webber, the first time he's been able to show his prodigious ability by putting a car at the front end in qualifying. He also railed against suggestions he had run ultra-light, stressing that he heads into the race on a two-stop strategy rather than the three stops some have suggested – albeit conceding he might stop a little earlier than the rest.
This put him ahead of the second McLaren of world championship leader Kimi Raikkonen – who had a costly moment in the middle sector– with the top four covered by just 0.059s.
"I'm hoping for a good race tomorrow. Maybe I will score some points…" :: Giancarlo Fisichella
Renault's Jarno Trulli was fastest for a big part of the session before eventually being deposed by Coulthard and ultimately shuffled down to fifth, 0.146s down but ahead of the revised Williams of Ralf Schumacher.
Despite a gap of just over three-tenths to pole, the Williams with its new rear end and front wing is showing real potential but Ralf struggled with understeer on his run.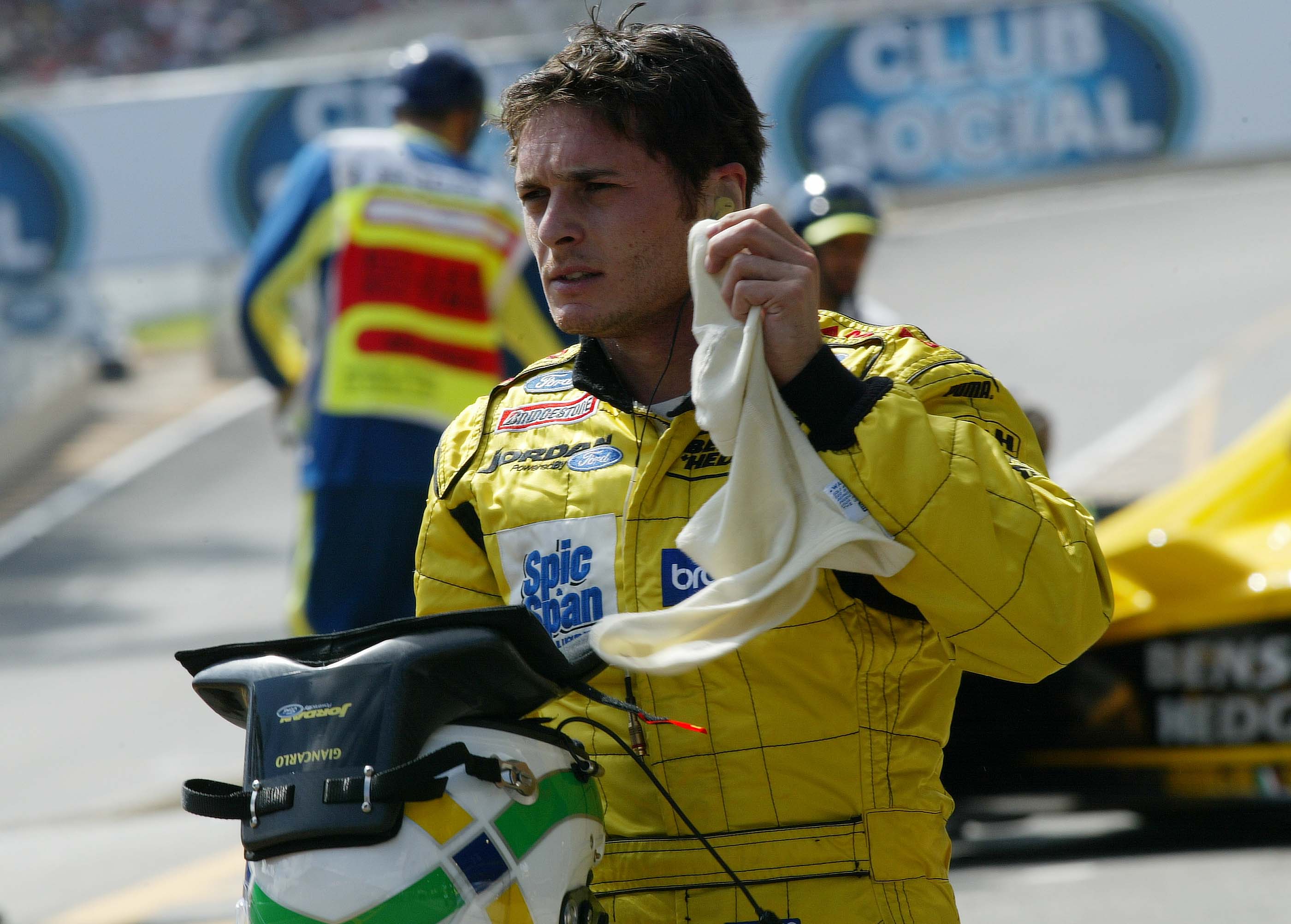 That left Michael Schumacher, still driving the F2002B ahead of the planned debut of the 2003 car at Imola in two weeks, down in seventh place and second best of the Bridgestone runners after making an error at Turn 1 on his lap. He'd gambled on wet conditions for Sunday, and was carrying more wing than team-mate Barrichello.
Perhaps the most unexpected performance was that of Giancarlo Fisichella in the Jordan-Cosworth EJ13, eight fastest after a beautiful lap, just 0.384s down and well ahead of 16th-fastest team-mate Ralph Firman.
"I did a very good lap today, almost perfect," said Fisichella (pictured above). The car was reasonably good, although I didn't think we would get on the first four rows so I'm pleased. We did a good job, the mechanics and everybody, and I'm hoping for a good race tomorrow. Maybe I will score some points…"
Juan Pablo Montoya also struggled with understeer on his way to ninth, but lost time in the final sector, with Fernando Alonso rounding out the top 10 after a solid and tidy lap.
Further down the order, Jenson Button did well to salvage 11th place despite having to run first on Saturday after an off on his Friday qualifying lap. That put him ahead of BAR team-mate Jacques Villeneuve, 13th behind Sauber's Nick Heidfeld, who battled a slight loss of power on his lap.
On a difficult weekend for Toyota, Olivier Panis was down in 15th place behind the second Sauber of Heinz-Harald Frentzen and ahead of Firman, complaining of a mistake in the middle sector.
Antonio Pizzonia couldn't match Jaguar team-mate Mark Webber's pace, complaining about brake balance problems that "ruined" his qualifying session, securing 17th place just ahead of compatriot Cristiano da Matta's Toyota.
As usual, the Minardis were on the back row, with Jos Verstappen ahead of Justin Wilson (below).