F1 2021 is the seventh Formula 1 game to be run on the 4.0 version of Codemasters' in-house Ego game engine and that means that – despite being available on the next generation consoles – F1 2021 is still very similar to the previous F1 games.
That's not to say there aren't any changes, the all-new Braking Point story mode is just one heavily marketed additions, but it's not a completely new experience regardless of what platform you play F1 2021 on.
Perhaps that's why Braking Point has been pushed as hard as it has been since it is a wholly new game mode and a significant step up from F1 2019's brief attempt at adding fictional characters into the world of Formula 1.
The CG cutscenes are the one area of the game that will be visually impressive to anyone who played the previous F1 game and there's nothing major to critique about the voice acting or dialogue in the cutscenes. If you've played a story mode in any other recent sports game, such as FIFA, Madden NFL or NBA 2K, you'll know sort of what to expect from Braking Point.
The story itself, without giving away any spoilers, is fairly straightforward and predictable. Its appeal stems, almost solely, from being set inside the world of Formula 1 and the presentation is impressive.
Braking Point starts in the final round of the 2019 Formula 2 season and then you join a Formula 1 team to race for in both 2020 and 2021. The five options are Alpha Tauri, Alfa Romeo, Haas, Williams and finally Racing Point/Aston Martin.
In total, the story should take around eight hours to complete from start to finish, gameplay and cutscenes combined.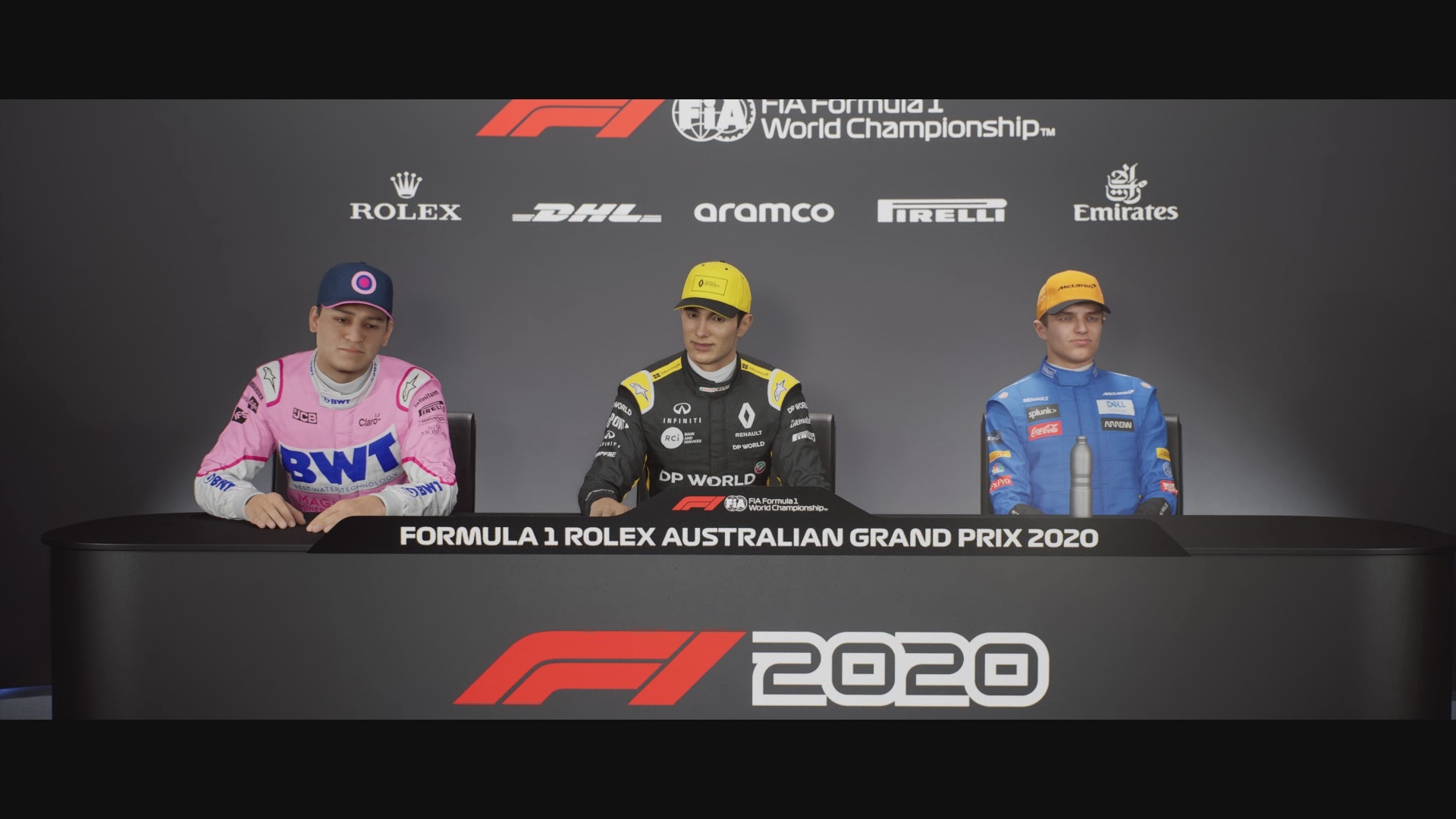 Braking Point is very clearly aimed at newcomers to the F1 games or people who play them more casually as anyone who played F1 2020 on ultimate AI difficulty will have no trouble going through Braking Point on the hardest of its three difficulty levels.
If the idea of a story mode doesn't appeal to you though then you could view Braking Point as a reimagining of the long-abandoned scenario mode, last seen in F1 2014, with a story attached to it.
Of the 17 races you take part in throughout Braking Point, many of them play similarly to the scenarios in scenario mode, such as having to catch up to your team-mate by a certain lap or complete the race despite having an issue with your car's gearbox.
However, some of the events are just 25% races with no gimmick to them, apart from one in which you start on dry tyres and end the race on the full wets. That race is the only time you encounter rain in Braking Point.
For those who aren't interested in Braking Point or want something to do after they've completed it, two-player career is the other new game mode. It allows you to play through career mode with a friend online and it has all the complexities of a single-player career.
There's no offline alternative for that, although split-screen multiplayer has survived the move from F1 2020 to F1 2021.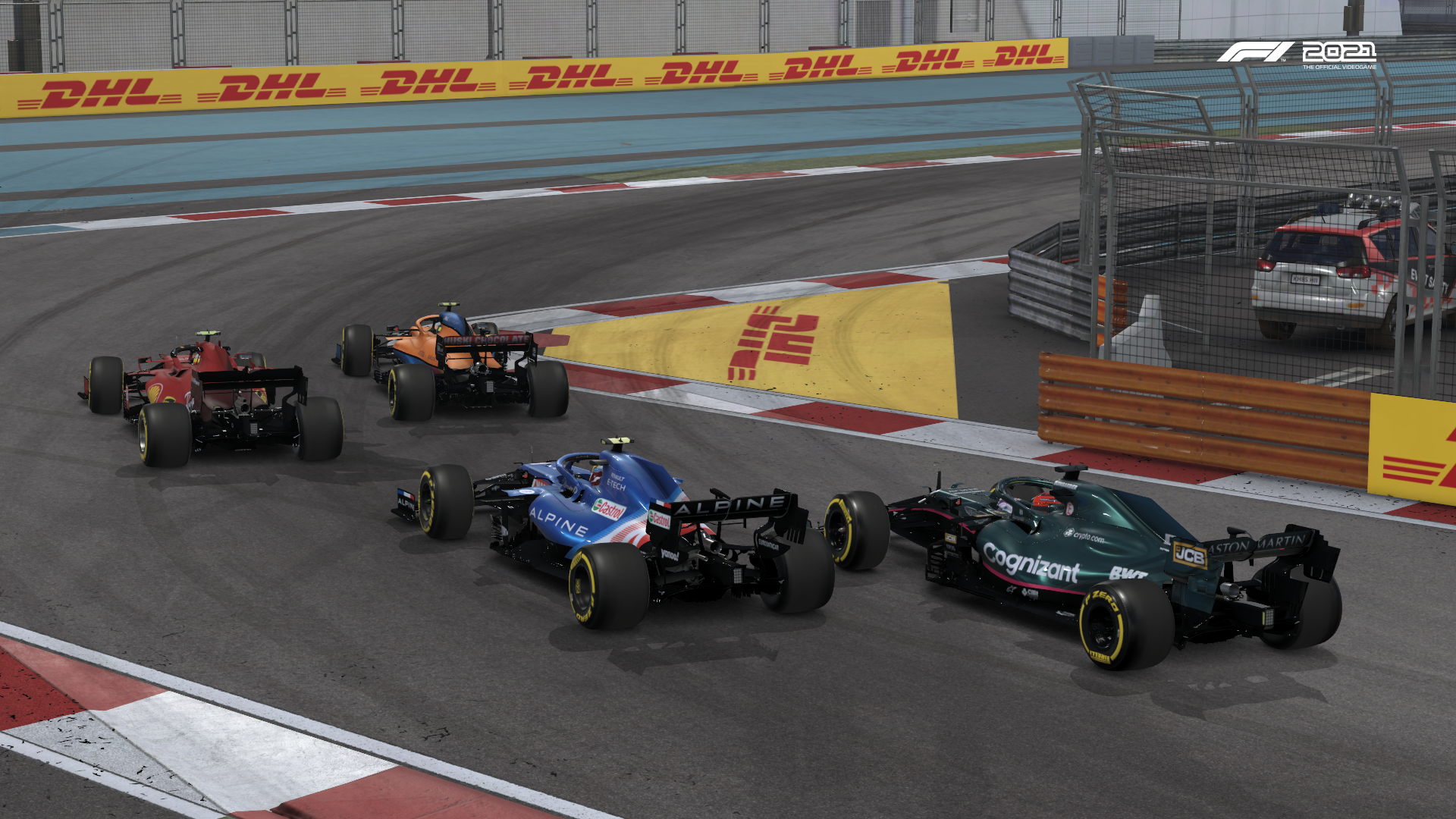 Career mode is still very familiar to anyone who played through it in F1 2020 but there are some new features in it. One of those is department events which occur randomly in between races.
Department events will present you with a random event and two options of how to deal with it, with each option having its own positive and negative benefits. It's possible they could increase or lower your team-mate's focus, which is a completely new rating that all of the drivers have.
Unlike the four other ratings that a driver has, the focus rating is affected by a driver's own in-game performance and a higher focus rating will enable the driver to perform at their best out on track.
It's undeniably a unique and interesting experience to create your own F1 team, pick an engine supplier, upgrade your car and then bring Jenson Button or Nico Rosberg out of retirement to race alongside you
Early impressions suggest that focus can certainly have an impact on how a championship plays out and doesn't just mean that a good driver in the best car will win the drivers' title unopposed.
In the second season of a career mode Aston Martin had come through to have the fastest car midway through the year while McLaren had the second best car and Mercedes was down to third.
On paper therefore you would expect Sebastian Vettel or Lance Stroll to start winning races and challenge for the title. However, Stroll's focus rating was down at 69, which is low enough for the game to colour code it amber.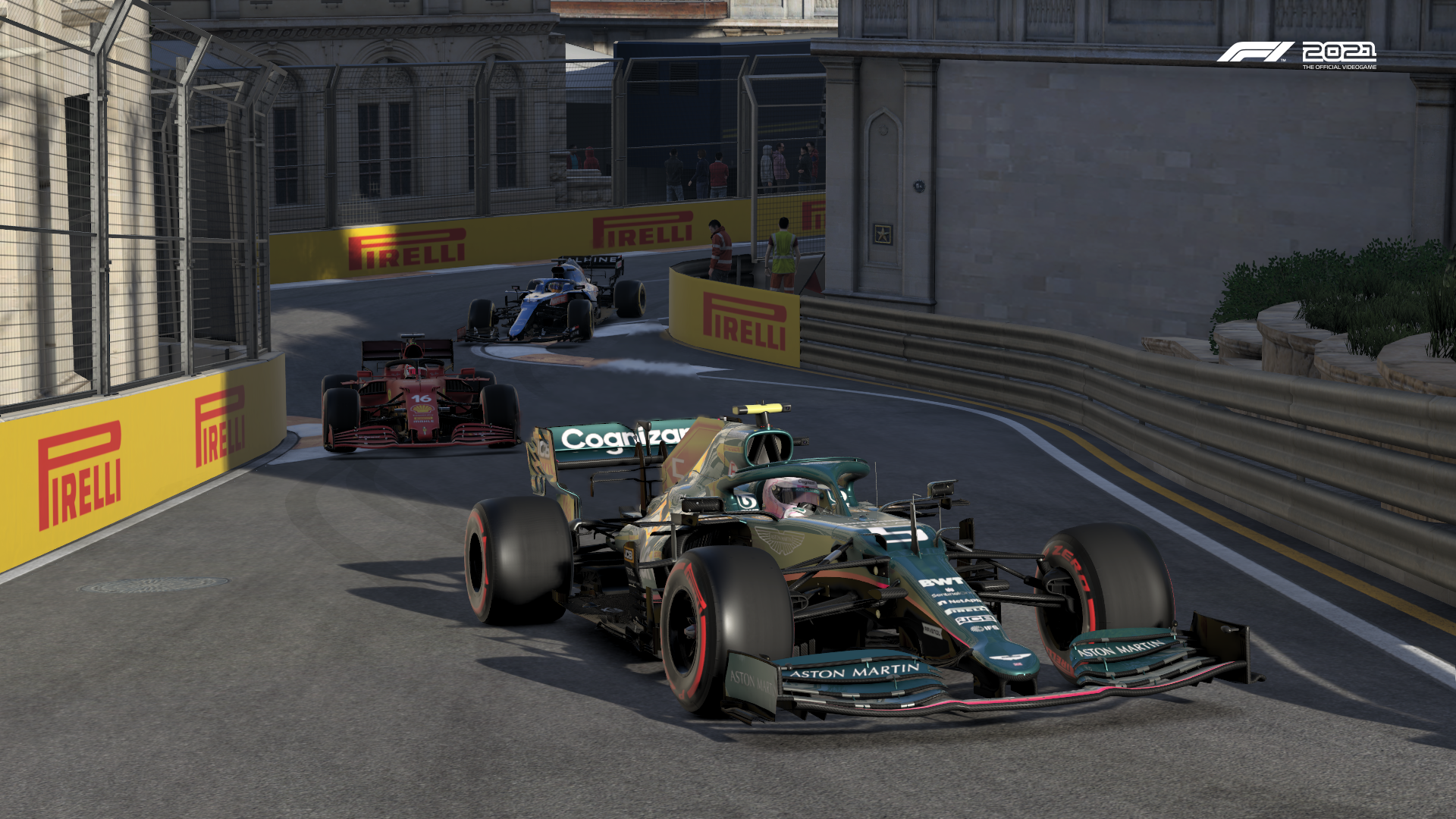 By comparison, Daniel Ricciardo and Lando Norris, off the back of an impressive first season in which both finished on the podium on multiple occasions, had a focus rating of around 90 throughout the second season.
As such, despite Mercedes having a quicker car than McLaren for the majority of the season and Aston Martin being right up there as well, Norris won the second season's drivers' championship with Ricciardo as the runner-up.
By comparison, Stroll finished ninth in the standings due to his low focus rating, caused by a lacklustre first season where he was beaten by Vettel in every race.
Vettel didn't fare too well in the second season either but his impending retirement in the game meant his focus stat wasn't viewable. The fact he never made it onto the podium despite having a car quick enough to do so suggests that he had a low focus rating as well.
The other addition to career mode, for those with the deluxe edition, are seven classic F1 drivers which can be added into the driver market. Those drivers include Michael Schumacher, Ayrton Senna and Alain Prost.
Even if they are added into the driver market, only you as the player can ever sign them for your team.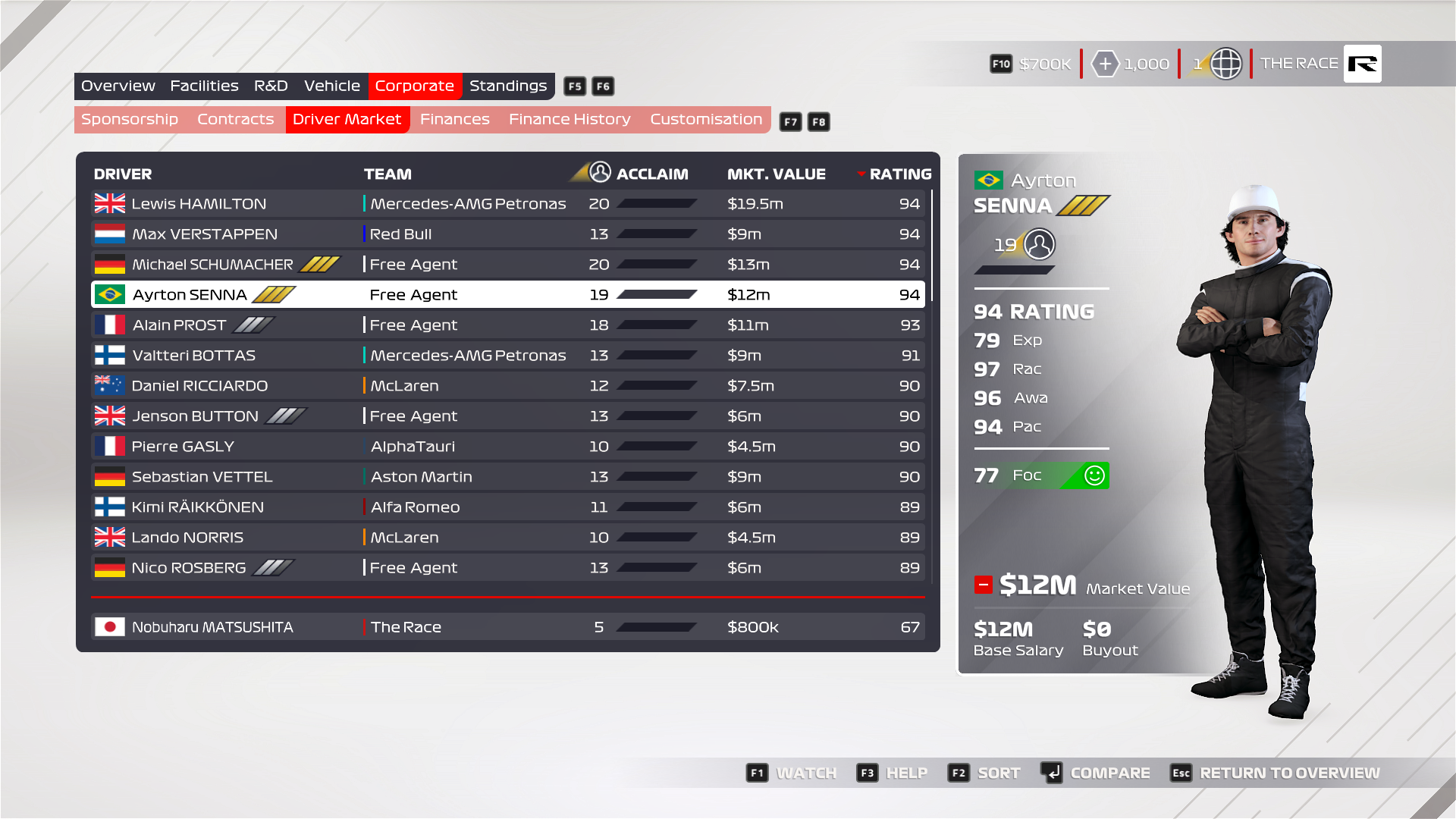 A cynical person would argue that they're only in the game as a marketing ploy and that's probably true, but it's undeniably a unique and interesting experience to create your own F1 team, pick an engine supplier, upgrade your car and then bring Jenson Button or Nico Rosberg out of retirement to race alongside you.
There are some other minor changes that aren't specific to career mode including the ability to add TV broadcast-style graphics to race replays, radio calls that play when you win a race and stickers that can be placed onto your car's halo.
That though doesn't really make up for all the content that was in F1 2020 but isn't in F1 2021. It's a worrying amount that hasn't made it over despite the two games being built on the same foundations.
The classic cars are gone entirely, as are the short layouts of the circuits and the championships mode.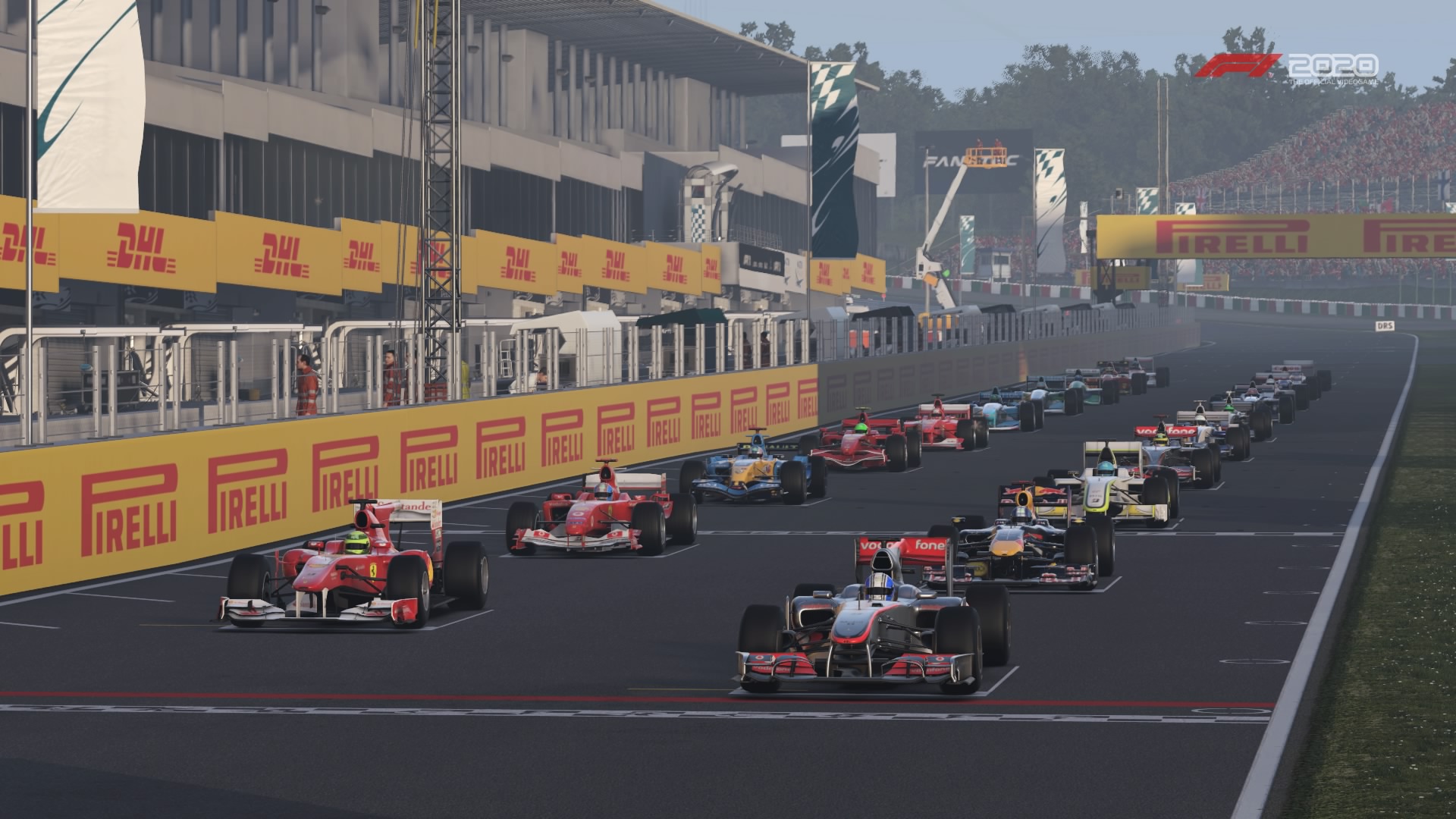 In retrospect the writing was on the wall for these since the oldest classic cars in F1 2019 weren't included in F1 2020, no additional layouts for any of the circuits had been added since the initial four were included for the first time in F1 2017 and the championships mode had also been steadily reduced in prominence and size since its debut, which was also in F1 2017.
All of this cut content could be, to some extent, made up for with the 2020 Formula 1 season and the 2019 Formula 2 season which are playable in Braking Point. However, despite the cars and drivers from those seasons all being present, they aren't usable in any mode apart from Braking Point.
It is worth noting that the 2021 Formula 2 season and the Imola, Algarve and Jeddah circuits will all be added to F1 2021 for free in the future.
Another let down is the damage model, although that wouldn't be worth mentioning had an attempt not been made to try to improve it.
In F1 2021 you can damage your car's underbody, sidepods, diffuser and rear wing and if you do damage them then it certainly has a detrimental impact on the speed and drivability of your car.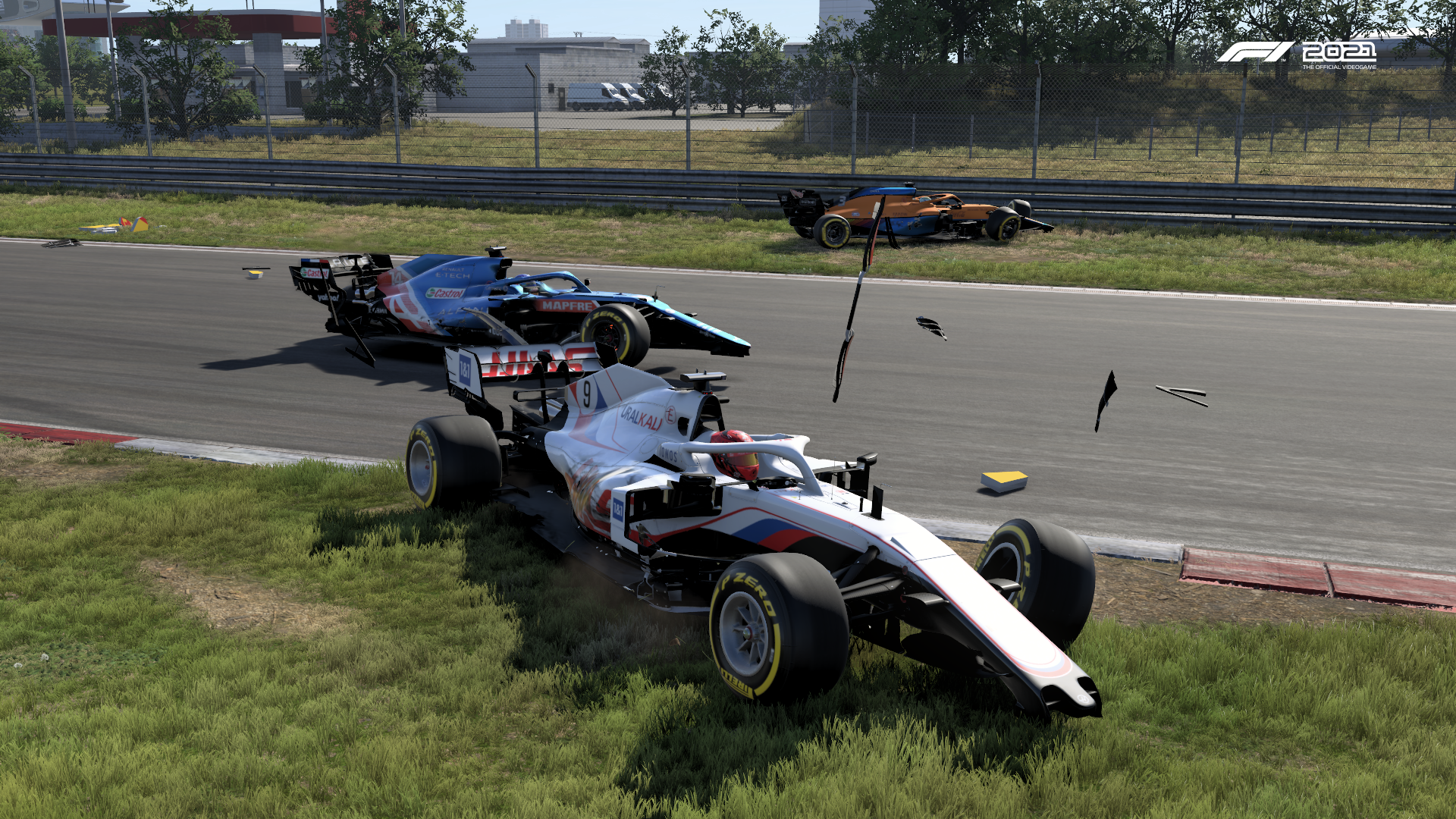 It sounds better on paper than it plays in reality though since the rear wings are still stuck rigidly to the back of the car and any crash that would damage those new components is unlikely to happen without you trying to make it happen. Also, any crash that could damage your underbody or sidepods would likely take off a front tyre and force you to retire anyway.
On a more positive note, the way the tyres look, react and fall apart when you have a puncture has been greatly improved in realism, as is demonstrated in one of Braking Point's events.
It's not as simple as saying that F1 2021 is last year's game but marginally improved. That may be true in terms of the career mode, the replay mode and, to a lesser extent, the damage model. However, the removal of so much content that was included in F1 2020 means it comes down to what you want in an F1 game.
If you're really keen to experience a Drive to Survive inspired story mode in an F1 game or if you want to play through career mode online with a friend then F1 2021 is certainly worth buying.
But if you really enjoy doing more lighthearted things offline, such as classic car races around short circuits or reverse grid championships in the championships mode, then F1 2021 may not be as appealing to you as the past few F1 games have been.