Some championships are won at the last moment amid extraordinary drama or controversy. Some may be clinched comfortably in the end but only after a tougher initial fight gradually fizzled out. Some mark the breaking of records, are a breakthrough maiden success, or end a painful drought.
Such championship clinching moments naturally prompt outpourings of visceral emotion.
But a championship like Max Verstappen's absolutely dominant 2023 Formula 1 drivers' crown is a bit different - a relentless and inexorable season-long crushing of all opposition.
The clinching moment that happened with second in the Qatar Grand Prix sprint had felt pretty inevitable as far back as a year ago, as the 2022 season went so firmly Verstappen and Red Bull's way in its second half that the 2023 favourite was already obvious.
That early-season mirage of an intra-team title battle against Sergio Perez was firmly erased by May 2023 too.
So this wasn't as emotional - in any respect - as Abu Dhabi 2021. Verstappen's 2023 campaign will get the massive respect it's due in F1 history for its level of sheer masterful domination, but was the way the championship was actually sealed a bit flat or forgettable?
Here's how the key protagonists handled the night F1 2023 was officially wrapped up.
MAX VERSTAPPEN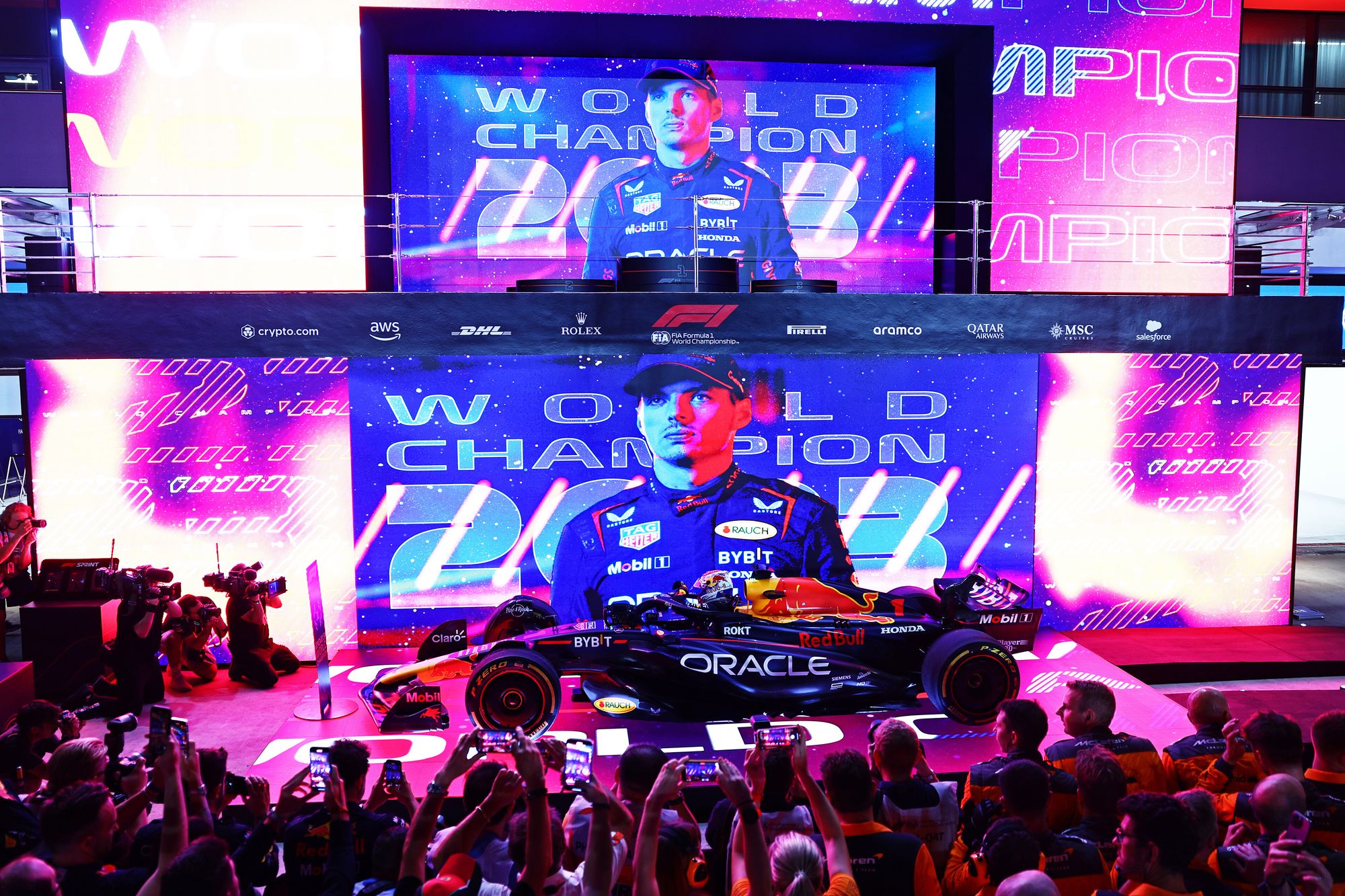 The minutes in which Verstappen became champion for the first time in Abu Dhabi two years ago are - for many contrasting reasons - unlike much else in F1 history. Title two was clinched in the odd anti-climax of confusion over how many points would actually be awarded for the shortened Japanese GP. Saturday night in Qatar 2023 was all rather calmer, much like Verstappen's whole year
The dedicated 20-minute 'champion's press conference' helped but Verstappen allowed himself to be more reflective on his crushingly-dominant 2023 season than at any point this year.
He acknowledged his closer run 2021 title was "the most emotional" but this was clearly "the best" championship win so far.
And which part is he proudest of? "The consistency". It strikes to the very heart of Verstappen's goal within F1.
He's never cared about smashing the win record nor winning more titles than anybody else. He just wants to consistently be the best in every race that he takes part in.
It's why noticing that team-mate Perez - the only man mathematically in the 'title race' - was out of the sprint and beached in the gravel automatically giving Verstappen the title, did nothing to distract him from his sole objective of winning on the night.
He couldn't achieve that and only when it was clear that race was over did he allow himself to look at the bigger picture of his title success.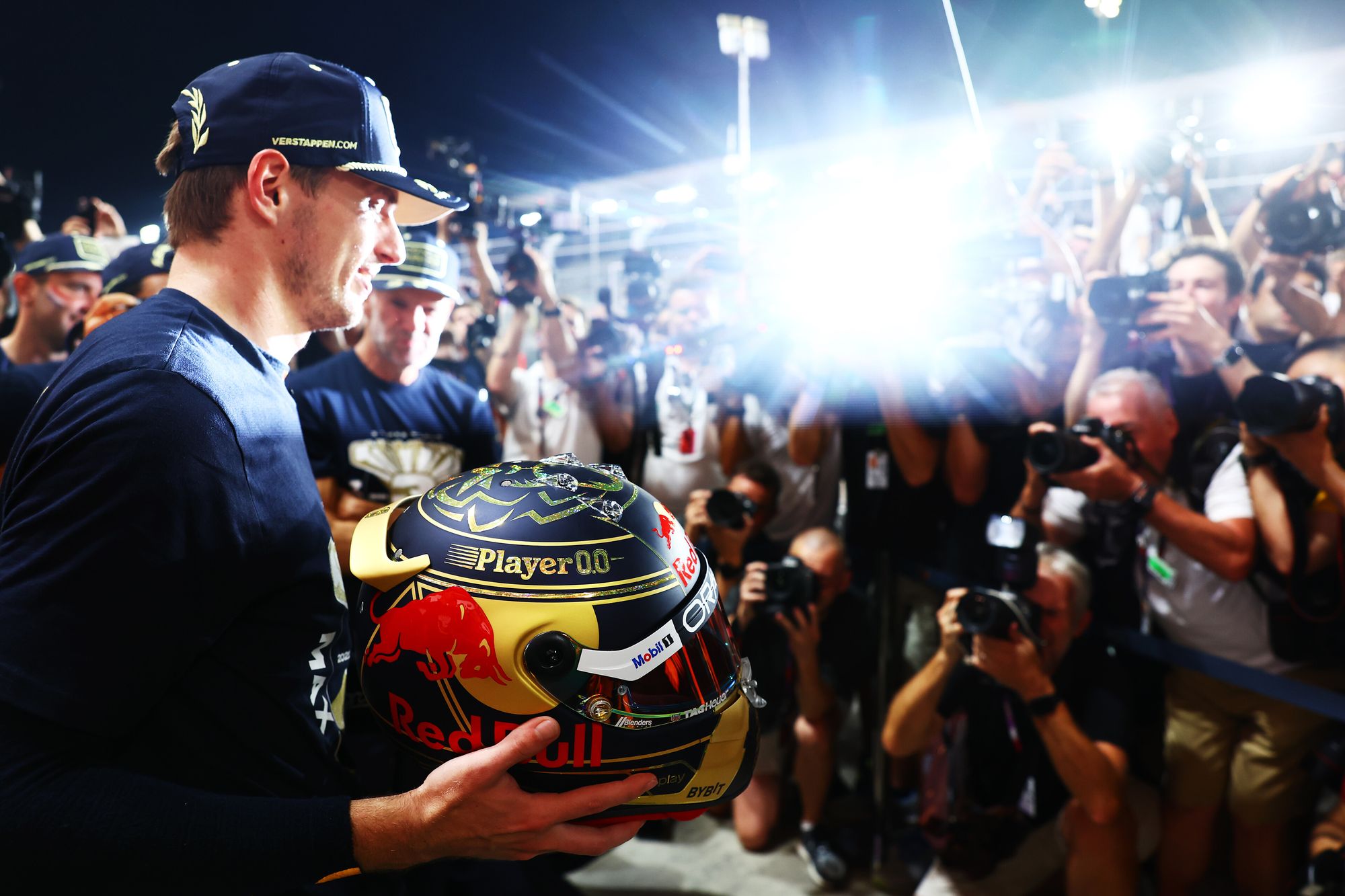 "Today I knew that I only needed to score three points to win the championship but I still wanted to win, I'm still out there to try and do the best I can," Verstappen said.
"That's going to be the same tomorrow, when I go to the next race I'll try to win again because we've got a great car but I know people around us are catching up a little bit so here and there, it becomes quite tight.
"The mindset is pretty much the same, it's not like suddenly you go more risky or into any battle. I'm happy with what I'm doing at the moment."
CHRISTIAN HORNER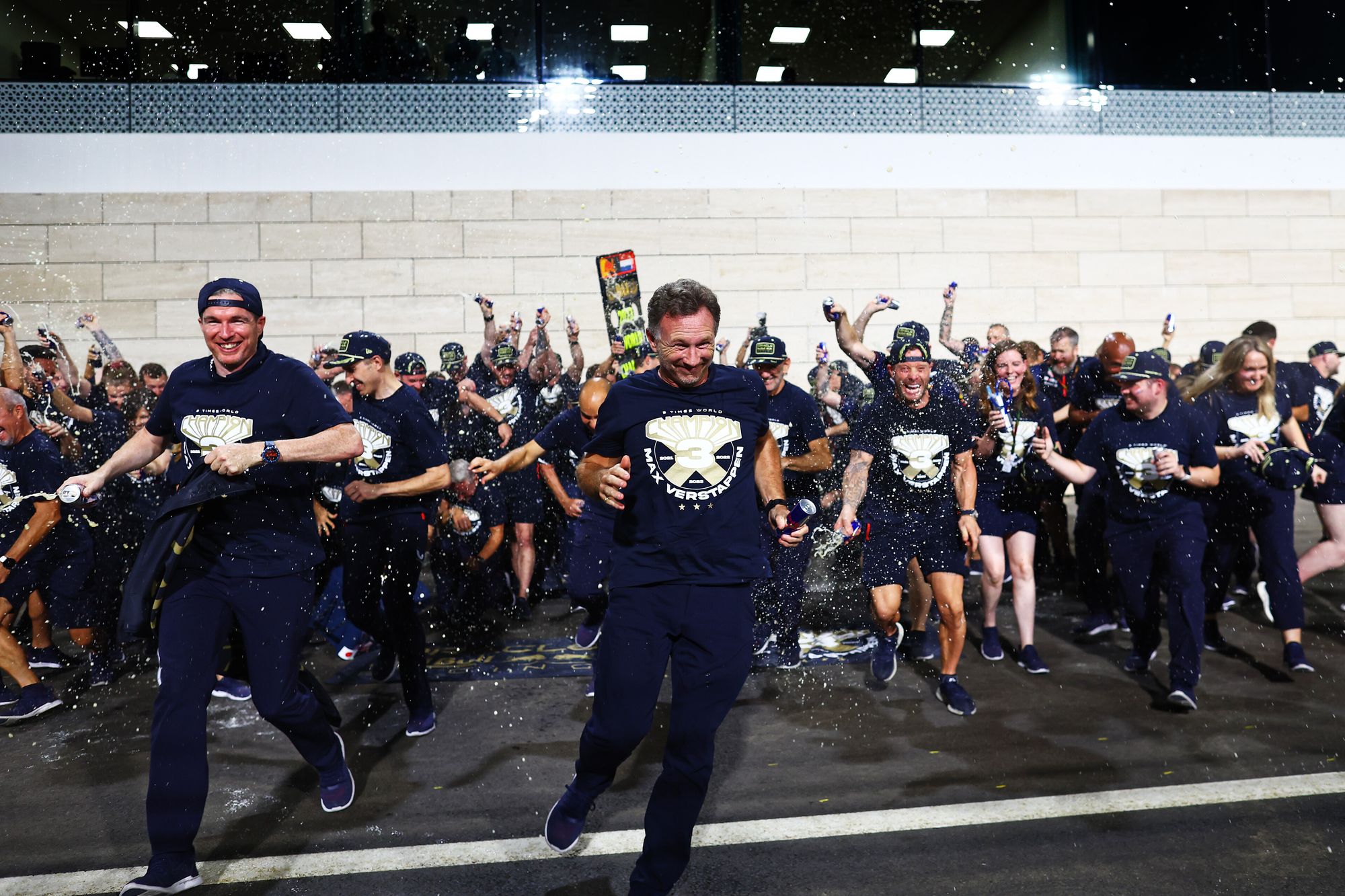 This was the seventh drivers' title Christian Horner has overseen as Red Bull team principal, and he's familiar with the experience of a long-obvious crown being efficiently ticked off long before the end of the season after both Verstappen's 2022 achievement and the more dominant two of Sebastian Vettel's four crowns in 2011 and '13.
Inevitably, Horner's air of gentle satisfaction was a stark contrast to the more exuberant celebrations that he was part of, say, in Abu Dhabi back in 2010 when Vettel clinched the title after that amazing season finale. That's not because Verstappen's championship are any less special, but clinching the title when "we've known it's coming from about the fourth or fifth race" is a very different experience.
In that regard, that mood of quiet satisfaction was not dissimilar to countless other post-race victory celebrations – a sense of a job well done but just a moment that was always going to come. But he was determined to let his team have the chance to celebrate properly.
"It's unusual," Horner said of the circumstances of Verstappen making the title a mathematical certainty. "But do you know what? Achieving a world championship is the most magical feeling and as a team you have to celebrate that moment.
"So tonight, as a team, we'll get together, have a couple of Red Bulls and non-alcoholic beers.
"Thankfully, it's a late start tomorrow and we'll come back and try and do it all again in the grand prix, although they've got quite a bit of work on Checo's car to get that turned around."
SERGIO PEREZ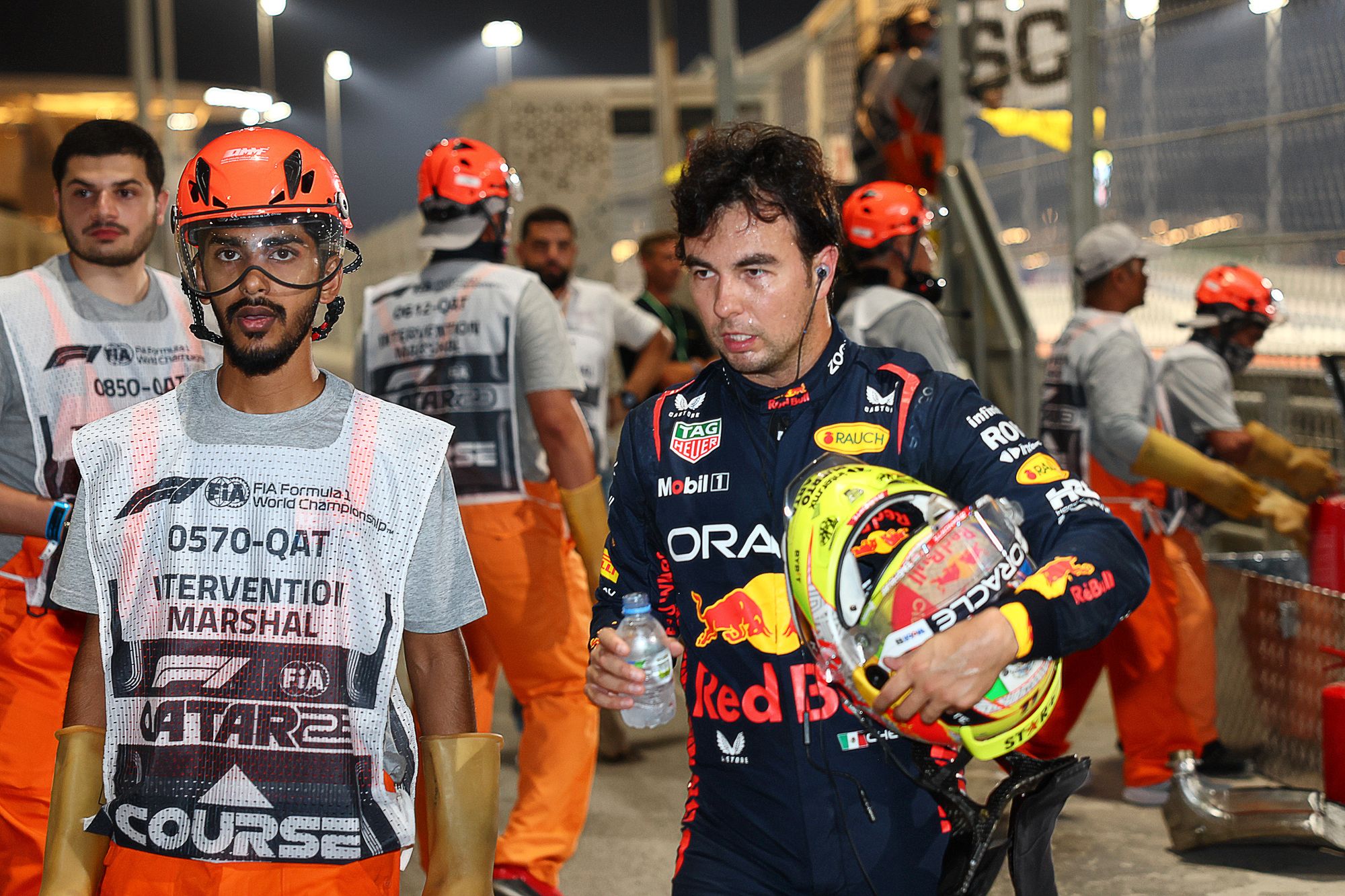 Five months on from the last point at which Perez looked like he might pull off an unexpected title bid, he was eliminated from mathematical championship contention amid a particularly poor run of form in which he's struggled to get near Verstappen's pace. Though what actually ended his last remote chance was being wiped out in a three-way collision with Esteban Ocon and Nico Hulkenberg, the fact he was fighting an Alpine and a Haas just to get into the minor points said it all.
Perez showed little sign of being unduly bothered either way by Verstappen clinching the title. And why should he? After all, this was a title Perez once seriously aspired to challenging for and Verstappen has effectively been champion elect for months.
He was given the chance to talk up Verstappen's title win after the race and offered a perfunctory response.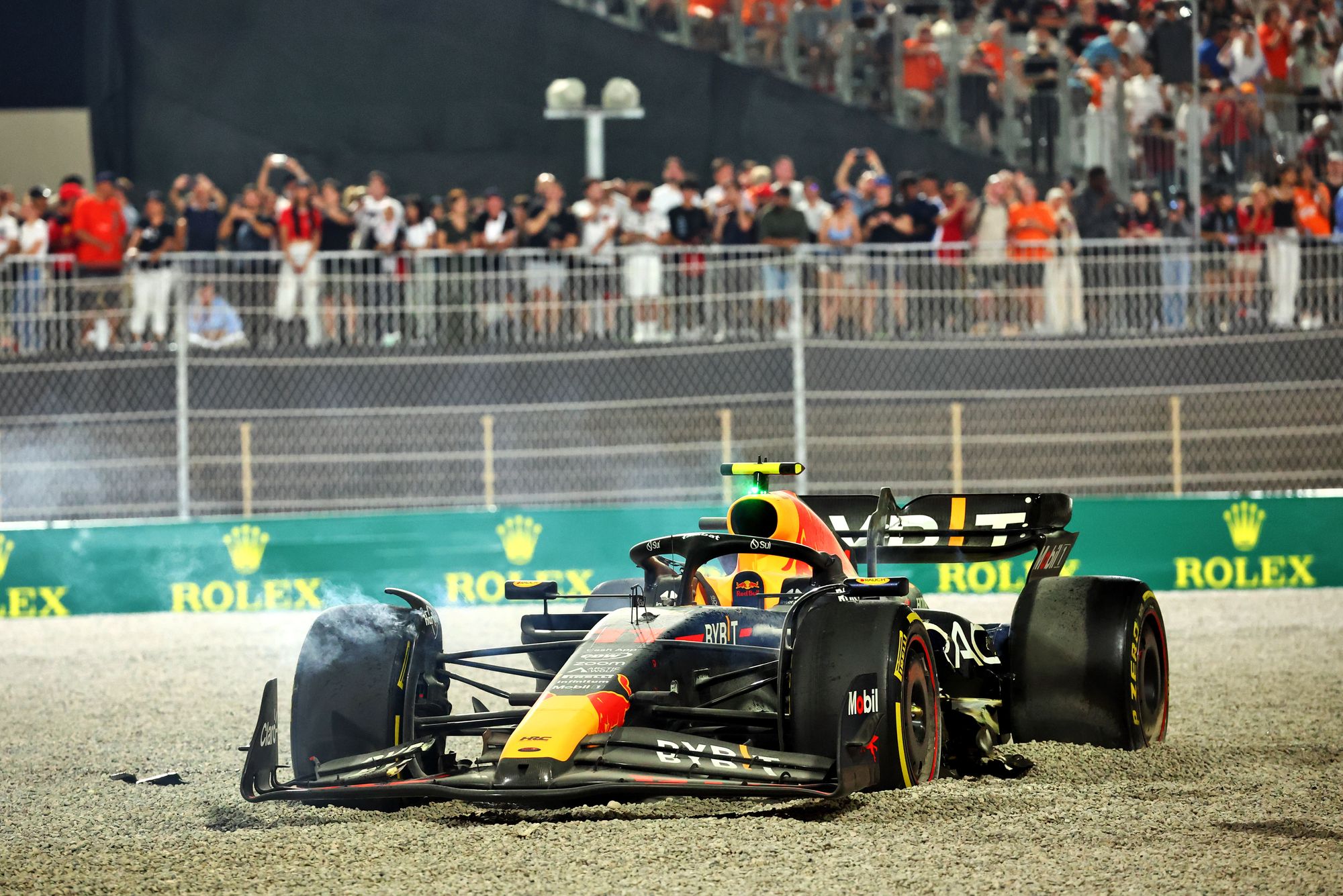 "He has had a tremendous championship," said Perez. "He deserves all the success he's had. Very happy for him and the team."
This is no criticism of Perez, but it was a contrast to one of Verstappen's old enemies, Esteban Ocon, who went out of his way to reject the first question he was asked and insist he talk up the new champion's achievements.
Ultimately, this wasn't Perez's day in any way. He wasn't unduly miserable, especially by the standards of 2023 when he's had plenty of races when he has been bitterly disappointed by things going wrong, but he certainly wasn't revelling in feeling any part in Verstappen's championship.
Of course, as a racing driver he'll deep down be plotting how he's going to usurp Verstappen next year – if he still believes that's possible.