Valtteri Bottas defeated new team-mate George Russell to claim pole position for Formula 1's Sakhir Grand Prix, where just 0.056 seconds covered the top three cars.
Bottas was 0.142s faster than Russell and 0.214s clear of Max Verstappen heading into the final runs of Q3, and was the first of that trio on the road for the last attempts.
But he was unable to improve at the end, while his two challengers did. Russell missed out on a maiden F1 pole position by 0.026s, with Verstappen also right in the mix around the 53-second lap.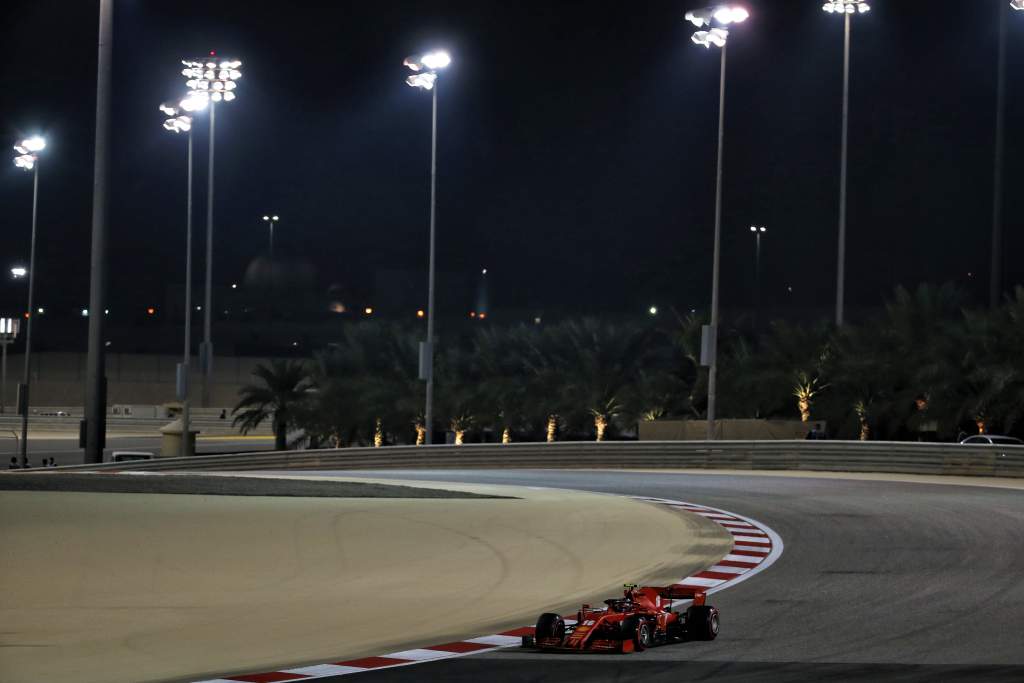 Charles Leclerc put in one of the surprise laps of the session to claim fourth in his Ferrari, only running once in Q3 while the Mercedes drivers did three runs.
Sergio Perez took fifth for Racing Point, while Daniil Kvyat's only lap of the Q3 as the chequered flag came out was good enough to put him sixth on the grid.
Daniel Ricciardo and Carlos Sainz Jr filled row four of the grid, ahead of Pierre Gasly and Lance Stroll, who picked up damage that cost his Racing Point aero performance.
Esteban Ocon failed to make it two Renaults in Q3, narrowly missing out in 11th. He'll share the sixth row of the grid with Alex Albon, who suffered another painful Saturday afternoon in the second Red Bull, having complained after his first run of Q2 that he didn't feel he could go any faster.
Sebastian Vettel, whose car was running with the engine he used in Friday practice after Ferrari decided to change it at the end of FP3, claimed 13th.
Antonio Giovinazzi was 14th, having won the battle of the 'Class C' cars in Q1 in the absence of the Russell/Williams combination that has so often left the other five drivers in the slowest three teams eliminated at the first stage of qualifying.
He wasn't slowest in Q2 though, as Lando Norris was 15th. The McLaren driver aborted the first lap of his final run, then pitted at the end of his second attempt despite having set personal best times through the first two sectors.
F1's two debutants, Jack Aitken at Williams and Pietro Fittipaldi at Haas, were both out in Q1.
Aitken appeared to have a shot at outqualifying team-mate Nicholas Latifi, but he had to settle for 18th – under a tenth behind the Canadian after running wide at the final corner on his final lap.
Fittipaldi was slowest, but he was always destined to start the race from the back of the grid due to penalties for taking new engine components.
Qualifying Results
| Pos | Name | Car | Q1 | Q2 | Q3 |
| --- | --- | --- | --- | --- | --- |
| 1 | Valtteri Bottas | Mercedes | 53.904s | 53.803s | 53.377s |
| 2 | George Russell | Mercedes | 54.16s | 53.819s | 53.403s |
| 3 | Max Verstappen | Red Bull-Honda | 54.037s | 53.647s | 53.433s |
| 4 | Charles Leclerc | Ferrari | 54.249s | 53.825s | 53.613s |
| 5 | Sergio Pérez | Racing Point-Mercedes | 54.236s | 53.787s | 53.79s |
| 6 | Daniil Kvyat | AlphaTauri-Honda | 54.346s | 53.856s | 53.906s |
| 7 | Daniel Ricciardo | Renault | 54.388s | 53.871s | 53.957s |
| 8 | Carlos Sainz | McLaren-Renault | 54.45s | 53.818s | 54.01s |
| 9 | Pierre Gasly | AlphaTauri-Honda | 54.207s | 53.941s | 54.154s |
| 10 | Lance Stroll | Racing Point-Mercedes | 54.595s | 53.84s | 54.2s |
| 11 | Esteban Ocon | Renault | 54.309s | 53.995s | |
| 12 | Alex Albon | Red Bull-Honda | 54.62s | 54.026s | |
| 13 | Sebastian Vettel | Ferrari | 54.301s | 54.175s | |
| 14 | Antonio Giovinazzi | Alfa Romeo-Ferrari | 54.523s | 54.377s | |
| 15 | Lando Norris | McLaren-Renault | 54.194s | 54.693s | |
| 16 | Kevin Magnussen | Haas-Ferrari | 54.705s | | |
| 17 | Nicholas Latifi | Williams-Mercedes | 54.796s | | |
| 18 | Jack Aitken | Williams-Mercedes | 54.892s | | |
| 19 | Kimi Räikkönen | Alfa Romeo-Ferrari | 54.963s | | |
| 20 | Pietro Fittipaldi | Haas-Ferrari | 55.426s | | |