Valtteri Bottas admits that ill-informed viewers may think he looked like "a complete **** or a fool" against Mercedes Formula 1 debutant George Russell in the Sakhir Grand Prix.
Bottas was expected to assume the team leader role at Mercedes in Lewis Hamilton's COVID-19-enforced absence last weekend, with Williams driver Russell being called up as Hamilton's substitute.
However, Russell pushed Bottas close in qualifying – finishing just two-hundredths shy of his new team-mate – and led the majority of the grand prix, only being denied victory by a combination of a botched pitstop and a puncture.
It spared Bottas, a veteran of 77 Mercedes starts and nine wins going into the Sakhir GP weekend, the ignominy of being beaten by a young driver and long-term rival for the Mercedes seat, and one who was driving in a compromised position with an old seat and various fittings being too small for his lanky frame.
Bottas said he had not thought about the perception of being beaten by Russell during the race as even though he lost track position from pole "I knew that it's going to be a long race ahead so I don't think about those kinds of things".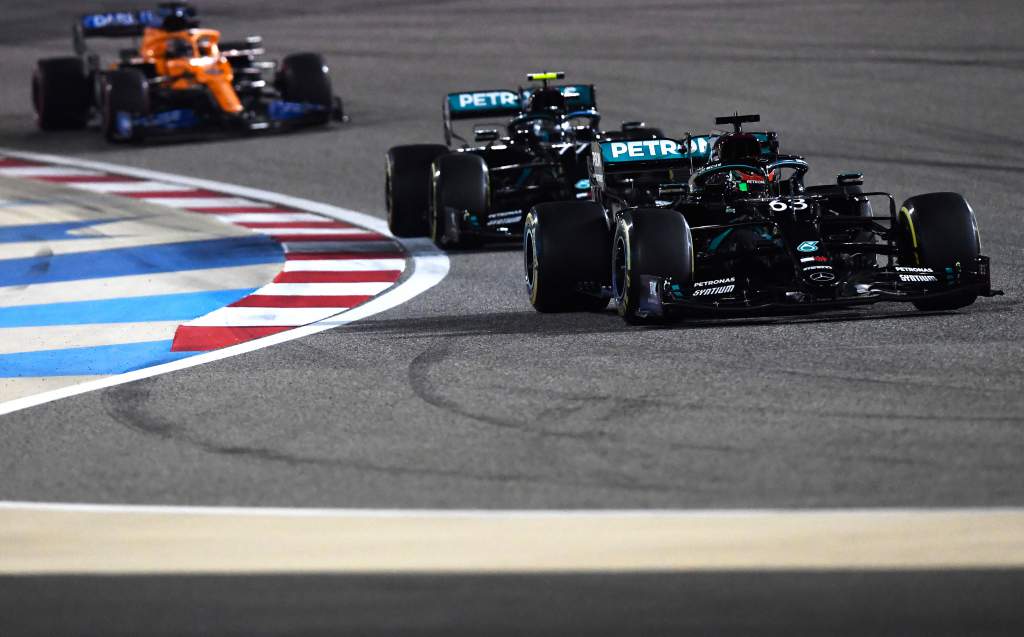 However, he added: "But now thinking about it, for sure if you don't know things I might have looked like a complete **** or a fool, you know? So that's not nice.
"It was a pretty bad race for me from that side and it will be very easy for people to say that a new guy comes in and beats the guy who's been in the team for years.
"So it is not ideal. But the people who know, they know how the performance is and how the end result could have been."
The unravelling of Bottas's race began almost immediately. He said he hit his clutch target off the line but then had a spike of wheelspin "for unknown reasons" which allowed the fast-starting Russell to take the lead at Turn 1.
Bottas was fortunate to survive a lairy run through Turn 2 and his three-wide moment with Max Verstappen and Sergio Perez in second place, then after the initial safety car period had to reclaim second place from Carlos Sainz Jr's McLaren.
It was a scrappy start to the stint that, over the next 30 or so laps, was completely controlled by Russell.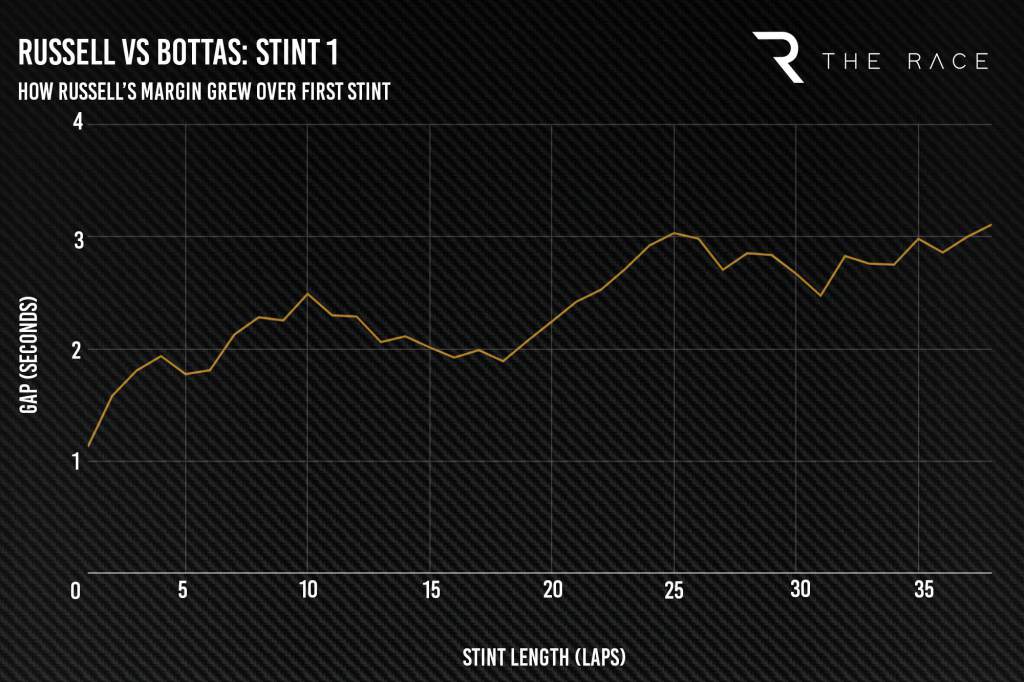 Apart from a brief spell in the middle of the opening stint where Bottas hovered around a couple of seconds adrift of Russell (see above), he was held comfortably at arm's length until Russell finally pit. Bottas put that down to an "understeery" car having opted for slightly less front wing, which he felt hurt him at the entry of Turn 4 and into the chicane.
He also bemoaned the amount the car was moving around in Russell's dirty air, saying it was impacting performance up to around three seconds behind – a gap Bottas was in for the entire stint.
"I was not surprised," said Bottas. "I knew that the first stint with the medium tyre the track position will be important, so unfortunate to lose that.
"In the second stint, I was catching him at a pretty decent rate so I knew everything was still gonna be open. Most likely, we're gonna have a big battle."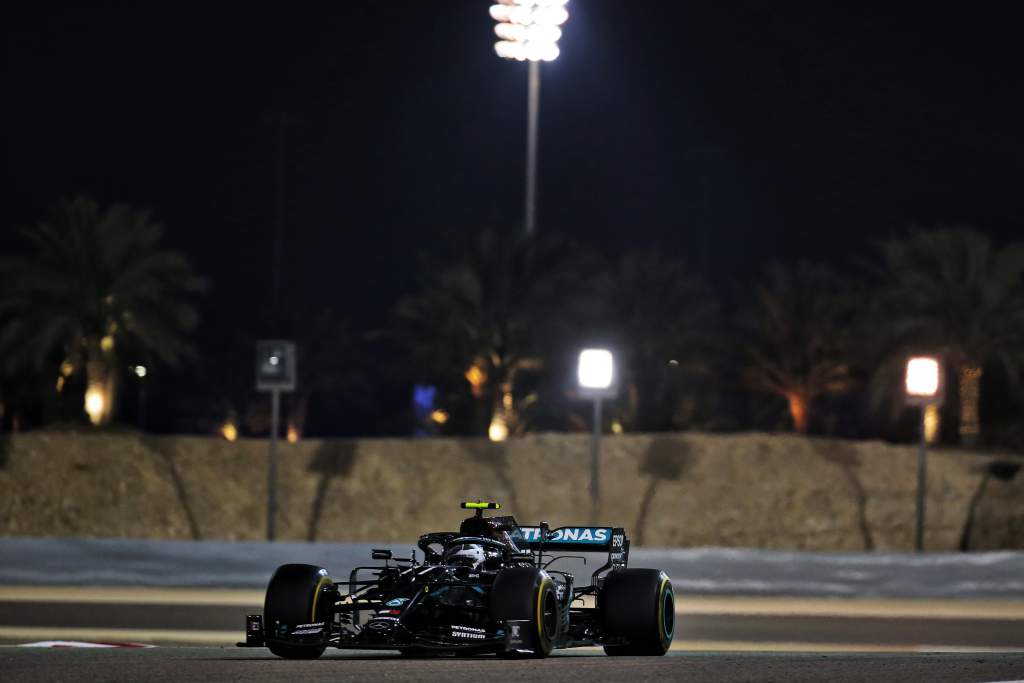 That's why Bottas does not subscribe to the view that Russell drove a better race: he feels that it was "not finished when we had the thing with the pitstops, which obviously changed everything".
Bottas believed that extending his stint on the medium tyre "would have opened up opportunities for me" on the hard at the end of the race, with the car's balance feeling more "complete".
"Even without being really knife on the throat, knowing the amount of laps I had to do, I was catching him," said Bottas.
"I knew there's gonna be other opportunities and that was ultimately the plan for me to get him.
"I could see him physically, saw he was getting close."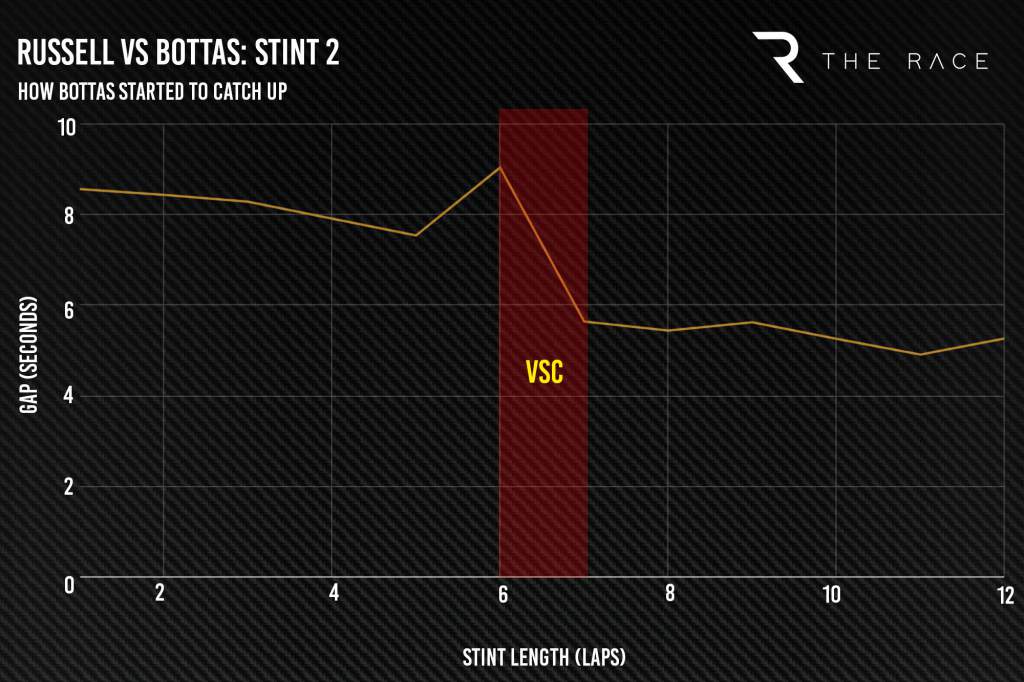 As the above graph shows, Bottas did take a decent chunk out of Russell's advantage over the 12 laps before the second phase of their fight was interrupted by their race-changing pitstops.
However, there are a few factors to take into consideration that cast some doubt over whether Bottas's confidence was well-founded.
First, he emerged more than eight seconds behind Russell because of the time lost extending his stint. And second, that meant that 12 laps later he had taken solid three seconds out of Russell's lead – but that was still not enough to have even got the margin down to its size when Russell ended his first stint.
It was always aided by the virtual safety car period, which either proved well-timed in terms of their respective positions on the track or Bottas simply managed it better and remained closer to the delta time. The gap shrunk from 7.5s before the VSC to 5.4s after.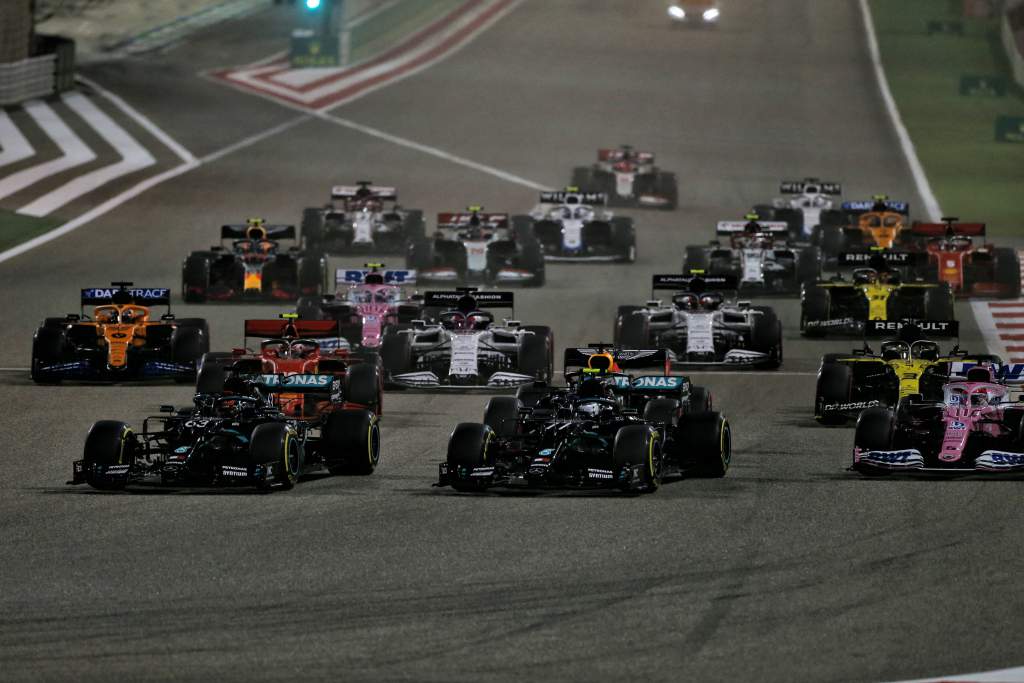 And finally, four laps later it was only 5.2s, as Bottas was not consistently eating into the gap – one that Russell also appeared to be managing, with guidance from his race engineer suggesting that Russell could have gone a bit quicker if needed.
In the end, Bottas's theory went untested. He lost ground in the pitstop and emerged on the same, used hard tyres as before while Russell had to pit again to remove the front tyres that had erroneously been fitted to his car from a Bottas set.
From there Bottas slipped back rather than moved forward, unable to compete with the cars around him on fresh rubber, and was passed by Sainz, Daniel Ricciardo's Renault, Alex Albon's Red Bull and Daniil Kvyat's AlphaTauri.
"It's hard to explain the feeling when you come to a pitstop, and you leave the pitstop with the same old tyres that you came in with and lost positions," said Bottas.
"Obviously it was a big mistake by the team that will be analysed and learned from.
"That was a nightmare being on the old hard. I already lost a bit of temperature against guys with fresh mediums around, I was like a sitting duck.
"It was a pretty nightmarish situation."