Ross Brawn says watching Mick Schumacher make a "tough job" of winning the Formula 2 title in a tense season finale reminded him of some of Michael Schumacher's messier championship-clinching drives.
Now Formula 1 chief, Brawn worked with Michael Schumacher during all his seven championship winning seasons across the Benetton and Ferrari teams.
"Congratulations to Mick Schumacher for winning the F2 title," said Brawn. "I'm delighted. He's a great lad and has worked really hard at it.
"Carrying the Schumacher name is not easy. It can open some doors, but it also brings a lot of pressure and Mick's handled it remarkably well.
"It was deja-vu seeing him making such a tough job of winning it because his dad was the same!
"I can remember one or two championships where it was a case of 'it's OK Michael, just finish sixth in this race and we're fine' and then he would go out and try and hit everything he could find!"
What championship is Brawn thinking of?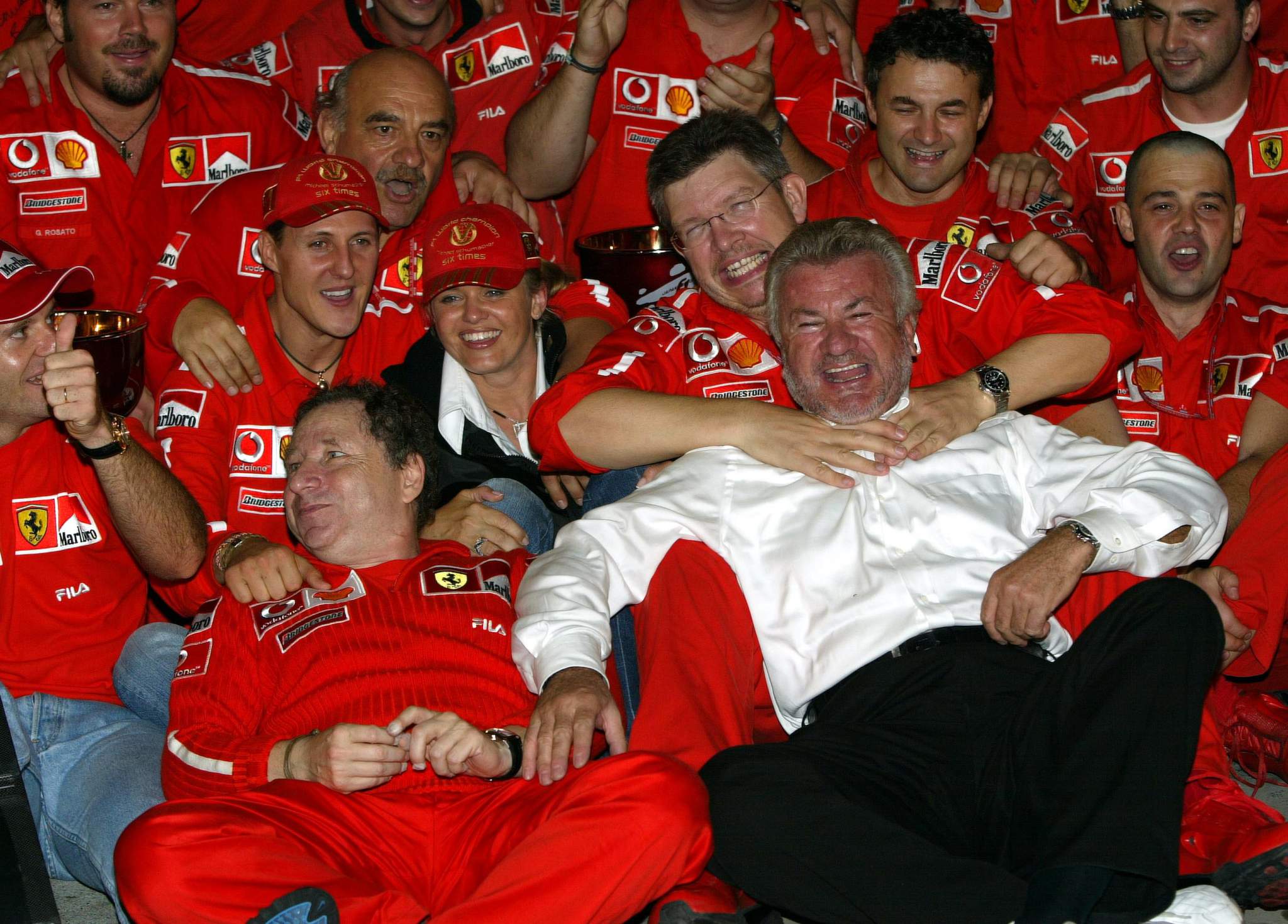 As we recently explored, Schumacher had a habit of getting slightly sketchy once he'd clinched a championship early, but both of his titles we mentioned were actually sealed with smooth drives.
The exception that's surely lingering in Brawn's mind was 2003.
Schumacher had finally broken clear of season-long title rivals Kimi Raikkonen of McLaren and Williams duo Juan Pablo Montoya and Ralf Schumacher going into the Suzuka decider.
The Williams pair were now out of the hunt, and Schumacher just needed to score one point in Japan even if Raikkonen won.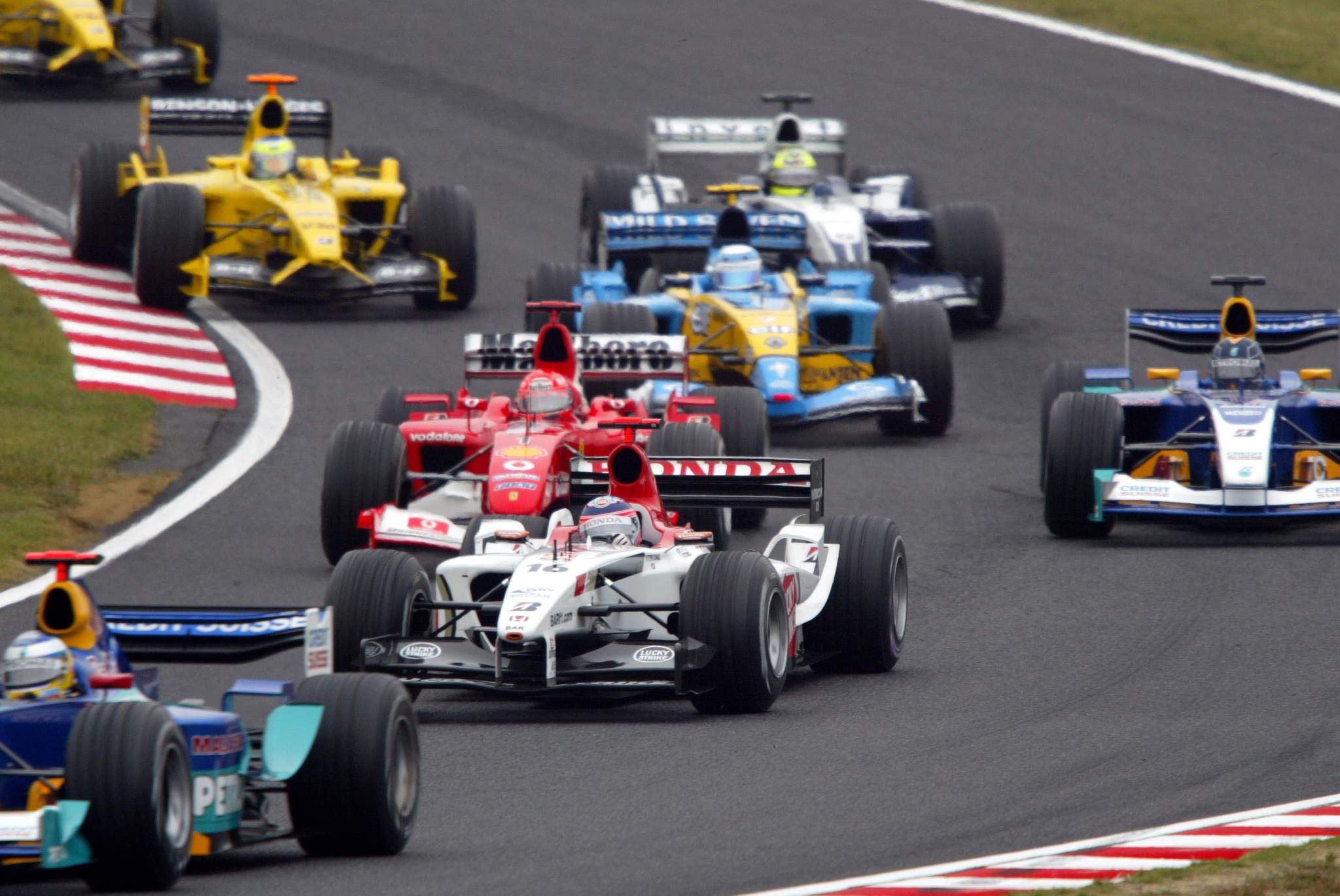 But the timing of rain during the single-car qualifying session left Schumacher only 14th on the grid, with Raikkonen seventh.
At least Schumacher's Ferrari team-mate Rubens Barrichello was on pole and well-placed to deny Raikkonen the maximum score he needed.
And it looked like Schumacher might need the help.
He made it up to 10th in the first six laps, only to then crunch his front wing with a desperate dive on home hero and BAR debutant Takuma Sato – who had replaced the departed Jacques Villeneuve.
As the lunge was at the chicane, Schumacher was at least able to come into the pits immediately to have the smashed wing removed from where it was wedged under his car and a new one fitted. He fell to last.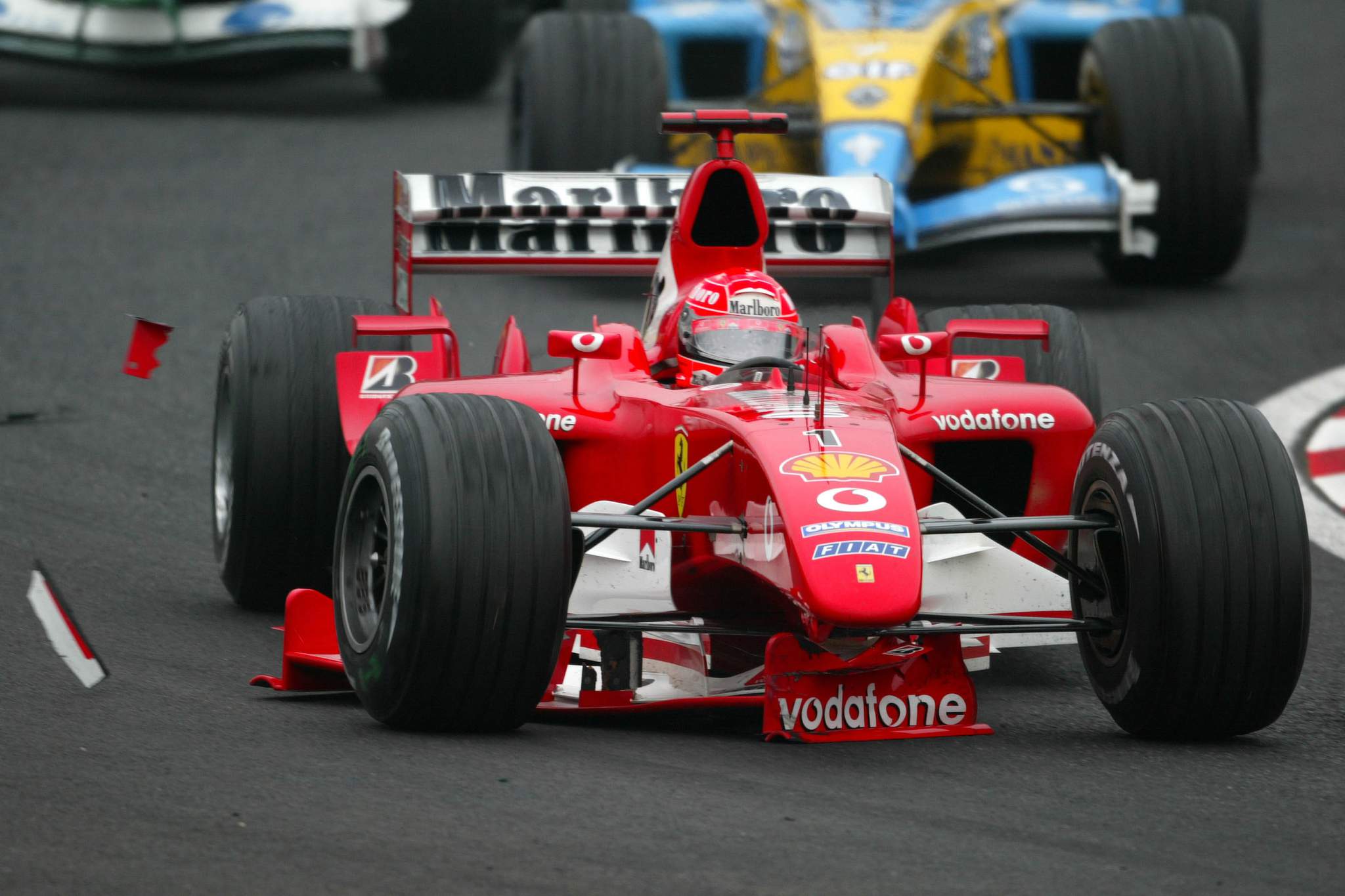 Barrichello wasn't having it easy either. Montoya snatched the lead from him into Spoon on the first lap and stormed away. Even after a hydraulic failure took the Williams-BMW out, Barrichello was still under very heavy pressure from Fernando Alonso's Renault – though that later expired with an engine problem.
Schumacher finally got back into the crucial eighth place with 13 laps left.
"I can't feel for myself at the moment. I'm empty and exhausted" :: Michael Schumacher
But no sooner had he got there than he was slewing off again, having locked-up massively trying to pass Cristiano da Matta's Toyota at the chicane.
As the Ferrari veered across the road, Ralf Schumacher lost control of his Williams in avoidance and spun, breaking his front wing on his brother's car in the process.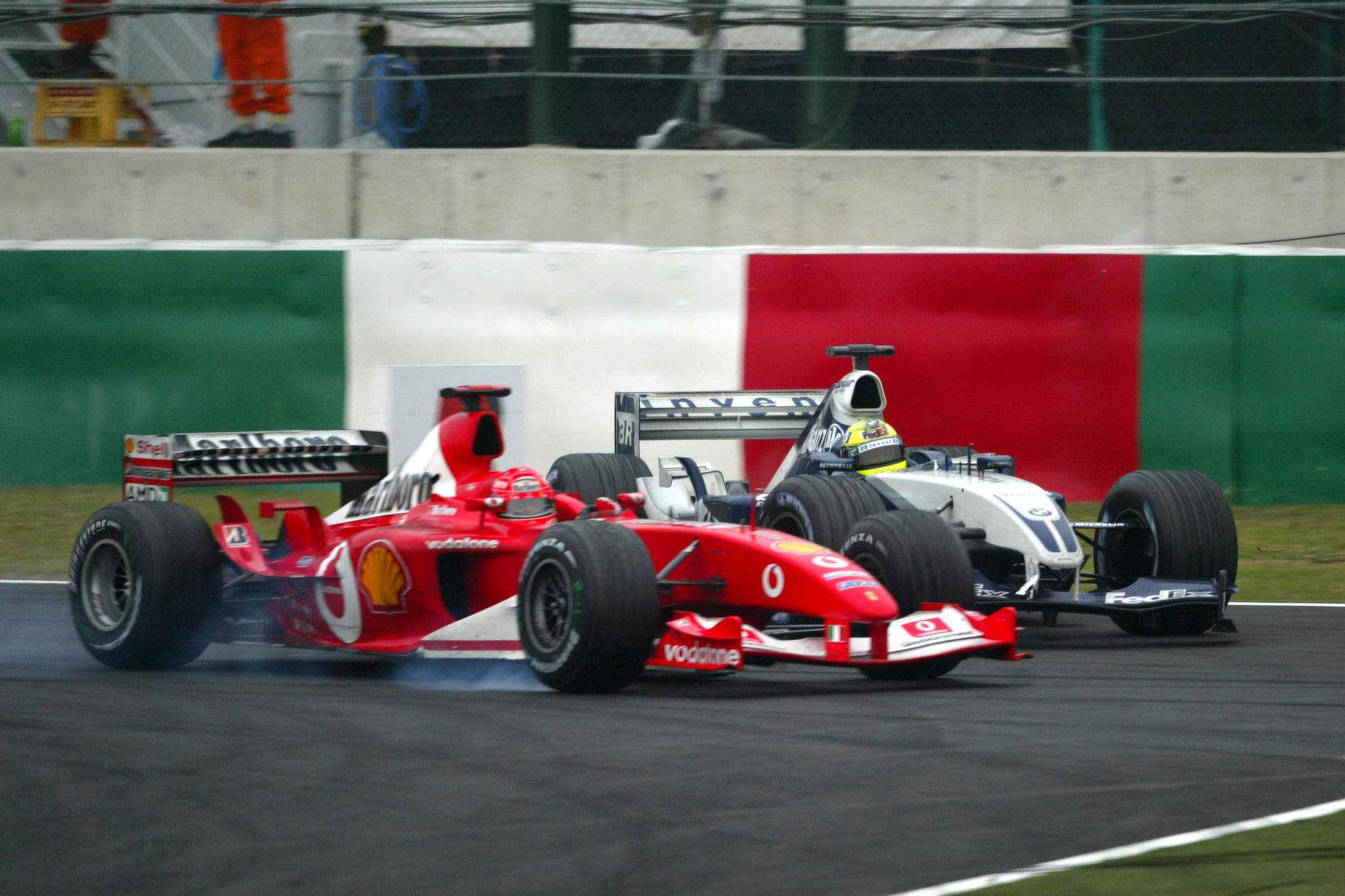 The Ferrari kept going, still in eighth, and now with flat-spotted tyres.
But Schumacher stayed there, and with Raikkonen only able to reach second, a then-record sixth title was his. Ferrari beat Williams to the constructors' too.
"I was a little bit messy today," Schumacher admitted.
"It was a very, very strange race and therefore the feelings haven't yet sunk in.
"I can well feel for the team but I can't feel for myself at the moment. I'm empty and exhausted."
What happened in Mick's F2 finale?
Haas F1 driver-to-be Mick Schumacher qualified only 18th for the F2 feature race on the Sakhir Outer circuit after a late red flag and a controversial clash with Roy Nissany.
HUGE implications for the championship?! 😳

Leader Schumacher collides with Nissany in qualifying and is set to start towards the back of the grid 😱#SakhirGP 🇧🇭 #F2 pic.twitter.com/nW3acVSCS0

— Formula 2 (@FIA_F2) December 4, 2020
That put his 14-point lead under threat from fellow Ferrari junior Callum Ilott who qualified in ninth.
However, a well executed strategy starting on the harder compound tyre and switching to the soft at the end yielded a strong comeback for Schumacher who finished sixth – only one spot behind Ilott – after penalties were applied to Schumacher's future F1 team-mate Nikita Mazepin.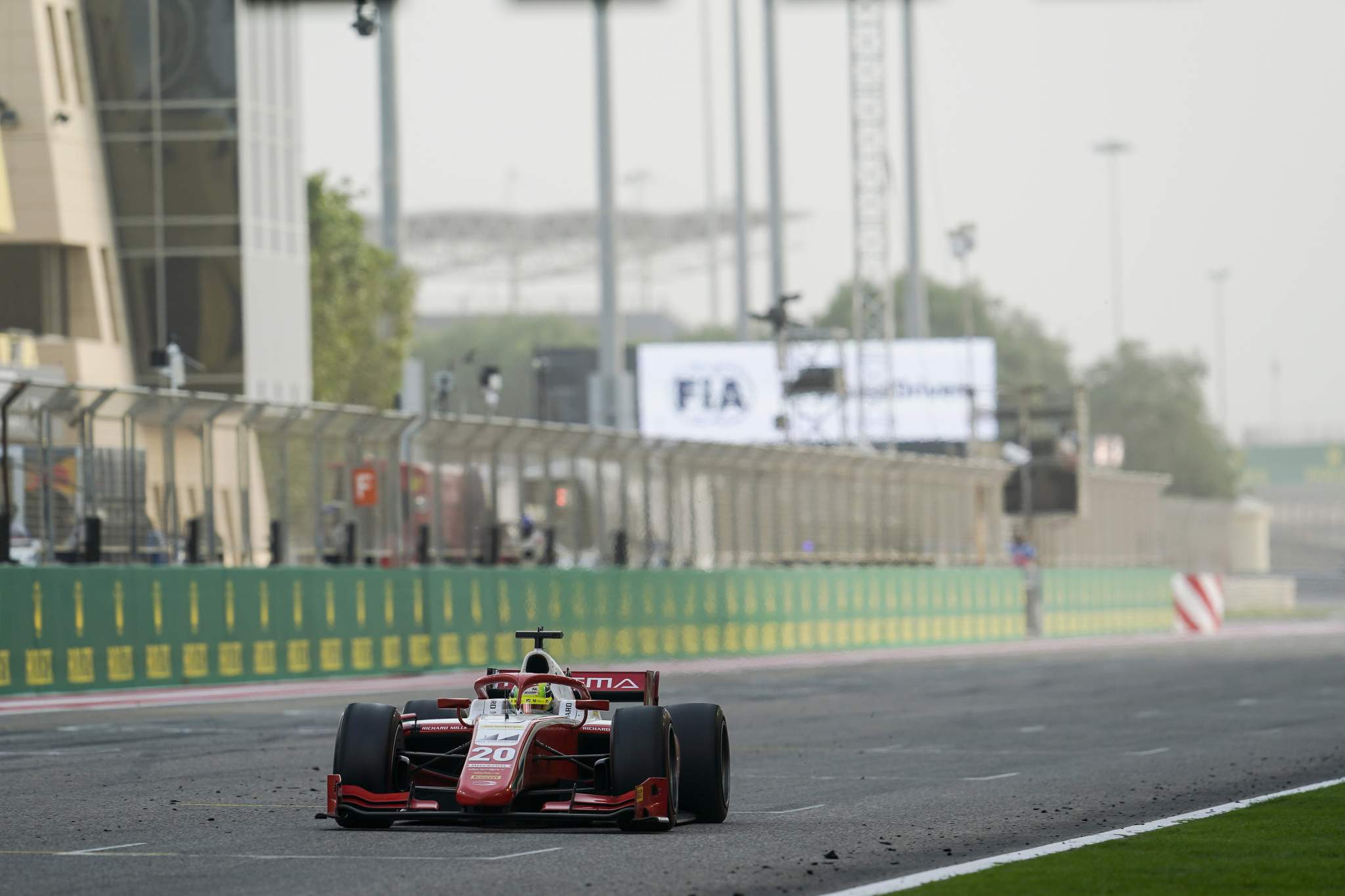 Schumacher entered the last race needing to finish sixth to win the title, but an early lock-up diving for second place at Turn 4 flat-spotted his tyres on the opening lap and Ilott put him under intense pressure shortly after.
Prema driver Schumacher was forced to pit, dropping him to the back of the pack, but Ilott had been trying so hard to overtake Schumacher that he'd destroyed his tyres meaning he couldn't bag the points needed to overcome his title rival.
"I'm a bit disappointed with my performance," Schumacher admitted.
"Nevertheless, I think we've done enough over the whole year to give us that opportunity to have a race to be as bad as it happened to be.
"My goal was to win the last race, I think we would have had the pace.
"Unfortunately, I did have a big lock-up into Turn 4. I think I just overestimated the grip and thought that I had more grip than then there was really and therefore I locked up.
"After that, it was really just trying to stay in front of Callum, trying to slow them down as much as I could, try to really just collect everybody behind me.
"At some point it was the safest and probably the best decision to come in to pit."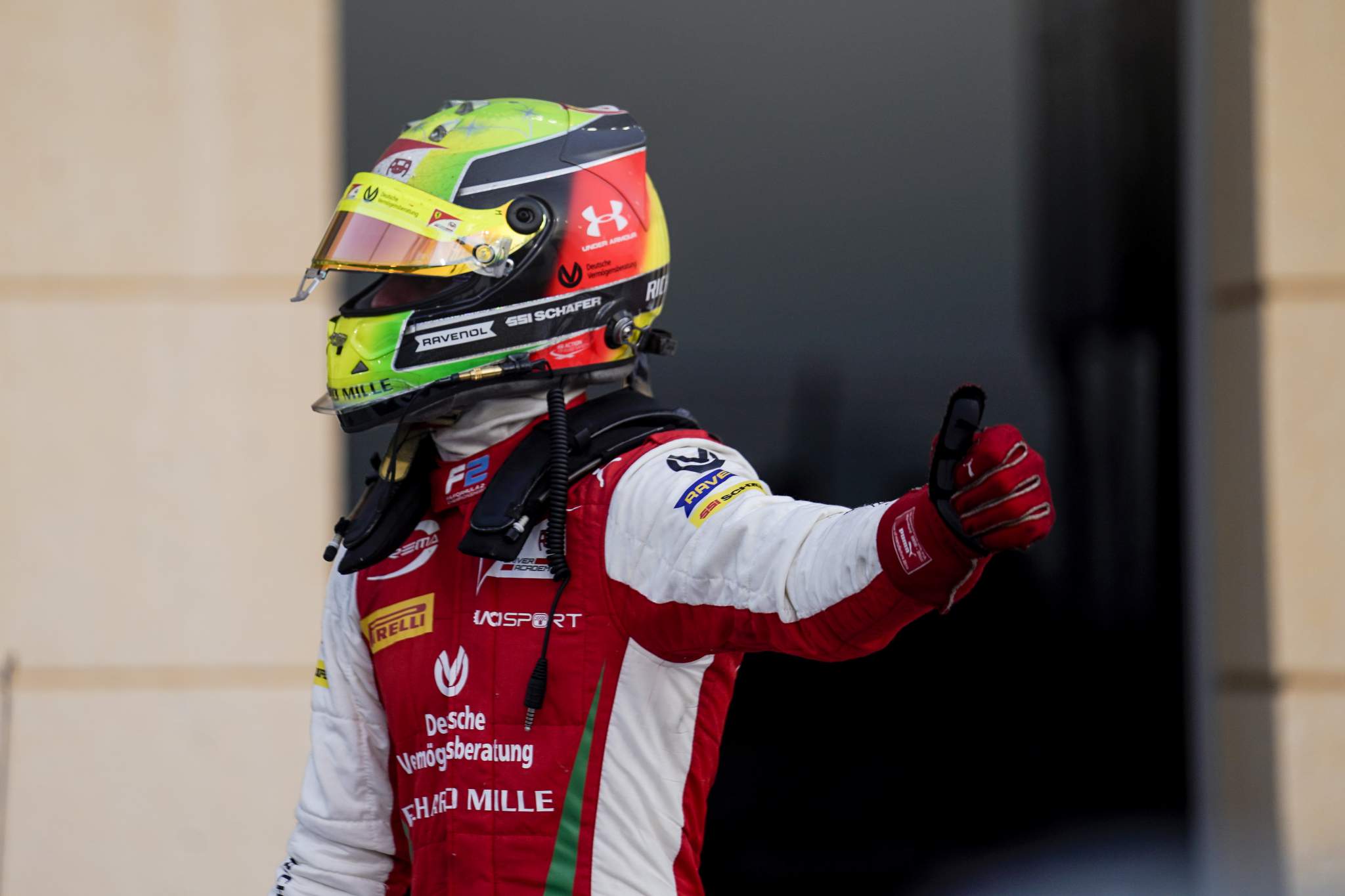 Brawn added: "It did feel rather familiar!"
"And my heart was in my mouth at times, but it all came good at the end.
"While he didn't finish in the way he would have preferred, he's had a great season with some great results and I look forward to seeing him in F1 next year."