Learning a new circuit comes relatively easily to most motorcycle racers, who can often pick up the layout of a new venue over the course of just a few practice sessions during a normal race weekend.
But at nearly 40 miles long, the Isle of Man TT course is no ordinary circuit.
In this piece, first published in May 2022, then rookie Glenn Irwin – who was best of the Superbike newcomers last year with Honda Racing but, now racing for the Paul Bird Ducati British Superbike outfit, isn't at the TT this year – explained the lengths he'd gone to in preparation.
Getting to grips with the Isle of Man TT circuit is a challenge that has required an entirely different preparation process for 2022 newcomer Glenn Irwin.
No stranger to either the machinery he'll be on thanks to his time with the Honda team in the British Superbike championship or to road racing in general, coming straight off the back of a double Superbike win at the North West 200 in his native Northern Ireland, Irwin is nonetheless well-aware that he's got a huge task ahead of himself.
That has led to a training regime that's almost unprecedented in terms of track knowledge, with Irwin dedicating months of his time over not just the past weeks but years in the build-up to the 2022 event.
He'd been originally set to make his debut in 2020, but those plans were scuppered by the pandemic and the race's two-year absence.
Outlining his preparation ahead of a week of practice kicking off, Irwin was adamant that he's done as much as humanly possible to be as well prepared as he can be.
"It's been flat out," he admitted to The Race. "What has been really good is doing all the learning before COVID arrived, when it was Xbox, onboards, going over.
"Then it [the pandemic] arrived, and what was the point in doing any learning? It's not that there wasn't any point, but there was no hunger, because it was so far away.
"So when the green light comes on again and you go back to the learning, it's almost like you've revised for a subject a few years ago, then the exam got put on hold – but the learning didn't go to waste.
"It means that I'm not starting on a blank canvas, I'm starting with that bank of knowledge. For example, I don't like the new TT game on the Xbox so I downloaded the old one, and I played it flat out.
"When I first started learning the TT, I was playing it pinned and my fastest lap was always about a 16m49s. The day I downloaded it again, I had three or four crashes and still did a 16m51s.
"I haven't even played the game, but I've been doing so much studying that the knowledge of the track is there."
That learning process has come through multiple routes, both in person and virtually. Spending considerable time on the Isle of Man to actually drive around the 200-plus corners of the course before the start of the British Superbike season, Irwin obviously had to change focus when his main campaign got underway there.
But with a huge amount of online resources to work with, there is one in particular that he thinks has been the most beneficial: an onboard video of a lap set by his 2022 team-mate John McGuinness some years back.
"I watch John's onboard lap all the time," Irwin explained. "There's one that's like 132.9mph average speed and and it's such a clear lap – it's lap one so there's no bugs on the camera!
"There are loads of laps to watch, but John's is such a good one – the sound is good, the picture is good, it's a nice clean lap. He's told me where the few small mistakes he made on it were. I watch it on a daily basis.
"I watch it in the gym when I'm cycling, and I lean with it. Anyone watching me on the treadmills behind me must think my head is away when I've almost got my elbow down! But I enjoy it, I get sucked into it – and when I get onto Sulby straight I start cycling quicker!
"Another thing I like to do is put John's lap on when I'm driving my car, cruise along and forget about it – then jump back in and try to figure out where he's at from the sound. I can normally get it right, and I enjoy doing that. It's like muscle memory, the sound, and you think, 'Maybe I shouldn't be flat out there because it doesn't sound familiar'. Little things like that.
"I've put a lot into it. I've started going over again, and when I go over I almost feel like I'm ready to be on a bike at it now. I nearly feel that I need the speed. When I go over, I can't just disrespect the speed limits and the everyday traffic and drive around like a w**ker, because you'd end up in Britain's comfiest jail."
With McGuinness' course knowledge in no doubt at all after 23 wins of his own over the course of a three-decade TT career, having him on the other side of the garage will give Irwin tonnes of experience that he's more than happy to cash in on.
"John sends me loads of photos," Irwin added. "He'll send me a shot and say, 'Where's this?' I normally get them right, too, but because it's him asking me it makes me even more determined to get it right!
"It's good to do it with him, and a lot of people think that he'll be able to tell me what to do here or there, and that I'll be able to look at his data – but we're not at that stage where I need his data. I haven't even done 10 seconds of track time."
While there's an important chance to learn his way around off his veteran team-mate, there's another part of the whole TT challenge that Irwin said he's also looking forward to experiencing alongside McGuinness: the approach of the second-most successful TT racer of all time as his own journey at the historic race gets underway.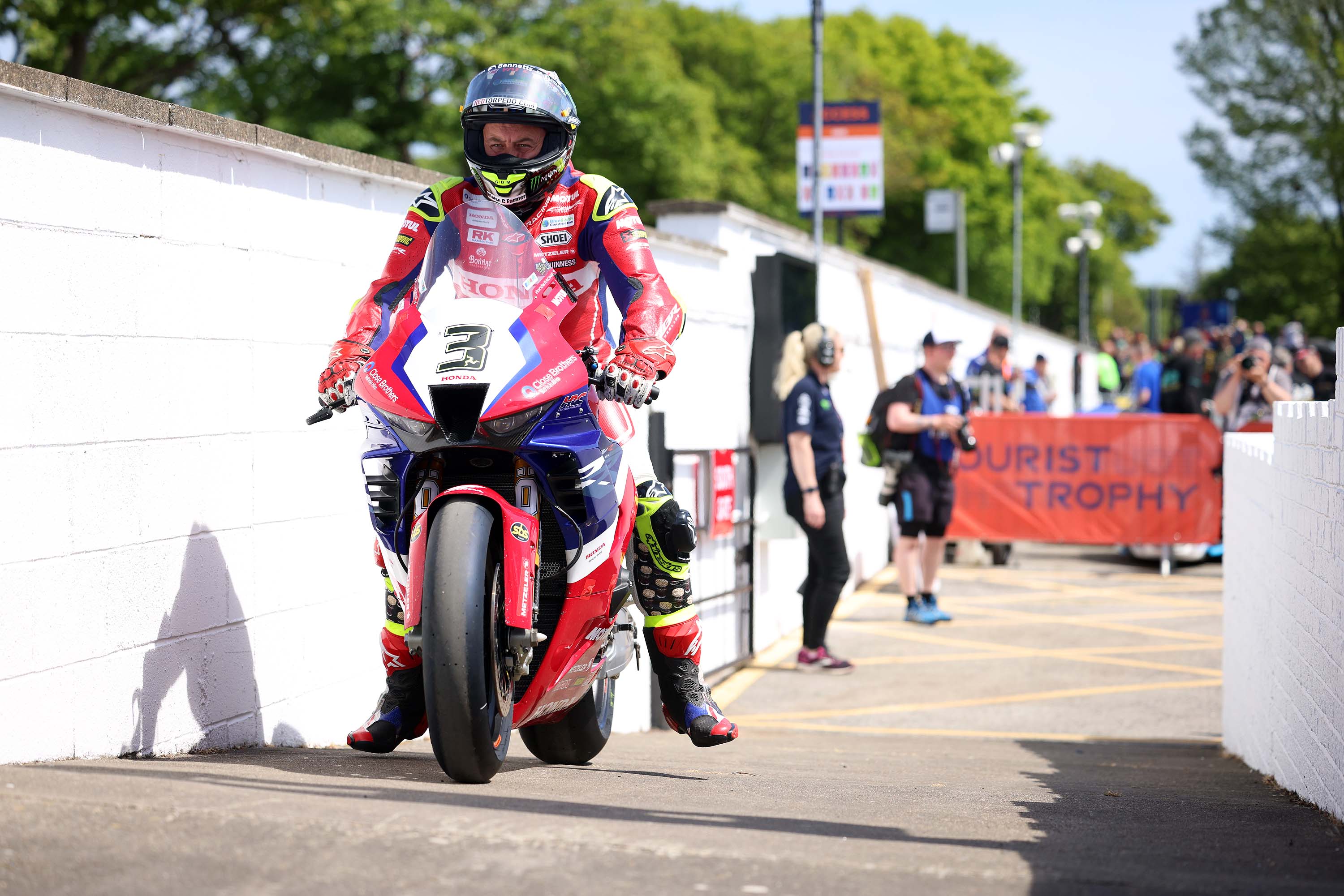 "I'm more excited about seeing, from a professional point of view, how he carries himself through TT," said Irwin of McGuinness.
"Seeing how he goes about it. I want to soak that up, because I like his approach. It's old-school – he's professional, but he's still John too, and you can still have craic with him.
"I always want to keep that identity for myself too, so I'm curious to watch him get tortured by fans. I want to get a nice close insight to what life is like for John McGuinness.
"He's a great team-mate, very helpful. Yeah he's older, but his hunger is high and his enthusiasm for the job is high! He's 56 years old and still loves racing, and I want to be like that too. Andrew [Irwin, Glenn's brother] probably wants to retire when he's 40 and not do this anymore, but I want to keep doing it."