Yamaha MotoGP team boss Mario Meregalli says the factory squad retains its confidence that the beleaguered Franco Morbidelli will eventually find a way out of the hole that he's found himself in since joining the squad in the middle of last season.
And former racer Meregalli says that some of the signs Yamaha has seen of late hint that there might be some hope of a turnaround in the near future. But with stand-in Cal Crutchlow putting the pressure on Morbidelli to deliver results, is that hope enough to merit his seat?
Morbidelli has struggled since taking over from the departed Maverick Vinales and even though Morbidelli himself came back from serious injury and subsequent corrective surgery in the final stages of last year, he's never looked like the rider who won three races in 2020 and fought Joan Mir for the title before eventually finishing second.
Instead, the Italian-Brazilian racer has been fighting most weekends not for wins but for points, becoming a relative fixture around the final points-paying position nearly every race.
At recent rounds Morbidelli has been more optimistic about his potential and finally looks to at least be making ground in regaining his consistency and race pace – though those improvements too often come only after poor qualifying performances.
That means he's been left unable to fight for a good position in a championship where it's harder than ever to make overtakes.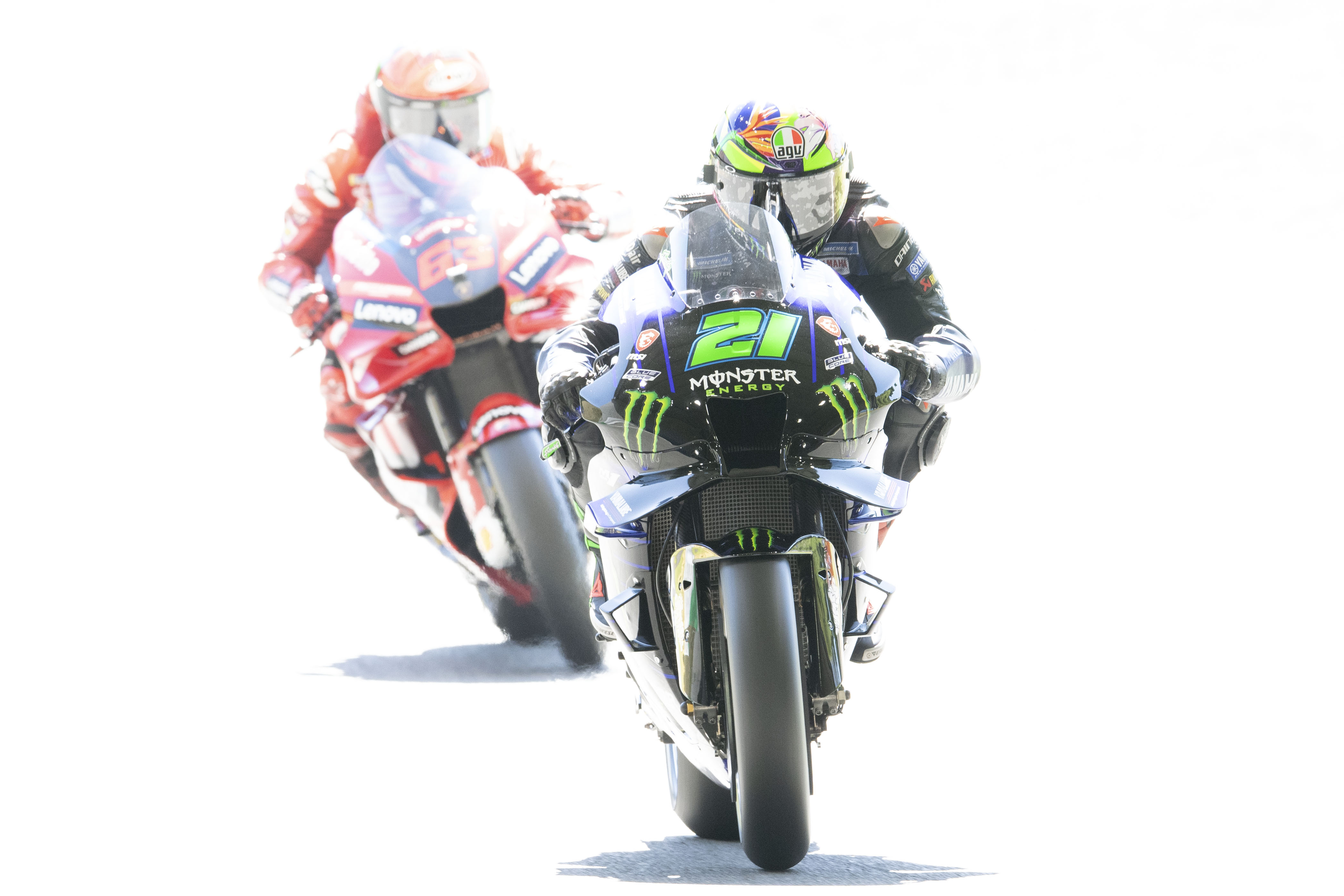 That progress has been enough for Meregalli to at least see some hope for the future, telling The Race after last weekend's Japanese Grand Prix that there has been a definite change in mood inside the Morbidelli side of the Yamaha garage.
"In Austria, he slowly, slowly improved, and there he was always in the top 10 or 12," Meregalli explained.
"In Misano, he was constantly in the top 10 and I think he too expected more in Aragon but in the end, we weren't able to provide him with what he was looking for. Here, since the beginning, he started very fast and consistent, and the pace was very good.
"Sometimes, he's been able to do one good lap but then the consistency wasn't good, but here he did everything well, also in the wet. I'm disappointed for him because he deserved to make a step and to be where he could be, where he's able to be, but for sure it's a sign. For us, it's very important, and for sure it's the same for him. If you get the confidence, the things come along."
So where has that change come from? Well, according to Meregalli, it's due to Morbidelli more than anything realising the problem that he was most up against: trying to ride the 2022 bike the way he rode his satellite Petronas Yamaha in the past – a customer machine that essentially didn't evolve at all from when he first made his debut on it in 2019 until he left for the factory colours in mid-2021.
"He spent most of this season trying to adapt this bike to his riding style," Meregalli explained, "then in a certain moment, he tried to adapt himself to this bike. At the end of the day, this bike has different characteristics to the one that he was used to riding in Petronas, and he tried to make it the same but he couldn't.
"Now he's adapting himself, he's studying a lot what Fabio is doing. At the end of the day, that's the way that you can ride this era of the M1."
The need for improvement has never been any stronger for Morbidelli, either, given the return back onto the MotoGP grid with a bang of Yamaha test rider Crutchlow, who is contesting the final six rounds of the year in place of the recently retired Andrea Dovizioso.
Crutchlow has been immediately fast, too, beating Morbidelli to come home as top Yamaha in his first weekend back at Aragon before finishing just behind him at Motegi – and disappointed afterwards that only a poor qualifying performance hampered his chances of being even higher.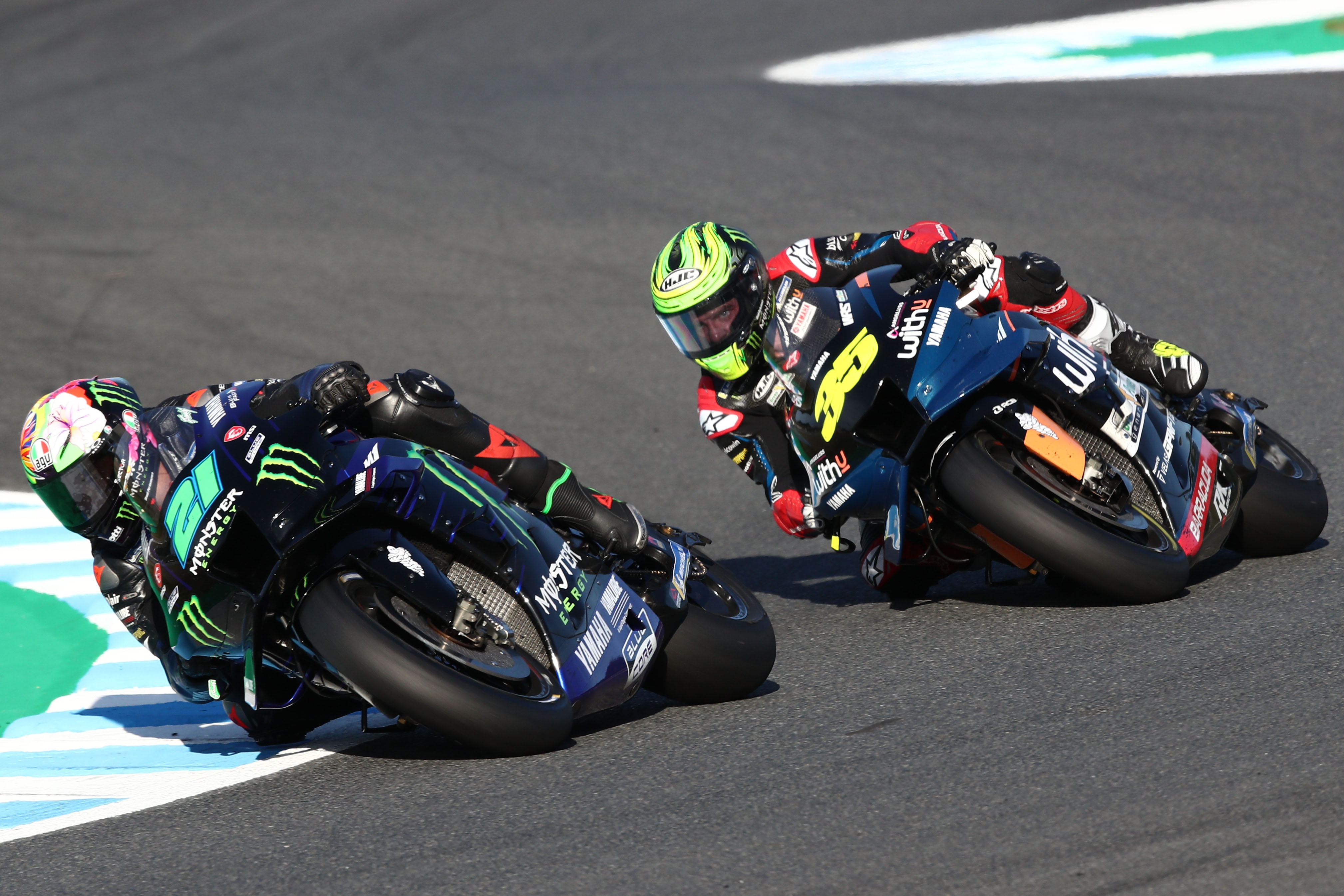 "I got to the starting grid and I had some alarm [on the dashboard] and I panicked," Crutchlow explained afterwards.
"I was so close to the last corner I didn't press the devices: I had no launch device, no launch control, and I got a terrible start. I lost places, I was already at the back, and it took a lot of time to pass the others – but when I did I was as fast as Jack [Miller, runaway race winner].
"I had the pace, but I qualified at the back and I didn't press the devices. The problem is that when you're with other riders, it takes you three laps to pass them on a Yamaha then you catch another and it takes another three laps. But when I had clear air after 12 laps, I was able to go. Then I caught Franky [Morbidelli] and went from a 1m46.0s to 1m46.6s immediately."
And with Crutchlow very much highlighting that the woes of Yamaha don't seem to simply be a case of a bad bike that only Morbidelli's team-mate and reigning champion Fabio Quartararo can ride but rather something more specific to Morbidelli in particular, it may well mean that he's under even more pressure than ever to deliver some results.
Lucky in that, when he joined to replace Vinales he did so on a surprise two-year deal that left him out of sync with the majority of the rest of the grid, he's secure already for 2023.
But with Yamaha, in particular, a factory in favour of announcing its plans for the following season before the upcoming one even begins, it wouldn't come as a surprise if it was already at least tentatively looking at riders willing to step in and replace Morbidelli sooner rather than later.