For the second time this season, MotoGP will feature back-to-back events as it follows-up last Sunday's action packed Austrian Grand Prix won by Andrea Dovizioso at the same Red Bull Ring, with the Styrian GP at the same venue.
It's the second time this season that MotoGP has featured events at the same track on consecutive weekends following paired Jerez events earlier in the season.
While the Spanish double-header produced more of the same in its follow-up encounter, there's plenty of indicators that things might not quite work out the same this weekend in Austria. Here are some of the most likely differences we could see when the lights go out on Sunday.
A proper KTM challenge for victory?
The angriest man in Austria after last weekend's red flag was Pol Espargaro, and it's understandable why the KTM rider was so peeved.
Denied the chance to take KTM's first premier-class victory the weekend before by a crash – the honour instead went to rookie team-mate Brad Binder – Espargaro thought he had a second chance in the bag at the manufacturer's home track.
Out clear of the chasing pack when the red flag came out on lap nine, Espargaro looked set for a win that could well have cemented his place in KTM's annals even if he is set to move to the Honda factory squad at the end of the season.
But despite subsequently restarting the race in pole position, using up his tyre allocation meant he had to switch from a medium rear to a soft option – a tyre that he'd only previously completed a nine-lap run on during Saturday morning's damp FP3 session.
Eventually crashing out of the top six after seeing the red mist during his drop back through the field, Espargaro was left wanting more – and Sunday might well be his best chance this year to take another win ahead of his Honda factory bike switch for next season.
The weather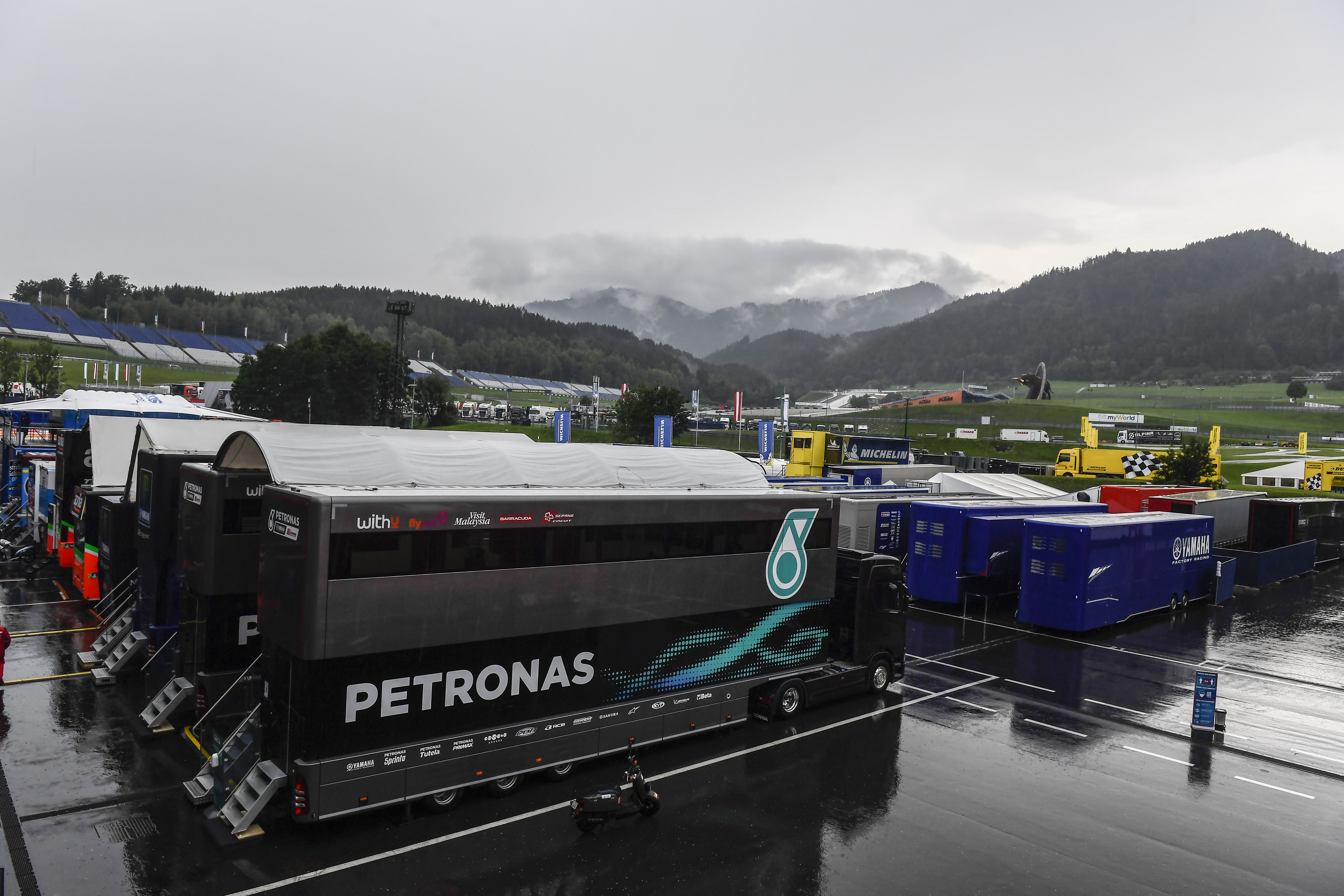 There's no getting around the fact that the MotoGP grid got very lucky last weekend. Forecast to get hit by heavy thunderstorms at some point over the weekend, it eventually waited until a few hours after the chequered flag came out before the heavens opened with a biblical downpour.
Should the same hit just before Sunday's race, it's likely that we won't even see a race starting on time, with a number of riders already expressing their concerns about riding the Red Bull Ring in the wet.
That's something they're likely to be even more concerned about after Sunday's huge high-speed crash in the dry launched motorbikes across the track into the path of other riders.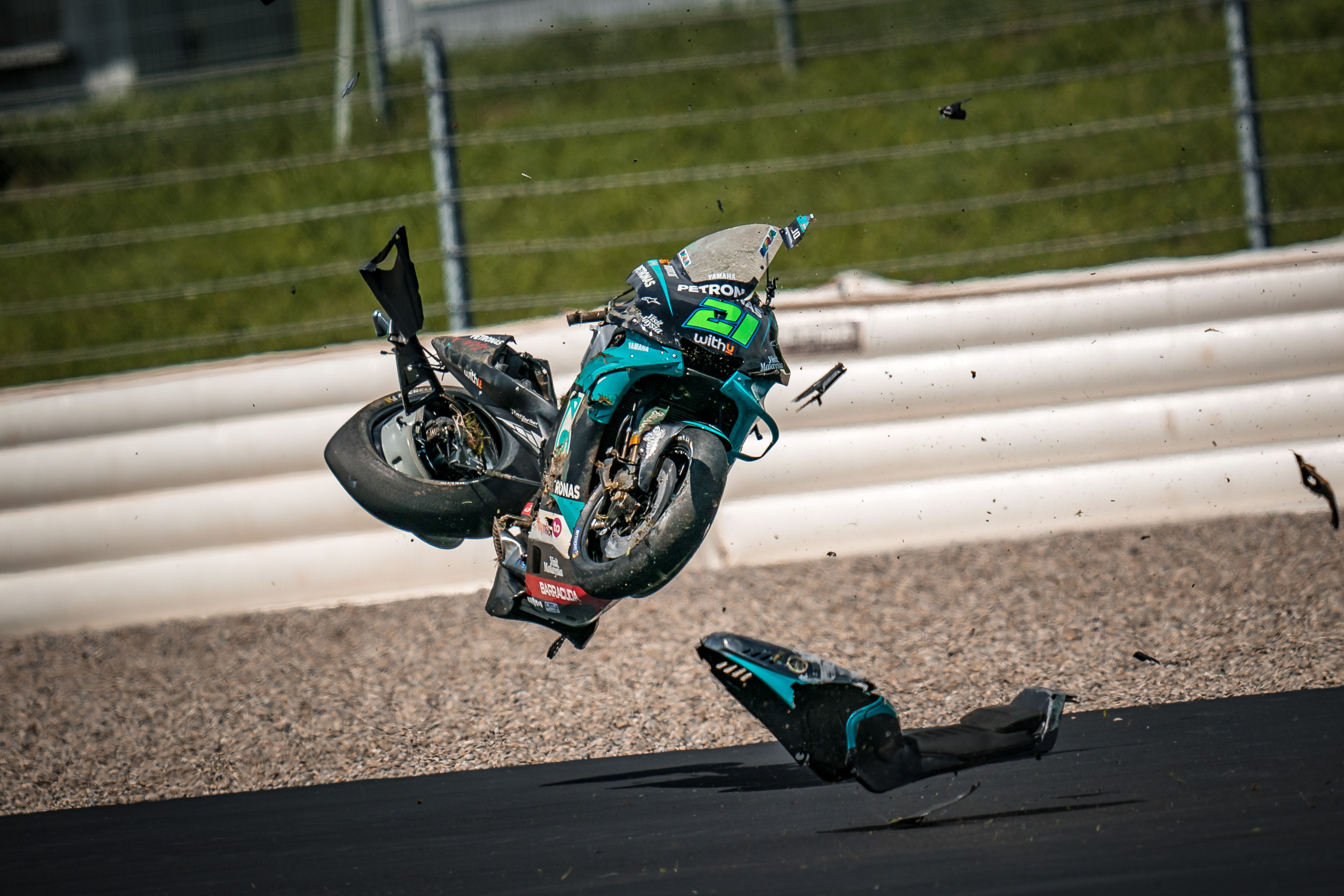 However, rain is unlikely to stop action, only delay it – and a wet race in MotoGP throws up a completely different dynamic. It's likely to take the edge off the power advantage of Ducati and KTM's V4 engines – instead helping Yamaha and Suzuki to get involved in the fight too.
But conditions in theory still favour Ducati – unbeaten at the Red Bull Ring in MotoGP – thanks not to its engine characteristics but its rider line-up. Jack Miller and Danilo Petrucci are MotoGP's rain masters, and they'll both be keen to take their turn on the top step.
Yamaha's true speed
Last week, we never quite got the chance to see just how fast the Yamaha quartet could be in race action.
An off-track excursion for Fabio Quartararo left him outside the points on lap one, Franco Morbidelli's huge crash kept him out of the restart, Maverick Vinales had problems with a slipping clutch in the early laps and only the recently-terrified Valentino Rosso was able to finish well in fifth having narrowly avoided being hit by Morbidelli's stray machine.
We have no idea how Rossi and Viñales avoided this, we're just so thankful they did.

Morbidelli and Zarco tangle on the straight and crash out.

Both riders are up and walking.#AustrianGP pic.twitter.com/izLDfWq9aY

— MotoGP on BT Sport (@btsportmotogp) August 16, 2020
Could they have done better had they had the chance? It may not be deemed as a circuit that suits the Yamaha, but there have been three M1s on the podium in four years there, in the hands of Quartararo, Johann Zarco and Jorge Lorenzo.
And while they might not have had race-winning intentions, they had the pace for the podium – something reconfirmed by a very similar Suzuki finishing second in the hands of Joan Mir last weekend.
Perhaps critically, it also looks like Yamaha has finally found a solution to its engine woes. Reportedly traced back to a faulty batch of valves, and with riders hinting that the issue will be repaired ahead of Sunday's race, they'll be desperate to get back the 300 RPM that was electronically restricted from the engines as a safety measure – and the power boost that will come with it.
Other Ducatis in the mix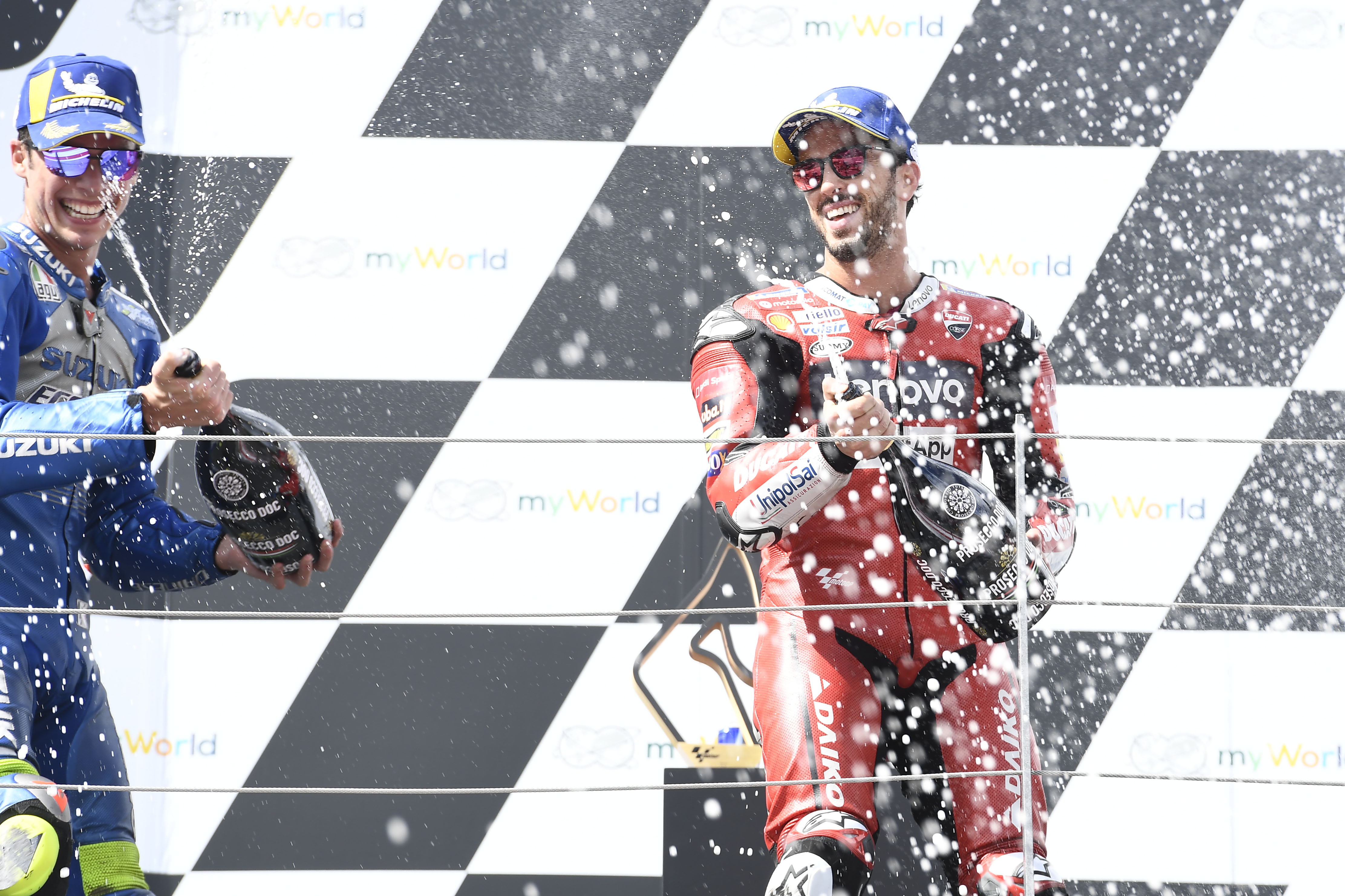 Andrea Dovizioso had last week's restarted race well under control from the moment the lights went out until the chequered flag was waved. A textbook Dovi tactical victory, he ensured he was in a strong place in the early stages, picked his time to pounce and cruised slowly away from Jack Miller.
But things aren't likely to be as easy come this week's race. Ducati's other riders will no doubt have carefully studied his data, analysed where they were weaker (Miller in particular) and will be out to make amends for it.
There are no team orders at Ducati (at least, not at this point in the season) and it wouldn't come as a surprise to see the manufacturer's pilots even closer together than last week.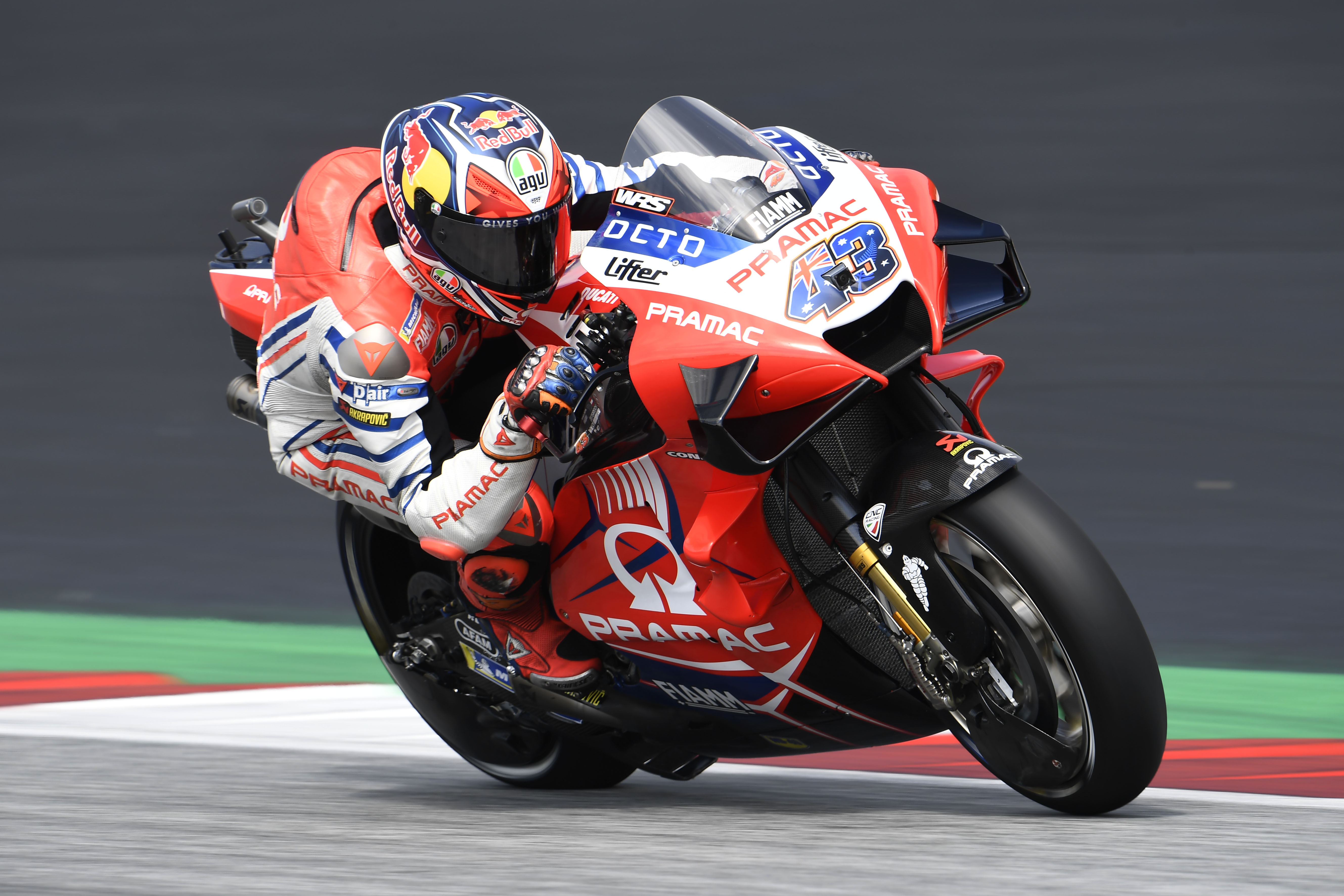 There's one small relief for Dovizioso though, in that two of those most likely to give him trouble are unfit. Pramac rider Pecco Bagnaia will sit out another weekend of action, again set to be replaced by Ducati test rider and super-sub Michele Pirro, who ended Sunday's race 23 seconds off the win.
Avintia rider Johann Zarco, a podium finisher the week before Austria at the Czech Grand Prix, underwent surgery on Wednesday morning to repair a broken scaphoid bone from Sunday's huge fall. Though Zarco is still hoping to ride at the Styrian Grand Prix, Cal Crutchlow is walking proof of just how hard that challenge will be.
Track changes?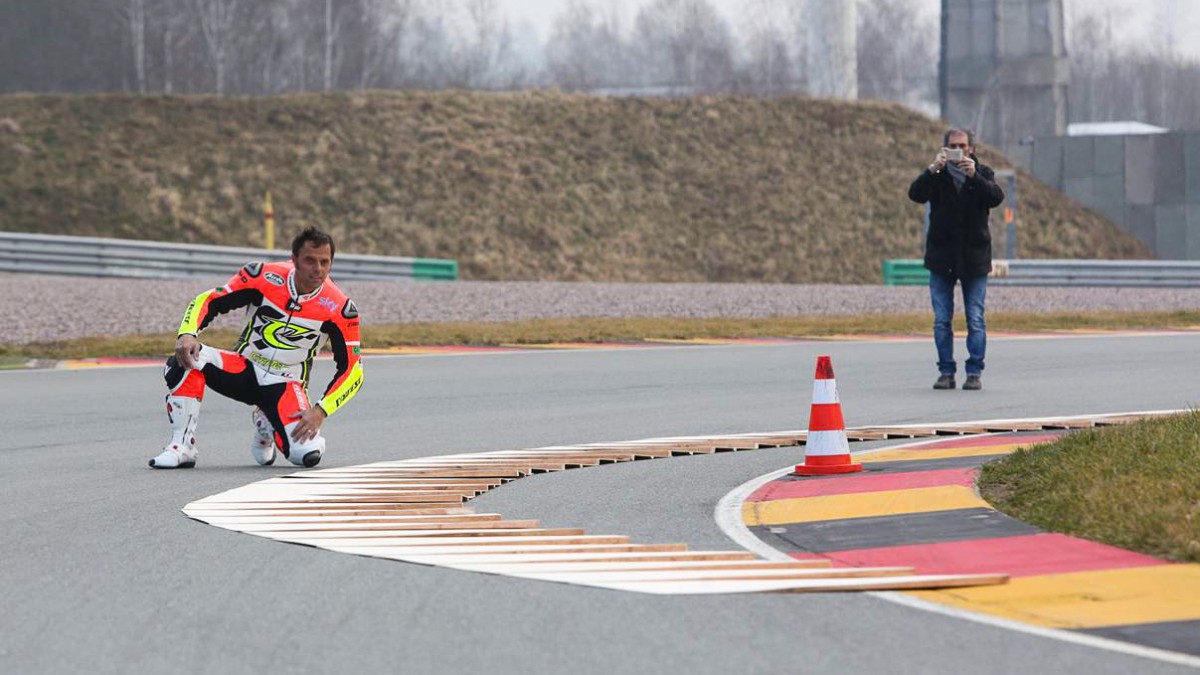 In large part the cause of Sunday's trail of destruction thanks to the angle of the track allowing out-of-control bikes to catapult across the racing line at nearly 200mph – some have speculated that MotoGP officials may attempt to use temporary chicanes to square off the corner and reduce the speed at which riders approach turn three.
It's an emergency method taken a few years ago at Sachsenring's notorious Wasserfall corner, when the corner was modified with metal kerbing in order to change the angle and speed of the turn.
And on Thursday, it was confirmed that MotoGP had made some small changes to the Red Bull Ring's turn three, with the barriers on approach now further to the left with air fencing and a fence behind. ‬