It now looks all but certain that MotoGP's 2020 world champion will be Suzuki rider Joan Mir, thanks to an almost-unassailable 37-point lead over Fabio Quartararo and Alex Rins with only two races and 50 points left to play for.
That means the series is set to inherit a very new figure in the form of champion, with 2020 ending the dominant reign of the injured Marc Marquez and bringing a wholly different Spaniard to prominence.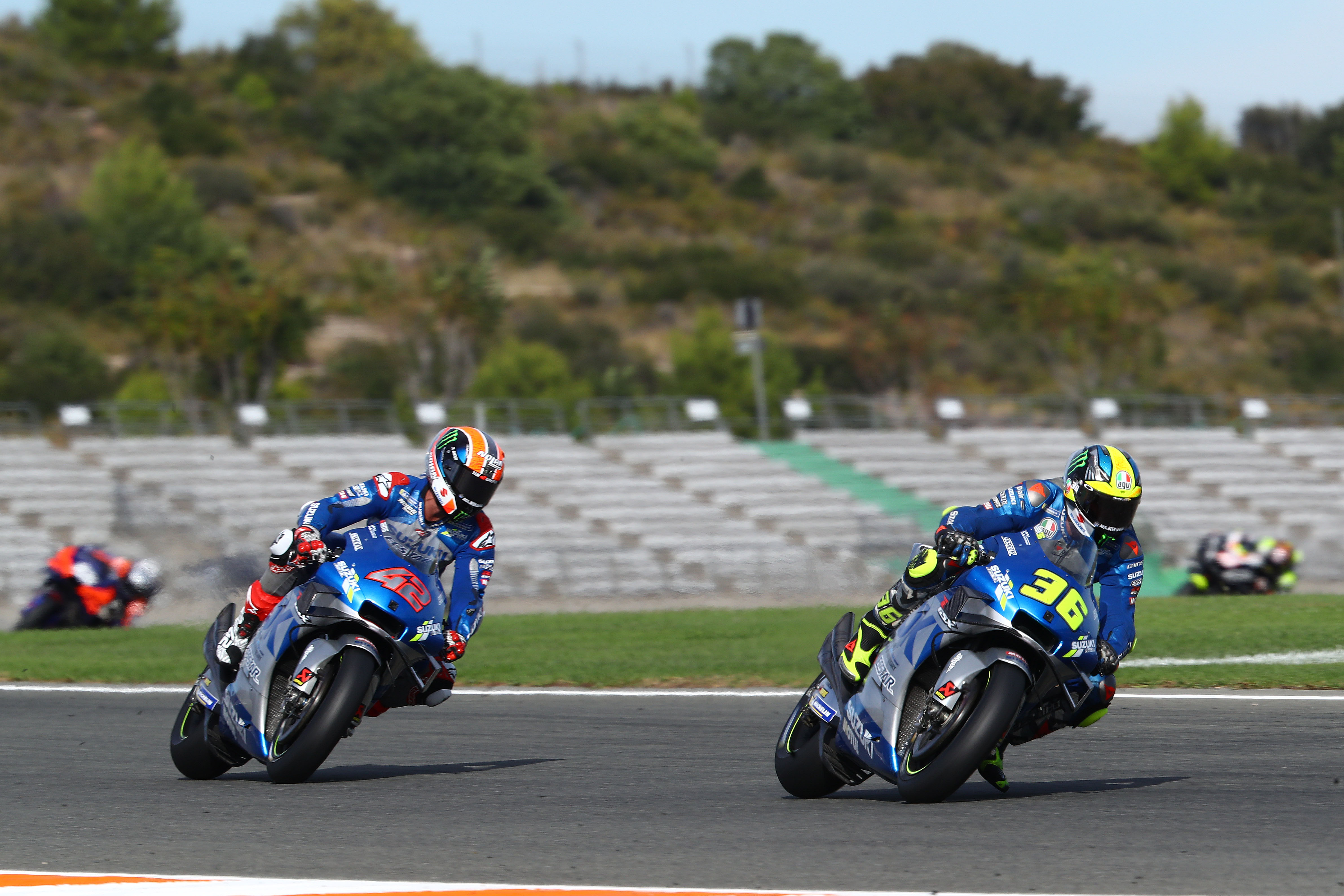 Only four years younger than Marquez, Mir nonetheless is representative of a new breed of MotoGP rider that we've seen emerge in recent years. Perhaps less focused on racing – or more aware of the world outside of the MotoGP paddock – the likes of Mir, Franco Morbidelli and Fabio Quartararo are tapped into the bigger picture, and are better ambassadors for the sport as a result.
We've seen it already this year with others, from Quartararo joining close friend Lewis Hamilton in speaking out against racism to his team-mate Morbidelli collaborating with legendary Oscar winner Spike Lee on a helmet design focusing on the same message.
And Mir demonstrated this again on Sunday after finally becoming a MotoGP race winner as well as championship leader, by adamantly insisting after the European Grand Prix that the pressure he's under as champion-elect is nothing compared to what is experienced by people in the real world at the minute.
"For sure we have pressure here – we're playing with our lives and we have to be very focused on what we do," he said after winning in Valencia. "In the end, that's our job.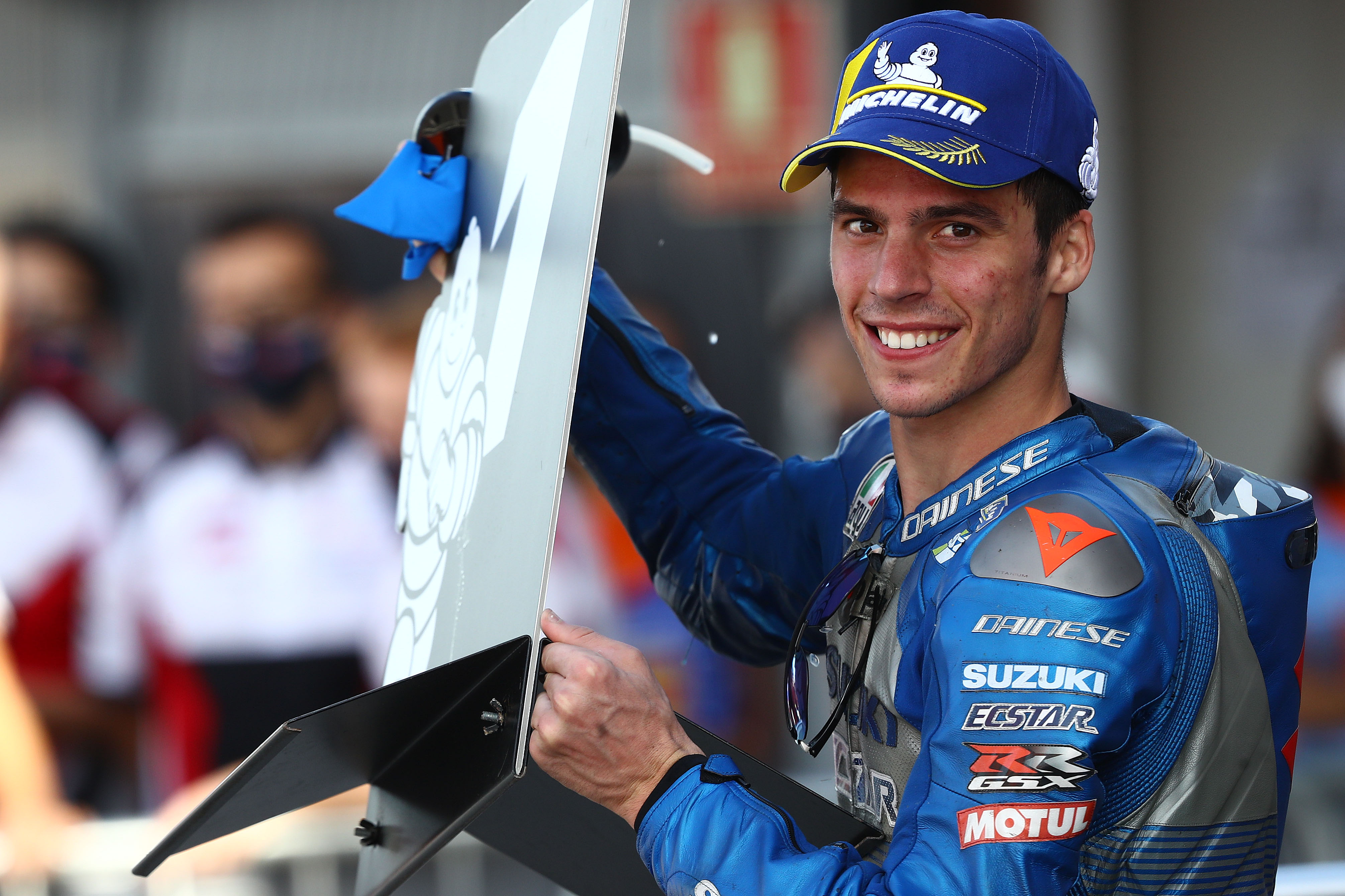 "But I have good pressure, not real pressure. If I win, it'll be super good for me in many ways, but if I don't win, it'll still be a good year even if it changes some things.
"The people who can't pay their rent because of the coronavirus conditions, the people who can't bring food to their home – this is real pressure, not good pressure. When I hear questions about the pressure on me, I think about them and I know I don't have pressure, not bad pressure. I am very privileged and I'll be OK either way."
That's something that has been evidenced so far by how his 2020 season has played out, with the 23-year-old never looking like someone struggling to cope with the challenge of leading the MotoGP world championship even as some of his more experienced rivals have seemingly fallen foul of circumstances.
Mir is one of only three riders on the 2020 MotoGP grid to have less than a 100 grand prix starts to his name and second only to rookie Iker Lecuona in terms of overall inexperience, which makes what he has been able to achieve so far this year even more impressive.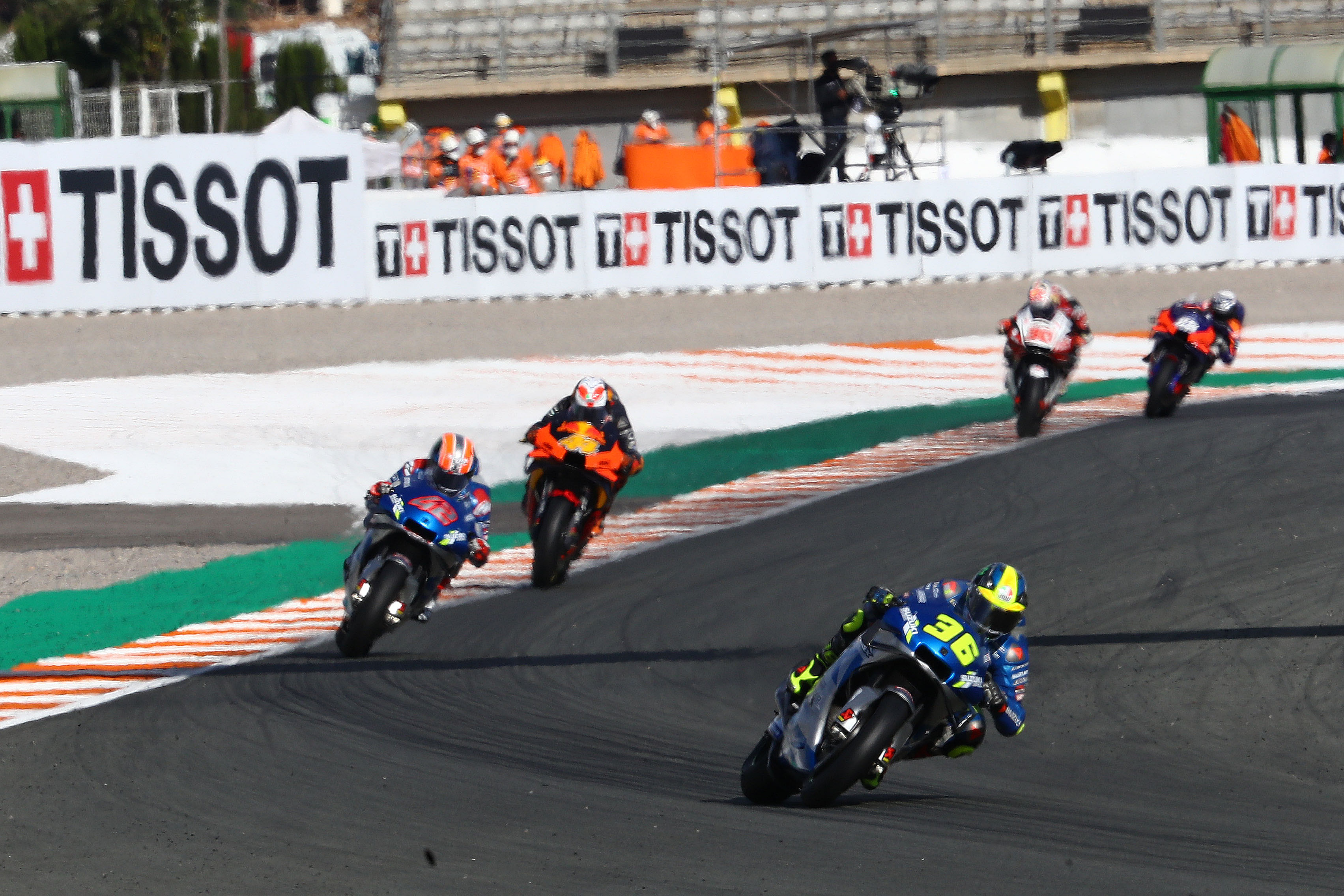 And despite admitting that he did briefly feel the tiniest amount of pressure in the closing moments of Sunday's 27-lap race at the Ricardo Tormo circuit, Mir believes it's something he and his team can manage for two more rounds and hopefully clinch the title.
"In the last two laps, I was thinking about being careful with the brakes, trying not to lose the front, trying to take care not to make a mistake," Mir said. "It was a long race – I would have preferred a few less laps!
"But we are showing that the pressure is not a big problem for us. It's important to continue like this, to keep showing our potential and to not allow the pressure to become something difficult for us. It's not an easy thing to manage, but I think that we are doing it in a good way so far."
Crashes haven't really been a factor in his campaign this season, though, despite him kicking off the season with two DNFs from the first three races. One was a mistake of his own doing at the Andalucian Grand Prix, and the other a result of being wiped out by Lecuona at the Czech Grand Prix. Otherwise, he's only had a further two practice crashes in 2020.
That's something he expected this season, though, despite 12 falls in his rookie year, as he learned his MotoGP trade.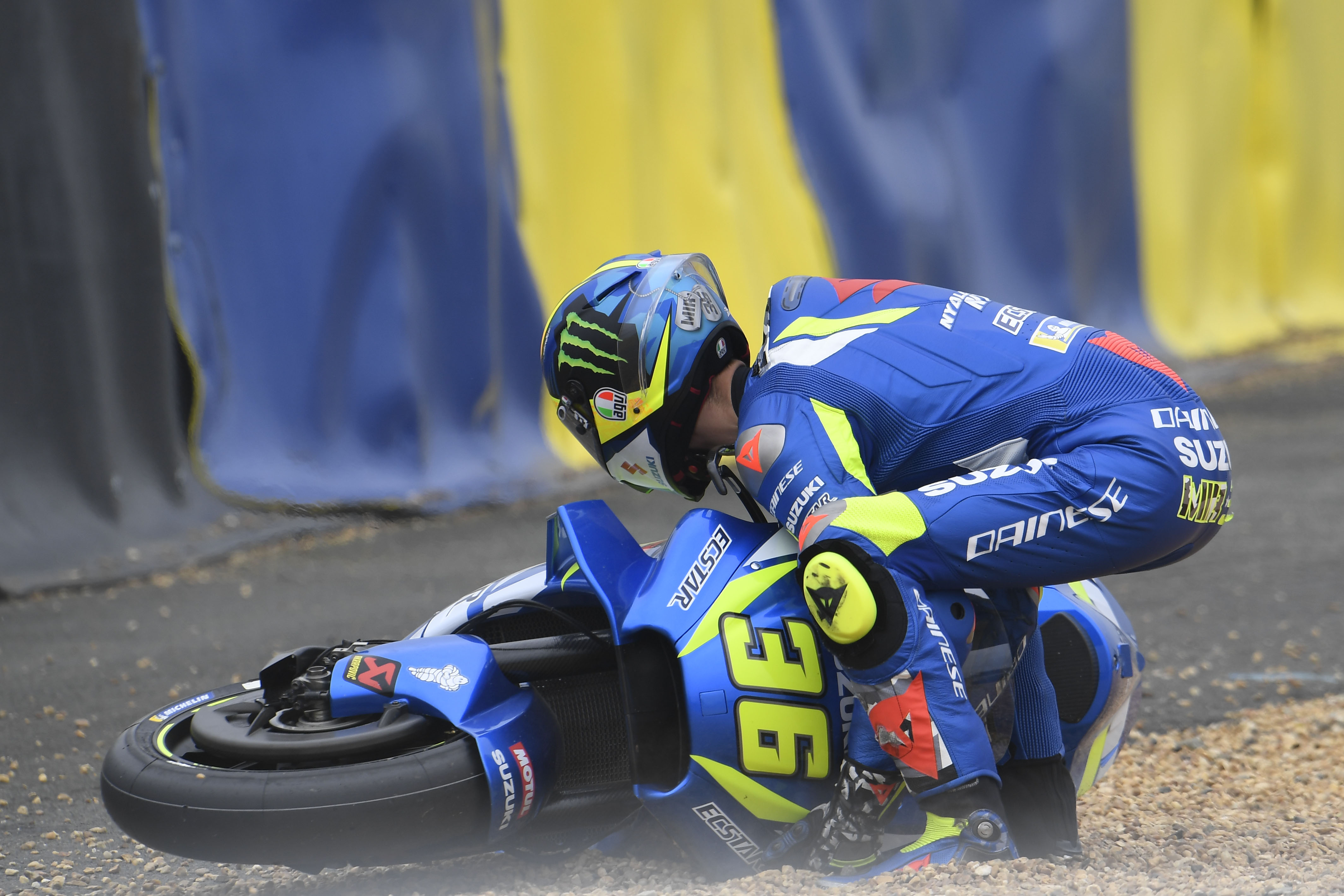 "Normally in the first year of every category, my natural style is aggressive," he said after Sunday's win over teammate Alex Rins. "When I don't have speed because I don't have experience, I ride in a super-aggressive way.
"That means I make a lot of mistakes, like last year, because I'm trying so hard. This year with less effort and everything more under control, I'm able to be more in control.
"My first year in Moto3 was the same and then in the second year I was much smoother and calmer. This year, I'm starting to understand how the MotoGP bike works and my potential is a lot different from last year – and that means we're in a good place."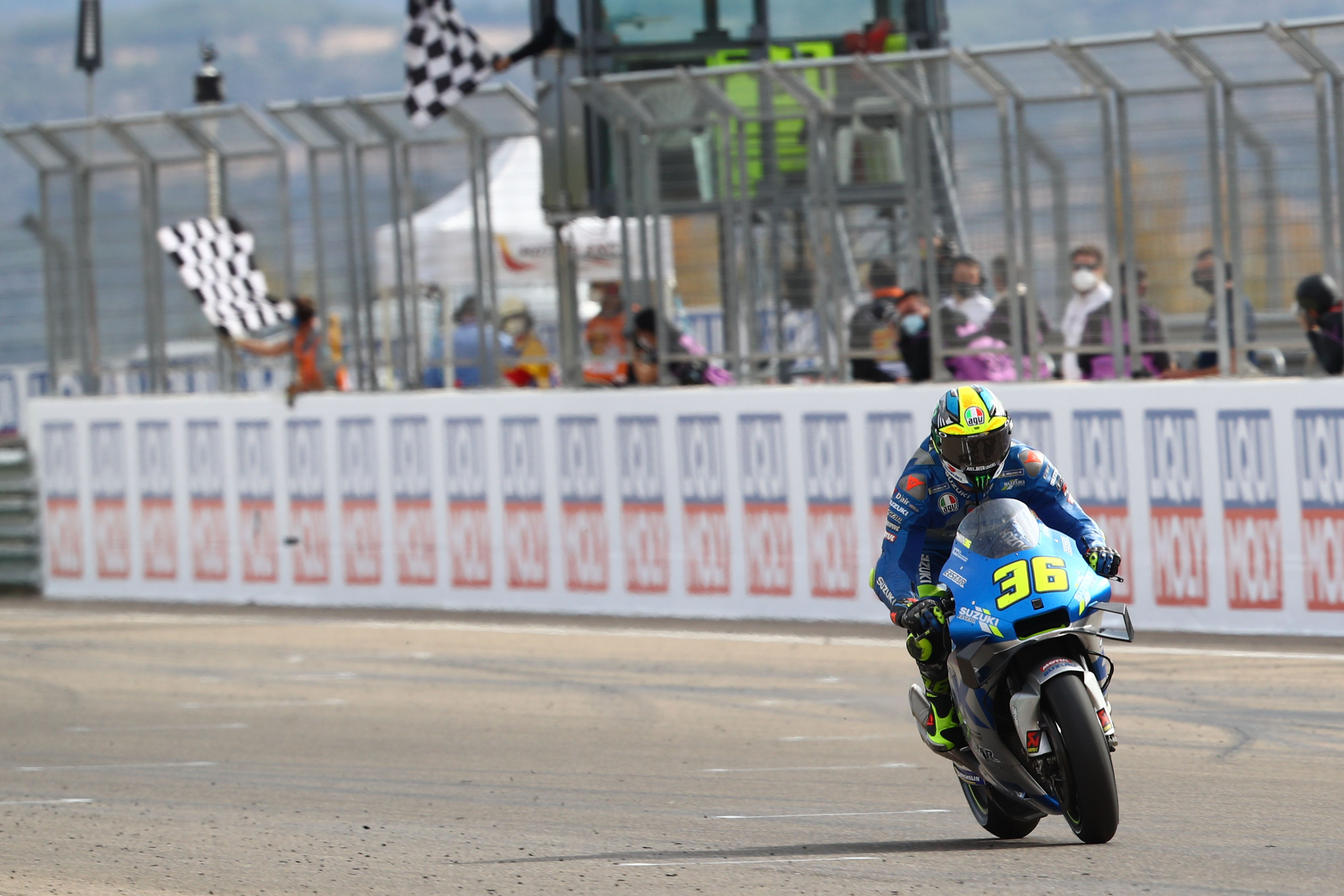 There's another source of pressure that has now been lifted from Mir's shoulders, too. Questioned from the start of his mid-season title charge whether an overall title victory without a race win would stand the test of time even as he racked up podium after podium, that's another demon he buried last weekend.
"I was not worried, but it was something on my mind that I wanted to remove. For sure the key this season was that in some races where we were not the favourite we were still on the podium, and we were able to take the win when we could.
"In Austria, it was also another chance but I couldn't get it. It's important, but in this type of season it's not necessary. It's good to win but it's also nice to be on the podium every weekend."