The 2022 campaigns of MotoGP's two ousted rookies ended in contrasting fashion at Valencia – both when compared to one another and in relation to the rest of their seasons.
Darryn Binder and Remy Gardner had known for a while that they would not have a spot on the 2023 grid, but while Binder publicly took it on the chin, his counterpart found it particularly hard to accept.
But it was Binder who bowed out of RNF Yamaha and MotoGP with a four-crash Valencia weekend, ensuring he would end the season as the crash 'leader' across all three classes – with 27 falls amassed.
And the 24-year-old South African, who'd stepped into MotoGP straight from Moto3, admitted that an exit at the Doohan corner hairpin on just the fifth lap of the race, when running effectively last, was a sour note to end on.
"Really upset and disappointed to finish my last GP weekend the way this last one went," he said.
"It's been a really, really tough weekend for me. I've struggled all weekend with feeling on the bike, and unfortunately I've had many crashes this weekend.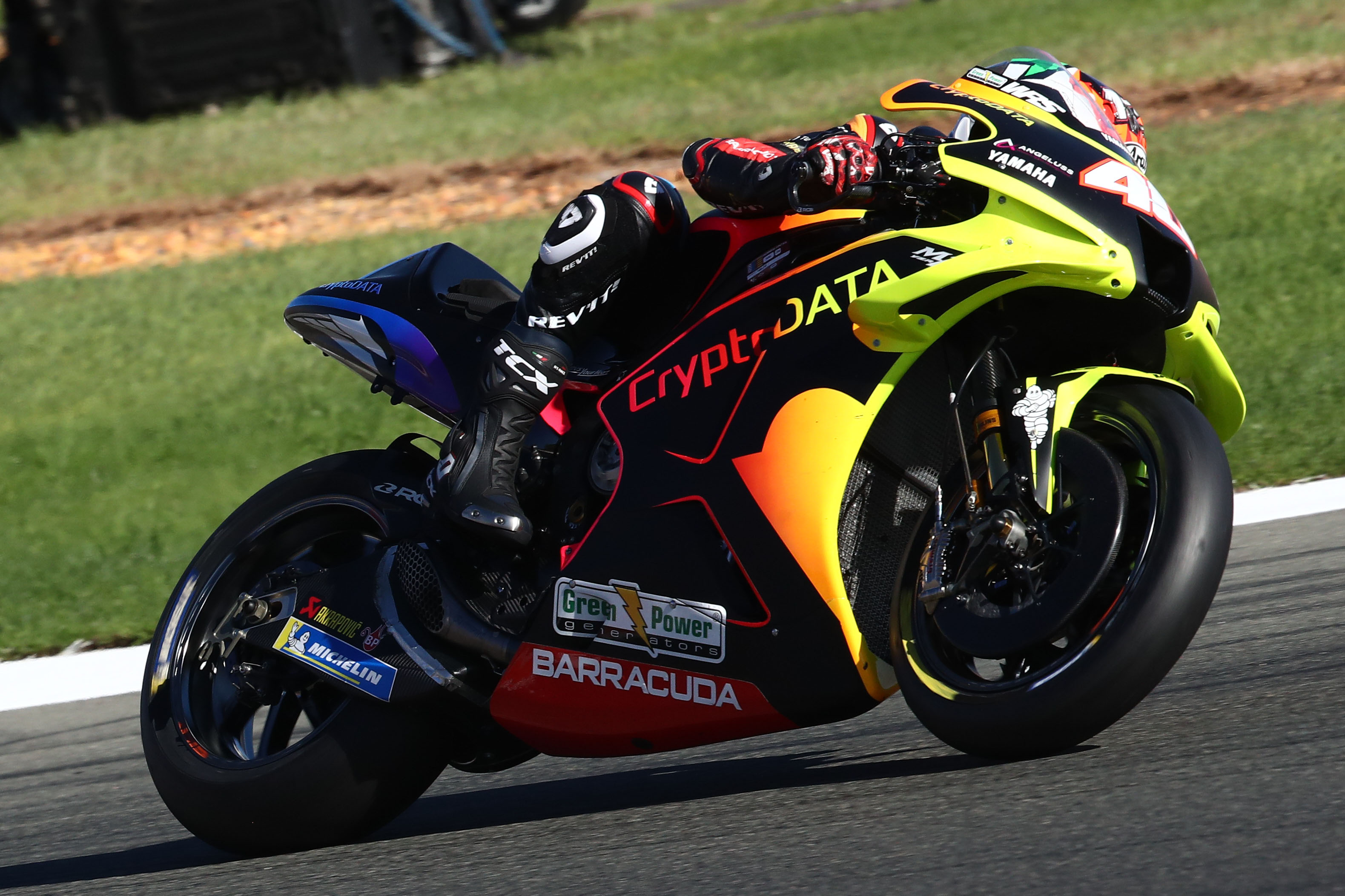 "In the race I was at the back of the pack, just trying to figure things out for myself and build it up lap by lap because I wasn't really able to push, I didn't have really great feeling.
"I hadn't even gained any feeling yet and I had another crash going into Turn 2.
"Unfortunately it was probably the worst weekend of my year so far. It sucks to end that way but it is what it is."
Binder still described his 2022 as "a cool year" in which he enjoyed "every moment of riding a MotoGP bike", and was full of gratitude towards the RNF team.
For Gardner, who graduated to MotoGP as a Moto2 champion, his first and perhaps only premier-class campaign had been firmly headed for a depressing conclusion.
The Aussie felt blindsided by KTM's decision not to retain him for 2023, and sounded increasingly dejected and even bitter over the remaining rounds as his performances tailed off.
Yet Gardner had a blast in his Valencia send-off, his 13th-place finish lifting him past none other than Binder in the standings – though he remained 23rd due to being overhauled by team-mate Raul Fernandez.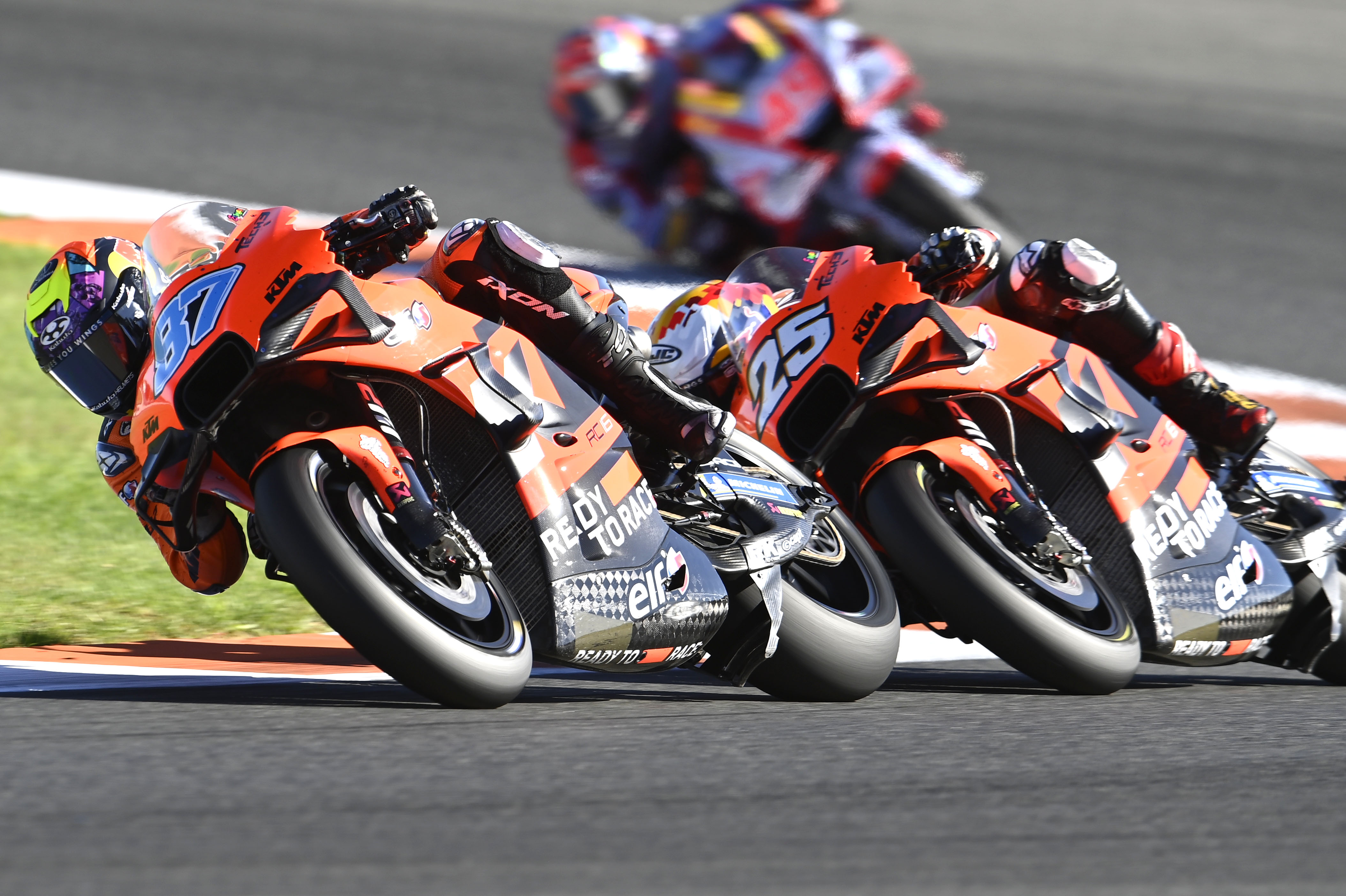 "I actually had a f***ing sick race!" he exclaimed. "It was pretty all right."
He couldn't make progress on the first lap from 20th on the grid but was then "on a mission, mate" in making his way up to 15th to run right behind LCR Honda's Alex Marquez – who then nearly caught him out by crashing.
"As he crashed I was kind of like, 'Oh s***', picked it up, and I went a bit wide and mate, f***ing tucked the front so bad in Turn 1. I was on the ground, used every bit of strength to just pick it back up."
That moment relegated him behind Marco Bezzecchi (VR46 Ducati) and Cal Crutchlow (RNF Yamaha), although Crutchlow then crashed out almost right away.
Gardner's rear tyre started to fade soon after, something he said was a recurring theme in the run-in and that even "the highest traction control setting" didn't prevent – so he sought to make life as difficult as possible for riders lining up to pass him.
"Raul came back at me, and I could see him coming, he passed me and I passed him back, like, three times as soon as he passed me. It was the only way I had a chance of like keeping the position, just to f***ing disturb the s*** out of everyone," he said.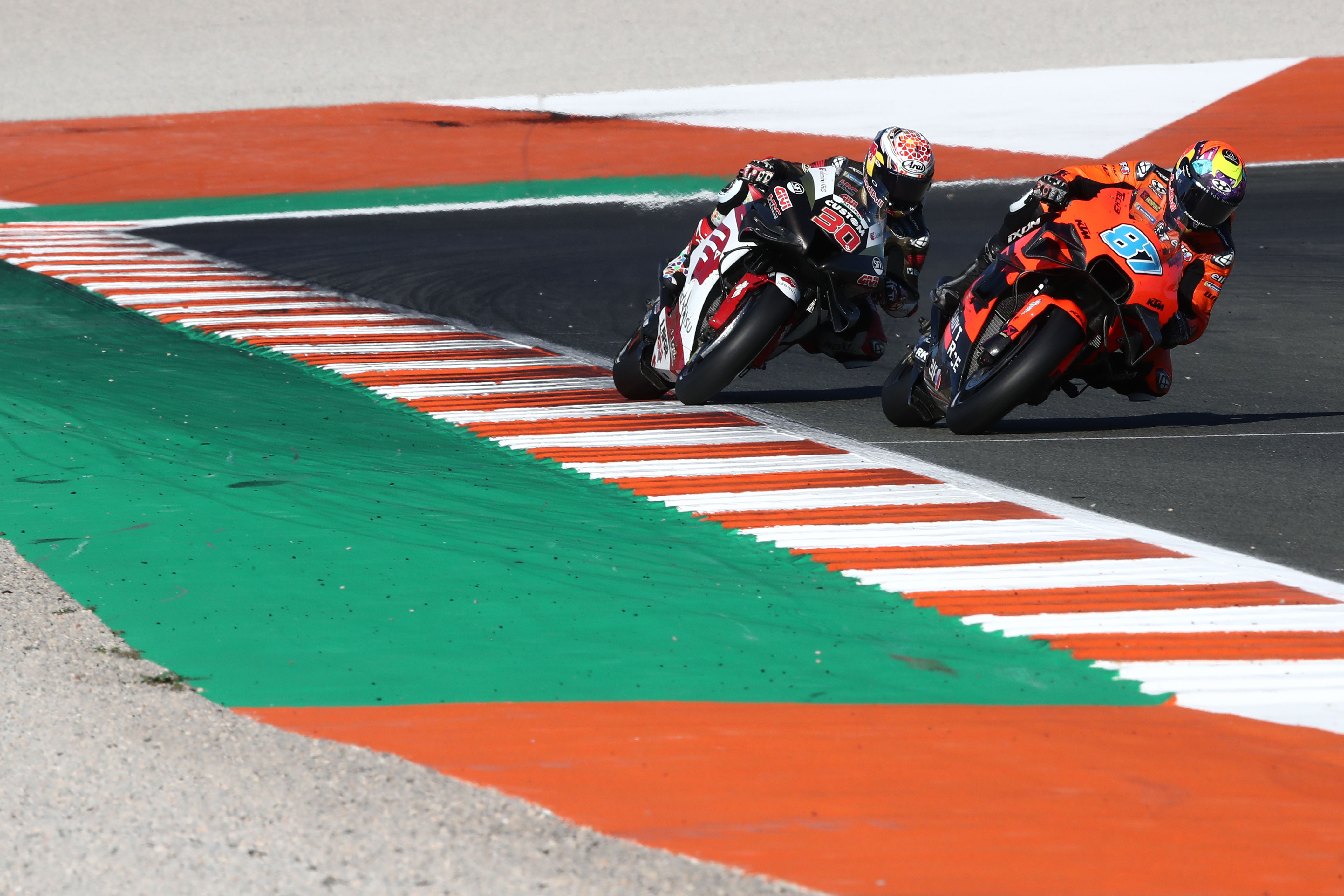 "It was quite fun to be honest. And then Taka [Nakagami] passed me, like three laps to go, I was like, 'Oh f***' and I just pushed like a motherf***** and managed to get really close in the final corner, went for the block pass, just held and pushed him out."
Gardner then went heavy on the burnouts on the final lap, to the point where he popped his rear tyre. "He was running on the rim, unbelievable, amazing," laughed Suzuki's race winner Alex Rins.
But the Tech3 KTM rider ultimately couldn't resist a parting shot at a satellite KTM RC16 package he had long felt wasn't up to par with what the works team had, saying he was "pretty relieved" to end the season and "just glad I don't have to get on that thing again, pretty honest".
Binder will head to the Husqvarna-partnered Intact GP team in Moto2 next year, while a GRT Yamaha ride awaits Gardner in World Superbikes.