Defending Portuguese Grand Prix winner Miguel Oliveira may have had his chances of doing the double this weekend at Portimao significantly reduced, as a row has erupted between a number of MotoGP riders and control tyre supplier Michelin over the 2021 allocation of tyres.
Oliveira dominated last November's first-ever race at the Algarve circuit, taking the win by over three seconds from Jack Miller to secure his second victory of the season. However, the hard front tyre that he used last year (confusingly designated the S by Michelin) has now been withdrawn from the 2021 allocation, leaving him and a number of others frustrated by their choice.
"Right now, to not have the S tyre for us is a huge handicap," Oliveira told The Race. "It was a very good tyre.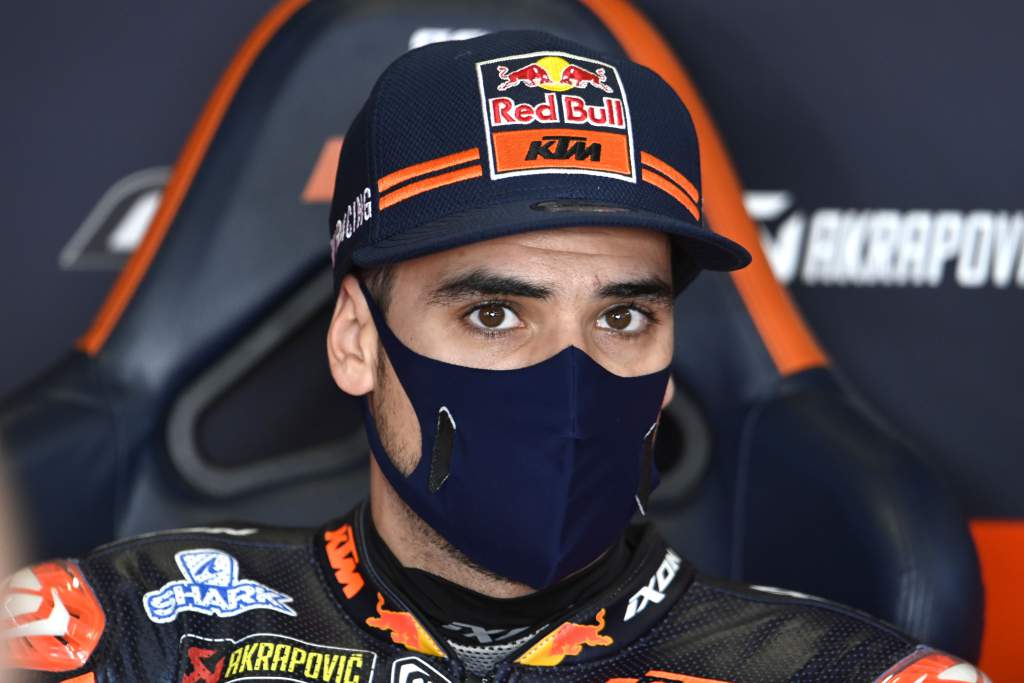 "It's true that we were the only ones along with sometimes Aprilia and sometimes some Hondas to use this tyre, and we're the only ones using the harder compound available, which we feel is too soft.
"It's a huge handicap, and I can't understand the decision to take out the S tyre from the allocation. Michelin are in a bit of disagreement with us because they said it was the riders' agreement but the fact is that we don't have it any more.
"It was working OK with 30ºC track temperature easily, but we didn't have it in Qatar where we race at night, and we don't have it here.
"But we are here to compete and everyone has the same tyres available. For sure they suit some bikes more than others, and it's up to us now to do a saving job that allows us to ride a little bit better."
His factory Red Bull KTM team-mate Brad Binder is in agreement, too. One of the other riders to have raced the S tyre last year, \Binder explained that without it the KTM riders don't have the same feeling at all from their RC16s.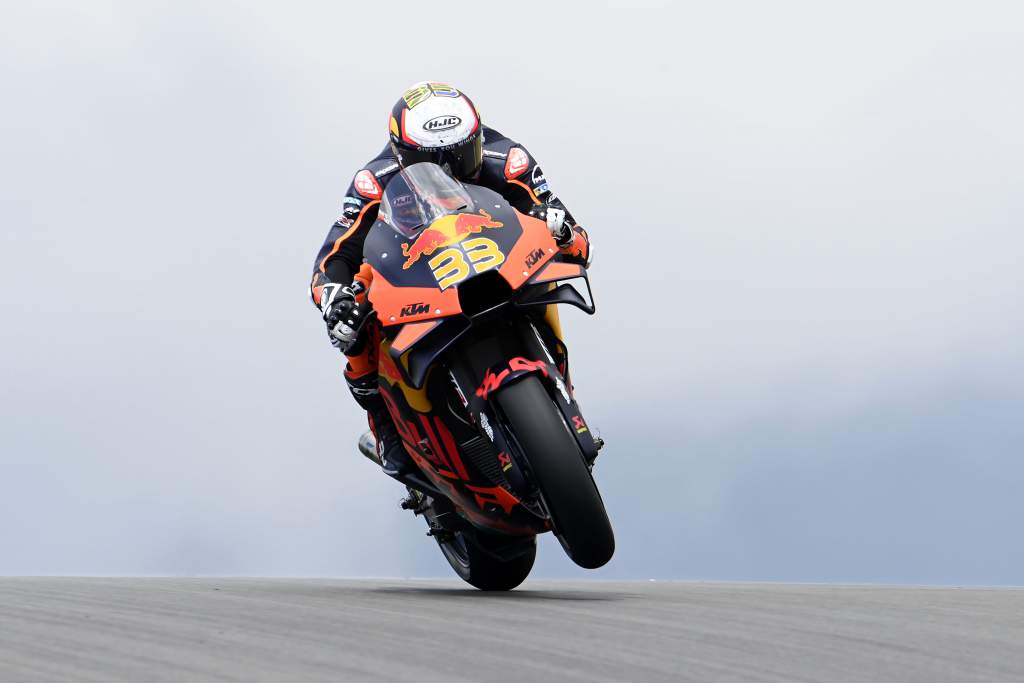 "I'm struggling a lot with the front tyre," said the South African, "it's really weak and it's making life hard for us. It's the hardest option we've got, though, and we're just going to have to deal with it.
"It's quite clear that it's a big disadvantage [not having the S] because the hardest one we have this year feels like bubblegum braking into turns.
"It's really difficult because it's what we have and we're just going to have to play with the settings and try to make it work a bit better."
The issue isn't just a KTM problem, either, as alluded to by Oliveira. Aprilia's Aleix Espargaro was also unhappy with the decision to change the allocation for this year by permanently removing the S tyre – not just for Portimao but for every track where it was brought last year.
"I'm not happy," he admitted when asked by The Race, having crashed late on on Friday while running the new hard tyre.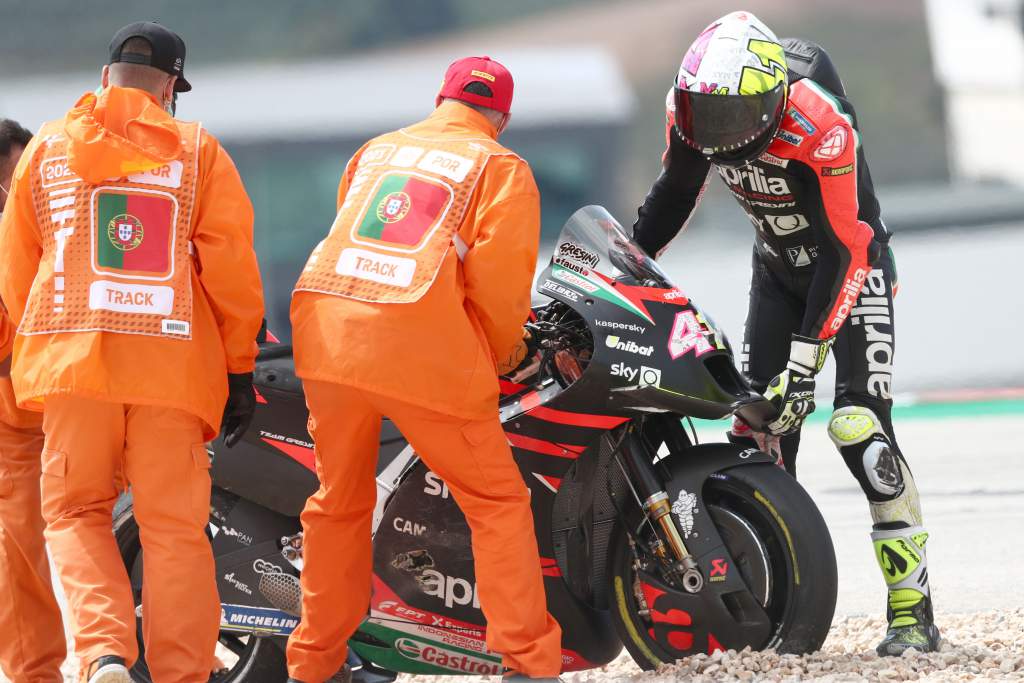 "I would like to defend Michelin a little bit, because last year everyone was not happy with the S front tyre, but in Portimao, it was the only track where I felt OK with it.
"So they removed the S because no one liked it, and now we have another tyre that I would say is worse.
"Yes, we don't have the S but we criticised it because it wasn't working, and what we wanted was a solution, a better tyre. The tyre that we have now, the H front, is not better – it is worse.
"With the [medium] K tyre today it was OK, because the laptimes weren't very fast and the grip was low, but tomorrow we have to use the hard tyre I don't like at all.
"It's the same for everyone though, so I'll try to find a compromise and make the tyre work, because in the race last year I was very competitive. I was one of the four riders who used the S front last year and was very competitive, and I will try to do the same again this year."
For its part, Michelin its insistent that the decision to remove the S option is in line with rider feedback.
"The general way we've worked is the same as we did in Qatar," Michelin's bike racing chief Piero Taramasso told MotoGP pitlane reporter Simon Crafar during FP1, "and we went a little bit harder on the compound because our goal this season is to have the tyres be more consistent, all the race long.
"Last year, we came to Portimao with four fronts and four rears because it was the first time that we'd raced here, and this year we kept three out of the four on the front.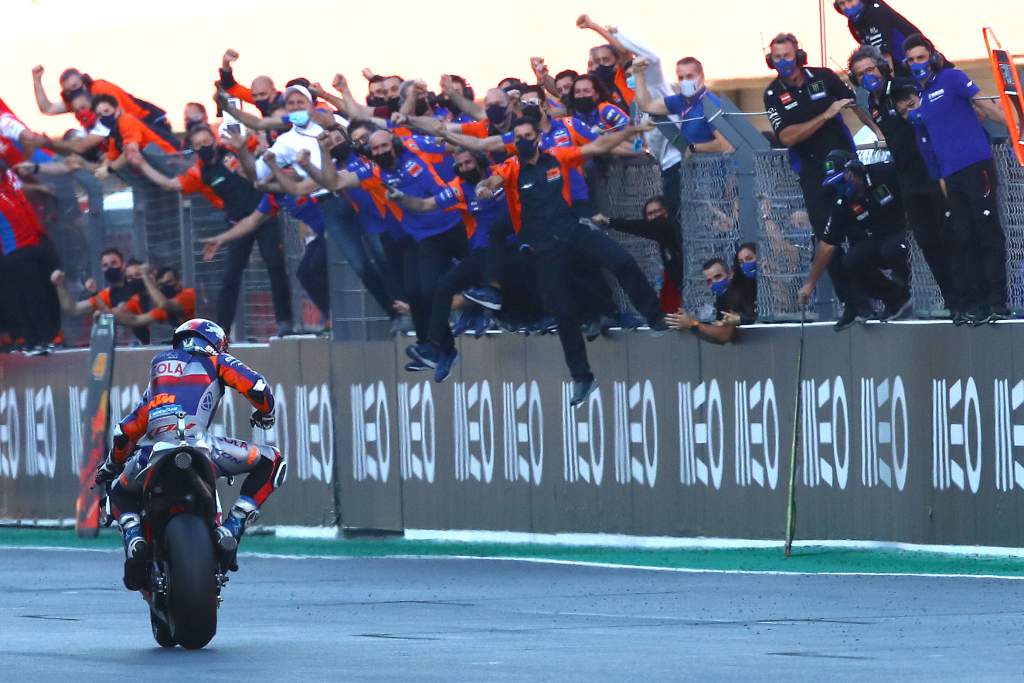 "The front [that won the race with Oliveira] is no longer in the 2021 allocation because last year in Austria 21 riders asked us not to bring it any more because the feeling was different from track to track. That's why it's no longer in the allocation any more."
That's a claim disputed by the KTM riders though, with the factory duo adamant that while the issue was discussed at the regular Friday night safety commission meetings attended by riders as well as Michelin and representatives from the organisation, it was never something that was agreed on by them.
"I don't really remember a vote," said Oliveira when questioned about Taramasso's comments. "We had a few talks, but I wasn't present in every safety commission so that's also something strange – they said it was a unanimous decision from every rider but it can't be when not every rider is taking part in every commission.
"I have no idea when we heard about this, but I think we talked in Barcelona in September and maybe before."
"I don't think that comment is too accurate," added a wry Binder when asked about it by The Race, "because I raced with it last year and a lot of other guys did too.
"I know in the safety commission everyone has been pushing to get that tyre back and not the one that we have, but it's not the reality so we've got to make do with what we've got."