Yamaha MotoGP rider Fabio Quartararo was lucky to escape relatively unscathed from a high-speed crash on the opening day of practice at the Japanese Grand Prix - a crash he says was caused by a technical issue.
The Frenchman crashed exiting the famous Motegi tunnel and preparing to enter the fast Turn 6, dubbed 130R - with a very sudden fall initially theorised by many as caused by him losing the front wheel due to the slightly lesser grip provided by the painted kerbs as he ran right to the edge of the track and prepared to set up the entry into the next turn.
On the floor before you could say Motegi! 😮

Despite being a little sore, @FabioQ20 is all good to go for tomorrow after passing his medical check 💪#JapaneseGP 🇯🇵 pic.twitter.com/GYIEEfzpsu

— MotoGP™🏁 (@MotoGP) September 29, 2023
However, Quartararo said afterwards that it was instead a technical problem that caused the fall, with an issue with his front wheel causing it to stop spinning when it came off the ground with a slight wheelie as he accelerated out of Turn 5. As a consequence, it instantly locked up when the then-stationary rubber touched the ground again.
"I had an issue with the brake," he explained. "So, the front wheel was not turning normal. When the front wheel was in the air, the front wheel was stopping, and when I landed into the Turn 6, it just totally locked and I lost the front. A real shame.
"I'm sore. The neck and the foot. But it could be much worse."
Able to recover and rejoin the FP2 session even after initially looking to be in quite a bit of pain, there was more frustration to come for Quartararo as he missed out on the chance to progress directly to Saturday's Q2 session by two tenths of a second.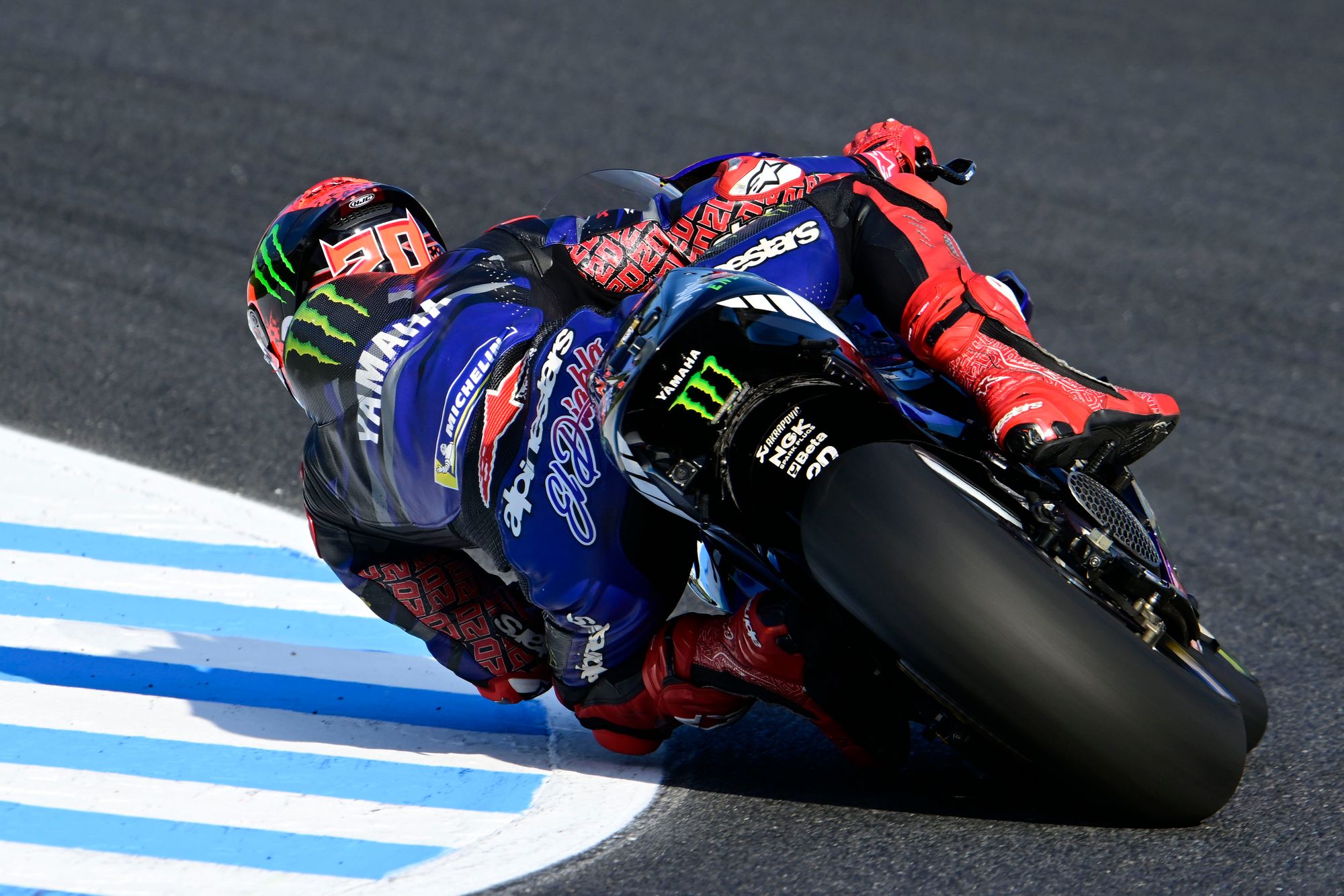 Finishing the session 13th overall and the first of this weekend's three Yamahas as test rider Cal Crutchlow joins Quartararo and team-mate Franco Morbidelli for a wildcard, the 2021 champion was left more annoyed about the extra work to do in Q1 rather than the crash, given that he believes that there was a real chance of a top-10.
"It can happen, unfortunately," he admitted of the technical problem. "It's never lucky, especially when you crash in a really fast corner. But it's something that we have to understand. It's a real shame that we're not in the top 10, because I think we could've really been in it, you know, just after the crash I had one lap and I made the exact same laptime.
"I think three tenths I could've improved, would've been really really on the limit to Q2, but this was for me the main goal but unfortunately couldn't really do it."
Crash aside, however, Quartararo again lamented his Yamaha bike not improving enough with fresh rubber in time attack mode relative to its race pace.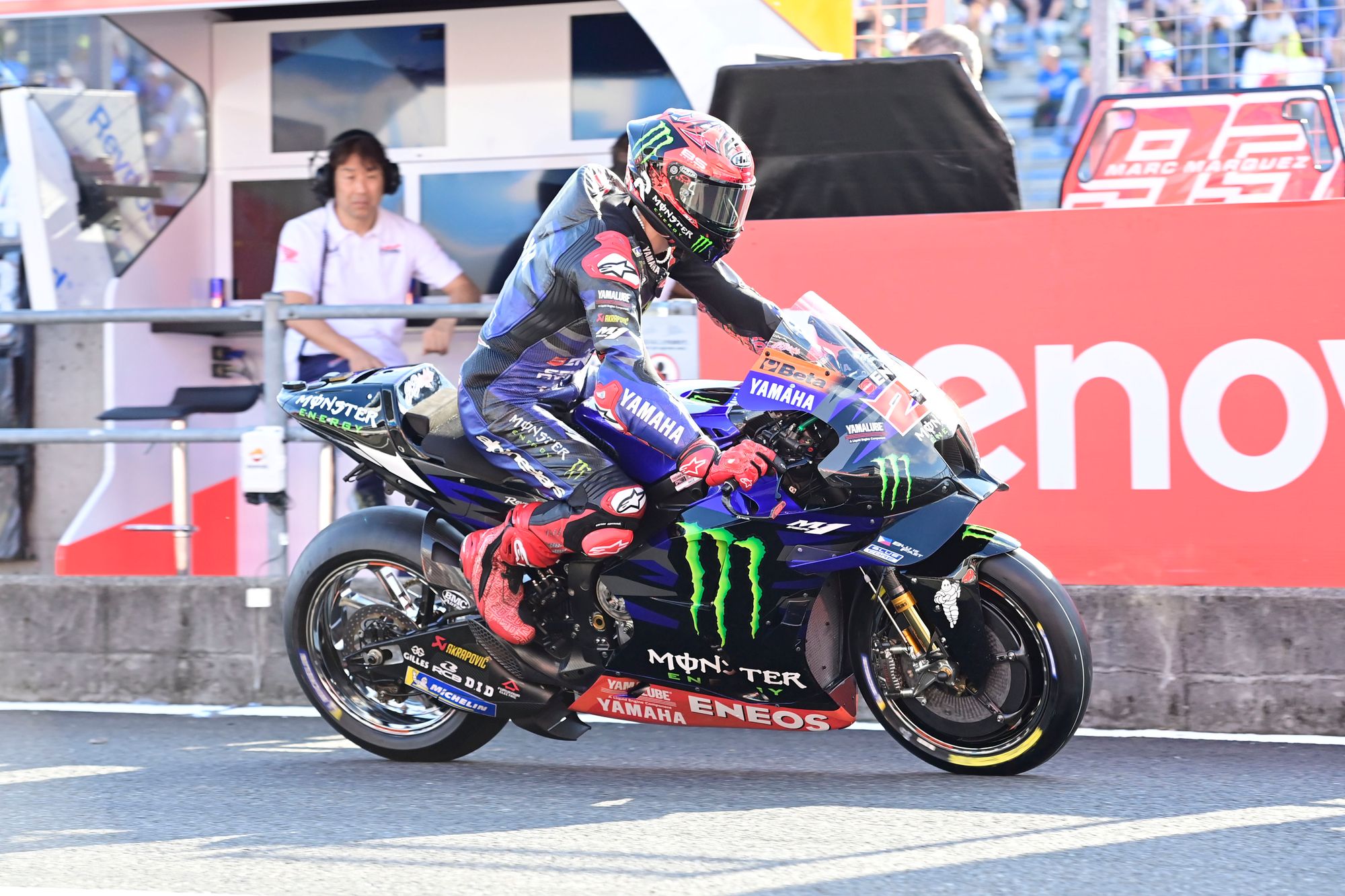 "It's always the same. The pace, I'm always super-fast. When we have to put a new tyre, we improve three-four tenths, we look at all the others, [Brad] Binder, all the top guys, they improve more than a second. We have not enough strength to really make better laptime.
"This is a real shame because I know I can really fight for a much better position but it is what it is right now."
This was backed up by the wildcarding Crutchlow.
"Now we can't do the laptime," he said. "These qualifying laps, fast laps, so difficult to do with the Yamaha. And that hasn't changed and won't change until maybe next year, until we can improve that."