Nine-time world champion Valentino Rossi is starting his 26th season as a grand prix motorcycle racer with a whole new outlook on life.
Though he's still got a factory Yamaha M1, the switch from the works Monster Energy team to satellite squad Petronas SRT is still an important milestone.
So what does it mean for the 42-year-old's MotoGP hopes – and future?
Well so far, the signs are encouraging.
Amid a successful pre-season testing programme in Qatar, Rossi lapped the Losail circuit faster than he ever had before. That still left him fourth-fastest of the four Yamahas but bearing in mind the cliche of Rossi being a race day specialist his 11th place in the final testing results was not a bad result.
"We've worked hard and I'm happy with it," he laughed during the first test week, "because I'm not at the top level yet but I'm a lot closer.
"We have to say that the first two [Jack Miller and Fabio Quartararo] and [Maverick] Vinales made impressive time attacks, but I felt like a real rider again today!"
The 2020 calendar showed up the notoriously fickle Yamaha M1's greatest weakness
That's an important thing to hear Rossi say, because it comes at the end of a period of professional darkness that may well rival his two disastrous seasons at Ducati in terms of how it's impacted both his mood and his results.
Last year started so well with a podium at round two, his first since the start of 2019, but things quickly turned bad.
A run of three straight crashes at Misano, Barcelona and Le Mans was followed by Rossi contracting COVID-19 and having his season disrupted even more.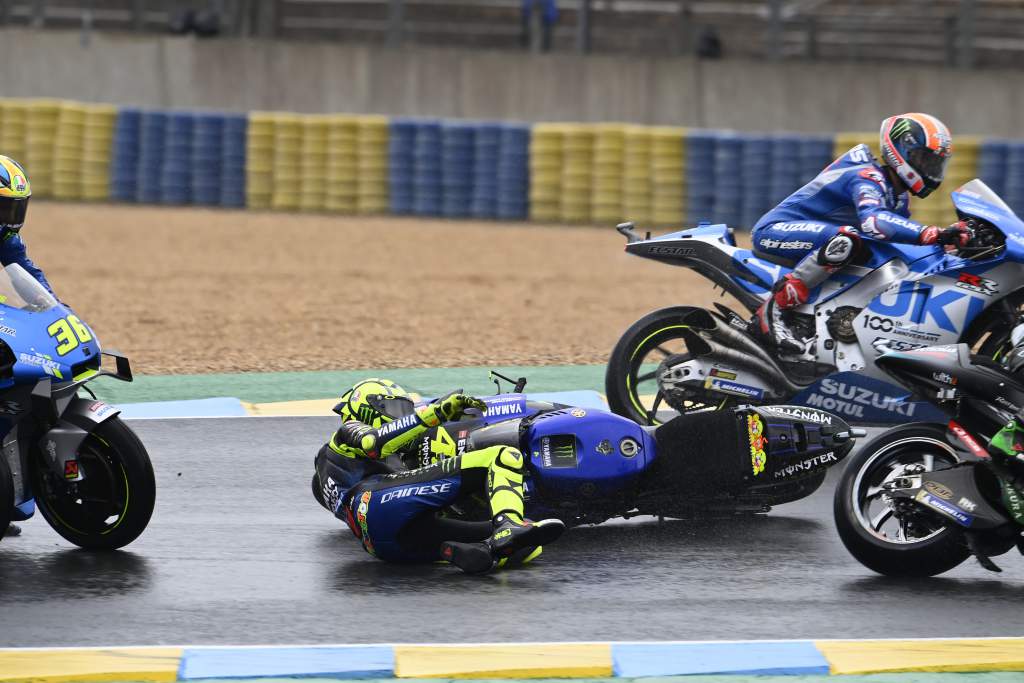 Missing two rounds at Aragon as he recuperated from his symptomatic case of the respiratory illness, he returned at Valencia to another disastrous weekend, with a false positive coronavirus test delaying his start to the weekend and a crash ending it.
After finishing only 12th in both the final two rounds, Rossi admitted when asked by The Race last week that it had all taken a toll on him.
"Last year, the end of the season was very difficult for me when I took the COVID," he said. "Apart from that, even before it, I arrived from some mistakes in Misano and Barcelona.
"I did the last races, but I was always struggling a lot, and I was quite far from the top.
"So this test is quite important, because I'm back with better performance."
With a strong test under his belt and the potential to enjoy a good season, Rossi says he just hopes that the pandemic has a minimal impact on the rest of 2021 and that the MotoGP paddock can have a somewhat normal season.
The 2020 calendar was something that caused him major issues last year, as the notoriously fickle Yamaha M1 showed up its greatest weakness – a narrow operating window in which the bike is perfect, sandwiched by huge drops in performance. Coming to tracks at unusual times of year meant a host of weather challenges that the M1 handled badly.
"I'm happy that I can prepare for the season in a better way too, after last season, because of the way that the championship started," he continued.
"For sure this year will be affected by COVID, but I hope that it can be more normal than last year and that first of all we can race at the European tracks at the right moment.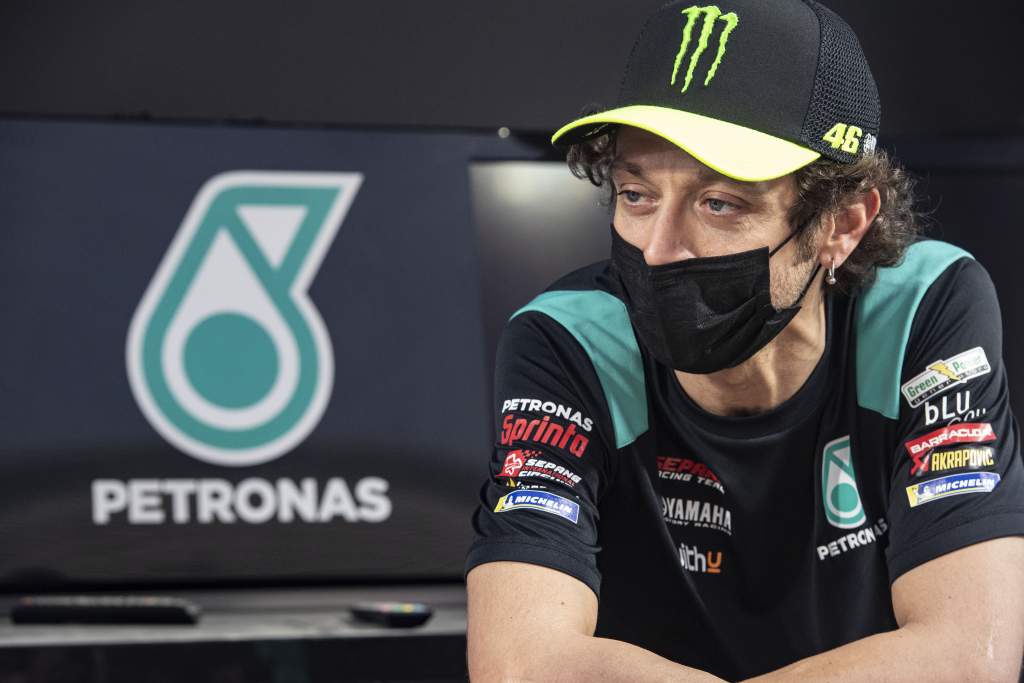 "Racing in Jerez in 50ºC or in Le Mans in October caused everyone a lot of problems.
"I hope that we can make all the good tracks at the end of the season and that we only have to race two times at one track here in Qatar, and that the rest can be a normal championship."
There's a strong chance that he can be more competitive, too. The hinted-at potential of his switch to Petronas Yamaha seems to be paying off so far, as he enjoys a more relaxed atmosphere within the box and a strong working relationship with new team-mate and old friend Franco Morbidelli.
It's something that's been written about at length since the news of Rossi's switch was first confirmed, and it seems like the predictions have come true about a change being as good as a rest for Rossi – who has already described the working environment within the squad as "beautiful".
So what's going to be possible for a potentially-resurgent Rossi in 2021? Well, it's fair to say that even his biggest fans can now accept that lofty goals of a 10th world championship are probably beyond him, given that Rossi hasn't won a race since 2017 and was the only Yamaha rider on the grid to not taste the winner's prosecco last year.
But that doesn't mean that he can't still be a surprise package on his day. He's never lost his ability to deliver surprise podium performances, even if they are occasionally aided by others' misfortune – take last year's Andalucian Grand Prix, for example.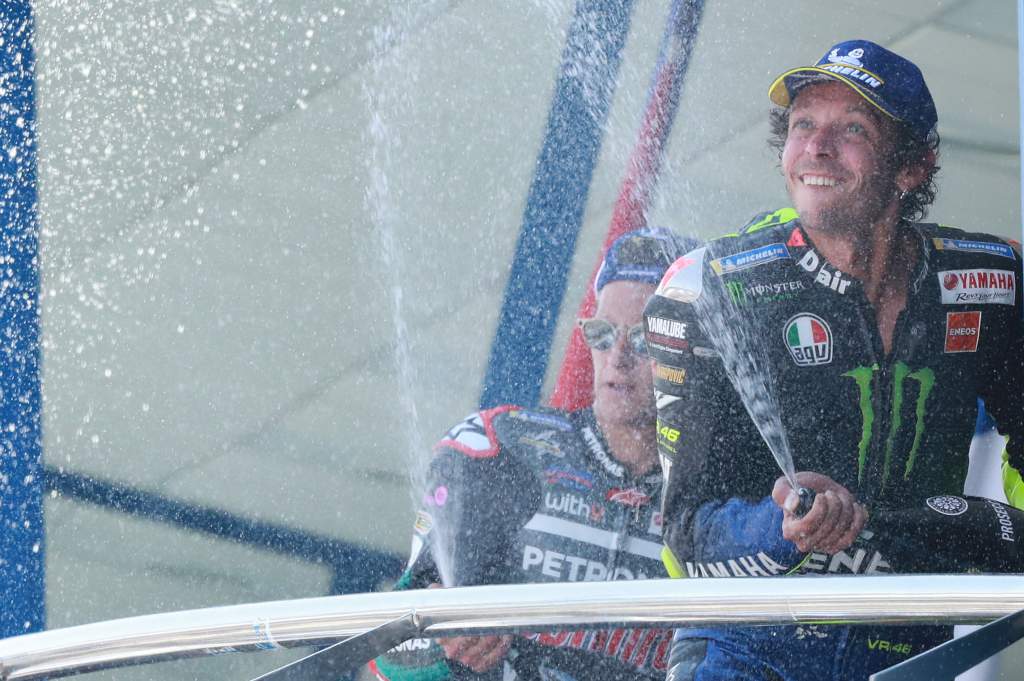 If 2021 does bring some better performance, then could he up that level from potential podium finisher to potential race winner?
Given just how close MotoGP is at the minute, and given how little Rossi needs to find to leverage himself into an exponentially better position on Sunday afternoons, anything is possible.
And while the primary goal might be to win races in 2021, better form in the coming year brings the possibility of something almost equally enticing for 2022: the chances of a contract extension.
Signed on a one-year deal with Petronas and not yet ready to commit to the longer-term future, Rossi admitted at the team launch that he'll make his call on 2022 during MotoGP's summer break in July.
He's made it crystal clear that he's going to race until he doesn't enjoy it anymore, and it's very hard to see a Rossi who's back on the podium regularly walking away from the sport that he has helped make.