Marc Marquez's Repsol Honda team has confirmed that it will appeal the decision of MotoGP's stewards to retroactively 'clarify' the penalty handed to him after last Sunday's Portuguese Grand Prix, dragging on the legal saga created by the inaccurate wording in the initial notification of sanction handed to the six-time champion after he collided with Miguel Oliveira and Jorge Martin at Portimao.
Marquez was initially handed a double long-lap penalty for the incident, with specific wording stating that he would be forced to serve the sanction at the Argentine Grand Prix this coming weekend, something initially highlighted by The Race's reporting.
However, following surgery to have two screws inserted into his right thumb as a result of injuries sustained in the crash, it was subsequently confirmed that Marquez will miss the race at Termas de Rio Hondo as he continues to recover.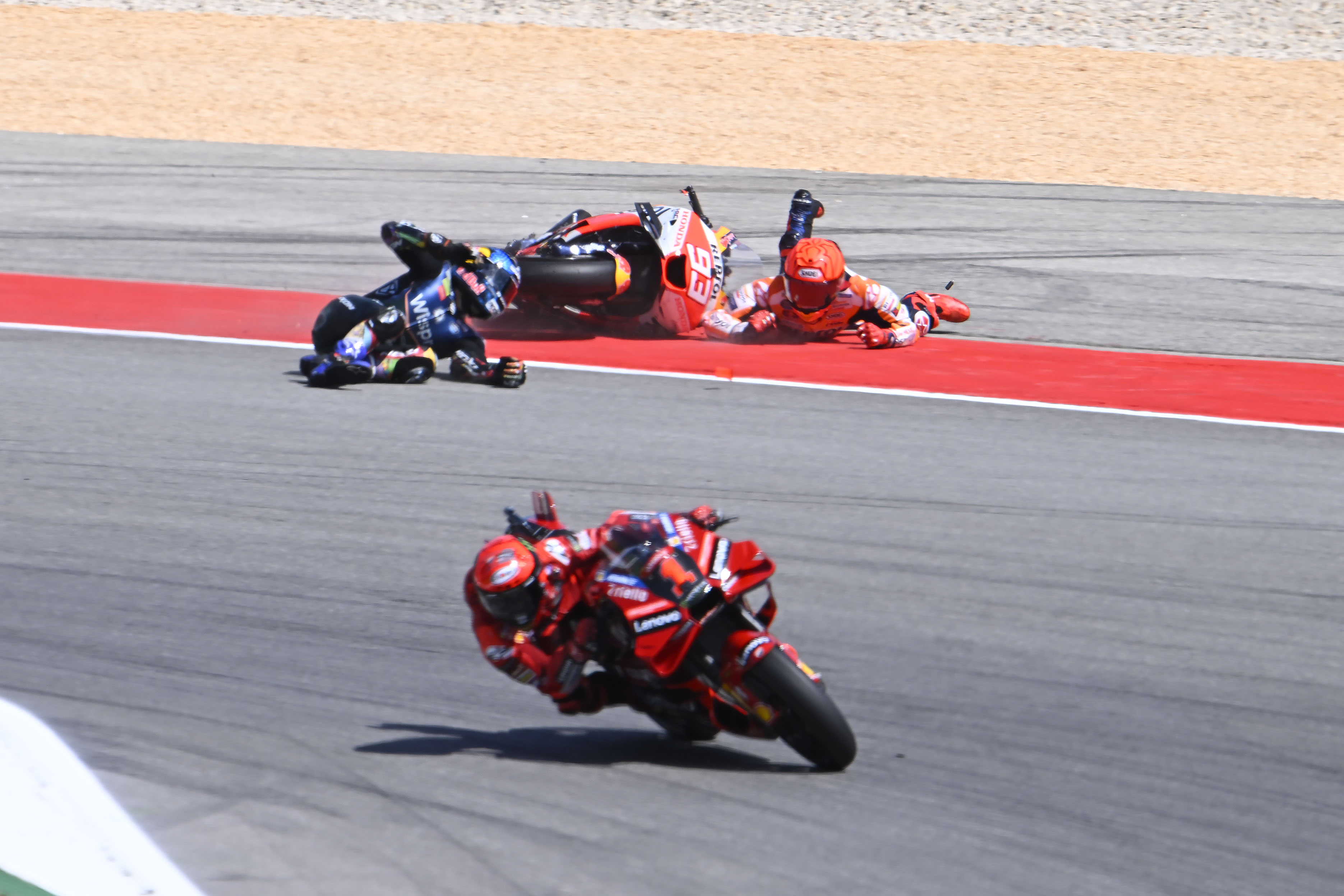 That, and significant media attention regarding the penalty, then in turn prompted the FIM MotoGP stewards headed by former Honda world champion Freddie Spencer to subsequently try to clarify their position, releasing an updated notification of sanction that stated that Marquez would serve his penalty at his next race.
But that decision has clearly angered Marquez's Honda team, which confirmed on Wednesday in a strongly-worded statement that it will appeal the decision to essentially retroactively change his penalty after the offence.
"In relation to the sanction imposed by the FIM on Marc Marquez for the race incident that occurred at the Portuguese Grand Prix," it stated, "the Repsol Honda Team considers that the modification of the penalty consisted of a change of criteria on when the penalty should be applied, and that this modification was issued by the FIM two days after the initial sanction was final and definitive, is not in line with the current regulations of the FIM for the MotoGP world championship.
"For this reason, the Repsol Honda Team intends to use all the means of recourse offered by the regulations in force to defend its rights and legitimate interests, which it considers violated as a result of the latest resolution adopted, and in particular has duly submitted an Appeal before the FIM Appeal Stewards."
That appeal will most likely be heard on Thursday, with the FIM Appeals Stewards, a separate three-person body that sits alongside the regular stewards panel, in place for the Argentine Grand Prix.
Should that appeal also fail to rectify the situation to Honda's favour, the next step would then be to appeal to the ultimate adjudicator on the issue, the Swiss-based Court of Arbitration for Sport. MotoGP has previous history with the CAS, with that body deciding to uphold Valentino Rossi's controversial grid penalty following his clash with Marc Marquez at Sepang in 2015.