Tech3 rider Miguel Oliveira says being involved in yet another intra-KTM collision was a major reason behind his aggressive reaction to his exit from the Austrian Grand Prix.
Oliveira, who has a career-best finish of sixth in MotoGP, exited the Red Bull Ring race after clashing with the works KTM of Pol Espargaro while fighting for fifth.
Espargaro had run wide at Turn 4 and as he tried to rejoin the racing line with Oliveira sweeping down his inside, the two RC16 bikes collided and went out of the race.
Oliveira gesticulated in Espargaro's direction as the two walked away from the site of the accident, and the Portuguese rider hadn't calmed down upon arriving to his pit garage, with TV images showing a furious Oliveira throwing what appeared to be a helmet on the ground, kicking a chair against the wall and storming off.
Espargaro, who was eliminated from the preceding race at Brno in a similar clash with Johann Zarco, said he saw the Oliveira collision as a racing incident and believed Oliveira concurred – but the Portuguese rider made it clear he did not fully absolve Espargaro of blame.
Oliveira was previously taken out by the other works KTM of Brad Binder in the Andalucian Grand Prix at Jerez – as well by then-works KTM rider Zarco in last year's Silverstone race, in a collision that left him with an injury to his right shoulder.
Asked by The Race about his furious reaction to the Espargaro clash, Oliveira said: "I was very frustrated, for the whole situation. It is the second time that I crash with a KTM bike – actually the third, if we count last year with Zarco. And for sure if you get these situations in a repeated way, it is frustrating. There is no reason why.
"We know it is a racing incident, it is questionable what a rider sees or doesn't see, but the tendency for Pol is not to look on the inside, looks like, because at Brno we saw the incident with Johann.
"But I'm not here to blame him. We spoke after the race, he said he didn't see me, I said 'I didn't see you as well but I was on the inside, so for me it's normal'.
"So… finally, it is what it is. It's a shame because it's frustrating to arrive to the pit box knowing that you could fight for the top five and even for the podium, and you don't do it because you crash with another KTM rider.
"As you can understand, it is very frustrating for me."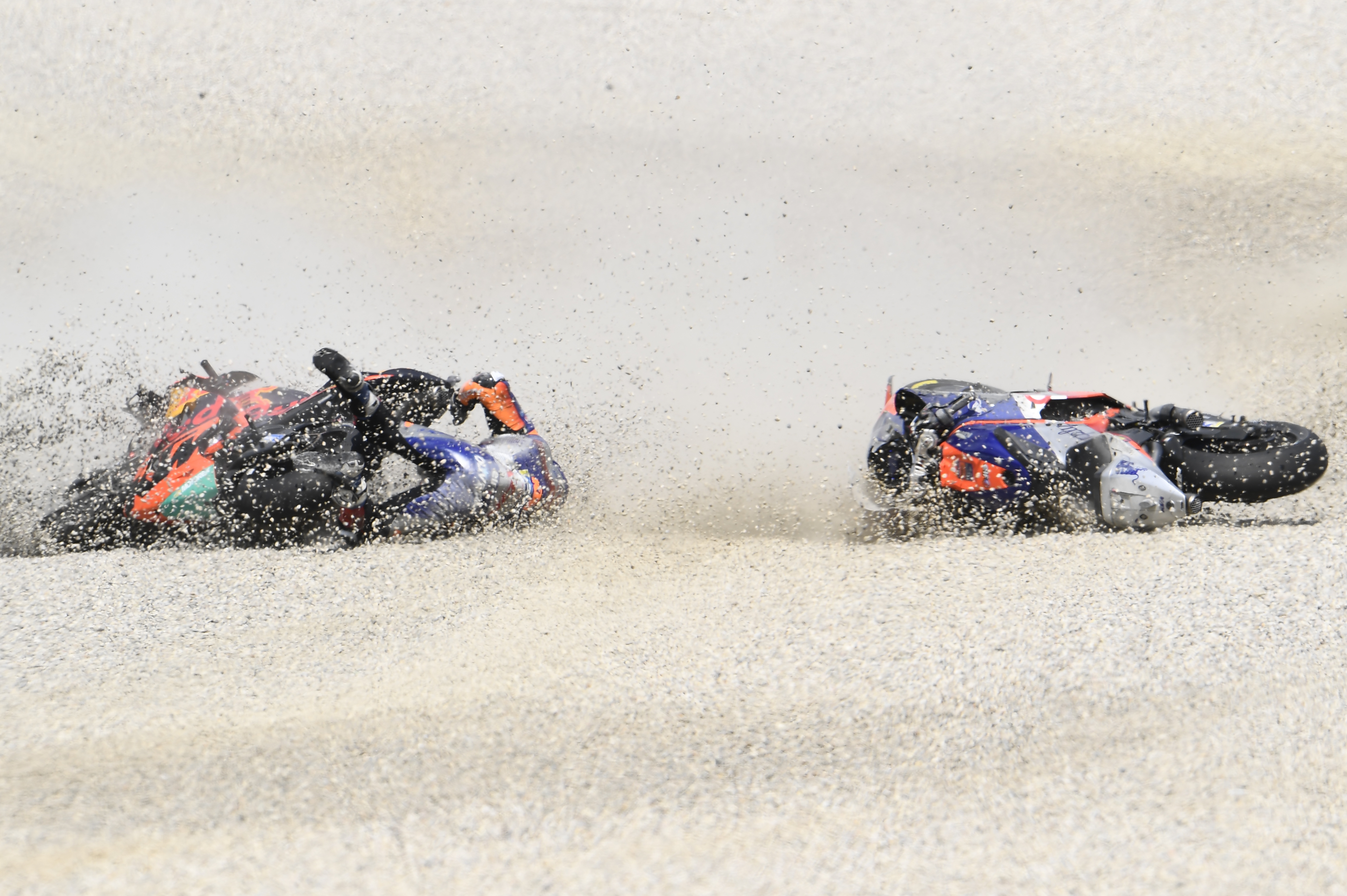 Asked by The Race whether he'd like KTM to intervene in some way and potentially discuss rules of engagement between its riders, Oliveira said: "I think at the end of the day there is nothing really strong that you can really apply to the KTM riders because at the end of the day we are also competing against each other.
"You cannot ask a rider not to compete. And I think it's every rider's mind to understand what they could've done differently.
"And if I was Pol, already with two incidents of the same character, I would start to think if I am approaching racing in general in the right way. Because at the moment it seems questionable."