LCR Honda rider Taka Nakagami has admitted that he finished the first (and only) practice session of the day at his home race with a glove filled with blood, having taken to the track at Motegi only four days after undergoing surgery in Barcelona on Monday to repair the damage he suffered at last weekend's Aragon Grand Prix.
The Japanese racer was caught up in the opening-lap chaos when Marc Marquez's machine locked up following contact with championship leader Fabio Quartararo, sending him out of control into the side of Nakagami's bike as they exited Turn 7 at the Motorland Aragon circuit.
First receiving contact after getting caught between Marquez's Repsol Honda and his own satellite machine and then getting trapped under the bike as he fell, Nakagami needed surgery with MotoGP's regular hand specialist Dr. Xavier Mir before flying home for this weekend's Japanese Grand Prix.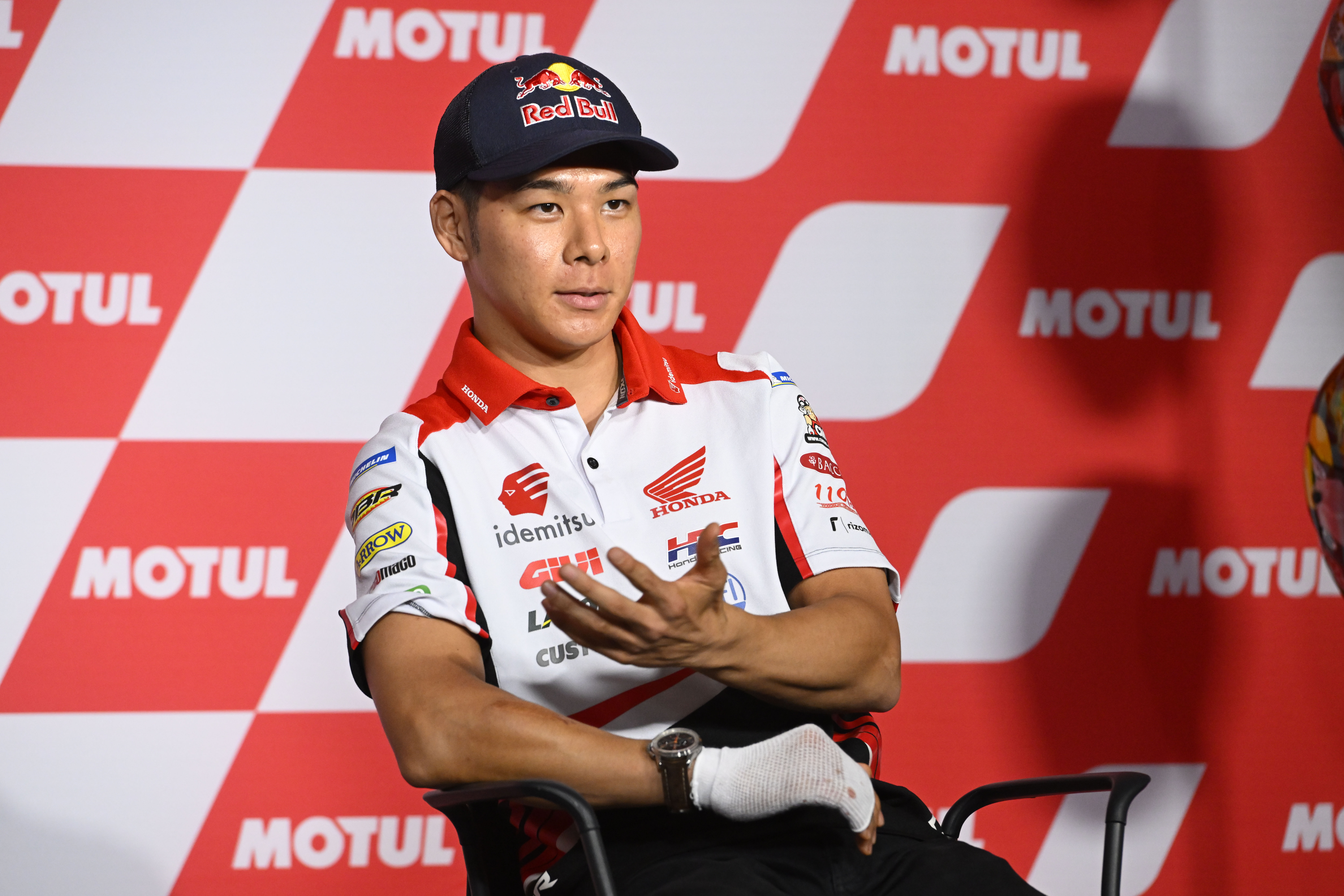 Suffering major tendon damage to two fingers in the fall, he admitted that the opening and extended single session of the day at Motegi – in which Nakagami was 12th-fastest, 0.377s off the pace – wasn't an easy one.
"Doctor Mir said that I lost 20% of the tendon in the fourth finger"" he explained, "and the fifth finger is more than 60%. The fifth finger is the most damaged. The good thing is that I don't need a skin graft, and this is very lucky. The finger is super open, but the doctor can close my skin. It looks really bad, not nice, but…
"Today we tried a very thin taping, because when it's bigger then I can't put on the gloves. It's really difficult because I need to use it a lot but we also need to protect it a lot. That's why after the session I need to protect it more, to try and not move it and to rest.
"Ixon [glove supplier] modified the gloves a little bit to make them bigger and a little stiffer, and it was really pretty good. During and after the session it was full of red blood."
However, while the pain and the risk of further damage to his hand is one issue, there's potentially another one that might be a bigger factor: Nakagami's ability to fully control his Honda RC213V during the race.
Admitting that he was both struggling with the finer points of riding precisely at Honda's home circuit of Motegi and that he had actually managed to impress himself with just how competitive his laptime was in the end, Nakagami is aware that he's a long way away from being classified as even close to fully fit.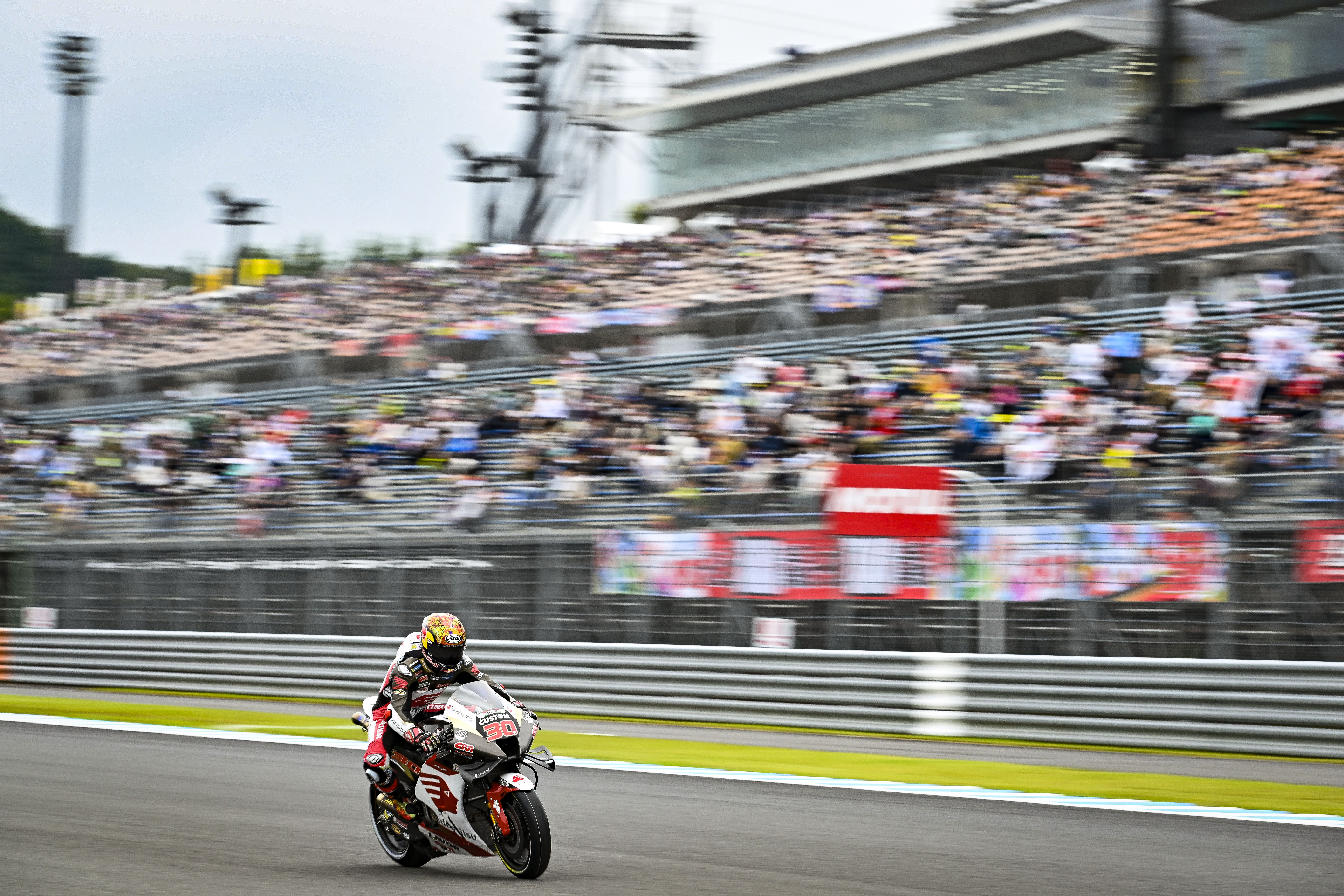 "Well, of course it's not the best feeling," he added, "and it's uncomfortable when I'm riding. But to be honest I didn't expect this speed myself, because OK in the end we're out of the top 10, but just three tenths from the top, and I think we did an amazing job today.
"We managed well the one hour and 15 minutes, but in the moment I'm trying to rest as much as possible to be ready for tomorrow.
"When I'm riding, a very simple thing like brake, release, gas – I can do it. But in a very sensitive area, I couldn't really feel it. So that's why it's uncomfortable for me. Even with that, the laptime and the speed was pretty good, and we are so tight that I'm pretty happy.
"I expected to be out of the top 10 and maybe two or three seconds slower. But in the end I surprised myself."
And while he was able to complete the opening day of practice with limited issues, Nakagami also conceded that he's not yet sure what his physical condition will be like over the course of 24 laps of the hardest-braking track of the season.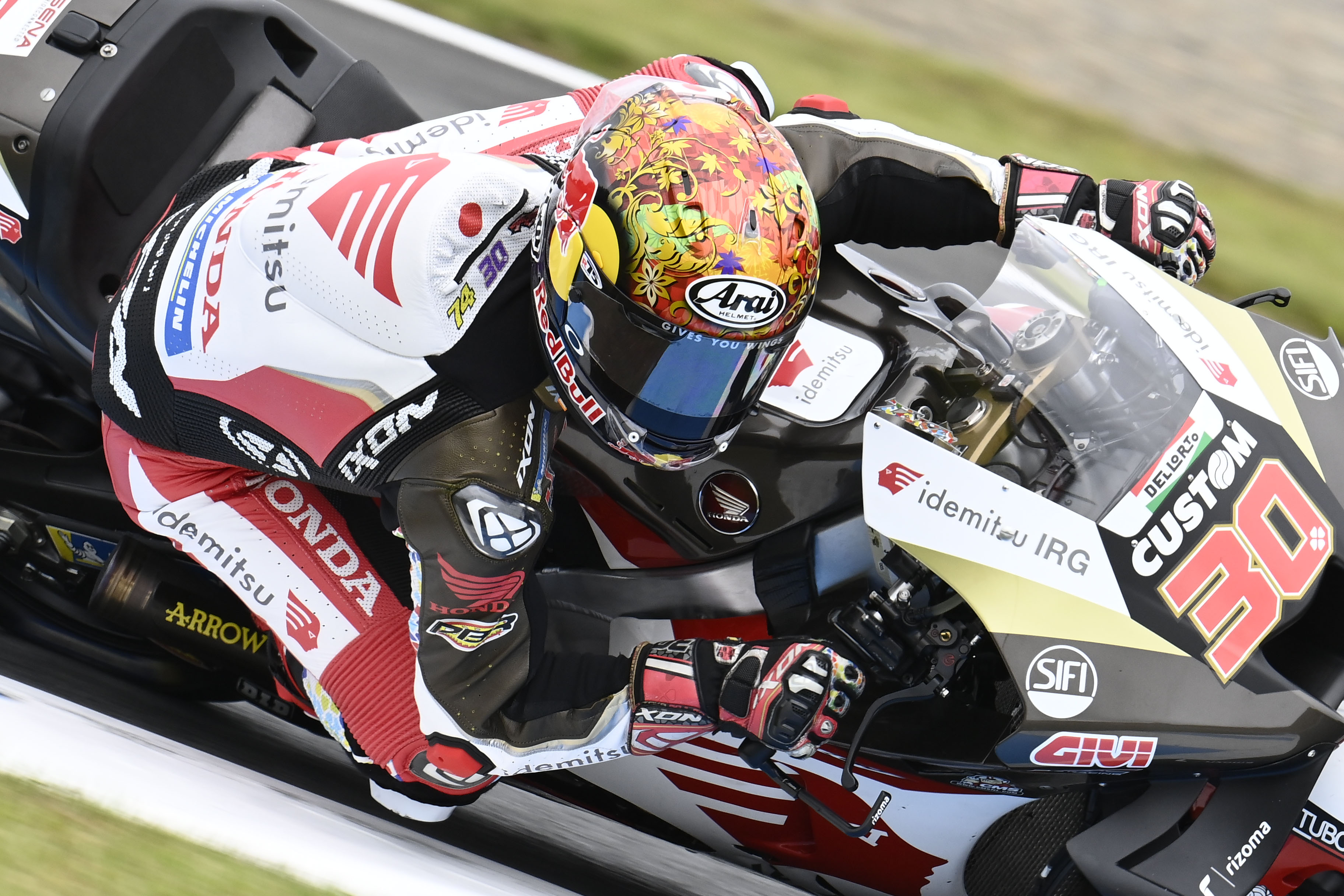 "Race distance is a good question," he conceded. "This is still the question mark for me. OK, today was one hour 15 minutes, but it was all quite short runs, five outings. The good thing is that we were able to go out and improve, but the question is the long run and right now for race distance I'm not comfortable.
"It's important how we can keep the consistency and the power because this track is really demanding physically, and right now I can't say anything really because at the moment, no.
"All of the braking, mostly the long braking like Turn 5 and Turn 10 – I feel like I'm in so much pain there, and it's really difficult to control the bike. I can brake, release, and touch the gas, but in sensitive areas it's really hard to control. Really difficult.
"That's why for the race distance there are still question marks and why right now I can't say I can go."