It's not unfair to describe last weekend's Austrian Grand Prix as something of a blip for the Aprilia squad, marking the first time almost since the start of the 2022 MotoGP season that neither title contender Aleix Espargaro nor team-mate Maverick Vinales looked to be in the podium fight.
Yet, with the Red Bull Ring now behind them and seven strong tracks left on the 2022 calendar, this weekend's race at Misano should mark the start of a resurgence for the team's title fight.
That's because, according to Espargaro, it always expected that the trip to the Spielberg mountains would be a tough one for the team given what it knows about the almost-unique nature of the circuit.
Long and fast with hard braking and slow accelerations out of corners, it plays to all the weaknesses of the current (and much-improved) RS-GP, something that the Spaniard, who leaves Austria 32 points adrift of title leader Fabio Quartararo, is fully aware of.
With that in mind, it means that he was actually left happy with his sixth-placed finish at the Austrian race. Even though it was neutered somewhat by his two main rivals, Ducati racer Pecco Bagnaia and Quartararo, finishing ahead of him on the podium, it nonetheless was an exercise in damage limitation.
"I didn't have the pace of the best," he admitted afterwards to The Race, "but sincerely I did one of the best races of the season. Until lap 15, I was with Pecco and Fabio, I did many 1:29s laps, I was riding over the limit at every corner and I made zero mistakes. I'm very proud of the race we did.
"It's a shame that Pecco and Fabio did one-two, but with this bike here today there was nothing more I could do."
However, the good news for both Espargaro and Vinales (himself just breaking through into regular podium contention of late) is that the worst is very much behind them now as they head into a series of races that are likely to be much more favourable to the RS-GP than the Red Bull Ring was.
Kicking off this weekend at Misano, a track that the pair know intimately thanks to its regular use by Aprilia for testing (especially before it lost its concession status and was able to test privately with its racers), it's somewhere where the bike has never struggled in the past.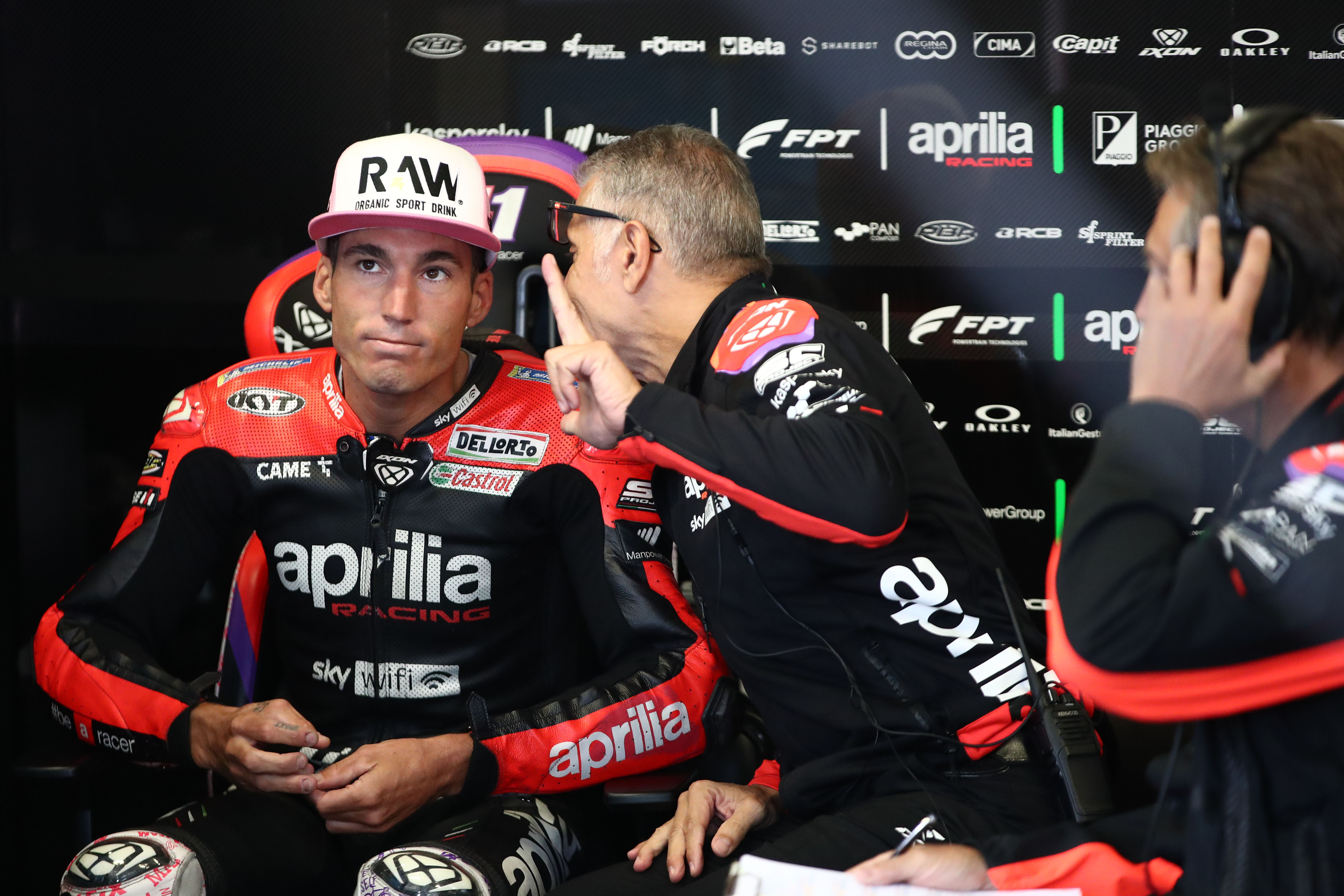 After that comes Aragon, one of Espargaro's favourite circuits and somewhere where, even when the Aprilia project was a long way from the championship challenger status it has now, has always been able to perform well.
The overseas block of races that follows presents something of an unknown not just to Aprilia but to the whole MotoGP paddock, considering that they've all been relegated off the schedule for the past two years thanks to COVID – two years that has seen a considerable amount of change technically.
However, Motegi should (in theory) be a circuit that suits the RS-GP. The Thai Grand Prix in Buriram, the circuit perhaps closest to the Red Bull Ring in terms of layout, might be tougher, but with more slow braking, the bike's braking stability might give it an edge, especially if it comes down to a final laps showdown as it did in 2019.
Phillip Island, though, is a circuit that has been marked as an Aprilia target for success even before the season started, with the fast and flowing nature of the beloved Australian track very much suiting its bike.
They're followed by Sepang, where both Espargaro and Vinales looked incredibly strong during pre-season testing on both race pace and especially in time attack mode, before the season concludes at Valencia, the final European round where it should be at least able to match Quartararo's Yamaha.
All in all, it's certainly not a bad way to see out the final section of the year – and will very much be giving Espargaro hope that his title chances remain alive for a few more rounds at least.