If there was ever any doubt about the future of aerodynamics in MotoGP, it should have been firmly resolved at last weekend's Portimao test.
The genie is out of the bottle, Pandora's box has been opened – and, honestly, it feels like the whole championship is teetering on the edge of a rather dangerous precipice, the potential ramifications of which haven't been fully considered.
Radical aero updates have, of course, been commonplace rather than the exception for the past few seasons, mainly led by Ducati's chief engineer Gigi Dall'Igna and the work he's been doing to push the aero bubble since first joining the team in 2014.
It's not Ducati that moved things on significantly in Portugal, but rather its Italian rival Aprilia, with a whole host of new modifications to the RS-GP. The bike was already an impressive one thanks to its fully-incorporated front wing, almost entirely enclosed front wheel and ground effect-producing lower bellypan, but at the Portimao test Aprilia opened whole new doors.
Firstly came a second set of wings behind the existing set, these bolted directly to the front forks to help create even more front downforce.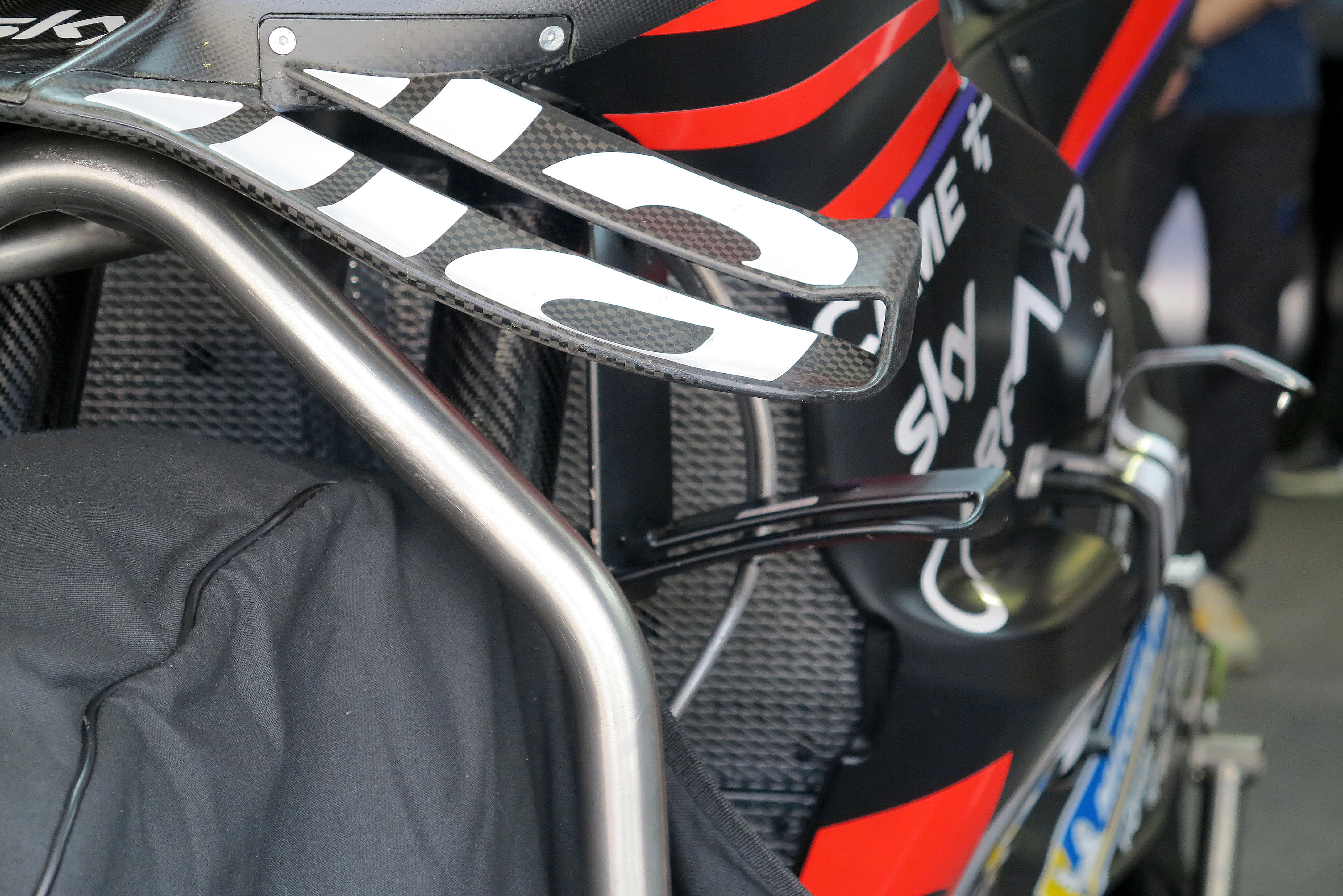 Then came two variations of rear wings – one set hanging down from the rear swingarm and a variant of the same that acts more like an aero tunnel, with both seemingly designed to both create more rear grip and to close the bubble of air ripped open by a MotoGP bike at 215mph.
Then, perhaps most radically, came the rear wing – a Formula 1-style piece first debuted last season by test rider Lorenzo Savadori at the Italian Grand Prix at the end of May. Now in a much more finished-looking version mounted on Aleix Espargaro's bike (complete with incorporated onboard camera mount), it looks very much like a part that's going to be used in anger in 2023.
Producing so much rear grip that Espargaro initially thought it might be responsible for unexpected arm pump complications, it's clear that it'll work.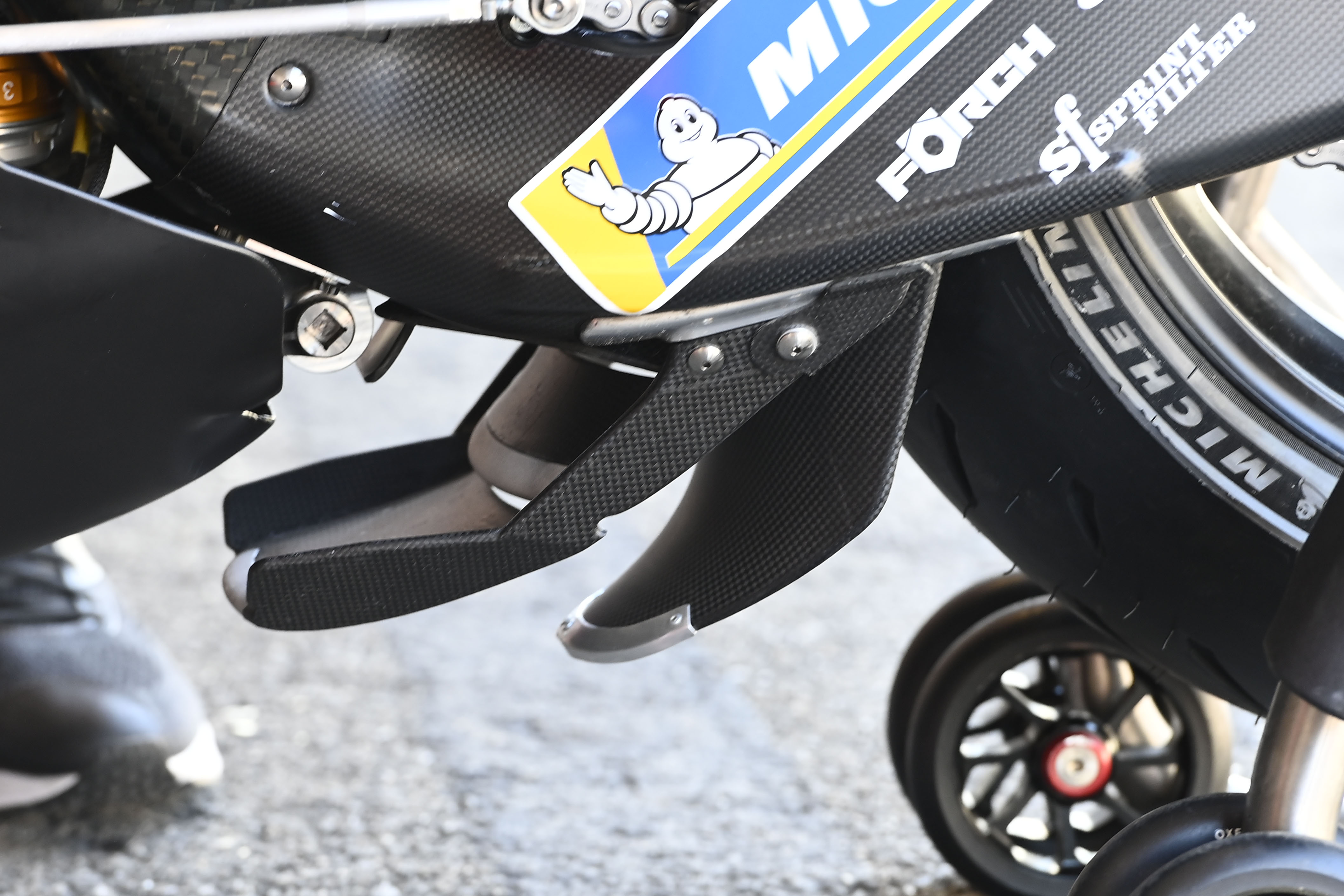 And, of course, there's a loophole in the rules that allows Aprilia to fully exploit its new work, too. Though it's restricted in what it can change on the fairing to a single upgrade per season now it's no longer a concession rule team, that only applies to the front and sides of the bike.
That leaves the rear of the bike to be modified as often as session by session, never mind weekend by weekend, something that Espargaro hinted might be the case as Aprilia looks to fine-tune the RS-GP not just to specific tracks but to qualifying, sprints and full-length races.
But the aero show at Portimao was stolen from Aprilia by Yamaha, with its own version of a rear wing, one that looks more like something from a Pikes Peak hillclimb car than even a modern F1 machine.
Fabio Quartararo conceded that it didn't produce much in the way of a significant effect, and that it's not likely to see the light of day again in its current iteration – but clearly it's an area Yamaha is working on and is likely to continue to pursue.
MotoGP is a prototype series. It's a championship that's all about pushing the envelope as far as possible and, let's be honest, the ultra-light, 300bhp machines that riders fight it out on are already almost as far removed from what you see on the street as a modern F1 car is from its own four-wheeled equivalent.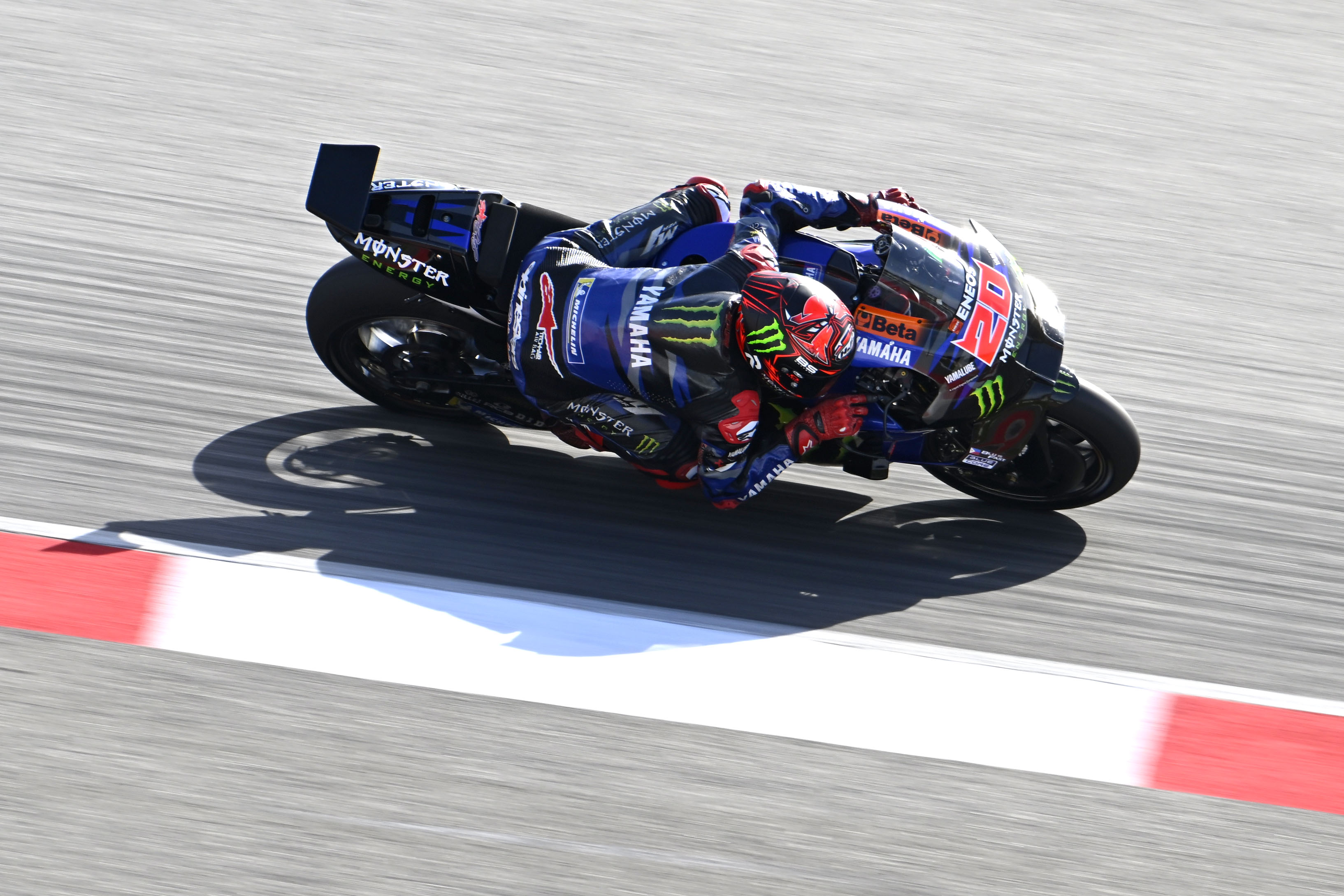 But that belies the fact that this is nonetheless a path down which the championship needs to be walking with care for a whole collection of reasons.
Firstly (but honestly perhaps the least importantly) there's the aesthetics. If you're an old-school fan, then it's hard to love the look of modern MotoGP machines, with their Frankenstein appendages. Smooth and flowing lines are a thing of the past, boxy shapes and straight edges are in.
But that's not always a bad thing. It very obviously visually differentiates them as something special and, while not everyone likes it, plenty of viewers (especially the very important younger demographic) are bigger fans.
Then there's the cost. While MotoGP might be a prototype series, it's really the same as every other championship in motorsport: governed by rules designed for some semblance of financial common sense. There is a control ECU, for example, specifically to prevent teams from spending millions having to fine-tune every last aspect of the software needed to make the bike go faster.
Yet aerodynamic R&D is an absolute money pit of modelling, windtunnel time, trial and error and supercomputer number-crunching. It's endless in how much time and effort can be invested into it – and it's going to absolutely aid not just the factories that have already made inroads but also those willing to pour more and more money into it.
It's also got the potential to significantly disrupt the pecking order of the championship, as the gap between satellites and factories grows bigger, not smaller. Something that MotoGP has been rightly proud of for years is just how fast its second-tier teams are. But if aero upgrades start to come only to factory teams, the independents are the ones that will suffer.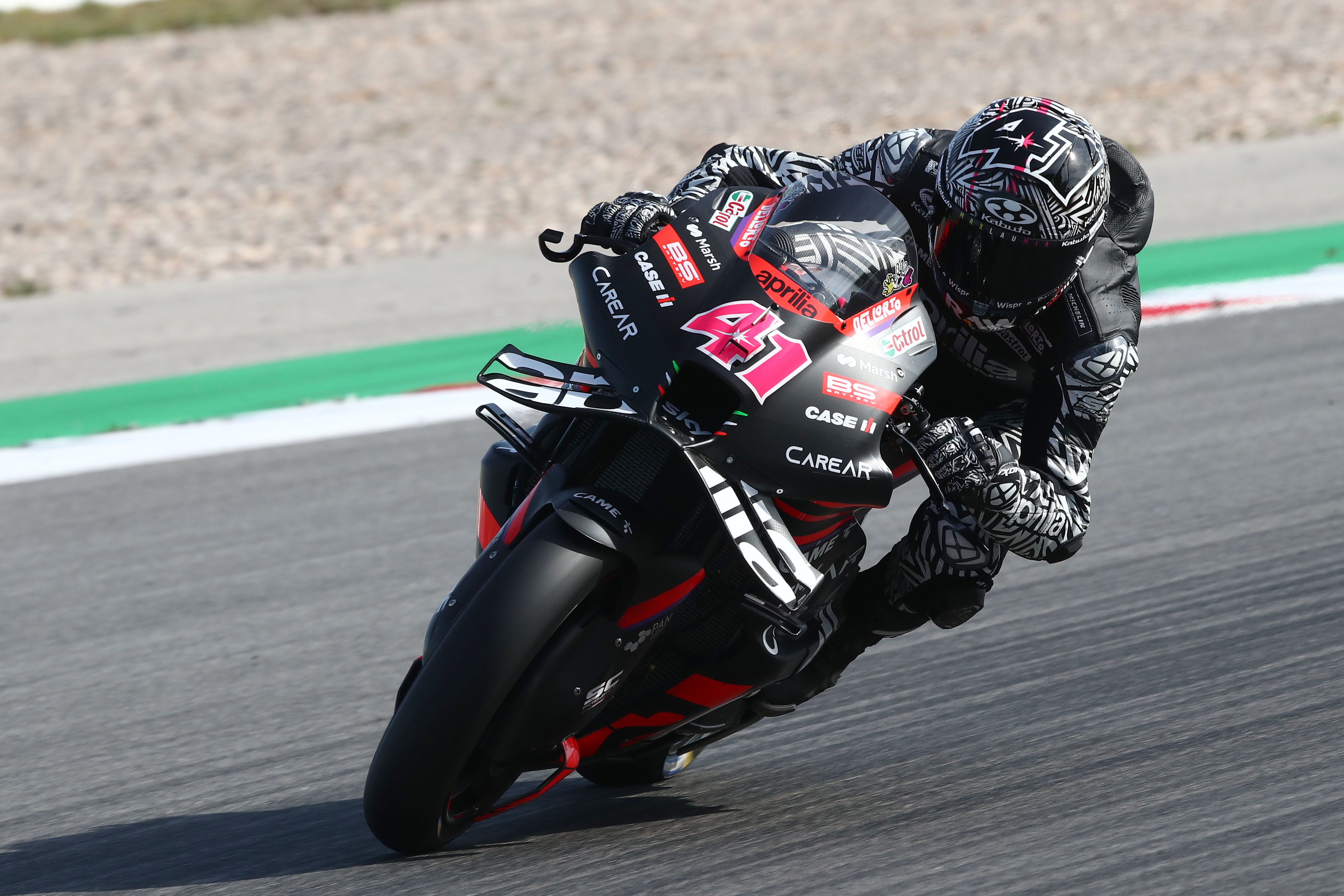 But all of those considerations are secondary to the main reason why MotoGP needs to be careful about aero: safety.
On one hand, aero absolutely does serve to make bikes safer to ride. More braking stability in particular makes corner entry a lot safer, while straightline control and its anti-wheelie effects, especially when the lights go out, all contribute.
But that comes at a cost. For every hundredth of a second that braking stability saves you in corner entry, you can stop a few metres closer to the apex – and closer to the walls and fences that surround many circuits. Gaps get smaller, crashes get faster, and errors get punished harder.
In an age when many of the series' most beloved old-school circuits are already facing questions about their future safety, aerodynamics are supercharging that row.
It would be an awful shame to lose the likes of Mugello in return for a grid of ugly bikes.