Over the course of the past three years, since faced with the cumulative efforts of both his career-threatening arm injuries and the currently-woeful Honda RC213V, it's become an increasingly common sight to see six-time MotoGP world champion Marc Marquez seeking out another rider to follow in order to ensure he sets a fast lap time in both practice sessions and qualifying.
But, with the Repsol Honda rider escalating his technique to a new level at this weekend's Thai Grand Prix by first ensuring his passage from Q1 to Q2 by following Red Bull KTM rider Jack Miller - and then immediately overtaking the Australian, effectively disrupting Miller's rhythm and denying him the chance to improve his own time in the session.
Speaking afterwards, it's something that Marquez was quite unapologetic about, as well, expressing his opinion (as he has many times in the past) that hooking onto another riders' rear wheel to ensure a qualifying time is simply part of MotoGP these days.
💨 @marcmarquez93 has chosen @jackmilleraus as his marker!

But while he was looking for Jack, @25RaulFernandez has knocked him out of the top two! 👊#ThaiGP 🇹🇭 pic.twitter.com/TakZdSaWzm

— MotoGP™🏁 (@MotoGP) October 28, 2023
"The target in Q1 was the Gresini riders," Marquez told The Race afterwards, referring to both his brother Alex and Fabio Di Giannantonio, who he'll replace in 2024. "But their box is more in front, and I was late. That's normal, sometimes it happens. If they're fast, you're late.
"Then we went out, many many riders waiting, and I will not be the first one to push. On the first tyre [run], I think I was behind Espargaro, Pol, but not super close.
"The last one, I was behind Jack, Jack was behind [Joan] Mir, Mir was behind [Enea] Bastianini. We were many riders behind each other but I was able to take the profit from it."
And of course, in part Marquez is correct. He's far from the only rider to adopt such a strategy, but with his high-profile presence on the MotoGP grid there's rarely not at least one TV camera trained on him to ensure that his actions are broadcast to the world more than anyone else's.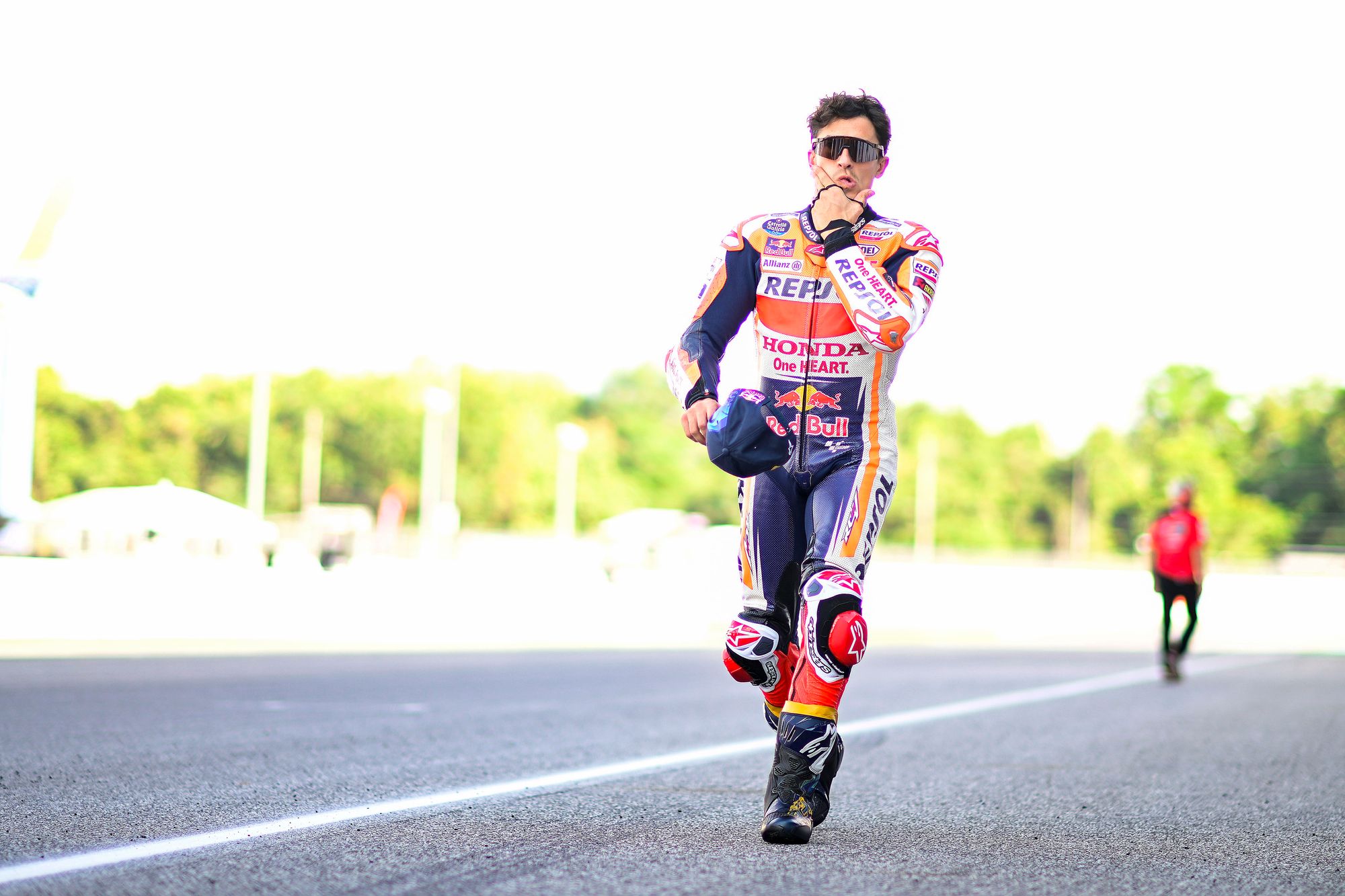 But there's slightly more to it than just that. Firstly, while others might be guilty of picking the wheel of another rider to follow and not get anywhere near as much airtime it's also fair to say that Marquez absolutely is one of the most regular repeat offenders of late, as he tries to wrest any possible advantage to make up for a bike that doesn't work the way he wants it to.
And like it or hate it, the fact that he is Marc Marquez and that he gets a lot of airtime while doing it means that he's setting an example for the lower classes, where the behaviour is both much more common and much more harshly-policed than it is in the premier class.
That makes sense, too, because it's hard to overestimate the huge amount of danger posed by riders cruising around a live track while others are trying to smash out time-attack laps.
Admittedly less of an issue at places like this weekend's Chang International Circuit, at others like the narrow Phillip Island or Portimao with its multiple blind crests, it presents a real safety hazard, one that can very quickly go from innocuous move to very serious incident.
Marquez is an example of all the things not to do in that situation, but as long as he succeeds while doing it (as he does all the time, and as he did specifically on Saturday with a move directly into Q2 that he converted into a stellar fourth at the chequered flag in the sprint race), then it's going to encourage others to do the same.
And then there's the other actions that come with Marquez's techniques, as demonstrated against Miller in Thailand. His Turn 3 overtake on Miller soon after crossing the line for the final flying lap was nothing wrong - and indeed was perhaps what he saw was the optimal way to go about the lap - but it's hard to imagine that the possibility of making life harder for Miller, an obvious Q2 threat and with a laptime worse than Marquez's at that point, hadn't also entered the wily Spaniard's mind.
Not against the letter of the law, it also wasn't particularly sporting - and while all might be fair in love and war, it's the sort of stunt that you'd think would be beneath a rider of Marquez's stature, bike issues or not.
Miller, for his part, was nonplussed. "It didn't bother me. At the end of the day, you can't let it bother you," he said of Marquez's following.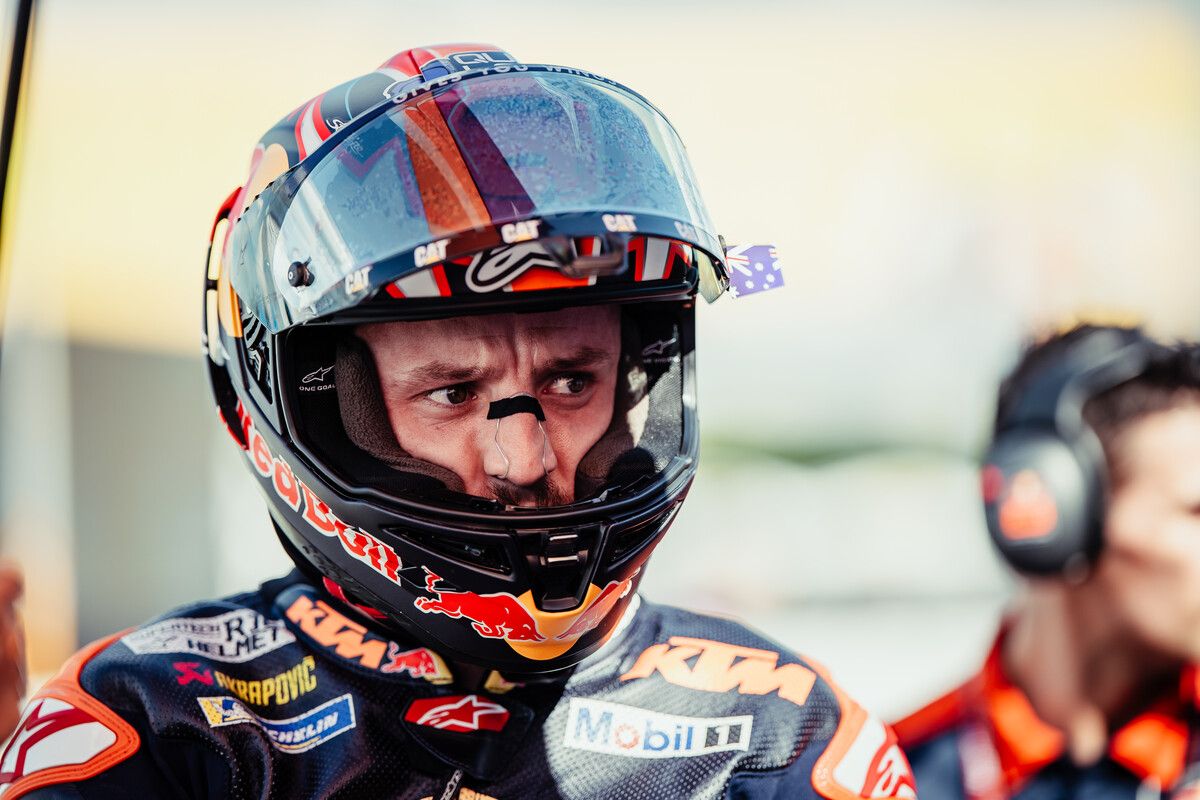 "Because if you get frustrated from that- I mean, we're trying to ride these monsters around, you're taking away from what you're doing.
"I tried to not let it bother me too much. It was what it was. It's not the first time, won't be the last. And I'm not the only 'victim'."
Hopefully it's an issue that's going to resolve itself in the near future, mind you.
With Marquez now confirmed to be jumping on a Ducati in only three weekends' time, the bike that has taken all but two of this year's 17 pole positions (with one of those two going to Marquez himself during round one at Portimao, that pole aided by him tucking in behind Enea Bastianini), it's hard to imagine that next year he's going to feel as frequent a need to follow rivals.