Jack Miller has apologised to his KTM MotoGP team for his zero-point French Grand Prix weekend, after crashing out from both the sprint and the main race.
Miller, in just his fifth race weekend with KTM, had topped both of the Friday practice sessions and qualified fifth, beating team-mate Brad Binder by almost half a second.
His sprint, however, unravelled instantly with a second-lap crash at the Museum corner while in third place.
Miller put this down to the medium front tyre, which he'd lacked confidence with but had chosen for the race over his favoured soft front due to the weather conditions and not yet having enough experience with the KTM RC16 to trust his gut instinct.
He took the soft front for the main event and felt better with it, but not with the rear tyre – and, after leading early, was shuffled down to sixth place before crashing out with three laps left to run.
"I had a good feeling all weekend, the bike was working well all weekend," said Miller on Sunday night.
"I made a stupid decision yesterday with the medium front tyre and cost myself a decent result in the sprint race. Put the soft front in today, it felt mega, again, all the way through, had good feedback at least.
Miller is gone! 💥

Double disaster in Le Mans 😢#FrenchGP 🇫🇷 pic.twitter.com/lvkuhFoTPQ

— MotoGP™🏁 (@MotoGP) May 14, 2023
"Just a weekend of mistakes, let's say, from my behalf. Which isn't good enough, I apologise to the team and everyone for that. And we'll try to be better for Mugello."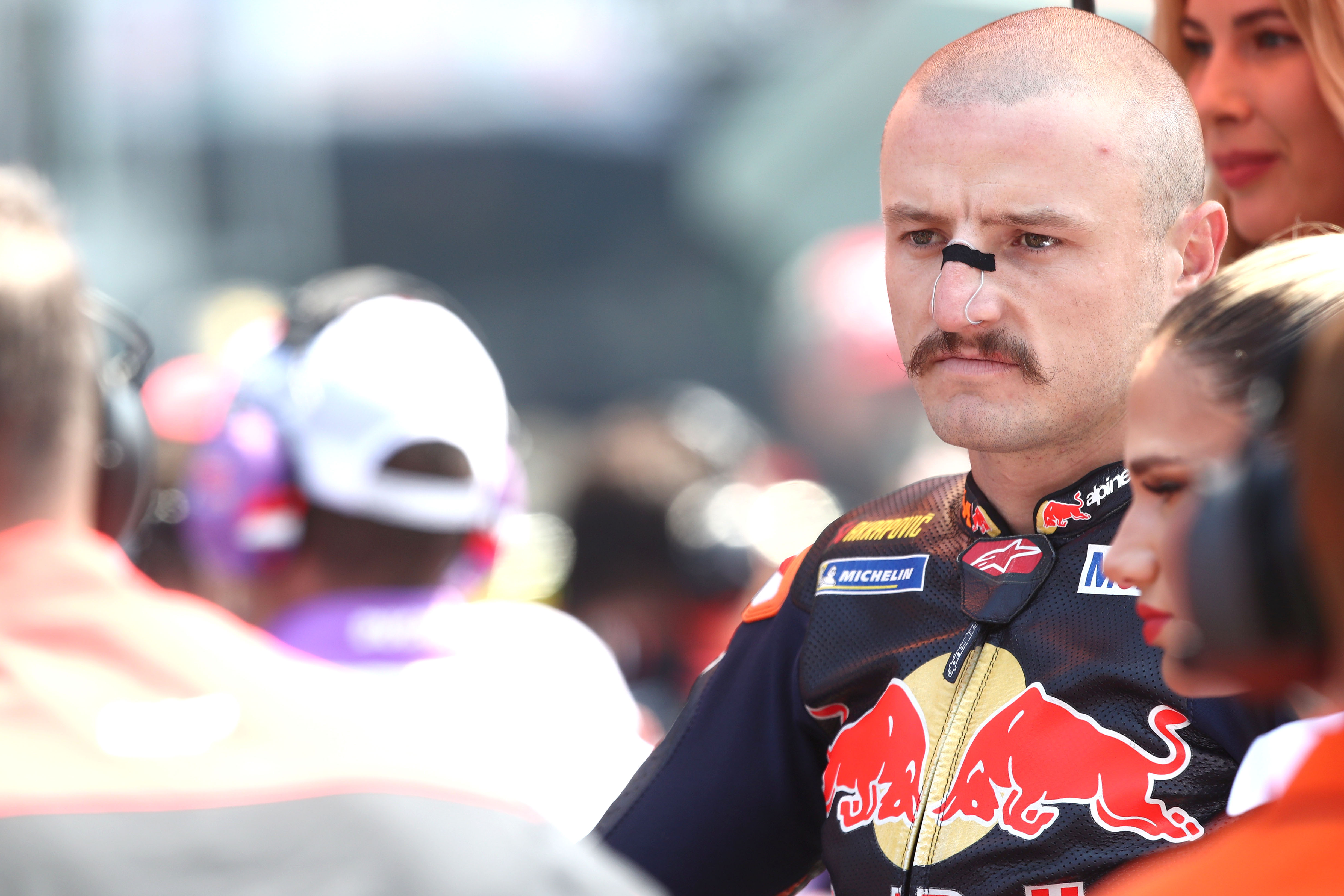 Miller's swift drop down the order around the halfway point of the race was a dramatic look after he'd led from the third to the 10th lap, but he simply put it down to a lack of feeling on the left edge of the soft rear tyre and trying to manage the situation.
He said he started to push late on and was closing not just on the fourth-place battle between Augusto Fernandez and Aleix Espargaro but "even closing the gap to Jorge [Martin] and Marc [Marquez]".
He'd set a 1m32.350s, his fastest lap of the race albeit half a second off the outright best effort of race winner Marco Bezzecchi, on the fourth-to-last lap, and then tucked the front through the Dunlop chicane the next time by.
"Had just set my best lap of the race and then, like a f***ing idiot, I cut the kerb at Turn 4 too much and it was over," he explained.
It was, Miller said, virtually identical to the Luca Marini error that caused Marini's scary crash with Alex Marquez – and, like Marini, Miller had tried to save it.
"Same thing, just changed directions a little bit too aggressively. Cut too much the kerb and she went away. There was not much I could do with it," he explained.
"I honestly tried to hang on to the bike and f***ing ended up getting s**t-whipped. Tried to hang on to it just to maybe pick it up and get a point or something, come away from the weekend with at least something. But it wasn't to be."