They say that bike racers, new or old, are a complete breed apart. Takuma Aoki is perhaps a living manifestation of that maxim.
In the mid-1990s, Aoki was an accomplished and successful factory Honda motorbike racer. Even as a wildcard, he achieved a World Superbike race win and a 500cc grand prix podium on his call-ups for the championships' Japanese rounds – and when he got a full-season chance with the works Repsol Honda 500cc team in 1997 he finished fifth in the championship at the first attempt.
But the following year he suffered a pre-season testing accident at Suzuka and the devastating consequence of his injuries was paralysis below the waist.
"Everything is possible for him!" :: Nobuatsu Aoki
While this ended his promising top-line career, his thirst for competition remained undiminished.
Aoki went on to compete in rally raid events and also firm up a campaign in this season's Formula E supporting Jaguar I-PACE eTROPHY for Team Yokohama Challenge plus a crack at the Le Mans 24 Hours with the Association SRT41 team.
He is set to join fellow disabled drivers Nigel Bailly and Snoussi Ben Moussa at SRT41, which is run by quadruple amputee Frederic Sausset.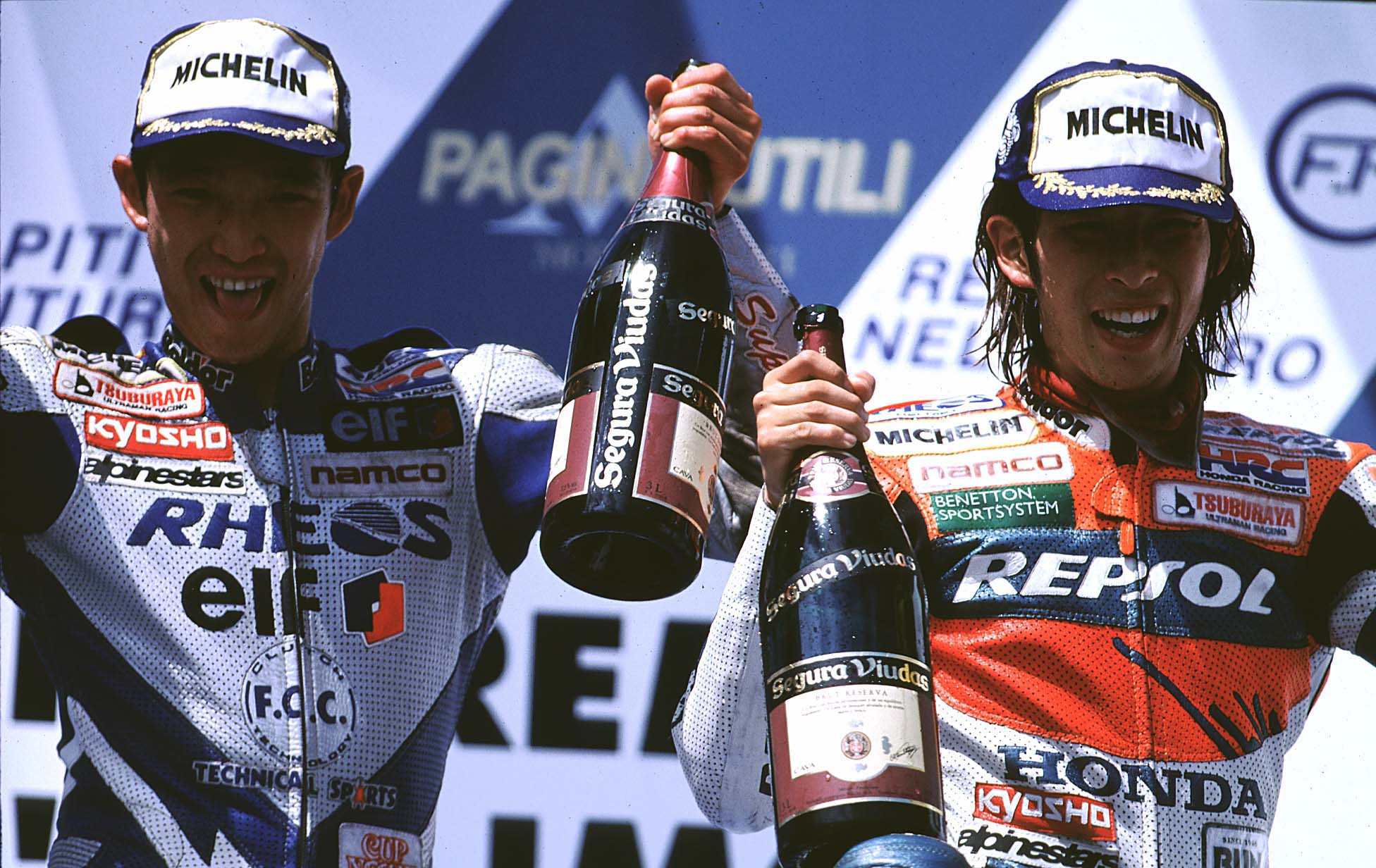 Aoki is the middle sibling in a trio of brothers who were grand prix motorcycle racing aces in the 1990s, with elder brother Nobuatsu gracing many podiums – including alongside Takuma in 1997 – and youngest brother Haruchika winning back-to-back 125cc titles with Honda across 1996/97.
"His passion and his efforts have always been in racing, and I am impressed at how he has kept his passion for racing," says Nobuatsu, pictured above with Takuma on the podium at Imola in 1997.
"Yes, he's my brother, but if I look at him as another driver, I can still see how much passion he has for racing and that he never gave up.
"He's put a lot of effort into making it and to reaching his goals. Everything is possible for him!"
Aoki is disabled from the waist down. In terms of his core, he can't move his hips or pelvis either, so he has to do everything by hand controls.
Earlier this year Adam Jones, Jaguar I-PACE eTROPHY Vehicle Engineering Manager spent time with The Race to give an insight into how his team helped get Aoki onto the grid.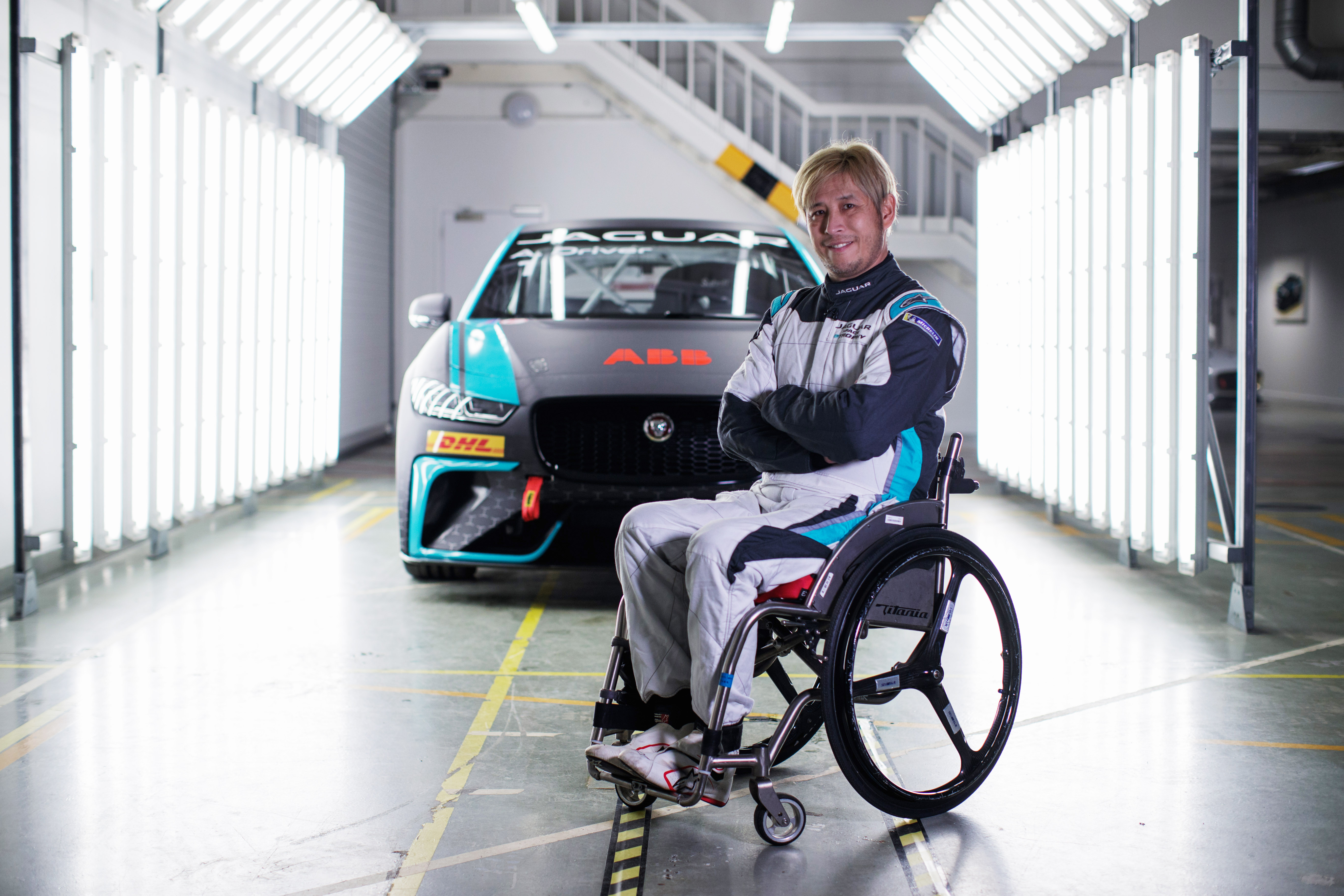 "The first thing for me and my team was to understand what systems he's used before," says Jones.
"We could have gone away and designed a hand control system that we thought would work, but it would be no good if Takuma's not going to be comfortable.
"We want him to come here and be given the tools to really take the fight to these guys, because he's a very good driver. He proved that even on the early test, when he came to Fen End, our proving ground, and he was very fast. Three or four laps in, and he'd got it."
Jaguar has adapted what is called an American Lever from Italian company GuidoSimplex, and then worked with Aoki's team in Japan to get it refined.
Aoki is incredibly strong in the upper body, which is needed because the I-PACE runs unassisted brakes on the car, meaning an able-bodied driver would have to put around 120kilos of pressure into the brake pedal to hit full-line pressure.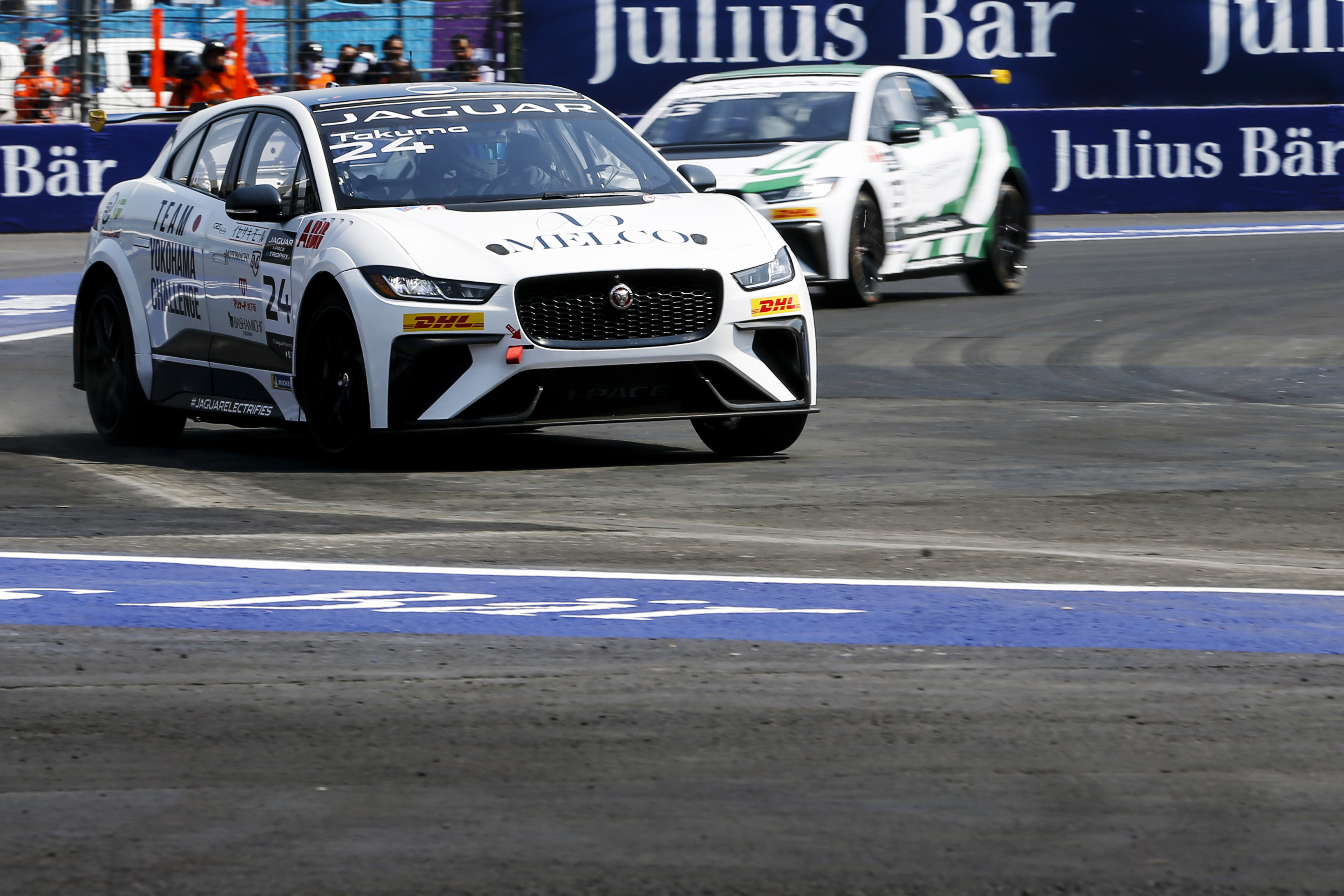 "The Lever angles we've managed to get with the hand control mean he's probably having to generate about 60–70 kilos. So he's still having to put a lot of force into that lever, but he was managing it no problem at all," says Jones.
"The other thing that's on our side is having the regen braking. As soon as that kicks in, below the 85% threshold, that then takes away some of that force, which is quite a help for him.
"So rather than having to hit probably, 1000–1200 psi in the lines, you're probably only going to about 800, which takes quite a significant amount of force off him as the driver."
A simple matter of familiarity was also one of the key objectives to get Aoki comfortable in the cockpit. Jaguar worked with its safety teams in understanding what requirements they would need to ensure Aoki was able to vacate the cockpit in a way that satisfied regulations.
"So far I find it tough but enjoyable. I like a big challenge in racing and this is a big challenge" :: Takuma Aoki
Adaptations applied included the throttle and the brake controls but Jaguar also devised a special door system that stays open, so Aoki can push the door and leave it open. Implementing this door-stay aids Aoki in an event that he has to exit the car without help.
"It is key because he's able to do an extrication without the door bouncing back onto him," says Jones.
"We still had to make sure that this feature was easily adaptable or removable to allow the other option of him being assisted out of the car by our MDD [Motorsport Medical] colleagues, so they can remove that door and then pull him out of the vehicle.
"We just adapted the seat itself with foams to make him sit at the right height. There are also leg straps fitted.
"One to constrain his legs across the car, so he's actually tied to the sips on the side of the car, with two removable buckles for getting out of the car."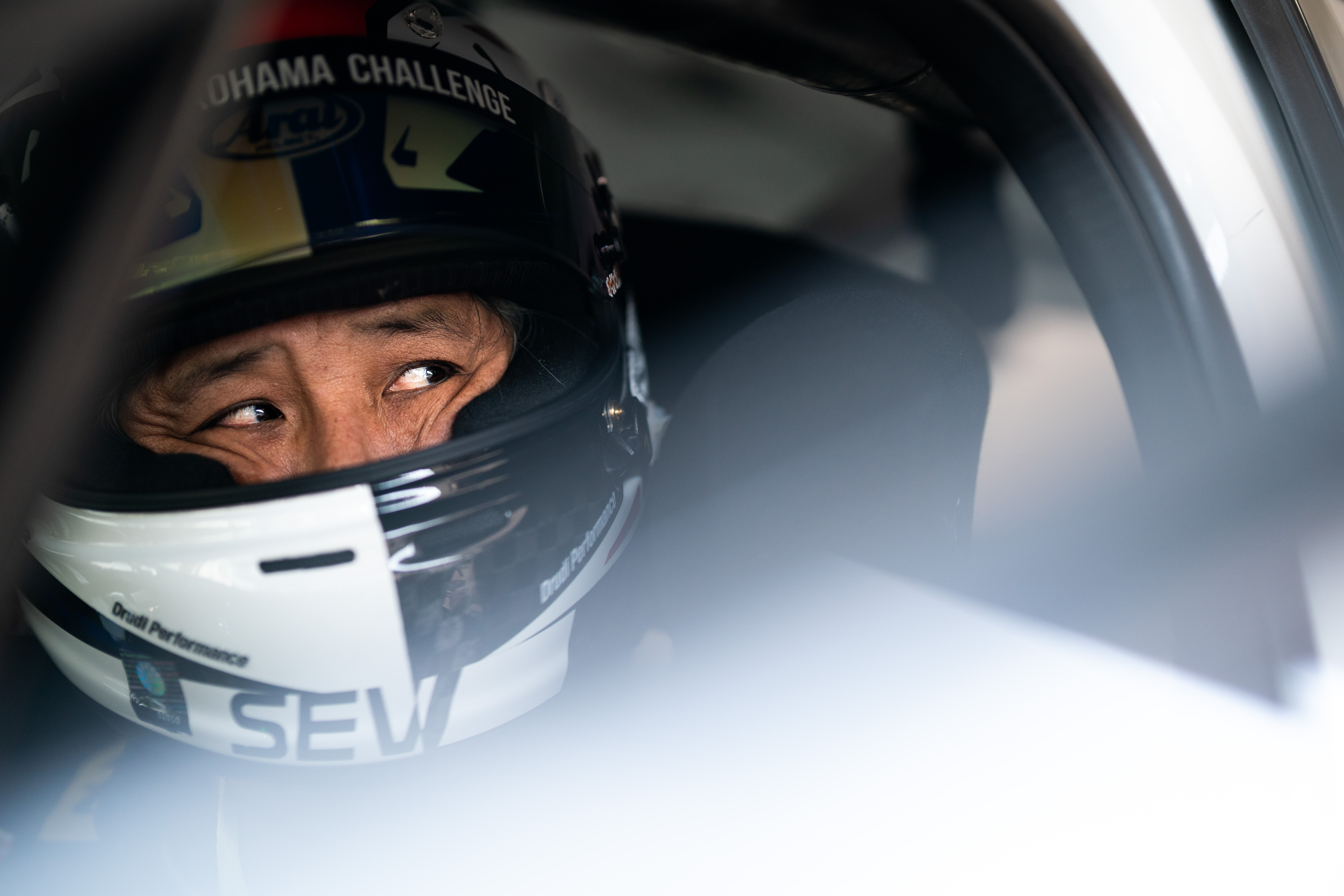 Aoki is also tied back to the seat to stop him "submarining" into it. This is key to giving a feeling of confidence so that he can give it his all without worrying about his lower body moving around.
The brake pedals, and indeed the whole pedal box, have been adapted too and have been moved over to the left-hand side of the footwell.
"That was to get a better lever angle for the brake to again maximise the force," says Jones.
"We've also adapted the floor plates, to give a recess in which to put his feet, again to avoid them moving around in the vehicle."
"We believe that many people want to ride again, and we're trying to make that come true for them" :: Nobuatsu Aoki
In terms of turnaround it's been a very short one for Jones and his team at Jaguar.
"We received the first view of his hand controls on 6 January, when we all returned from Christmas break, and we developed the prototype, got it tested, then made the final version and had it flown out [to the Mexico City race] within a month."
It was all applied for the first time during the Mexico City race weekend. Previously it had been mocked up on the 'donor I-PACE' to make sure everything fitted before Aoki's brief test in the UK.
The key piece of technology comes as Aoki brakes with his hands, and it's the same with the throttle with a specific hand control
His left hand applies the throttle and braking, using only mechanical means, there is no electric system in there doing it for him.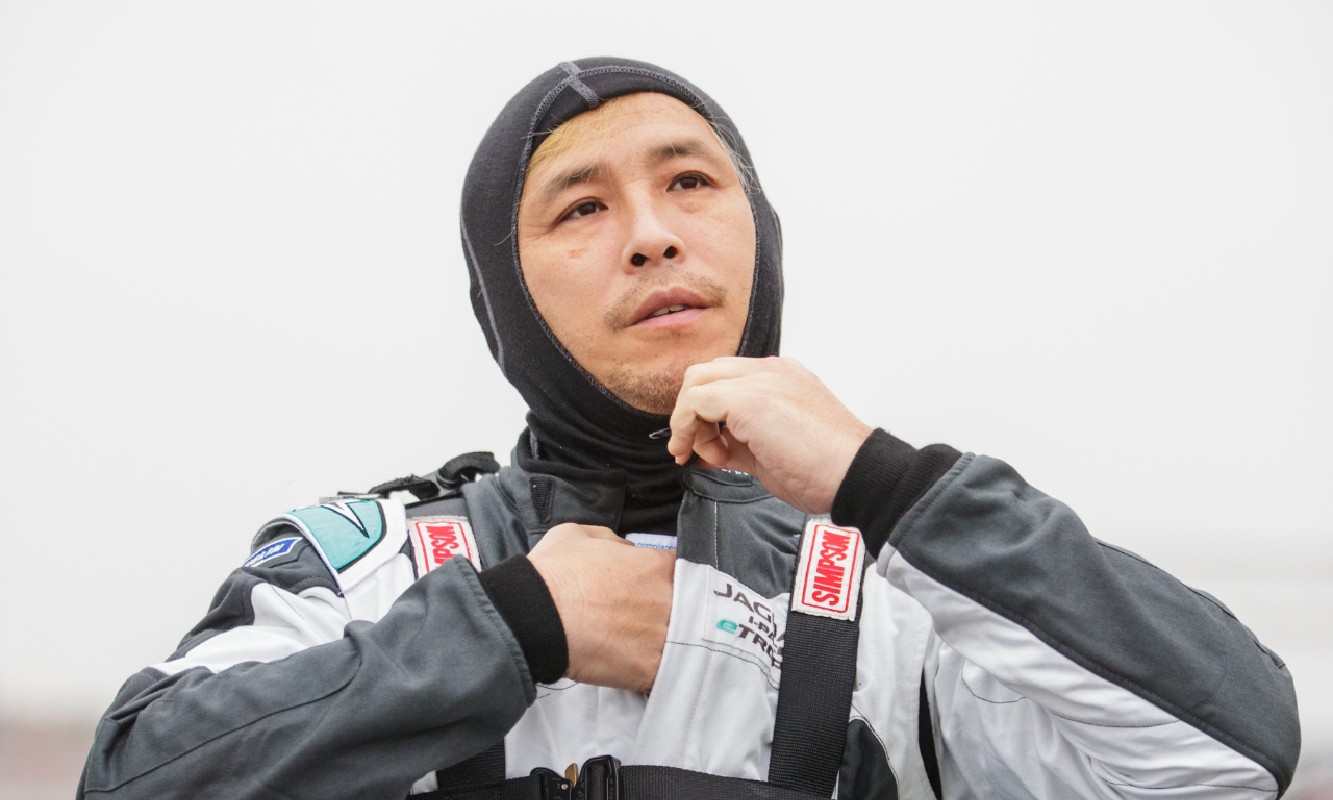 Aoki himself says that driving the Jaguar I-PACE is "an interesting challenge, not for the technology but the car!".
"It is not like cars I drove before," he explains.
"So far I find it tough but enjoyable. I like a big challenge in racing and this is a big challenge."
He certainly rose to that challenge as he claimed a fine third position and podium appearance on his debut.
Now the Aoki brothers are working together on something much more important than their own racing.
"We have no more plans to ride together for now, because we're busy making an association together with my youngest brother, to give the opportunity to ride again to paralysed people," explains Nobuatsu.
"Not to race, but on a circuit, in a safe environment. We believe that many people want to ride again, and we're trying to make that come true for them.
"We have a lot of cooperation from people like Honda and Michelin, many supporters who are helping our project to give some people back their dreams and to try to make their lives better."