Aprilia was somewhat fortunate in the exact timing of Aleix Espargaro's charge from 15th to fourth in the Dutch TT at Assen.
Given that the double overtake that sealed fourth place for the Spaniard occurred at the very last corner, down the inside of the Geert Timmer chicane, there wasn't any time to even consider whether to request that team-mate Maverick Vinales, immediately up ahead, move aside – or for Espargaro to get close enough to Vinales for any sort of Aprilia intervention to become at all likely.
Aprilia probably wouldn't have issued an order in any case, with Vinales on course for a first podium with the factory team – an important milestone that was very handy to get out of the way at this point in the season.
"Honestly, I thought he was retired!" said Vinales upon finding out Espargaro had made his way up into fourth place. "When I saw him, I said, 'Oh, OK, so he was very fast'.
"But anyway, I'm happy for Aprilia. We wanted very bad to be both on the podium, but I'm happy for Aprilia, for all the [parent company] Piaggio Group, because they don't give up, they are working very hard.
"And I'm also very happy for Aleix because he closed on the championship, and it can be a very good second part of the season.
"We will fight for it. If I have the chance to help him, I will do it. I will help Aprilia."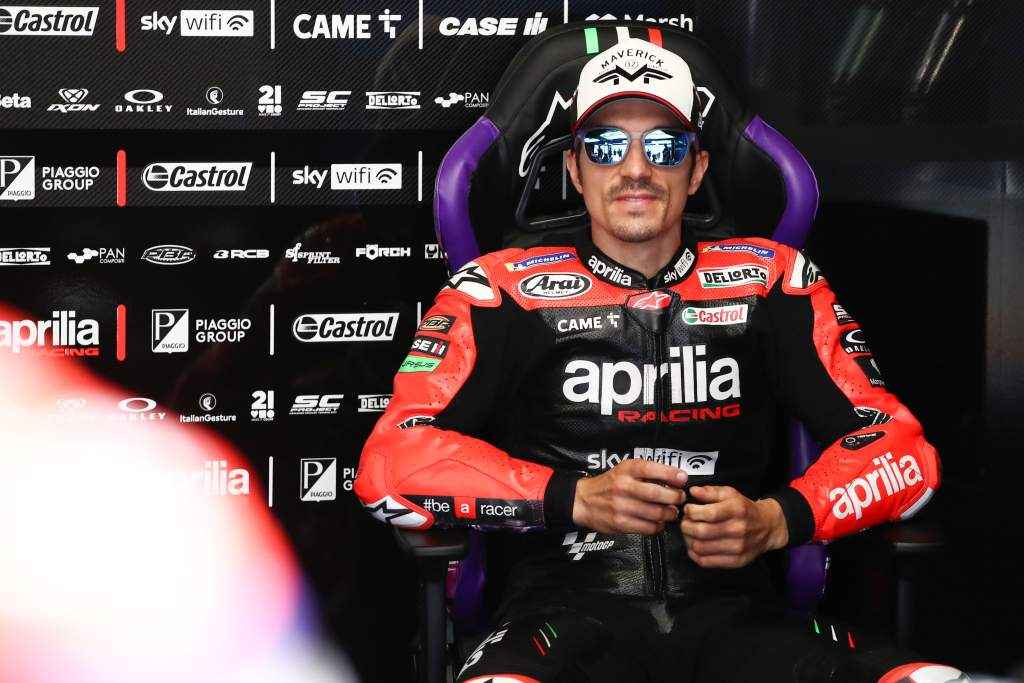 Espargaro and Vinales already cooperate off track, with the pair having been team-mates at Suzuki in the past and with Espargaro having played a major part in luring Vinales over to Aprilia.
But when it comes to on-track aid, the two obvious routes would either be Vinales ceding points to Espargaro or Vinales limiting rival Fabio Quartararo's scores.
Team orders are relatively rare in MotoGP, with the most obvious recent case coming back in 2016 – when Jorge Lorenzo was instructed to let Ducati team-mate and title contender Andrea Dovizioso through with a coded 'Suggested Mapping 8' dashboard message at both Sepang and Valencia.
Lorenzo didn't acquiesce on either occasion, but more recently at Ducati Jack Miller has been willing – without direct team orders – to openly aid team-mate Francesco Bagnaia's 2021 title quest.
Vinales is 12th in the standings and is 89 points behind Espargaro, who trails Quartararo by 21 points with nine races left.
Asked after the Dutch TT about the prospect of team orders after MotoGP's current five-week summer break, he said: "Of course if in the second half of the season I become stronger, we become better and Aleix is very close for the championship, we need to think of Aprilia. We need to think of the group.
"And if I have the occasion that one race I'm faster than Aleix but it's important that Aleix finishes in front of me for the championship, at the end I'm working for Aprilia and I will do it. I will try to help Aleix.
"We are working good together, since Mugello we found a way to work together and make us stronger. That's clear.
"If Aleix has the chance to fight for the championship, and I need to make him pass, I will do it. At the end we are working for Aprilia, for Piaggio Group, and if Aleix has the chance, I will help him for sure."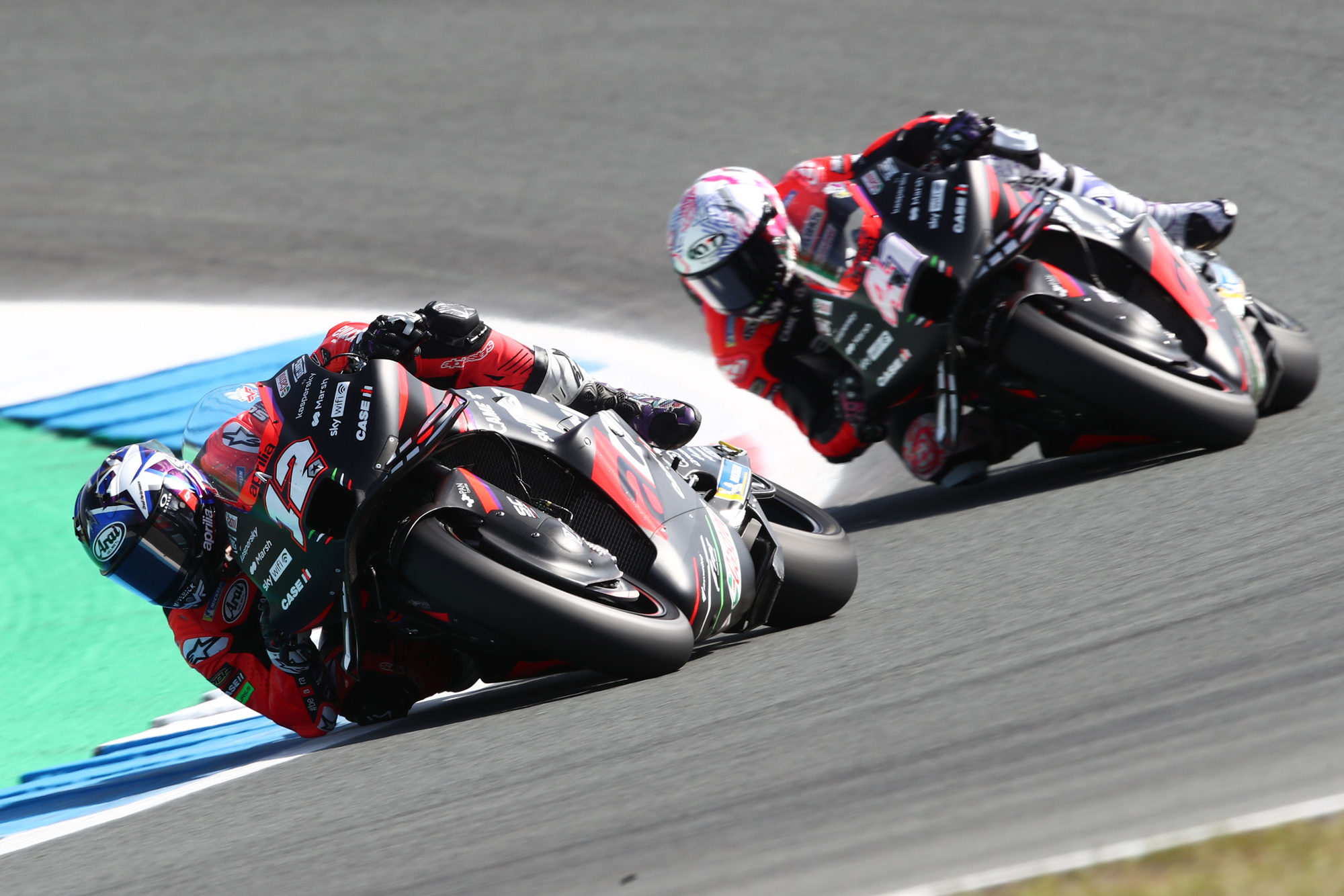 Vinales' willingness to be ordered aside for Espargaro would've meant relatively little in the early stages of the season, given he was only in a position to do so in COTA, for what would have been one point.
However, with Vinales having improved on the Aprilia RS-GP as of late, producing by far his strongest showings on the bike in the past two races at the Sachsenring and Assen, it could yet become very relevant over the rest of the season.
And it's especially notable in the context of the situation at the Yamaha works team, where Franco Morbidelli – once a close rival of Quartararo's while they were both at Petronas Yamaha – has endured an absolutely miserable first full season in the works outfit, unable to ride aggressively enough to extract performance out of the current Yamaha M1.
---
Yamaha/Aprilia 2022 comparison (excluding Assen)
Race laps ahead, Aprilia (when both were running)
Aleix Espargaro – 226 laps
Maverick Vinales – 3 laps
Race laps ahead, Yamaha (when both were running)
Fabio Quartararo – 226 laps
Franco Morbidelli – 0 laps
Average race gap (corrected for a 25-lap race), Aprilia*
Espargaro +9.340s Vinales
Average race gap (corrected for a 25-lap race), Yamaha*
Quartararo +23.125s Morbidelli
*Calculated at final lap with both riders running for races with a DNF
---
Vinales' stern defence against Miller at Assen should offer Aprilia hope that he can do the same to Quartararo in some races further into the season – but he will need to reduce the gap to his Aprilia team-mate to make a meaningful impact.
However, that gap has clearly been falling. Vinales has reliably been competitive – not Espargaro-level, but competitive – in race trim in practice.
He also may have vanquished his traditional early-laps weakness and he's qualifying better, though the lack of consistent single-lap performance is still hindering him.
The existence of a discrepancy between qualifying pace and race pace is also obvious in Morbidelli's case, but for him it has been so severe that he has not been in Quartararo's orbit – making any chance of him influencing the title fight before the year is out distinctly remote.
His race pace, too, is simply not on Quartararo's level.
And while Yamaha does have four riders to Aprilia's two, neither Andrea Dovizioso nor Darryn Binder are likely to be in a position to help any time soon.
For Vinales, though, being able to assist Espargaro is entirely plausible, especially at some of his better tracks – like Silverstone, which is coming up right after the summer break and was the scene of his sole win for Suzuki.
Vinales' comments suggest that team orders would be a very easy pill to swallow – and his current attitude shows why that is.
"A lot happened [since I left Yamaha] but right now I'm the happiest man in the world," said Vinales. "I can't ask for anything more.
"I have a very competitive bike, a very good group, a really nice factory. Aprilia is behind myself, pushing me every day.
"I have a beautiful family. So I can't ask for more. I have everything I've always dreamed about."
Vinales is keenly aware that he is on a journey with Aprilia and will still need time to get anywhere near being in contention himself.
And it is clear that aiding Espargaro while on that journey would be a bonus for every party involved, Vinales himself included.