Tech3 Gas Gas rider Pol Espargaro has taken to social media to post his first update in the five weeks since his horrific accident at the opening round of the 2023 MotoGP season, with the Spanish racer detailing the extent of the injuries he suffered at the Portuguese Grand Prix as well as thanking fans for their support since the crash.
Espargaro high-sided in the closing stages of Friday's FP2 session at Portimao, crashing while pushing for a time to secure a direct path to Q2 on the first day of running under MotoGP's new revised sprint race format, where Saturday morning's sessions no longer count towards qualifying groups.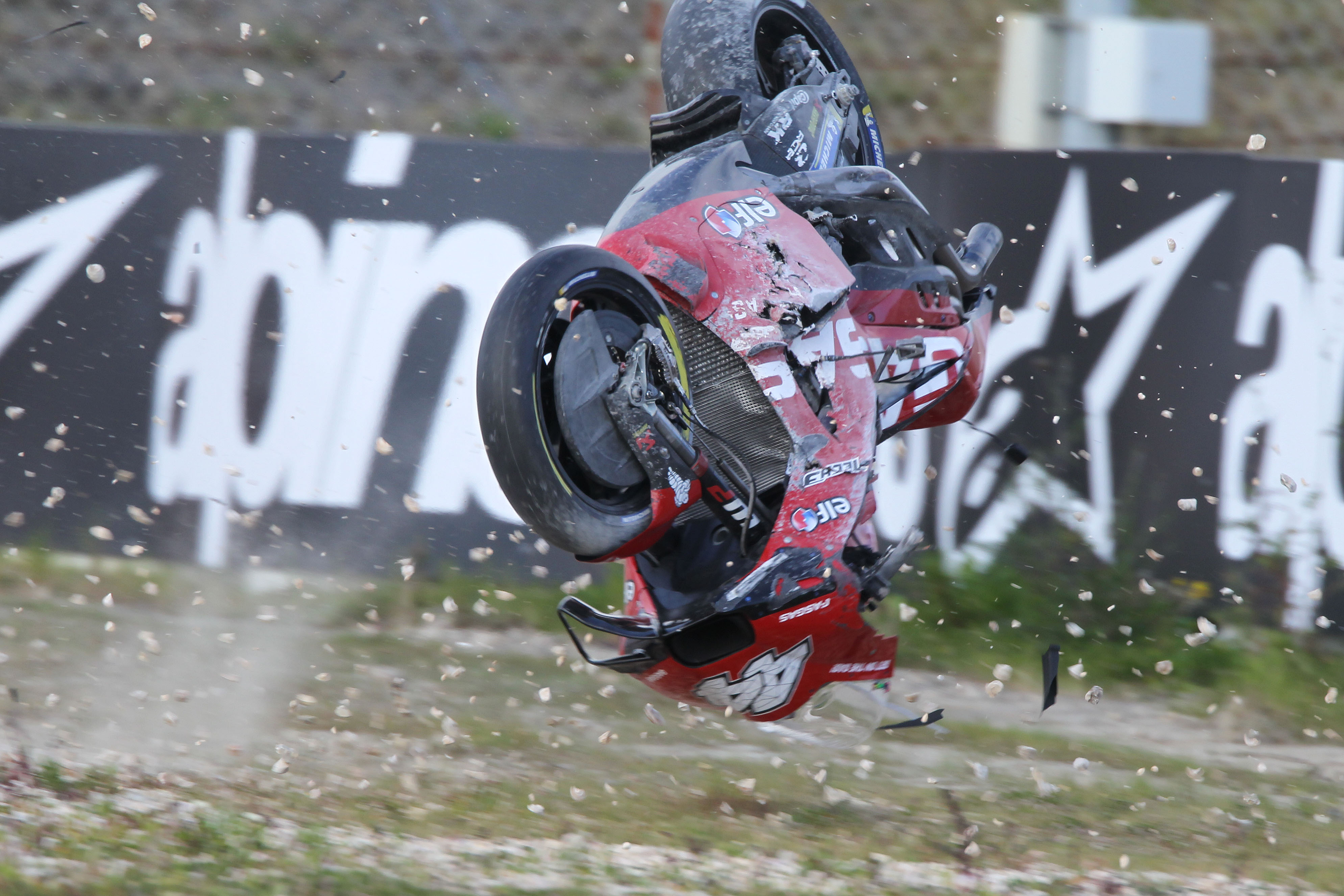 In an FP2 already delayed due to a previous red flag when the circuit's power system failed, Espargaro crashed on a cold tyre at Turn 10, striking the wall on the outside of the downhill bend and sustaining major injuries not only to his spine but also to his face: injuries that have required him to spend the past month with his jaw wired shut.
"It's been like a month and a week after the crash," he explained in a video posted to his Instagram account, "and finally I can talk a little bit.
"I'm saying that because I broke my mandibular [in his jaw] in two places, and I've been with it completely closed for the weeks after the crash. I couldn't eat, I've lost a lot of weight, but finally I can smile and I can talk quite good.
"Also I had an injury in my ear that they operated on in the surgery after the crash in Barcelona. I had several injuries; eight fractures in my body. Two in my ribs, one in my neck, three in my back, which I think will take a bit longer because the ones in my back are the ones that the doctors are checking a little bit deeply."
While Espargaro's facial injuries are on the mend, it will be the damage to his spine that takes the longest to recover from, as his medical team play it carefully in ensuring that he's fully fit and and safe to return to riding, whenever that may be.
"You know what happens when you play with these kinds of injuries," he added, "you have to recover really carefully, because as soon as the back is injured it's super easy to injure your spinal cord.
"We are working with the doctors hand by hand to come back as soon as possible, but first of all I need to come back healthy."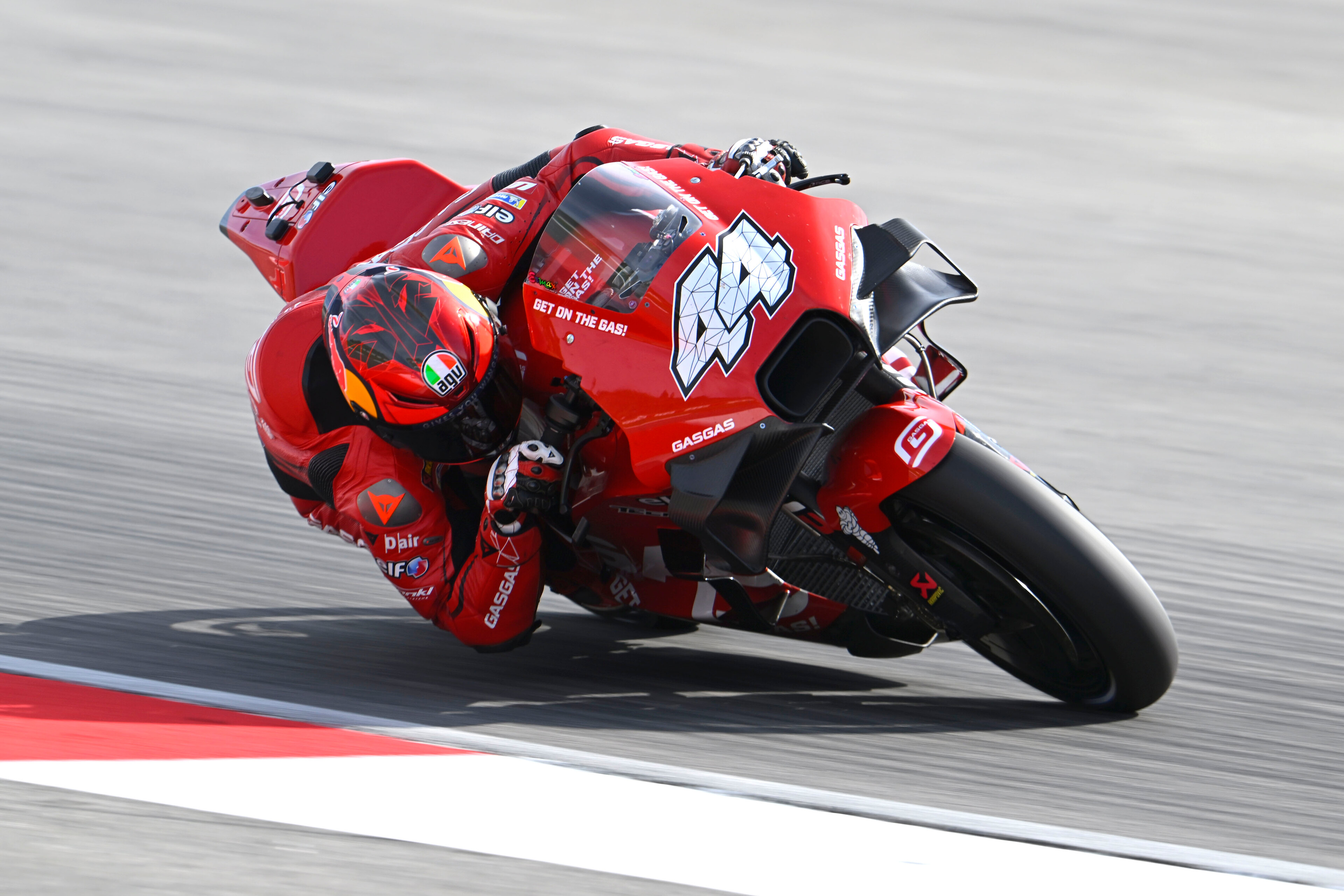 And while he might be in a hurry to return to MotoGP as soon as possible, especially considering the strong results for his fellow KTM-mounted riders at last weekend's Spanish Grand Prix, the timeline for how long that might take remains unclear.
Believed to be targeting a return at Silverstone, three months away and after MotoGP's five-week summer break, Espargaro said he's more motivated than ever to make a full recovery and get back to action.
"I'm the first one who wants to jump on the bike, especially after the results in Jerez," Espargaro said. "The factory is working huge and the bike is a rocket right now, so I'm looking forward to getting back.
"I just wanted to thank you for all the messages that you have sent me through that time. They've been so important to keep me motivated and happy to come back as soon as possible on the bike.
"I need to say thanks to my team as well, and to all the people who are with me when I am racing. They've been sending me messages almost every day, and it's amazing. To Gas Gas, to KTM, I'm looking forward to jumping on the bike. I don't know when, but it'll be soon."