When it came to how the FIM MotoGP stewards handled various situations at the 2023 Spanish Grand Prix, the initial headlines were the long-lap penalties handed to Yamaha's Franco Morbidelli and Fabio Quartararo for first-lap incidents that many of their rivals were quick to deem as unworthy of a sanction.
But while attention might have been focused mainly on those two incidents, there were two more cases during Sunday's main race that also got the attention of those watching – partly because of the different attention they got from the stewards' panel led by past world champion Freddie Spencer.
First was reigning world champion Pecco Bagnaia's overtake of former team-mate Jack Miller. The Australian made a small error through Jerez's Turn 6, left a little bit of a gap – and the Ducati rider wasted no time going for it. The pair looked in the moment to have made the slightest contact on the apex, but in any case not enough to knock anyone down.
And here's why @PeccoBagnaia had to give the position back to @jackmilleraus ⚠️#SpanishGP 🇪🇸 pic.twitter.com/nmRxLkITOf

— MotoGP™🏁 (@MotoGP) April 30, 2023
However, Bagnaia was quickly notified that he would be forced to give back the place taken from Miller. It was not enough to dent his race-winning aspirations as he made another move on the KTM and powered away to the win, but it nonetheless slowed his race.
"When you are pushing a lot," Bagnaia explained afterwards, "and you see 'drop one place' and you know that the rider behind is 0.6s behind, you are a bit upset because you pushed a lot to gain an advantage and then you have to give up all the work you did gaining the space.
"In that moment, I was angry, but I managed to be calm because the race was still very long and I knew there was still a possibility to finish on the podium."
"Pecco said he had some locking coming in there, with the slipstream or whatever – he kind of had to go on the inside. I felt like I was on the line, I was really like that I'd just seen the big bright red front end of the thing coming underneath me, as I was coming back towards the kerb," Miller told MotoGP.com, adding that otherwise the outcome may have mirrored the famous Dani Pedrosa/Jorge Lorenzo crash at the same corner from 2018 (which also eliminated Andrea Dovizioso).
A few laps after Bagnaia's move came the second incident, when Miller saw a similar gap left by Pramac Racing's Jorge Martin at Jerez's last corner – already infamous for contact and collisions between riders over the years.
Going into the turn sideways, Miller launched an ambitious block pass on Martin that only didn't result in contact because the Spaniard took avoiding action, sitting up to escape Miller's rapidly-closing KTM.
Given what we'd seen from the stewards and from Bagnaia only a few laps earlier, the immediate expectation was that Miller too would be handed an equivalent penalty.
But no penalty came, with the stewards seemingly (we don't know for sure, because they don't communicate with the media) deciding that one of the two very similar manoeuvres was a racing incident while the other wasn't.
Martin was left unhappy about that. Not because he necessarily believed that Miller deserved to be sanctioned, but because the one key issue that riders have been calling out for for some time now is stewarding consistency – something Martin believes is still absent.
"I mean, if they don't penalise Jack…" he said afterwards. "I lost positions, I was almost on the long lap [loop].
"It's not that I want to cry. I mean, it's racing, it's OK, I understand the move. He needed to try like this to be on the podium, but they need to always do the same, not depending on the rider."
What was different about the two incidents that might have forced the stewards to look at them differently? There was one obvious factor: the riders' immediate actions after them.
Apology accepted? 💥

Sparks are flying between @jackmilleraus and @PeccoBagnaia 👀#SpanishGP 🇪🇸 pic.twitter.com/iQuCKLxn8z

— MotoGP™🏁 (@MotoGP) April 30, 2023
When Bagnaia made his move on Miller, he knew it was on the aggressive side – and he immediately lifted a hand to apologise, something that Miller acknowledged but didn't seem to accept, with an angry wave of his own hand back again.
In the Martin pass, though, both riders just got on with it, with hands staying firmly on the bars and only a somewhat rueful headshake from Martin afterwards.
We've heard plenty of riders further down the field bemoan often how the only incidents that the stewards pick up on are those that are televised, with racing just as aggressive happening all the time outside the view of the cameras; there's a reason, after all, while the now-agreed-upon term for racing outside the top eight is being 'in the jungle'!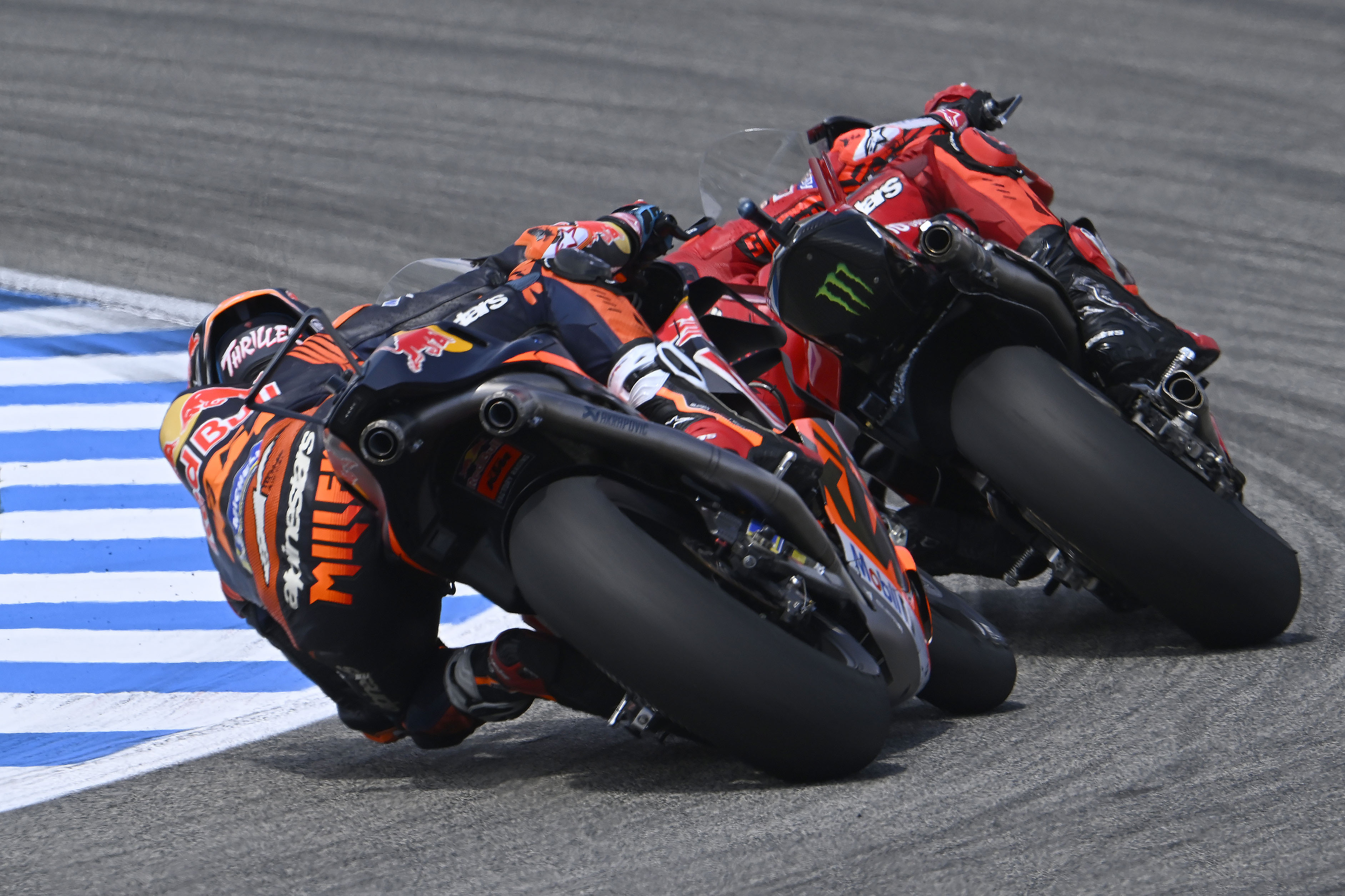 So is it possible that in the actions of Bagnaia and Miller in drawing attention to the incident, they then drew the attention (and in Bagnaia's case, the wrath) of the officials in race control?
"I obviously wasn't happy at the time, I'd given a wave or whatever, but it's racing, it's what you do, we all complain and whinge a little bit but then we get back to work," Miller said.
"If they want to do the penalty, do the penalty, but the thing is, like we're asking for, it's just got to be consistent. It's got to be happening to the guys that are in 15th as well. If there's stupid stuff going on back there, it needs to be penalised as well, it's not just the guys that are on the cameras."
Certainly, 'playing the referee' isn't exactly an unknown phenomenon in other sports, with the issue cropping up for years in football and with even Formula 1 teams being known to purposefully draw attention on team radio to incidents with what is understood as the explicit aim to ensure sanction.
It isn't even a new thing in motorcycle racing: in the final round of the 2021 World Superbike season, Toprak Razgatlioglu was demoted a place in the superpole race for exceeding track limits in a move spotted only by title rival Jonathan Rea, who took his onboard footage to race control as evidence.
And there was a remarkable claim from Gresini Ducati MotoGP rider Alex Marquez just this past weekend that, having been left confused by a lack of a penalty for Martin wiping him out at COTA, he then was told specifically to lobby for one for Morbidelli.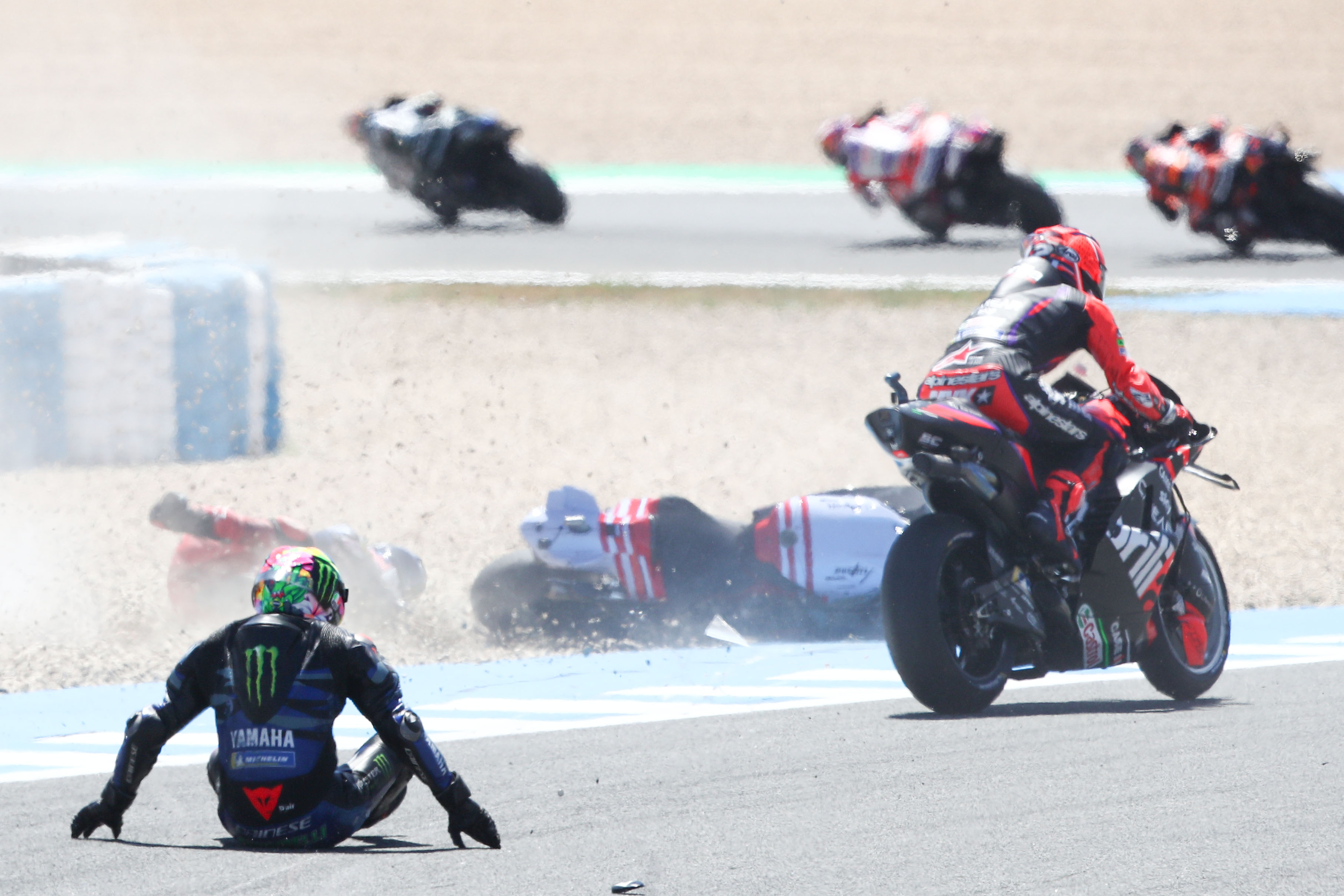 "I was asking why they don't put penalty to Jorge, for example, that I think for me the action was much worse than yesterday's one and today's one," said Marquez of the two red flags.
"And they say to me [it was] because I didn't send a mail. So yesterday we did the test to send a mail, and then it was working. So we need to send more mails to get penalties, so it's a little bit strange honestly."
There's no suggestion, of course, that Miller himself was actively lobbying: he's no stranger to making his feelings known on and off the bike, and it normally doesn't come with any sanction in mind.
But in an era where there's already uproar about inconsistent stewarding, even the suggestion that Spencer and co are susceptible to influence from those on track during a race becomes yet another negative coincidence that we just don't need.