There's a lot to learn when you become a MotoGP rider for the first time. Whole new ways to ride a bike, different electronic aids to master, and the complexity of helping your crew understand your feedback and use it to turn your machine into something more friendly and rideable. And, if you attempt that challenge without the right person acting as your instructor, it can be a daunting task indeed – as Gresini Racing's Fabio Di Giannantonio learned in his first season in 2022.
Paired up with an inexperienced crew chief in Donatello Giovanatti, both first timers struggled through the season with Di Giannantonio never quite living up to his expected potential. This was only exasperated as other riders on board Ducati's older machine racked up podiums, race wins and even a title challenge from Enea Bastianini on the other side of the Gresini box.
It's all change for Di Giannantonio in 2023. Now the 24-year-old has partnered up with one of the most experienced crew chiefs in the paddock in the form of Joan Mir's 2020 title-winning partner Frankie Carchedi (pictured below, left), a relationship that Di Giannantonio told The Race in an exclusive interview that he already feels is paying off, even if they've yet to back it up with results.
"Honestly I would say that in my career I have had an amazing crew chief in Fabrizio Cecchini [his former crew chief in Moto3], and I had an unbelievable feeling working with him and outside the MotoGP area. Frankie is like Fabrizio somehow," he told The Race.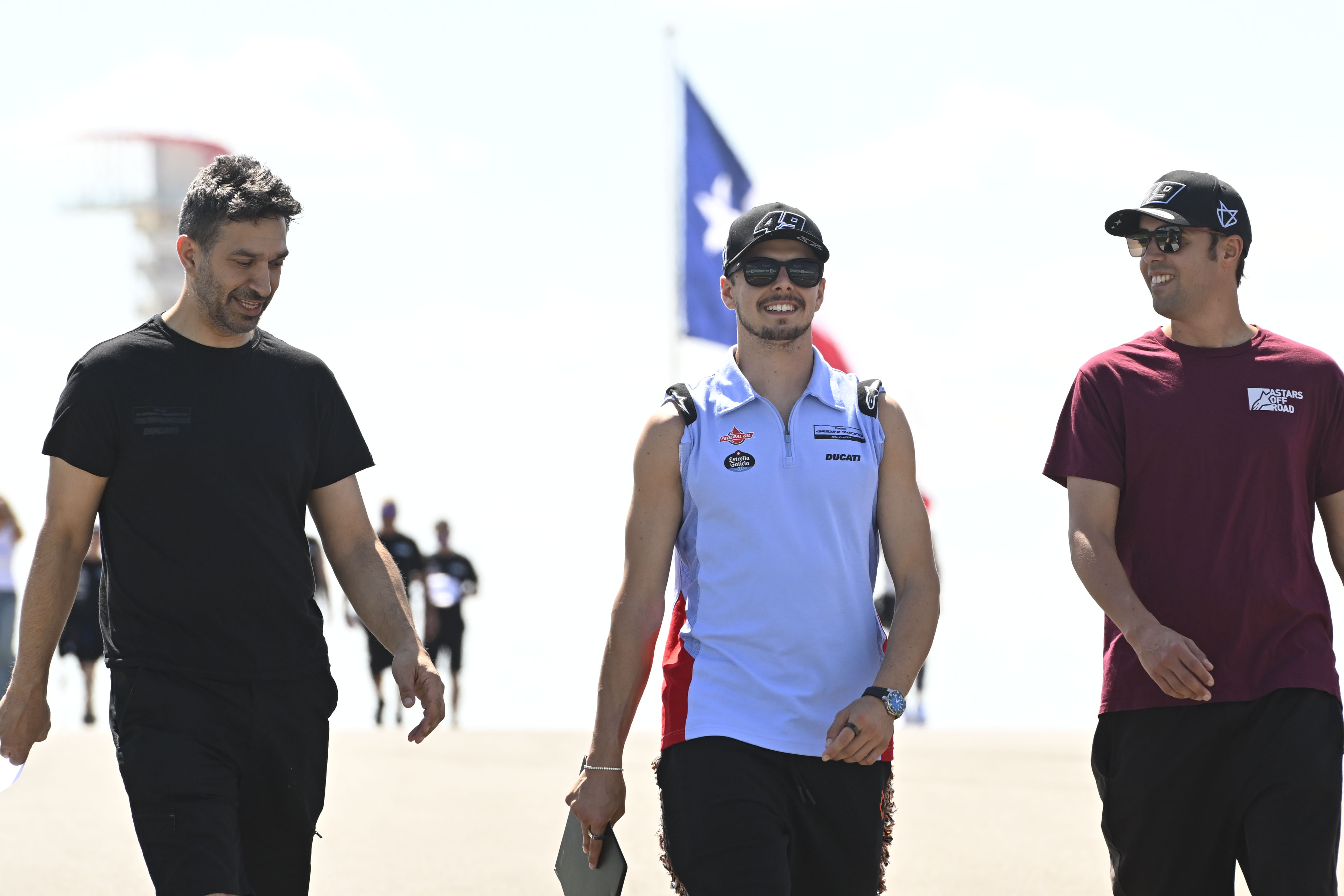 "The good thing about me and him at the moment is that when we think about a change or an improvement, most of the time we think about the same thing. He is super prepared, super experienced, and he has really taught me how to go fast on a MotoGP bike.
"Last year I was just trying to go as fast as possible, but without anyone really teaching me how to do it. I'm not saying these things to discredit someone, it's just a different approach. Maybe last year I needed something like this, because it was all just instinct. Some of the time it worked, but most of the time not.
"We are in the maximum level of motorsport, and you have to be perfect. Frankie has started the last three races with a map of the circuit, telling me 'you have to do this and this and this'. I just do what he says and I'm faster than last year!
"This year will be a year of growth, a year of transition, to then consolidate the package and to be faster and faster."
What that combined experience translates into for Di Giannantonio on a race weekend is pretty obvious stuff, too: a lot of homework – learning to cope with taking copious amounts of information from Carchedi.
But you get the distinct impression from talking to the racer that the sooner he learns how to process it, the sooner he'll be fighting alongside his fellow Ducatis at the sharp end of the MotoGP field rather than making up the numbers at the back.
It is something he needs to do sooner than later. Of his seven fellow Ducati riders, six have already stood on either the sprint podium, grand prix podium or both in 2023. The only other rider not to come particularly close is Enea Bastianini, who has been out injured since the second lap of the season-opening sprint and whose podium potential is undeniable.
"He [Carchedi] gives me really a lot of information at the beginning of the weekend," Di Giannantonio continued, "and then I have to really study. I like this, I like the way we're working at the minute. When you work with people, especially in a lot of different jobs, the most difficult part is working together among people. But the way we work is quite similar, I like the work, and we match well so it's easier.
"I really admire what the VR46 team has done with [Marco] Bezzecchi and with Luca [Marini]. I think they made a proper thing, growing together, making the same way. Last year, I wasn't feeling it. It was as if it was all in my hands, but if there's no one teaching you or giving you the right advice, it's difficult to really stand out in this class.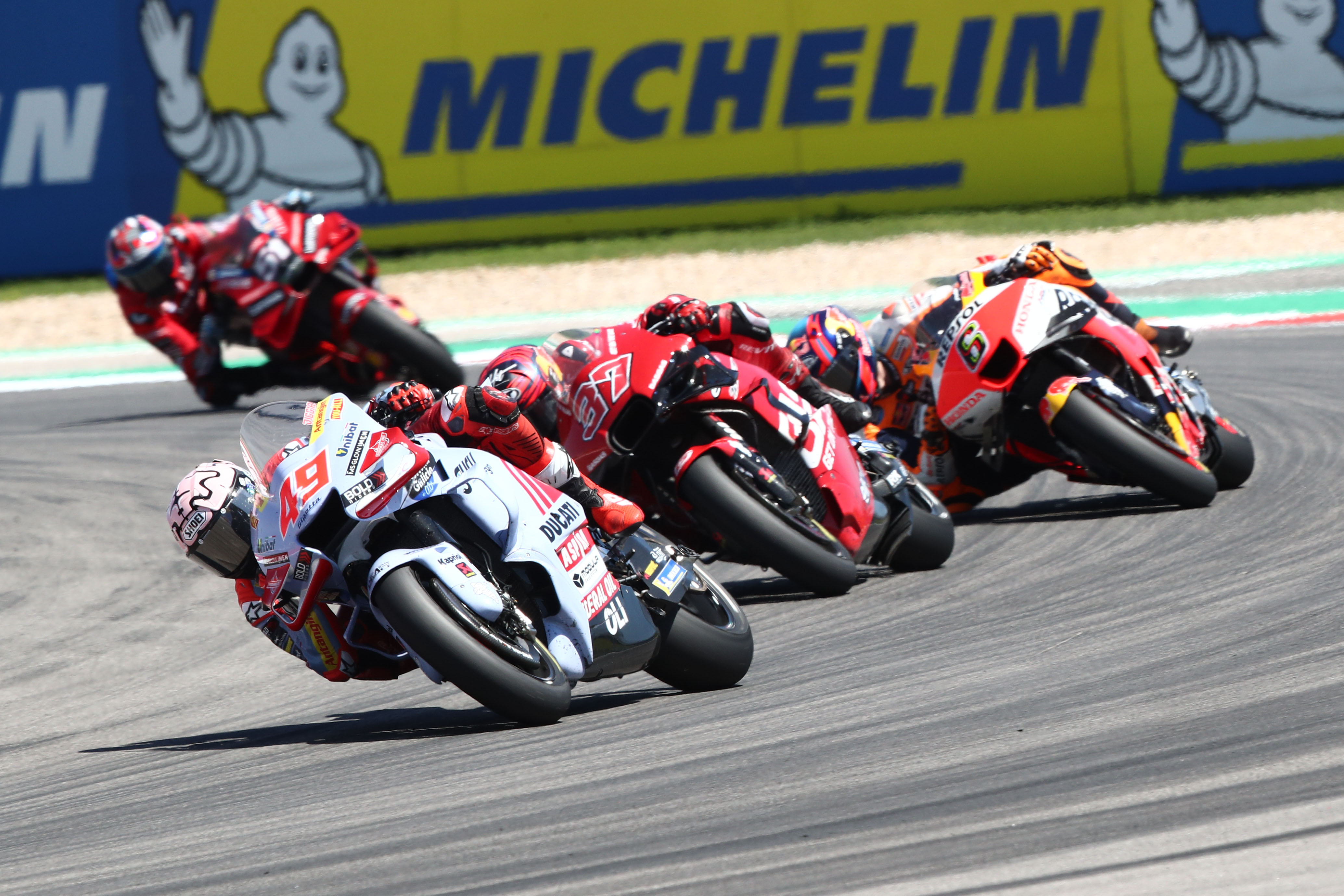 "In Moto2, you have the same package more or less as everyone, and you can put the last percentage that you miss. In MotoGP, no. The first one is first because they are perfect in everything. Maybe he has a factory bike with a factory team and a lot of people behind him – you cannot do everything alone. This year I feel like we are a closer team. This year, I've started to see that it's possible.
"The thing is that Frankie is like an engineer without the mentality of an engineer. It sounds funny, but it's his strength. I've worked with other people like this – Fabrizio in Moto3, and last year when Alberto Giribuola, the crew chief of Enea, was in my team, it seems like he was thinking in the same way, more or less.
"Frankie is like this too. Maybe there are things that you can't really see from the lines [on the computer]. Then he'll stop and say, 'OK, let's go old-school!' With this approach, we really match, we really go forward with the problems."
That should come as a welcome relief for Di Giannantonio, too, after a rocky start to his time in the premier class that will have left virtually any rider doubting not just their own ability but their confidence in the team set-up around them.
Admitting that there were moments of that – among the constant pressure every MotoGP rider goes through of facing an imminent replacement at the end of every single contract – it now sounds like the arrival of Carchedi has buoyed his new rider and set him back on the right path.
"I'm a person who always puts me… how can I say it? When something doesn't work, I always say, 'OK, stop, maybe it's me'," Di Giannantonio said.
"Because I can work on myself, and it's faster. I've always had this approach since Moto3, since I was young. But at one point last year, I realised, f***, I can't do more than this.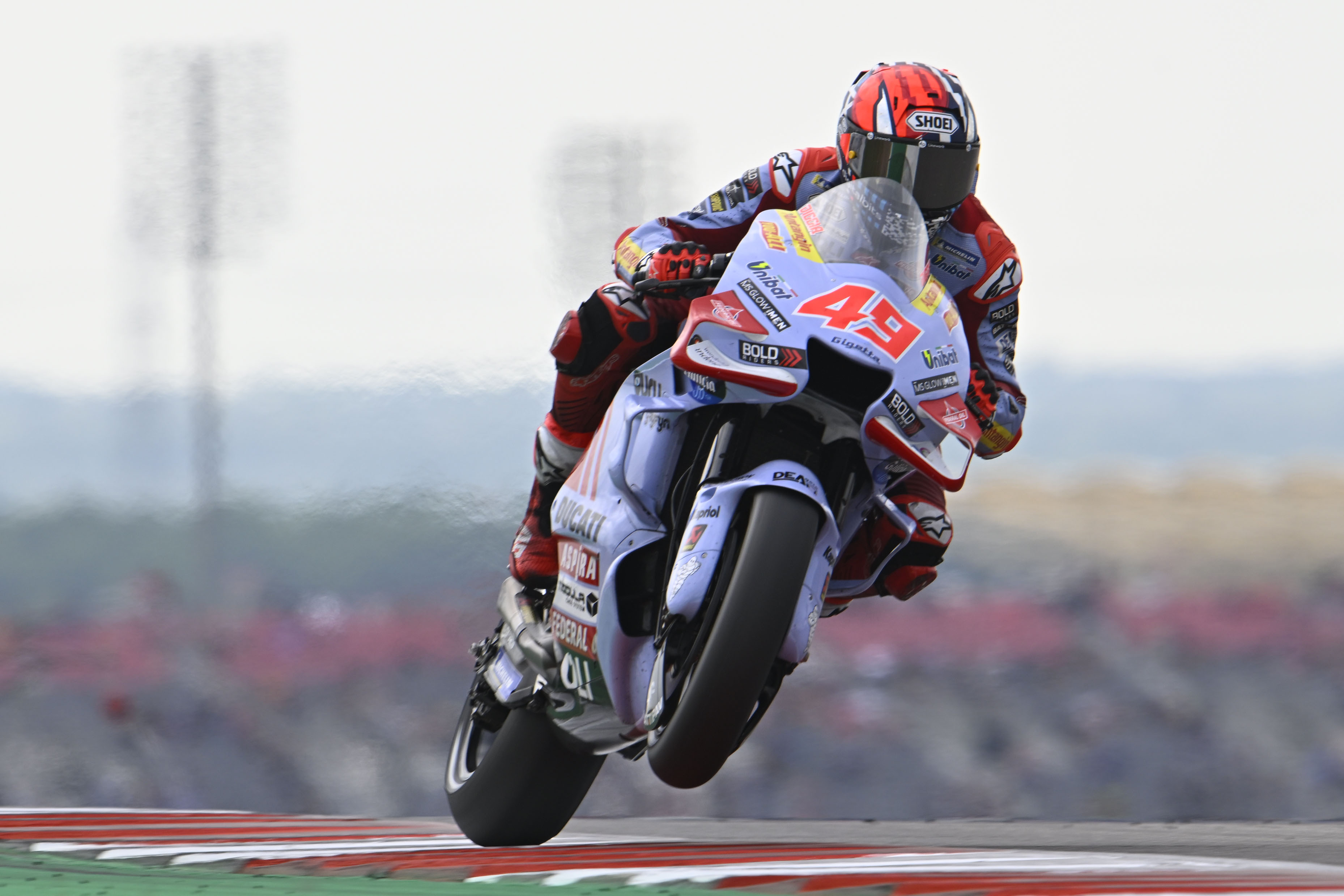 "Without answers from the other side, it was difficult at one point. But luckily with Gresini, I had another chance this year with a different situation. I had some answers already in the first test at Valencia with Frankie that made me think it would be possible.
"From there, it was a boost of confidence, and test by test we're building that confidence. In the end, when you go through bad things and pass out of bad things, you are better and stronger.
"Pressure is always there, but it's fine. You are at the maximum level of motorsport, so you know that if you do good you stay and if you don't do good you go out. It's a challenge that I really want to take though. I'm here to stay, I think we have the potential to stay, and we just have to make it happen."
Now, though, the biggest challenge of the year to date is still to come: putting together everything that they've learned so far and turning it into strong results.
Adamant that the time is coming and that it'll soon click into place, Di Giannantonio sounds like someone not chasing results just yet – and says that even if he has aspirations at home in Italy (where he scored a shock pole position last year), he's confident that a result could come any weekend.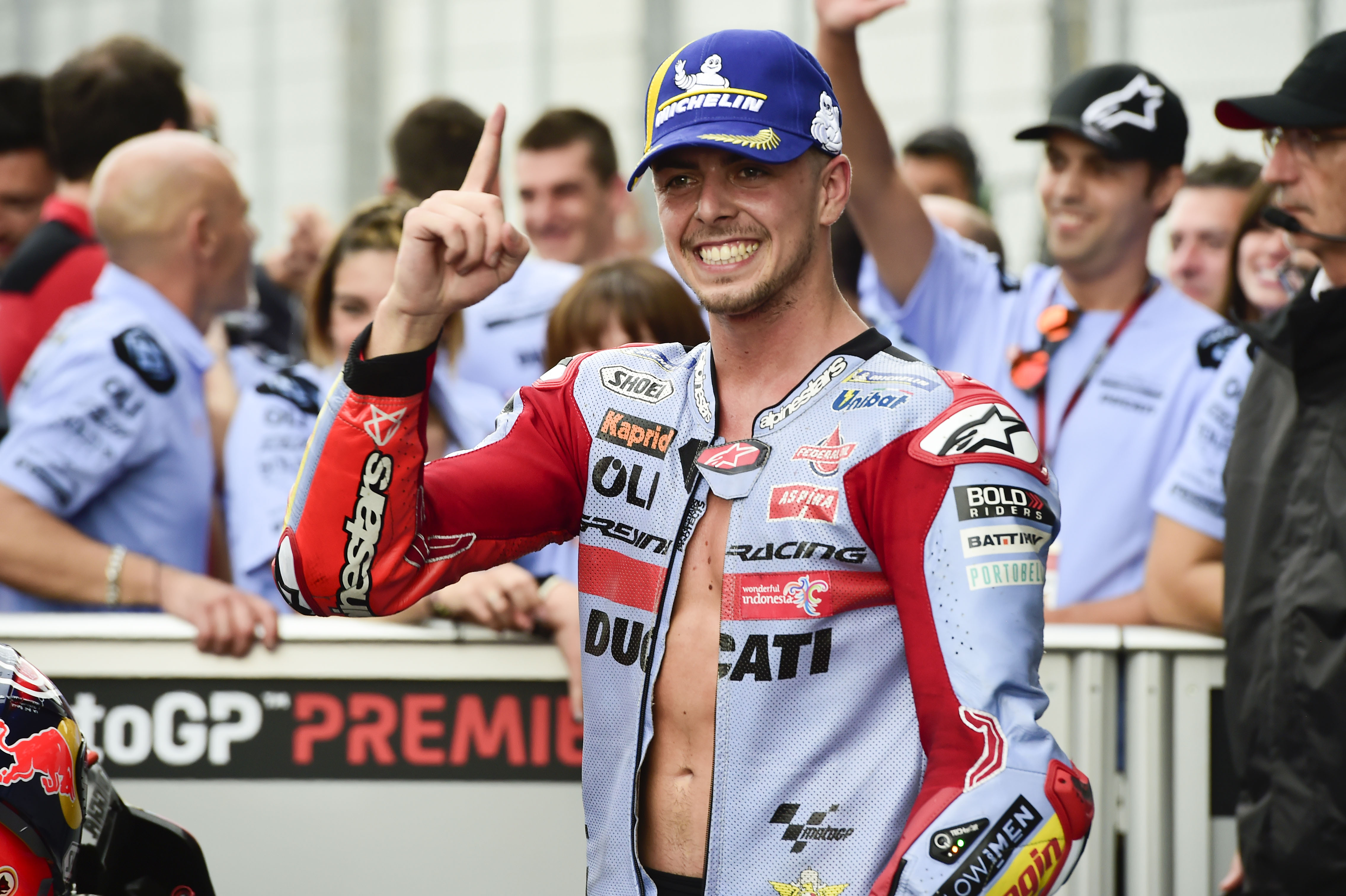 "I think it's not [just] a matter of time, it's also the situation," he insisted. "I said in Argentina that we could have done a better job – but I'm still super happy with what we did do. Of course, with ifs and maybes, you don't go anywhere, but if I had done a better lap in Q2 then maybe. It's just a matter of putting it all together. If you're fast, then good results are a logical consequence of putting everything together.
"The bike is working really good. You really have the chance to do it, so for this reason I've started to feel like the chance is really there. If we put it all together, then it is possible to do a good job. I've always been a fast rider, I grew up with all these guys, and now they're getting podiums and wins and stuff.
"Mugello has always been one of my [favourites], if not my favourite track in all of the world. But I think honestly with this bike I think it's possible anywhere, because I don't see any track [that's ill-suited] – apart from Austria, because of me; I've never been fast in Austria. I f*** all the corners. It's like I forget how to ride a bike. But apart from that it's possible to do it anywhere, even if I'm looking forward to riding in Italy because it's a special place.
"The potential is there, the bike is there, the team is there. It's just a matter of time, but when I think the time is right we'll be ready."